If you're into Scandinavian boho interior design, this article is for you. I'll share tips and suggestions for creating a chic Scandinavian boho living room.
Scandi style is trendy in the interior design world. But sometimes, it can be almost too minimalist – clean and clinical isn't for everyone.
So, the perfect answer is boho Scandinavian decor, which blends the best of both worlds. You get the relaxed, soft feel of the bohemian style. But the Scandinavian side tones it down and ensures your home doesn't become too busy or flashy.
This formula makes for a beautiful, peaceful living room. It's practical and comfortable, thanks to the Scandi focus on function and design. Yet it's also stylish, with boho accessories elevating it to the next level.
Read on to find out how to create a minimalist Scandinavian boho living room!
So, you're inspired by the Scandinavian boho interior design!
Then, here are some simple tips for making a boho Scandi-inspired living room!
Feel free to mix and match these ideas to create your perfect Scandinavian boho living room. Take the tips that stand out to you, and skip over anything that doesn't appeal.
Remember that it's your home, so it has to feel right for you!
With that said, let's dive into how to create your own Scandi boho living room!
Select a Calming Color Palette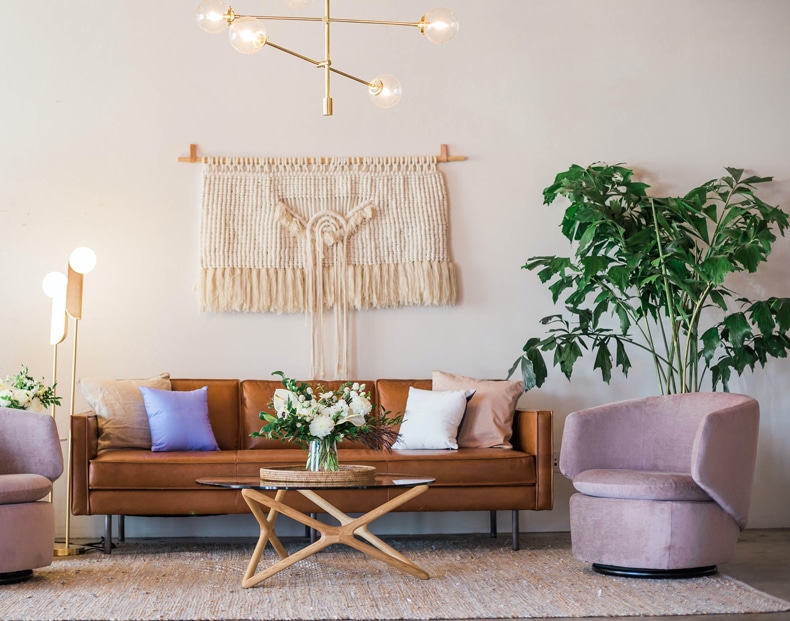 Scandi style favors a simple, minimal color scheme. But boho is more commonly associated with bold, bright colors.
You can compromise by selecting soft, natural tones. Start with a light color like cream or white for your walls, and then choose some accent colors. Earthy shades like blush pink, beige, and brown work well.
But if you want to incorporate a brighter color, stick with one accent color. Use it to add little pops of color. And don't go for the most vibrant shade – tone it down slightly by opting for a pastel version.
That way, your living room will look beautiful without becoming too garish.
Opt for Low-Lying Furniture
Low-lying furniture like chairs and floor pillows are cozy and comfortable.
You can relax, put up your feet, and chill, unlike with more formal sofas and chairs. Instead, it's an invitation to be authentically you without having to put on airs. (Very fitting with the boho movement!)
And going for low-lying furniture will make your room feel more airy and spacious.
So, this tip is essential if you have a smaller living room or live in a studio or tiny apartment. 
You'll open up more space and let air move freely through the room. Without bulky furniture blocking your windows, you'll make the most of the natural light.
As a result, your living room will feel bright, cheerful, and roomy.
Look for Multipurpose Pieces
If you want to create a minimal boho living room, you'll need to invest in clever pieces of furniture.
I won't try to convince you to part with your favorite books, movies, or knick-knacks. These things are part of who we are and can make your house feel like a home.
But that doesn't mean you need to have everything out on display.
It's worth buying solid furniture that's built to last. And it's even better if your pieces can serve more than one purpose.
One example is this storage bench that doubles up as extra seating. Another alternative is a sturdy coffee table with internal storage.
Use Natural Materials
You can't go wrong by using natural materials. Scandi and boho interior design share a love for nature and organic things. So, load up on thick wool blankets, linen cushions, and wicker baskets.
I would recommend going for wood furniture, ideally with a natural varnish. Rattan chairs are another excellent option for your Scandi-boho living room fusion.
You can go even further by selecting eye-catching yet minimal decorative touches. For example, a natural wall hanging or some willow branches displayed in a vase.
Even better if you can DIY them or forage for them in the wild. You'll save money while creating a lasting memory!
Make it Feel Cozy & Comfy
Comfort is a priority in Scandinavia, thanks to the long, cold winter evenings spent at home.
But it's just as important in the boho style, where it's all about being relaxed, authentic, and genuine.
So, you should make your Scandi boho living room as cozy and comfy as possible.
You've selected your furniture with function and comfort in mind, so you're covered there.
Now, it's time to add some comfort pieces. For example, a soft and snuggly blanket for chilly nights.
Even a thoughtfully placed side table will do the trick. Because of course, you need to have somewhere to place your warm drink while you read.
Or you might like to hang some twinkle lights for the extra cozy factor.
Think about how you'll use the space and how you can make it even more inviting.
Get the Lighting Right
Lighting is an essential piece of the puzzle. Get it right, and your room will feel bright – but not too bright.
Because there's nothing worse than a room with harsh overhead lighting.
So, choose your lighting carefully. Go for softer yellow bulbs rather than bright white bulbs that can feel too clinical.
Look for pretty light shades – again, choose natural materials if possible. And make sure that you have a table lamp or floor lamp, too.
You want to be able to adjust the lighting to your mood and activity.
Finally, add a scented candle or two for a soft glow and a gorgeous scent.
Invite Nature In
Both Scandi and boho styles incorporate a love of natural materials. But you can go one step further and invite nature into your home with house plants!
So many plant varieties thrive inside, from succulents to philodendrons and peace lilies. That makes you have options when it comes to selecting the right house plants.
Adding plants to your living room will create a fresh and vibrant atmosphere. These plants will purify the area and can even improve your mental health.
Plus, they look gorgeous and provide some much-needed greenery.
You can place them in baskets on the floor, on a shelf, or even hang them from the ceiling.
So, you can't go wrong with a potted plant. Limiting yourself to just one (or two or three!) is the real test.
Choose the Perfect Boho Accessories
If you're still not feeling enough of the boho vibe, it's time to think about your accessories.
You can't go wrong with a macrame wall hanging or lamp shade (pretty and functional – check!).
Or, you could add a soft patterned rug – ideally in keeping with your color palette.
A rattan mirror, boho curtains, or a Himalayan rock salt lamp will help create the right feel.
There are no limits to the boho accessories you could choose for your living room. But remember that you don't want to overdo it.
Less is more – so pick a few key items to draw the eye and let them shine.
The Wrap Up
By now, you should have tons of tips for making a minimalist Scandinavian boho living room!
Let me know how you get on with your redesign in the comments below.
But don't forget that you don't have to go all out to create a Scandi boho look. A simple declutter and a few strategically chosen details can make a huge difference.
Most importantly, you want your living room to feel cozy, inviting, and relaxing!
Looking for more boho tips? Check out my guide on how to create a gorgeous minimal boho bedroom here.
And follow Quiet Minimal on Pinterest for more minimal living & home decor content.