Scandinavian kitchens combine chic style with functionality. Consequently, your kitchen gets the best of both worlds – a gorgeous, sleek look with cozy design touches. If you're looking for Scandinavian kitchen design ideas, you're in the right place.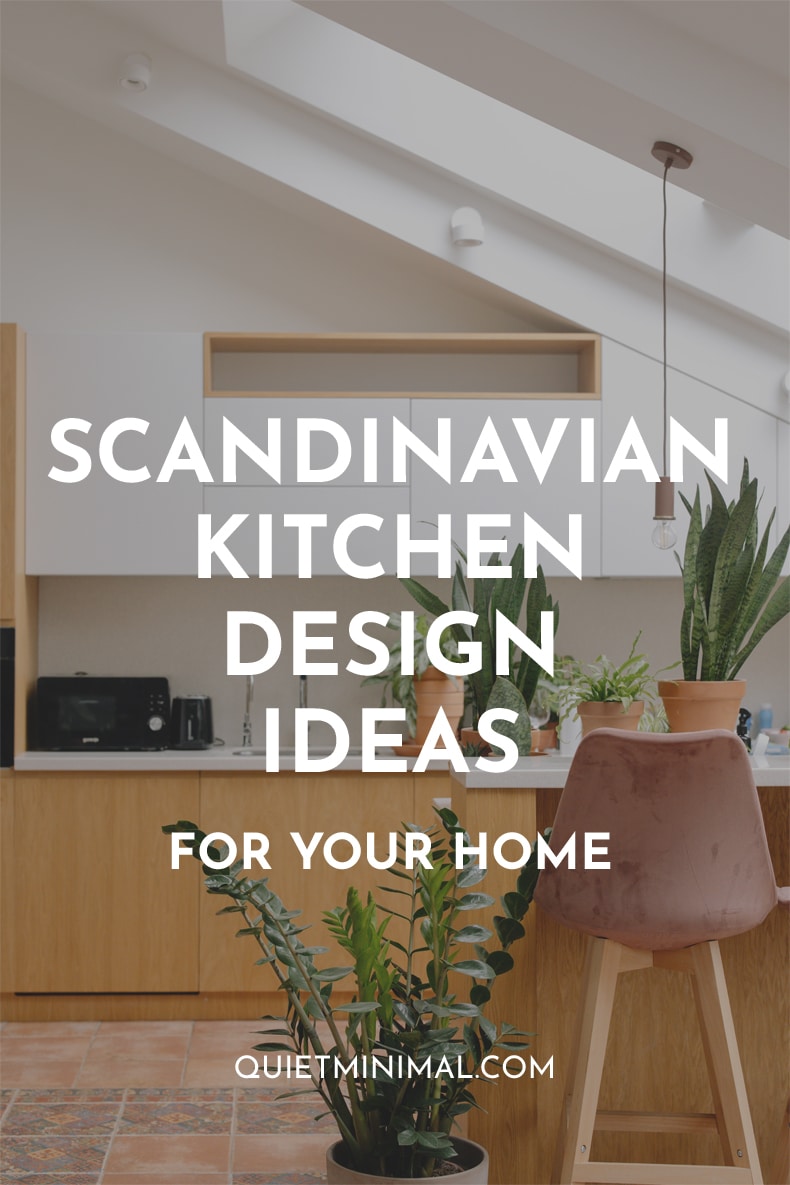 Keep reading for tips on how to create your own stylish Scandinavian kitchen.
Scandinavian interior design is well known for being simple, minimalist, and stunning. It's practical and comfortable; it's functional yet beautiful. So, what's not to love about a Scandi-style kitchen in your home?
A Scandinavian kitchen will have clean surfaces, neutral colors, and an airy feel. So, it makes your kitchen feel bigger, cleaner, and more welcoming.
Natural materials and textiles help to soften the clean lines and make it feel cozy. As a result, your kitchen could become your favorite room in the house!
Here are some ideas for creating a Scandinavian-style kitchen at home.
Go For Wooden Cabinets
In Scandinavian interior design, natural materials win over manmade materials. They are often more sustainable and hard-wearing while also looking gorgeous.
The first step to creating your Scandi kitchen is opting for natural wood cabinets. You can choose white wooden cabinets, light wood, or even a darker shade if you prefer. Or you can paint them to match your chosen color palette (more on that below).
But ideally, you'll still be able to see the natural wood grain for that rustic feel. Some of the best varieties of wood include oak, ash, and beech. These woods are reasonably priced and would look perfect in a Scandinavian kitchen. 
Choose an Earthy Neutral Color Palette
Scandinavian interior design features neutral color palettes that are calm and relaxing. These colors are gentle and don't inspire strong emotions or reactions. Nor do they look too bold or jarring in your Scandi kitchen.
An earthy color palette can look wonderful in the kitchen. First, I would recommend choosing a pale, neutral shade as your primary color in your kitchen.
Then, layer in earthy shades like green, brown, pale pink, or cream. These natural shades will match your wooden cabinets for a stylish yet calm kitchen.
Declutter Those Surfaces
It wouldn't be a Scandi kitchen without a good declutter! You want to get those surfaces as clean and clutter-free as possible.
You can do that with some clever storage tips. For example, you could display your dishes in a glass cabinet – it's functional and pretty! Another idea is to add hooks for your utensils and pans to keep your surfaces free.
Finally, ensure that everything has its place. And if you don't use or need it, move on! There's no point in hoarding items just for the sake of it. Check out my step-by-step guide to decluttering if this is something you struggle with!
Incorporate Scandi Patterns With Wallpaper
You might think that a Scandi kitchen has to be super minimalist, but you'd be wrong. Nordic furniture and homes often feature pretty hand-painted patterns. These add beauty and color to an otherwise simple, minimalist space.
You can recreate the look by opting for a feature wall with pretty, patterned wallpaper. Continue the natural theme if you like with a botanical or floral wallpaper. Or, you could incorporate traditional Scandi shades of red and blue into your kitchen. These little pops of color will brighten and enliven your Scandi-style kitchen!
Create a Bright, Well-Lit Space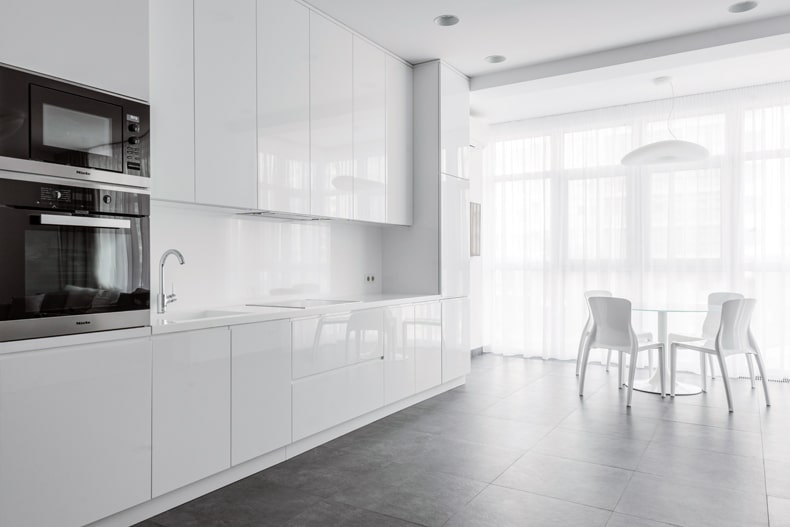 Any kitchen should be bright and well-lit, both for practicality and to make it feel spacious. You can maximize the natural sunlight with large windows and minimalist window treatments.
But those long winter nights also mean that it's essential to have good artificial lighting. So make sure to supplement the natural light with overhead lighting.
There are so many different styles now, from pendants to recessed ceiling lights. So, shop around to find the perfect lights for your Scandinavian kitchen. Keep the overall aesthetic in mind and choose lights that complement the room.
Go For Practical Flooring
You'll need practical, hard-wearing flooring for your kitchen. Functionality is a crucial principle in Scandi design, as is using natural materials.
But in this case, it might make more sense to go for engineered wood over natural wood. The reason is that engineered wood is low-maintenance, easy to clean, and long-lasting.
For example, it will stay pristine and withstand temperature changes without warping. So, that makes it a winning choice for kitchen flooring. Opt for a lighter color to complement your color palette. It will reflect light into the room, making it feel brighter and more spacious.
Soften the Look With Textures & Textiles
There's always the risk when creating a minimalist room that it feels too sparse, clean, and clinical. You don't want this to happen with your Scandi-style kitchen, and here's how to avoid it.
You can soften your clean lines and clutter-free surfaces with textures and textiles. For example, choose a cozy runner for your kitchen floor and add cushions to your chairs or stools. These little touches will add comfort and make your kitchen feel softer and homier.
Other accessories you could add include a wall hanging or tea towels (cute yet practical!). The aim is to channel the hygge vibe so that your kitchen is cozy and welcoming.
Choose a Large Table & Chairs
A Scandinavian kitchen is a perfect place to entertain guests. It doesn't need to look fancy, but coziness and comfort are crucial. And that means you need to have a table large enough to seat everyone.
If you have more space for a kitchen table, opt for a sturdy, practical wooden one. And if possible, size up so you have extra seats for when you have guests over. Make it feel even cozier with cushions and sheepskin throws. It doesn't need to look perfect! Mismatched chairs add charm and will make your guests feel more at home.
Add Some Natural Accessories
Now, it's time to add some final touches. And would it even count as a Scandinavian kitchen if it doesn't contain some natural elements? For example, a vase of flowers in season or some plant pots on the windowsill. Or you could go for some pretty twigs as a centerpiece for your table or kitchen island.
These little touches will continue the natural, organic feel. They will complement your earthy color palette and natural materials. Plus, bringing nature inside has proved to be beneficial to our mental health.
You can also add some personal touches or other decorative items that appeal to you. Remember that a Scandi kitchen should feel cozy and relaxing. So, it doesn't need to look like a showhome! It's more important that you (and your guests) feel comfortable.
The Wrap Up
If you weren't in love with Scandinavian interior design style before, you likely are by now! Nordic-style kitchens really do have it all. They're practical, comfortable, cozy, and stylish. And they're also clutter-free and easy to maintain.
And now, you know exactly how to create a Scandinavian kitchen in your home. Follow these simple tips to transform your kitchen into a chic yet functional space. You'll be amazed at the difference it will make in your home!
Let me know which of these tips you like the most in the comments below. And follow Quiet Minimal on Quiet Minimal for more home design tips and minimal living inspiration.