You'll need to incorporate the less-is-more theory and focus on making the room cozy.
To create a Scandinavian minimalist design, use natural materials and minimal décor.
The Scandinavian minimalist design ideas include lighting, neutral colors, wood furniture, and plants.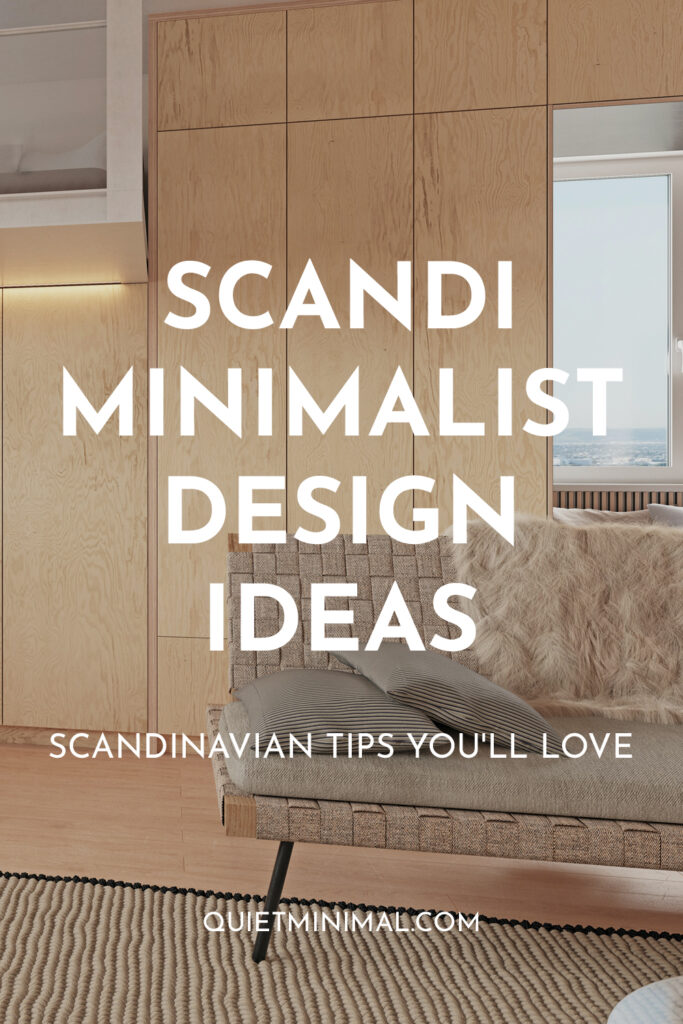 A fantastic design makeover idea for your home is to create a clean, airy ambiance. You'd be surprised how little you need to make the most out of your space. Scandinavian minimalist design does all that and more, as it is a philosophy. Once you know of some Scandinavian minimalist design ideas, you'll get hooked.
If you find minimalism interesting, but the design is too simple, you'll be happy to know that the Scandinavian element brings extra warmth. To help you make your home Scandi minimalist, we have ten ideas to spruce your home's design.
Minimalist and Scandinavian designs go together, which is why the new movement exists. Minimalist design has the philosophy of using the bare minimum and keeping neat.
The Scandinavian and minimalist movements focus on function over form. They use clean lines and minimal decorations. Scandinavian Hygge philosophy means 'comfort' in Danish. Hygge means that a comfort element is welcome in Scandi Minimalist homes above the strictness of minimalism.
Get Rid Of Clutter
The marriage of Scandinavian and minimalism means they agree that too much clutter is a big no-no. Minimalism means the lowest number of items possible, meaning less décor. Scandinavian design has the philosophy of Lagom, which means 'just right' in Swedish. This allows for a little more decoration to add warmth while still being minimal.
A decluttering rule is to cut things filling up your space and only keep what serves a function. With this combined movement, you can save some sentimental items and add a tad extra to the room.
Donate whatever you throw out so you can follow the motto of Scandinavian minimalism. The philosophy should be about not creating waste and bettering the world around you.
Paint Your Walls White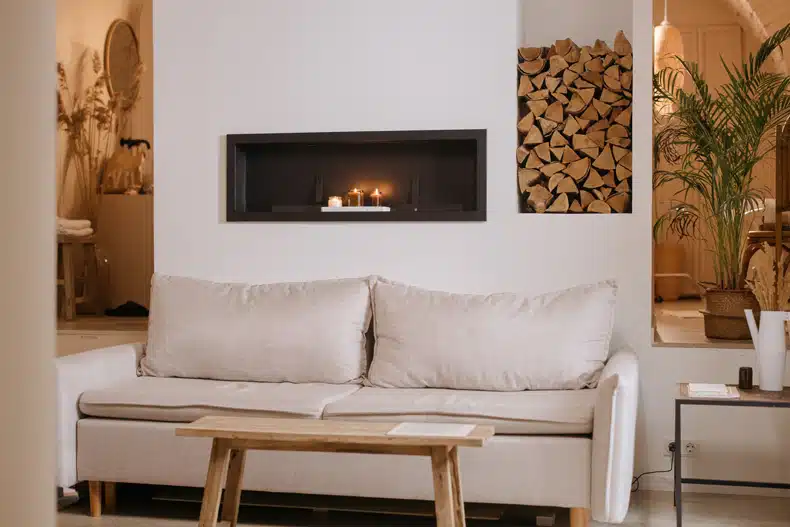 Scandi minimalist design is about creating a clean, lively space. Painting all your walls white will achieve this. There are many shades of white, and you can opt for a warm white instead of a cool one. Warm white walls keep to the welcoming aspect of the Scandinavian influence.
White walls bring feelings of purity which influences a positive mindset. The bonus is that you can change your décor at any stage. White walls don't have to be a second thought, as they match every home style.
Bring In More Light
Lighting is a crucial aspect of getting Scandi minimalism right. Light influenced Scandinavian design because it makes a home feel warmer.
The Nordic region needs warmth in design to create the illusion of a heated environment. Not all parts of your home are so lucky to have many windows, and nighttime is a thing. Adding windows and different lighting to your home completes the Scandi minimalist design.
You can make lighting beautiful by using gorgeous pendant lights, basket shades, and freestanding lamps. For open and transparent pendant lights, you can opt for Edison bulbs or even have them feature on their own for a raw, minimalistic look.
You can even go as far as fairy lights and candles to give your home the glow that makes the room feel like home.
Add A Pop Of Color And Texture
Although neutrals like white, grey, and brown are critical to both movements, the Scandinavian design allows for accents of different colors and textures. You can introduce texture through cotton, wool, and braided material items.
Scandi minimalism allows versatility. You can bring color, including patterns, on décor pieces like couches, curtains, rugs, and continental pillows.
The key with color and texture is that it should accent the space, not take over. If you're more on the minimalistic side than Scandi, you can opt for soft pastel colors.
Get Some Plants
Nature is essential in Scandinavian minimalism, and no design would be complete without it. A few plants bring peace and harmony to any space and are better than any decoration due to their naturalistic feel.
You can find a pot or basket for the plant that compliments the design movement.
Plants fit into minimalism because they aren't considered clutter. They also work for Scandinavian roots due to the natural element that forms the design movement's values.
In simple terms, plants are an asset to this entire design of Scandinavian minimalism.
Find Some Wall Décor
Since a bunch of bits and bobs don't make the cut in Scandi minimalistic design, your go-to for artistic flair is your wall art. On the more minimalistic side, you can look for art with simple, organic shapes and forms and put it in a basic black or white frame.
Scandinavian influence still prefers simple forms, but geometry plays a role in this design style. Another option that pleases the entire movement is a wall-hanging macrame, which adds a serene, textured element to the room.
Expose Some Natural Wood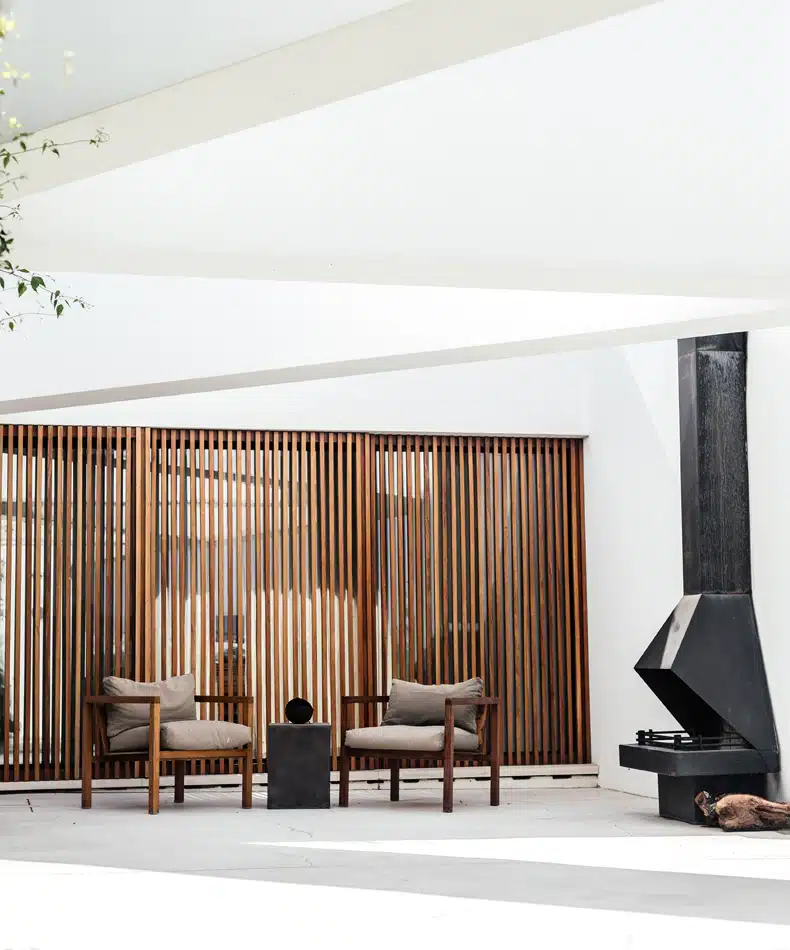 The wood element is essential for Scandinavian minimalism and will only complete the design. If you have wooden floors, let them show as much as possible by removing oversized rugs. Wooden shelves are also a great option.
If wooden floors aren't present, you can bring in wood-accented furniture or scrape off the paint of the ones you already have and give them a polish.
Besides the furniture, you can incorporate natural wood by using wooden frames for your wall art. You could also introduce a freestanding wooden sculpture.
Opt For Second-Hand Furniture
If your Scandinavian Minimalist design makeover is a big project on your to-do list, and you want to bring in new items, you should reuse what you can.
Remember, minimalism is a philosophy too! Look for second-hand furniture to stay true to the minimalistic attitude, which would save you some money too!
Second-hand furniture also allows you the opportunity of a DIY project. You can paint the item to match your color scheme or give the old wood a fresh coat of varnish. A pre-loved item may be brand new from the seller, so second-hand doesn't always mean old.
Be Smart About Storage
Once you've decluttered your space from all the not-so-needed items, you will still have things to store away from view. Smart storage helps you to keep to the clean ethos of Scandi minimalism.
Besides drawers and cabinets, you can use baskets to bundle your goods for a tidy look. Remember always to keep it organized to stay true to minimalistic ways.
Put Up Shelves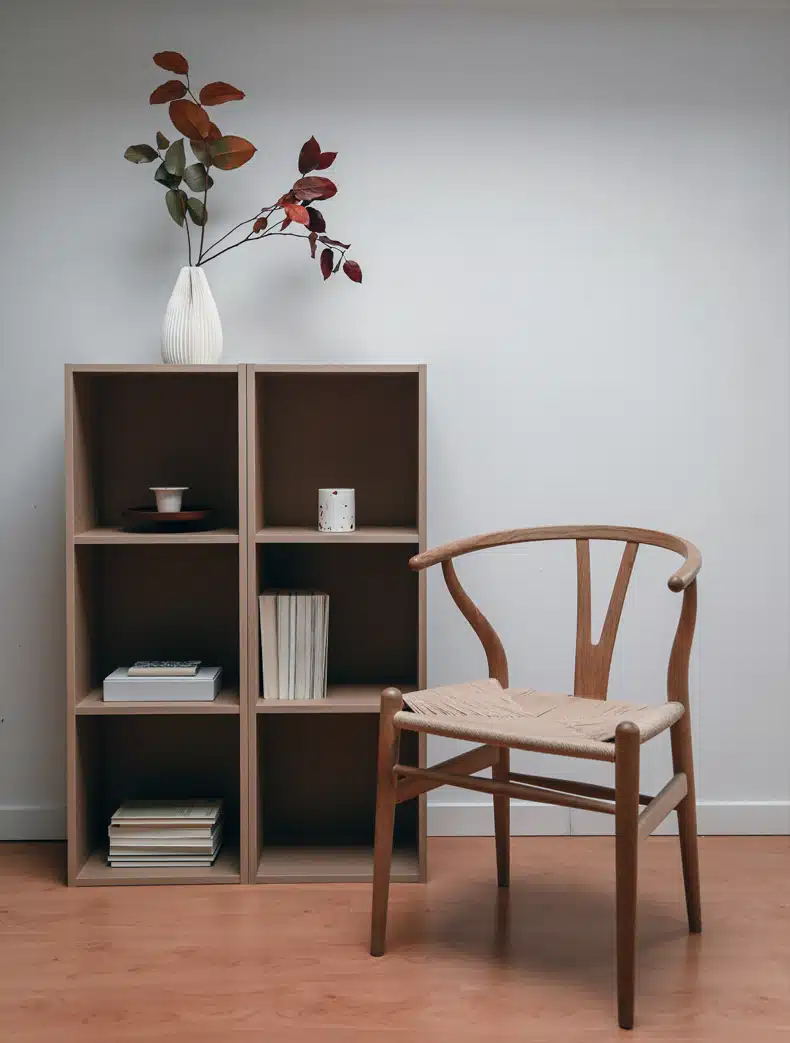 As mentioned, shelving will allow you to bring natural wood into your room. Shelving is commonly seen in Scandinavian minimalistic design as a platform to keep books and one or two décor items like a sculpture and a candle.
You can also store your baskets with your necessities on the shelves. Remember to dust regularly and keep them as clear from clutter as possible since that is the way of a Scandinavian minimalist.
Conclusion
Less is more, and making a house a home is the basic definition of Scandinavian minimalist design. Your ideas can run wild, from painting walls white to getting a pet plant.
As long as your living space is clear from clutter, has an open feel, and has a splash of nature and color, you're doing Scandi minimalism right.
Follow Quiet Minimal on Pinterest for more home inspiration and tips.