Thinking about upgrading your bedroom or doing a complete revamp can be thrilling and, at the same time, troublesome. So which style do you go for that will last a lot of years and can be tweaked here and there to break free from routine? Could Scandinavian Nordic bedroom décor be the answer?
Scandinavian Nordic bedroom Décor ideas:
1. Add texture to bring about the theme
2. Minimalize décor
3. Neutral colors will scream Scandinavian and Nordic
4. Add natural accents
5. Natural lighting is key
6. Bring the outdoors inside
7. Add wood items
8. Abstract colors
9. Unclutter the space
The marriage between neutral colors, woods, texture, and soft accents brings about the Scandi Nordic feel. This feeling is what you want in a serene, quiet, and comfortable space like a bedroom.
Add Texture For A Scandi Nordic Vibe
One thing that will establish any bedroom's Scandinavian Nordic feel is texture. You can add texture as a loose rug in front of the bed, one or two scatter pillows on the bed, or a throw over the bed.
Different Ways To Add Texture To A Bedroom
You can add texture to a room in many ways. Ensure you don't go too crazy with the texture and patterns and overpower the entire theme that focuses on simplicity and clean lines. The point of texture is to give your eye a break when you look at a room. It breaks the hospital-perfect room into a comfortable, homey feel.
Walls – Walls are an easy place to add texture. You can either add a wall panel to give a contrast to the rest of the room or add a texture element. Another way would be textured wallpaper. This could be all white only, having a pattern and texture, or bringing in a little color with the texture.
Floor – Different tiles can work magic when you want to include patterns and texture into the floor, or as you might see on most Scandi Nordic room ideas – a wooden floor.
Bedding – Suppose you want to go for new bedding; this can be the element to bring in the texture. As some might go for a plain white bed cover, a texturized one can make your theme come to life.
Add-in décor – Maybe you set up your room and need that final touch of texture. Here you can add a fur pillow, a beige or grey textured throw, or a rug with patterns. Another place to add patterns is a light, see-through curtain with soft lines. Finally, some want to add art to their wall – the perfect place to create the pattern.
Mix old and new furniture – A big, comfy bed with a velvety finish as the new element, combined with an old wooden rocking chair wearing its age, is the perfect example of adding texture.
Minimalistic Décor For A Scandi Nordic Bedroom
Please keep it minimalistic when it comes to décor. If you want to add cushions to a chair or the bed, opt for one or a maximum of two. Wall art should be clean and fresh and only added as an accent and not overpower the room's minimalism.
It can be tempting to add too many patterns, especially colored ones. Instead, stick to simplistic lines, blocks, and colors. If you bring in the Nordic accent color as a patterned rug or bedcover, ensure this is the only busy part of the room. This way, you will still have the Scandinavian feel with a hint of Nordic.
Neutral Colored Bedding And Décor Ideas
Scandinavian Nordic-inspired colors are neutrals all the way. These include beige shadings, whites, greys, light blues, navy, and charcoal hues. Then, add a hint of color, such as a mustard cushion or a sage rug.
An accent color added will bring about the Nordic side of the style. These can be bright colors like orange, red, or green. The important part is only choosing one accent to stick to the theme.
By keeping your bedding neutral, you can always change around the décor or accents and still have a calm environment. White or grey bedding is a favorite when it comes to this type of style.
Add An Accent To The Bedroom
Adding one accent to the bedroom can bring about a Scandinavian tone to the room. Either an old ottoman or leather chair, an antique mirror, or a modern lamp in the corner of the room. This will give the space the twist to conform to a Scandinavian and Nordic style.
Ensure Natural Lighting In Your Scandi Nordic Room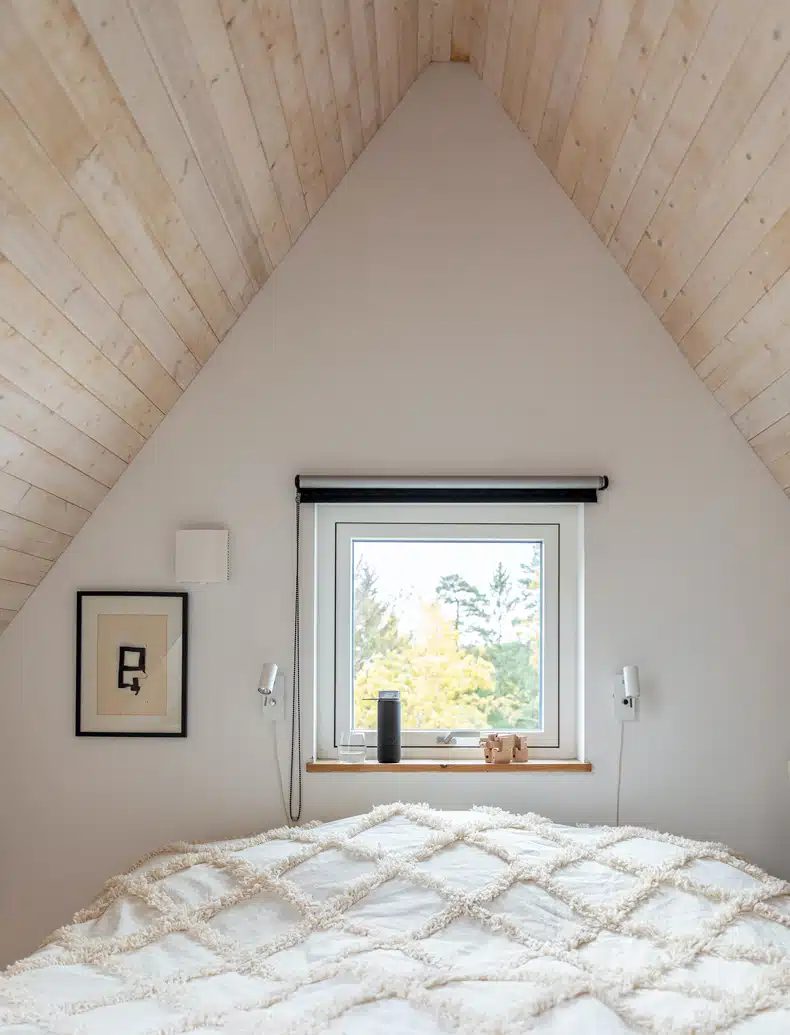 Because the Scandinavian and Nordic towns are dark and cold, most people living there want the little natural light available to flood a room. This is why natural light is part of the Scandi Nordic décor theme.
This style is all about letting natural light in. Dump the curtains and leave the windows bare if you dare, or get an expert to tint your windows and minimize the exposed feelings. Do not add too many lamps or lighting; instead, ravish in the sun and moon's shine.
Let The Outside Meet The Inside
Suppose you are lucky enough to brag about a beautiful greenery view from your bedroom window and use it to compliment your Scandi Nordic-themed bedroom. Then, add an indoor plant as an accent to meet the outside style with your inside décor.
Another way to amplify the beautiful trees outside your bedroom is to keep the window sill to a minimum. You can add a washed-out, treated wooden frame to repeat the tree bark.
Make Wood Part Of A Scandi Nordic Bedroom
One must-have in Scandi Nordic style design is adding some natural-looking wood or stone items to the room. This opens up many possibilities and might take the longest time to prepare when you plan your design.
You can visit IKEA and get something you like, or you might have a specific idea and need someone to design it. Lastly, you might be talented enough to make something yourself. Either way, a wooden headboard or base, vase, window sill, bedside table, wall art, or plant pot will look like the part in your newly inspired bedroom.
Go Abstract With The Scandi Nordic Bedroom Décor
Most bedroom ideas with a Scandinavian Nordic theme might give you the impression that you must go all white, but this is not the case. A dark navy or charcoal wall can bring a twist to your bedroom but keep to the theme.
You can also plan on using neutral colors in contrast throughout the room's design. An example would be to pair whites with grey or browns. You can even go for a patterned wall as the abstract element and keep the rest of the room clean and light.
Unclutter The Bedroom For A Scandi Nordic Tone
Another signature look regarding Scandinavian Nordic designs is how clean and open a room look. Try to declutter the room and keep only the necessary appliances out. Get a place to store most of your things in the cupboard or under the bed. This will keep the floor open and give the room a more significant and cleaner look.
Too much bedding, cushions, and layers of curtains can also make a room look cluttered. Follow the less is more approach, and if you want to add an accent, wooden aspect, or any of those mentioned above, please don't overdo it.
FAQs
Some might say they are precisely the same, but others divide them with some differences. For example, Scandinavian is more modern, clean, and sheik. At the same time, the Nordic side adds bright accent colors and textures to a room.
Can I Combine Scandi Nordic Style With Another Style?
Because it is such a modern and simplistic style, Scandinavian Nordic themes can easily be combined with other ideas such as Boho or Coastal. Rustic is also an option. Just be careful to hit the right median between the two; otherwise, it might end up as something that is all over the place.
Conclusion
A Scandinavian Nordic-inspired bedroom is a great idea to stay modern and on-trend, keeping it clean and minimalistic. This timeless design will give you peace and contentment in your bedroom and ensure great nights of sleep.
Follow Quiet Minimal on Pinterest for more interior design and minimal living tips.