Do you wish to give your home a makeover but don't want to break the bank? If that's the case, then this article is for you! You can update your space on a budget with these ten easy tips.
You don't need to spend much money to bring out the best in your place. With creativity and planning, you can achieve excellent results without breaking the bank.
It could be giving walls a fresh coat of paint or adding new decor pieces. There are plenty of ways to makeover your home without spending too much money.
By following these simple steps, even those with limited funds can liven up their spaces affordably.
So if you need to be more inspired by your current setup and wonder how you can add some pizzazz without spending big bucks, then look no further. This guide has got everything you need!
Ways To Update Your Home Without Going Broke
Take Advantage Of Clearance Deals
Updating your home on a budget doesn't have to be complicated. You can do this by taking advantage of clearance deals.
Clearance items are usually discounted and often include furniture, appliances, electronics, decor, and more. Stores stock up on these items when they're discontinuing them or trying to make room for new products.
Shopping around in stores like this can get great quality items at much lower prices than usual. The key to finding good clearance deals is timing.
Check out store flyers regularly to know when sales start and end. It would help if you also shop early in the season, as certain items go quickly once the sale begins.
Additionally, remember online retailers. Many offer discounts for online purchases, which could help you save even more money!
It's possible to find some fantastic savings if you take the time to search through different stores' clearance sections. Be bold and ask questions too. Customer service reps can tell you when something is due to go on sale or advise what item might fit your needs best.
Repurpose Your Furniture
On updating your home on a budget, repurposing furniture is an excellent option. It's more cost-effective than buying new things. But it also lets you get creative and add character to your space!
Instead of throwing out an old dresser or chair, think about how you can give them new life with a few tweaks. You could paint them a different color, replace the knobs and handles, or sand down wood surfaces for a distressed look.
You can make all these changes using supplies from a hardware store – no need to break the bank.
Another way to repurpose furniture is by giving them dual purposes. Take that new armchair in the corner of your living room: why not turn it into an ottoman?
This piece will make your living area feel cozier and provide extra seating when needed. With some foam padding and fabric coverings, you'll have one stylish piece of furniture at minimal expense.
Keep in mind that bringing elements like plants into your home is another excellent way to spruce up any space without overspending.
Not only do they bring natural beauty indoors, they often come with health benefits too! So remember to include greenery when upgrading your abode on a tight budget.
Brighten Up Your Space With Paint
Paint can be a great way to update your home on a budget. Not only is painting relatively cheap, but it's also an easy and quick way to transform the look of any space or room in your house.
Changing colors or adding accent walls can give you the feeling of redecorating without replacing furniture or accessories.
When you start painting, consider using bright colors to make your space appear larger. You don't have to stick with neutrals; use shades of blues, greens, purples, and yellow beige for more dramatic effects. 
Choose lighter colors, such as pastels, if you want something quieter and more understated. If you feel overwhelmed by all these options, try looking at color swatches from a home improvement store for inspiration and ideas.
When buying paint for the job, research and find out which brands are most cost-effective yet still high quality. Don't forget to factor in the costs of brushes or rollers, too – they may add up!
Updating your home on a budget with paint should be straightforward and achievable.
Invest In New Pillows And Throws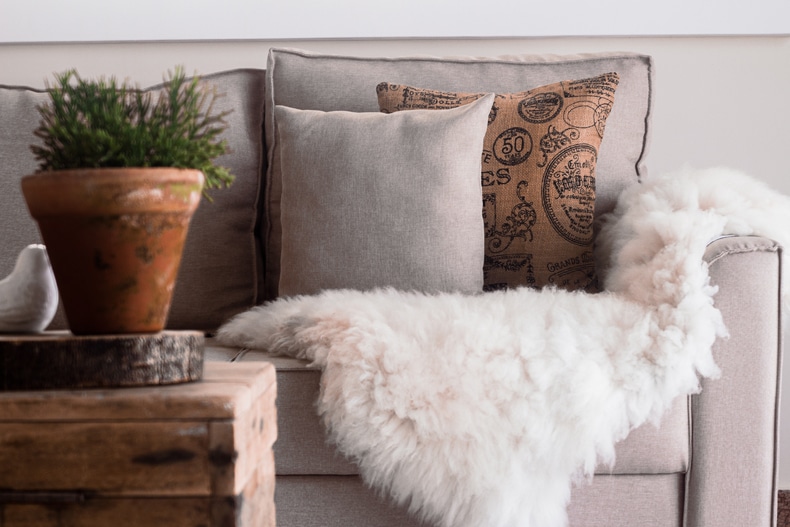 Adding new pillows and throws to your home is a great way to update it on a budget. They can give your space a new look with minimal effort or cost.
Not only that, but they are also incredibly versatile; you can use them in any room of the house and change up their placement as often as you want.
When shopping for these items, try to choose ones that complement each other in color and texture. It's important not to go overboard. Too many throw pillows will make the area look cluttered rather than inviting.
Also, consider how much natural light there is in the room. Opt for brighter colors to help reflect more light around the space if it's pretty dark.
Remember, less is more when choosing new pillows and throws for your home! A few well-placed pieces can do wonders for updating the look of any room without breaking the bank.
Shop Second-Hand Stores
Second-hand stores are a great way to spruce your home while staying within budget. Shopping this way saves you 50% or more on items. It's worth looking into if you're trying to update your space.
Plus, with second-hand pieces, you won't have to worry about everyone else having the same decor. They'll be one of a kind!
When shopping at second-hand stores, take your time and look through everything available. You never know what gems you may find hiding in plain sight.
It's also important to check the item's condition before purchasing – especially for furniture pieces. Taking these precautions will help ensure that whatever you bring home is safe and durable enough for everyday use.
It can be hard to part with money when updating your home, but there are ways to do it affordably. Second-hand stores offer unique items at much lower prices than retail shops.
Thus, they are perfect for those who want something special without spending too much. So why not try shopping preowned next time you need an upgrade?
Make Your Own Artwork
Making your own artwork is a great way to update the look of any home without breaking the bank. It's an easy DIY project that anyone can do! Plus, it adds a unique touch to your space and makes it feel like yours – what could be better than that?
There are many ways you can create art for your walls. For example, try framing prints or photographs from online sources such as Pinterest or Etsy. You can also paint on a canvas with acrylics or watercolors if you prefer something more abstract.
Or, pick up some inexpensive frames and fill them with items from around the house, like fabric swatches or postcards.
No matter which route you choose, making your artwork will help give any room in your home new life at a minimal cost. So why not get creative and find out how much fun it can be to add a personal touch to your decor?
Refresh Your Windows
Refreshing your windows can be a cost-effective way to give your home a new look. Many people might think about something other than this detail, but it can make all the difference in bringing new life into a room.
You don't need to spend money on fancy curtains either; there are plenty of other ways to update them.
For example, if you have plain blinds or shades, consider adding some texture using fabric tape with patterns and colors that match the rest of your decor.
It's also an excellent opportunity to take advantage of any DIY ideas you may have seen online, from stenciling designs onto the slats to hanging decorative elements like ribbons and beads along the sides.
You could also repurpose items around your house for window dressing, such as vintage scarves, old records, or even recycled wrapping paper!
Get creative and recreate something unique – it's an easy yet effective way to add character without breaking the bank.
Update Your Lighting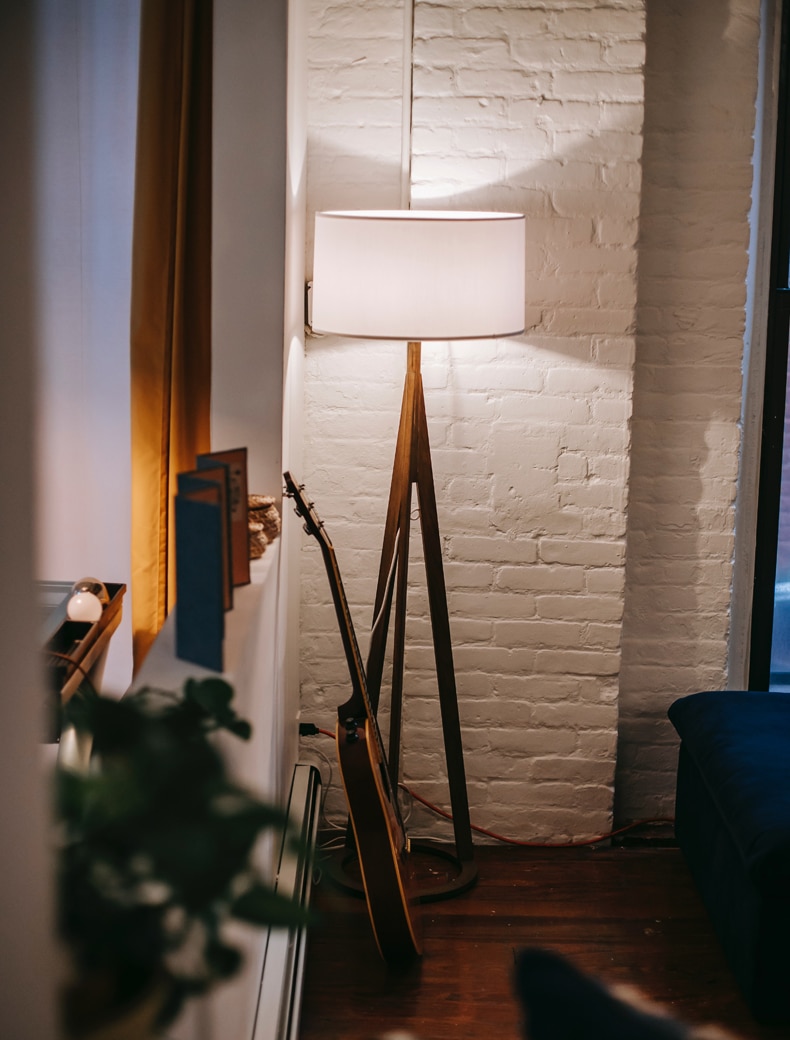 Updating your lighting is a smart way to spruce up any room without breaking the bank. Incorporating different types of light fixtures, such as lamps and overhead lights, can give a space a new look. There are plenty of affordable options if you're willing to shop around.
Swapping out older fluorescent bulbs for brighter LEDs will make a difference in how well-lit your home is. You don't have to pay too much for these either – LED bulbs usually range from $4-$6 depending on the type and wattage needed.
If you want something that looks more decorative, try looking at thrift stores or online marketplaces like Etsy or eBay.
It may take effort, but finding discounted yet stylish items will effortlessly update your home's lighting. With modern technology making everything so accessible, you can find what you need without going over budget!
Upgrade Your Hardware
Upgrading your hardware is an easy and affordable way to give your home a facelift. It can range from drawer knobs, hinges, door handles; cabinet pulls, and more. Changing these items will make it feel like you've given the entire space a brand-new look.
Plus, plenty of options at different price points won't break the bank. Whether you're looking for something modern and sleek or classic and timeless – you'll be able to find pieces that fit within your budget.
You don't have to replace all of them either; mix and match with some old and some new to achieve the desired effect.
So if you want to refresh your decor without spending too much money – upgrading your existing hardware could be a great place to start!
Reorganize Your Space
Reorganizing your space is an excellent way to give your home a fresh look without spending much money. Plus, it doesn't need any additional purchases! It's amazing what you can do just by moving furniture around and taking advantage of existing items.
One easy place to start is by decluttering. Clearing out all the excess will help open up the room and allow you to see how to use the remaining items more effectively.
You could also rearrange the furniture to create different spaces or better use corners and nooks. For example, if you have a small nook that you don't use for anything, why not turn it into a cozy reading spot?
Try looking at each area through new eyes – there may be opportunities for creating something unique with what you already own!
Conclusion
It's possible to update your home on a budget and make it look amazing. With careful planning and research, you can find ways to save money while making improvements that will last for years to come.
And remember the importance of energy efficiency. Simple changes like switching out lightbulbs or updating insulation can significantly impact your comfort level and utility costs over time.
With creative thinking, you can give your home an affordable facelift without breaking the bank. So start researching and get ready to transform your space into something special!
Follow Quiet Minimal for more home design tips & inspiration!