For a small bedroom office combo, there are some great ideas.
Use room dividers and plants, or tuck a desk into a small corner or closet space.
Putting a desk in front of a window and using existing furniture like a vanity table is ideal.
Use splashes of color to create a bold look to the décor.
If you are one of many people who have opted to work from home, finding an office space somewhere in your home is essential. A dedicated space where you can be creative or work undisturbed is a must-have.
Including an office area in your home is relatively easy, even if the only available space is a bedroom! Here are some small bedroom office combo ideas.
Creating an office space is easy once you have ideas on how to choose the area and utilize the furniture you already have in your home. Read on for great ideas on adding an office area to a small bedroom.
Great Ideas For A Small Bedroom Office Combo
If you are a tad daunted with re-arranging and setting up an office in your small bedroom, apply some of these creative ideas. Use your individual décor preferences to personalize your new bedroom-office combo.
Create A Divider To Separate The Two Areas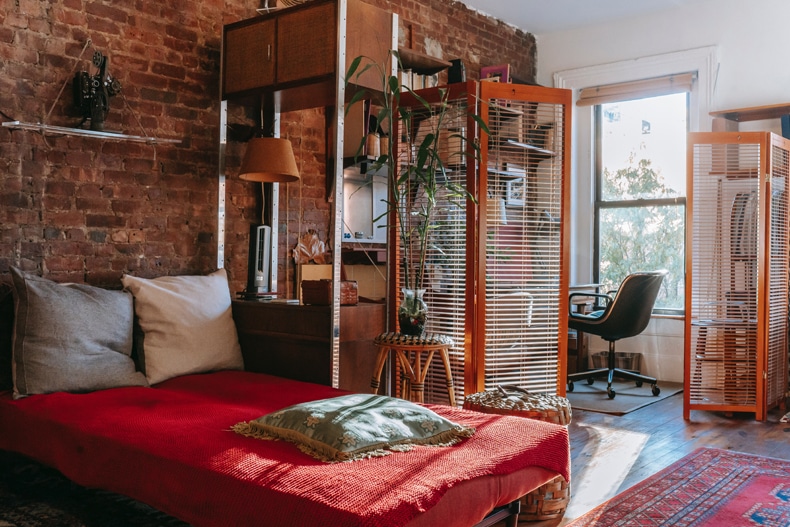 Choose a corner or space in the room where you would like to sit and work. Use a room divider to create a cozy zone and to separate the area from the bed. You could use a rolling folding screen, a translucent sliding door, or hang a curtain.
Or create a wall divider with a bookshelf or a row of luscious plants of various heights planted in beautiful pots to create a lovely office area.
Utilize The Closet Space
This is a clever way of using space that already exists in the bedroom. Paint the inside of the cupboard white to create a spacious feel. Attach a shelf along the length of the closet for a desk.
You can add some wicker basket drawers underneath for storage or attach narrow shelves on the wall above the desk. When not in use, close the closet door, and the office is neatly tucked away.
Use Your Vanity Table
Another great idea is to use your vanity table as an office area. This is the perfect office desk, complete with drawers, and the mirror can be replaced with a small table bookstand. Choose a comfortable chair with good back support.
You can still use the vanity as a makeup and beauty station. Keep one set of drawers for your beauty accessories and the other for office supplies.
Choose The Window's Natural Light
Use your bedroom window as the frame to set up your office space. Install a bench across the width of the window, or place a small desk in front of the window. The natural light and outside view make the window perfect for your office.
Use roller blinds instead of drapes for nighttime privacy. Place a mat under the desk and add accessories to create a beautiful office zone.
Tuck The Office Into A Corner
Tucking a small office space into a corner is ideal for a small bedroom. Install a small corner bench and add some floating shelves on the wall above the desk. Even though the space is tiny, you can set up a comfortable and functional office area.
Use the same color wood as the rest of the bedroom to create a uniform and spacious look.
Make A Bold Statement
If you decorated your bedroom in neutral beige, white, or gray, add a splash of color when creating your office area. Paint the wall above the desk a bright yellow to instill positivity or green for a calming and energizing influence.
Choose a natural wood color or pristine white for the desk and shelves, which will look lovely against the bright wall.
Conclusion
There are numerous creative ideas to combine an office area with a small bedroom space. You can choose room dividers, install a desk in a closet, use your vanity table or tuck the office into a tiny corner.
You can opt for natural wood or white office furniture or use a dash of color to uplift and energize the ambiance in the room.
Follow Quiet Minimal on Pinterest for all your home tips, ideas, and info!