To maximize space in your garage, you have to utilize every inch of it – the walls, floor, and ceiling.
Depending on what you want to store, you can mount shelves, build wall-to-wall cabinets, or even install a nifty ceiling storage system.
Think creatively and try to repurpose what you have.
I wanted to have a dedicated space to store those essential yet unsightly items like my vacuum cleaner when I lived in an apartment. My vacuum cleaner lurked at the bottom of my closet, ruining the aesthetic.
I was thrilled when I finally moved into a place that came with my very own garage. The garage was small, so I started brainstorming storage ideas.
It is so easy for a garage to become a dumping zone – whatever doesn't have a dedicated space in the house gets plonked there. Read on for great storage ideas so your garage is well-organized and clutter-free.
Ten Storage Ideas For A Small Garage
Keep your small garage from becoming a battleground of stuff strewn everywhere. These storage ideas will ensure you know exactly where to find the necessary things.
Organize Tools And Extras In Cabinets
Your garage may be small, but you can still install cabinets and drawers to fit into the space. Storing tools, cleaning supplies, and other items in cabinets and drawers ensure that they won't get dusty and will be protected from damage.
Keep Brooms And Mops Together
Install a broom and mop holder on the wall to store mops, brooms, and dustpans. This will take up no space at all and ensure that your cleaning tools are off the floor and out of the way.
You could buy a wall-mounted broom holder or DIY one with a plank of wood and some pipe straps.
Maximize Blank Walls
There should be no blank walls in a small garage. Hang pegboards or magnetic strips onto a wall to keep tools, paint brushes, and other bits and bobs together.
Use Plastic Window Planters
Plastic window planters are sleek yet roomy. Mount a few of these to a wall in your garage and use them to store tools, gardening supplies, toys – anything you need.
Add A Shoe Organizer
Those behind-the-door shoe organizers are not just for shoes. Hang them on a wall and use them to store nails, screws, brushes, and other small bits.
Make Buckets Do Double Duty
Everyone needs a bucket or two. Buckets take up space, so use them as storage when they are not in use. Install a bracket onto the wall, place your bucket in the bracket and wrap your garden hose around the bucket. Now your bucket and garden hose have a home.
You can also use a bucket to hold all your car washing supplies. Just grab the bucket and add water when your car needs a bath.
Keep Bicycles Off The Floor
Don't be tempted to lean your bike against a wall. This takes up valuable floor space. Instead, use bicycle hooks to hang the bicycle from the ceiling.
Repurpose A Filing Cabinet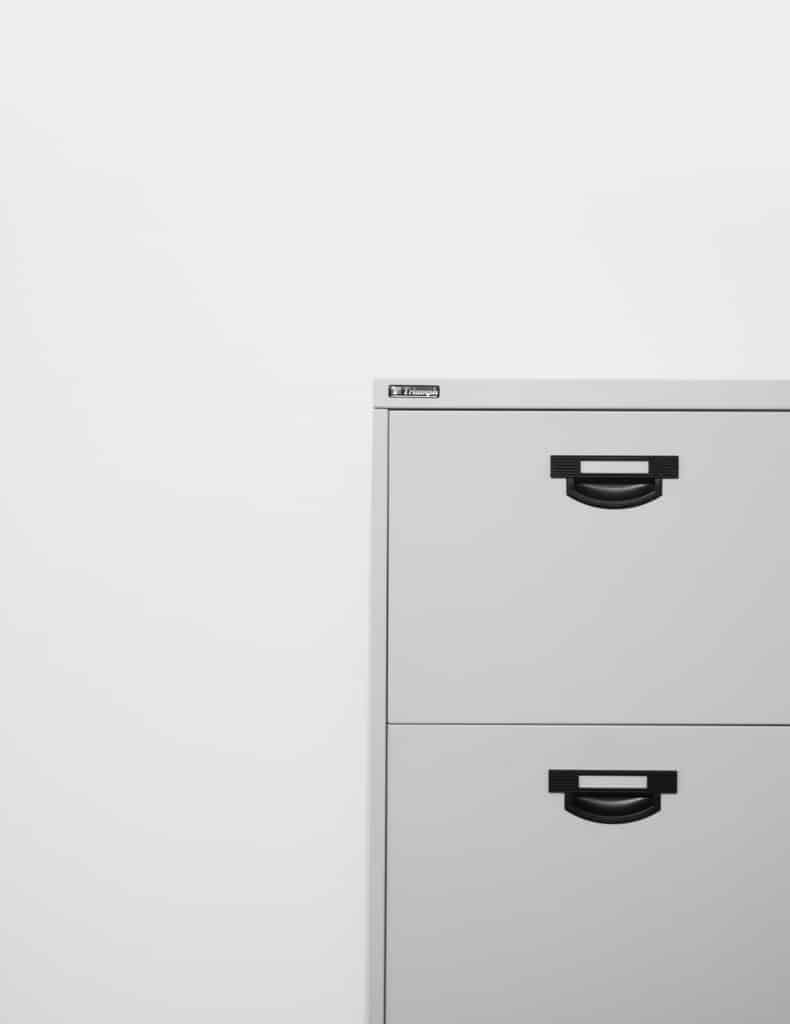 A filing cabinet is excellent to use in a small garage. Flip it on its back and store brooms, mops, spades, and rakes. Bonus – add metal strips or a peg board to the sides to maximize storage.
Install A Slatwall For Various Storage Options
Featuring grooved panels, a Slatwall is great for a small garage because there are so many possibilities once it is installed. You can attach baskets, brackets, hooks, and shelves to a slat wall giving you multiple storage options.
Invest In A Ceiling Mounted Storage System
Image credit / HyLoft | Amazon
It makes sense to store those items you don't often use in a ceiling-mounted rack. This way, they are stored safely without taking up precious floor space.
Conclusion
A small garage can be a manageable space. With a few simple yet thoughtful storage solutions, your garage can be a neat, tidy, and well-organized space.
Follow Quiet Minimal on Pinterest for more home inspiration and ideas.