Having a small kitchen counter can be challenging, but with the right ideas, you can have a stylish and functional layout. Have your cake and get to eat it in a vertically laid-out kitchen designed to house your appliances, cookware, ingredients, and more.
Small kitchen counter ideas are mostly centered around space. Make the most of your area by storing your kitchen utensils creatively. Use open and closed shelves and cabinets. Hang pots from the ceiling. Store appliances in cabinets where possible and use a rolling mini-island when needed.
The kitchen is definitely the heart of the home, no matter the size. There are many ways to make the best of a small kitchen counter. As you whisk up your creativity to find ways to work in your small kitchen, you may find that it creates magic beyond what you may have experienced in a large one. And now, freshly brewed for you, our favorite ideas for small kitchen counters.
Small Kitchen Counter Decor Ideas
We have selected our top ideas for your small kitchen counter. From your choice of color and where to store your appliances to what plants to house in your kitchen, we know you will find tips to inspire you for your small kitchen.
Light And Breezy Color Scheme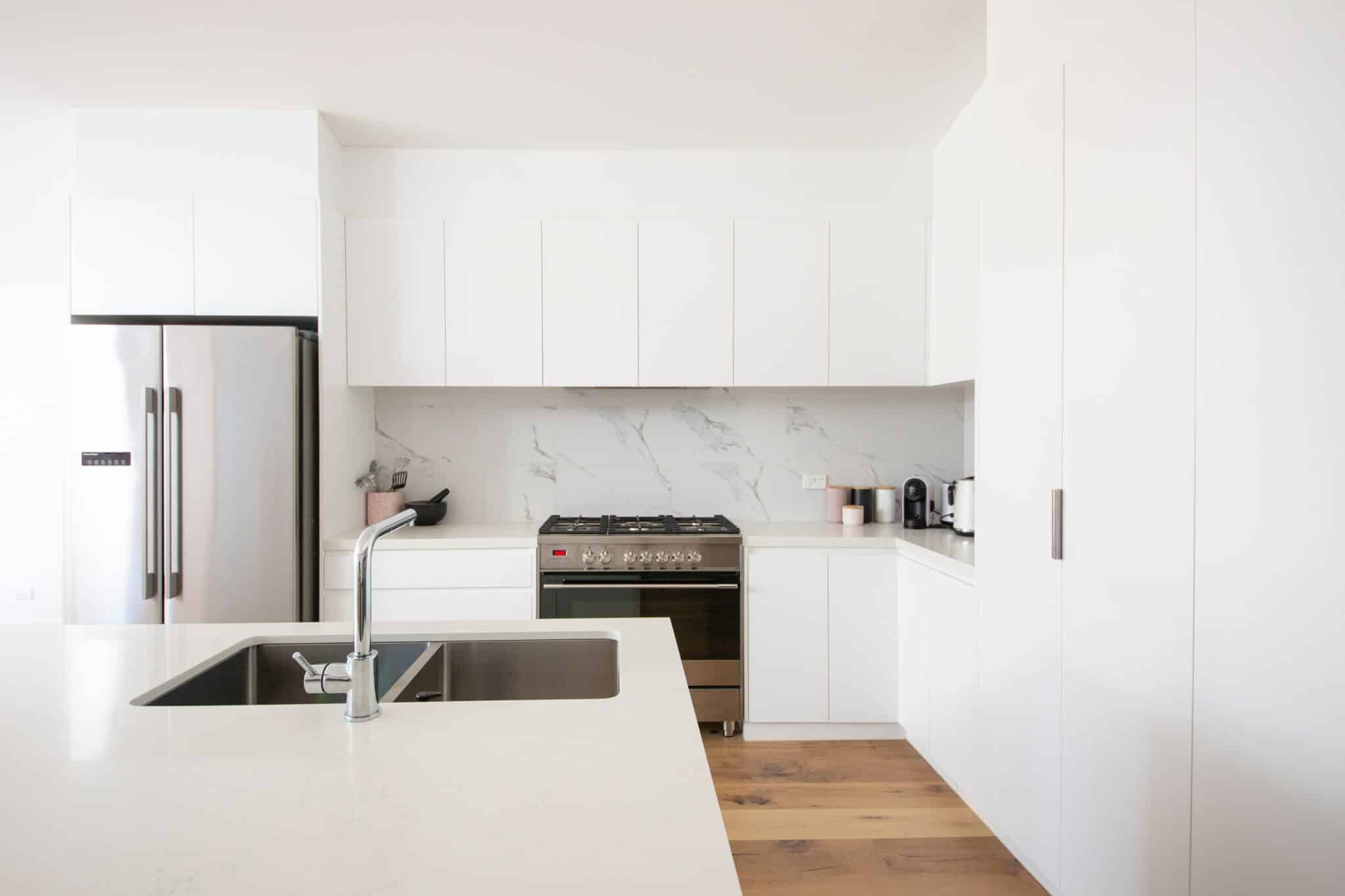 If your counter is small, your kitchen is likely on the small side, too. You may opt for a light color scheme if this is the case. White is an attractive choice. We recommend selecting an all-white counter and kitchen.
Use light wood accents to soften the look, and consider adding dark grey or black metal handles to your cabinets for a modern touch. Add indoor plants to add oxygen and life to the room and your counter. Consider growing herbs since you can use them in your cooking, too.
The white color will add a sense of space to the area and allow you to keep your counter clean. By adding white containers for items that remain on the counter, you continue the look and keep the counter and kitchen looking clean, fresh, and spacious.
An Open And Closed Case
When you have a small kitchen counter, it is best to store as much as possible in cabinets and on shelving off the counters. A combination of open shelves and neatly closed cabinets are a lovely way to store and display your kitchenware.
Consider storing attractive items that are used frequently on open shelves. Things that look a little more haphazard or messy or that are not used as often should be kept behind the closed doors of the cabinets.
You can add cup hooks to the bottom of a shelf and store your tea and coffee cups there. Keep them from hanging too close to the stove; however, the oil splatter from cooking will leave your cups grimy and sticky.
Consider converting one or two into your shopping list space to make the most of your cabinet doors. Paint the inside with blackboard paint or attach a writing pad. Add plastic folders for shopping coupons and notes of things to do. Attach a pen or pencil to a piece of string. When the cabinet door is closed, the area is clean and clear.
Hidden Agenda
Appliances take up a lot of space, but since they typically stand on the kitchen counter, we are left with little choice but to live around them. What if we had another way? We just might.
If you can shift a few items, consider housing your appliances in a cabinet. Off the counter, they will stay cleaner for longer, and you will have more counter space to use for preparing delicious meals.
Rollin' On By
Another excellent idea for a small kitchen counter is to create more space. You can do this by making or purchasing a rolling mini kitchen island. We love this idea since you can roll it in to be used when needed and roll it away again to be stored somewhere aesthetically afterward.
If you are not into a rolling kitchen island, consider placing a sideboard and a few shelves on a nearby wall. You may need to walk a few extra steps to reach it, but an addition like that could also serve as extra counter space when needed.
Conclusion
Small kitchen counters can become cluttered, but there are ways to store your items away from the space. Consider using light colors to make the area seem larger.
Store items out of sight or display them vertically. Use a rolling kitchen island or a nearby sideboard to add extra counter space.
Follow Quiet Minimal on Pinterest for more home inspiration and design tips!