You can decorate a small square bedroom with a light-colored paint and an accent wall.
Reposition your bed with storage at the foot and under it.
Hanging lights, long curtains, mirrors, high wall decorations, a large rug, indoor plants, and floating shelves can make a small bedroom look bigger.
When space is few and creativity is not, things could become problematic when you need to decorate your personal spaces according to your taste. That's right. We're talking about small bedrooms! Not all of us have a colossal bedroom, but we can do our best to decorate it accordingly. How do you decorate a small square bedroom?
Decorating your bedroom should be fun yet strategically planned out. Do you want to decorate your small bedroom while optimizing every inch of space? Continue reading with us for the best tips.
How To Make The Most Of Decorating A Small Square Bedroom
You can do endless things to decorate a small square bedroom, turning it into your own stylish, spacious haven! Let's look at the best decorative strategies you can follow to optimize the space in your small bedroom:
Choose White Or Light-Colored Glossy Paint For The Walls
White is known to have exceptional qualities to lighten any room, making it look larger. However, if white isn't your first preference, you can opt for any lighter paint, such as grey, duck egg, or purple.
To open up a room, you can use any pastel colors with a light and soft palette, but keep in mind that cool colors will work best. Warmer colors tend to make a small room look even smaller.
You can also keep the finish of the paint in mind. Paints with a glossy finish will make the surface more reflective, making the room look especially spacious. Pair a light-colored paint with a glossy finish in a small square room, and you'll instantly notice the space opening up.
Opt For An Accent Wall Or Wallpaper
Accent walls work wonders when used in a small square room. It could be as simple as using a different shade of paint for your favorite wall in your bedroom, or you can take a more creative approach by playing with lines and patterns.
Remember that vertical lines create the optical illusion of making the ceiling appear higher than it is.
An accent wall adds additional details to a room, making it feel larger. You can use darker colors for an accent wall, as it won't have the same effect as darker paint.
You also have the option to create an accent wall using wallpaper. However, when you decide to use wallpaper, you will need to keep the color paint you have used for the rest of your walls in mind.
Reposition Your Bed To Optimize Space
Due to a square room's design, you have limitless options to position your bed to optimize the rest of your space. Instead of positioning your bed in the center of your room, consider moving it into a corner because who needs two bedside tables? (We'll get to that later.)
Create A Storage Space At The Foot Of Your Bed
You'll need to consider creative storage ideas when decorating a smaller room. One good idea for storage is using the foot of your bed.
You can use a futon, crates, or even simple baskets.
It shouldn't take up more than a foot of your space, but it could help you eliminate some clutter that could make a room appear smaller.
Consider Storing Items Under Your Bed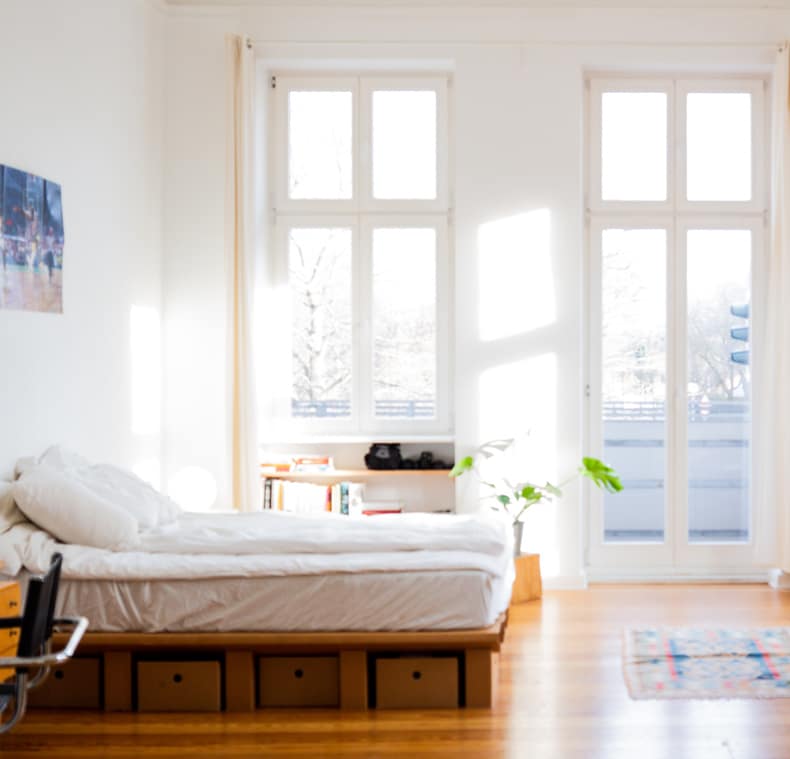 Visible storage options could be few in smaller rooms, so why not use the space below your bed to your advantage? Why should the area under your bed only store dust when it can store some items that would otherwise create clutter?
You can use low and narrow boxes or plastic bins; some are specially designed to be used under beds! If the space under your bed allows it, you can store many things, such as books, art supplies, or even your shoes.
If the space under your bed is limited, you can place it on risers, and any online retailer or furniture store will have it in stock.
Install Hanging Lights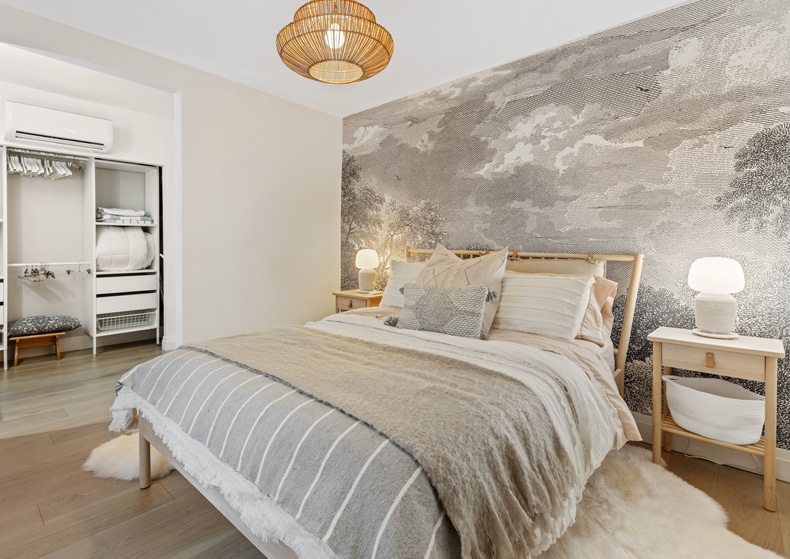 Lighting can make all the difference in making a room seem larger. If you want more artificial light without large lamps cluttering your floor space, hanging lights might be the perfect solution.
You can use a small chandelier for a sophisticated and warm look or any other type of hanging light to incorporate more light in the center of your room. It won't even use an inch of your valuable and much-needed floor space.
Invest In A Full-Length Mirror
Mirrors have significant reflective properties, and they will reflect light all around a room.
Although a mirror won't bring in natural light, it will make a room seem much bigger by the amount of light it bounces. You can use a decorative mirror above your bed, above your drawers, and invest in a full-length mirror.
Mirrors don't only need to be for decorative purposes. You can use them for an outfit check or fix your hair before going out.
Use Full-Length Curtains
Did you know that curtains stretching from your ceiling to your floor will work wonders in enlarging a small room? If your curtain rods are currently placed just above your window, you can move them just below the ceiling and reposition your curtains or purchase longer ones.
This is where the vertical effect comes in once again. The vertical effect of the curtains flowing from your ceiling to your floor will make your ceiling seem higher, adding a dramatic effect to any room, not just your bedroom.
Hang Wall Decorations Higher Than Usual
Decorating a room without meaningful photos or art is next to impossible, and if you have a small room, you are not at all limited! You can still hang your favorite pieces on the wall without making your walls look cluttered using one simple trick.
Try to hang your decorative wall pieces higher than you normally would, as close to the ceiling as you feel comfortable with. This will draw eyes upward, creating the illusion that the room is bigger.
Choose A Larger Rug For Your Floor
Rugs can work exceptionally well to make a room look bigger. Instead of getting a rug proportionate to your room, play around with the proportions. You can choose a rug with an interesting pattern or texture, but don't go overly complicated.
Make sure the rug doesn't touch the walls, as it'll make the room look larger without becoming crowded. A colorful and interesting rug could go a long way in incorporating your personal styling choices.
Install Floating Shelves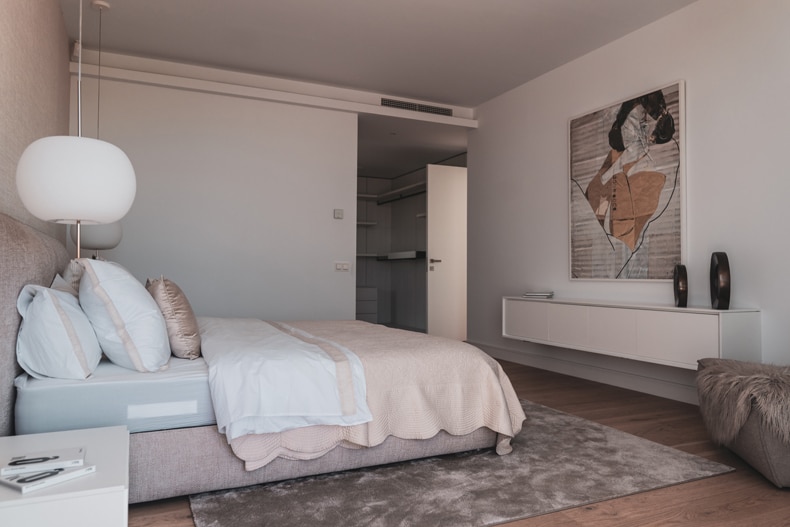 If your floor space is limited, you may not have enough space for a bulky wooden nightstand. Nightstands are a thing of the past when you get to experience the minimalistic and luxurious feel of a floating shelf, which could also double as a floating nightstand.
Using a floating shelf as a nightstand next to your bed will allow for extra space underneath it for your valuable items, while the surface will offer you more than enough space for your bedside lamp, your favorite book, and your alarm clock.
You don't need to install only one floating shelf next to your bed, you can install as many as you like for different purposes, and you'll have space underneath. Install hooks underneath your floating shelves to hang your favorite coats, belts, and accessories.
Place Indoor Plants In Your Bedroom
If you love plants and are fortunate enough to have a green thumb, you can use your favorite houseplants to decorate your bedroom! Plants won't only turn your bedroom into a lively space, but they help to purify the air.
If you have hues of green in your bedroom, any houseplant will compliment them perfectly.
Conclusion
Knowing how to decorate a small square bedroom and using every nook and cranny to your advantage can create a minimalistic and modern space! Using these tips, you can create your dream bedroom with a few twists and tricks.
Follow Quiet Minimal on Pinterest for more interior design and minimal living tips.