Staircases are elegant in design and function. Decorating your staircase wall is an exciting chance to work with a transitional space.
You can heighten the appeal of your home's interior design with varied unexpected, and fascinating ideas- lighting, mirrors, paneling, and plants.
Staircases are an exciting extension of your home. This space is unique in its character and role. As a homeowner, you can enhance your home with varied styles for your staircase wall décor.
Light fixtures, mirror arrangements, plants, statement pieces, and paneling are a broad range of options to draw on and explore when deciding on your staircase wall. Allow a sense of fun, freedom, and adventure to promote this space.
Staircase Wall Decorating Ideas
Beyond typical gallery walls, pictures, and wallpaper, there are intriguing and diverse ways to decorate your staircase wall. Unconventional choices will elevate the narrative of your interior design in fun, sophisticated, and unexpected means.
Staircase Wall Lighting
Lighting is one of the finest options for decorating your staircase walls. They add a sense of delight and quiet sophistication. Choosing light fixtures for your staircase is functional and exquisite.
Be mindful of the space and pay attention to the size and shape of your staircase.
You have diverse design options, from featured lights to discreet lighting. In addition, wall lights come in different colors and sizes. Another great idea is to place a light under a picture or pictures to add charm and depth to your wall.
Lighting expands, lengthens, and deepens the space. Importantly, wall lighting allows you to explore themes of transition with light- dimmers and add surprising yet subtle elements to your décor.
Mirrors for Your Staircase Wall
Mirrors create dimension and enhance the space. Different frames and varied sizes of mirrors placed strategically will lend character to your home and give your staircase life. Mirrors possess an enchanting charm and grant the space a hint of magic.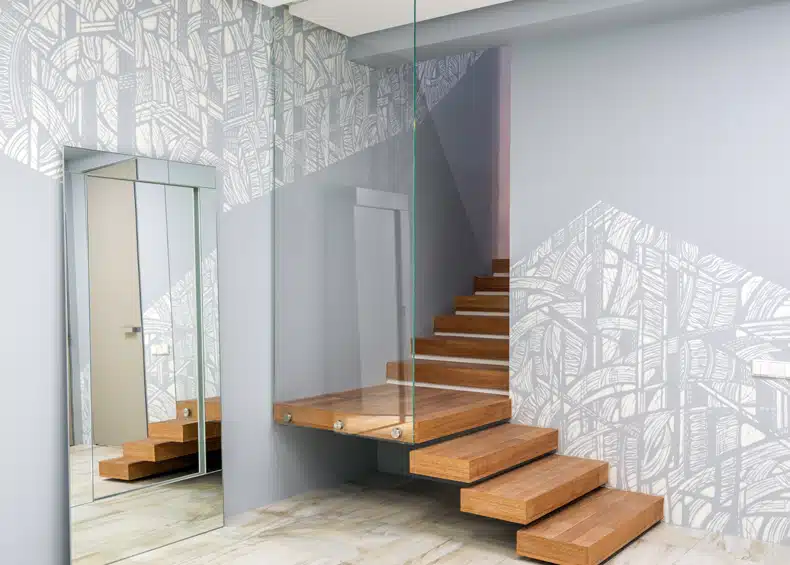 Tidy little arrangements of small mirrors scattered across the wall, large statement mirrors, or an irregular assortment of varied shapes and sizes could render the space alluring and captivating. Mirrors speak to the transcendental function of a staircase.
Paneling For Your Staircase Wall
Paneling presents this space as classic, clean, and statuesque. Additionally, paneling is practical. It cleans easily and maintains the pristine quality of the area.
Your paneled staircase wall is an intricate means to generate an impression of depth and dimension.
Paneling promotes a traditional interior design approach in a sophisticated narrative. Modern paneling with white, equally set squares transports the outmoded element of tradition to a renewed dialogue of class and wealth. Explore classic styles with slightly roughish features. For example, try an electric blue carpet to throw the severity of the white paneling.
Indoor Plants for Your Staircase Walls
Adding an organic element to the style of your interior uplifts and renews your home's energy. Nature is intricate and complex, and the lush greenery appeals to our senses.
The fresh, colorful quality of plants enhances any space, and your staircase will benefit.
Again, you can have fun deciding on the right arrangement and style of pot and plant. Floating shelves will allow additional elements to incorporate into the space and aesthetic.
Plant holders can be in any texture, color, or style. Consider themes and your overall interior.
Air plants or delicate succulents invite character and personality. These little elements of life and color infuse the space in an authentic, refreshing, and airy manner.
Bold Artwork or Statement Pieces for your Staircase Wall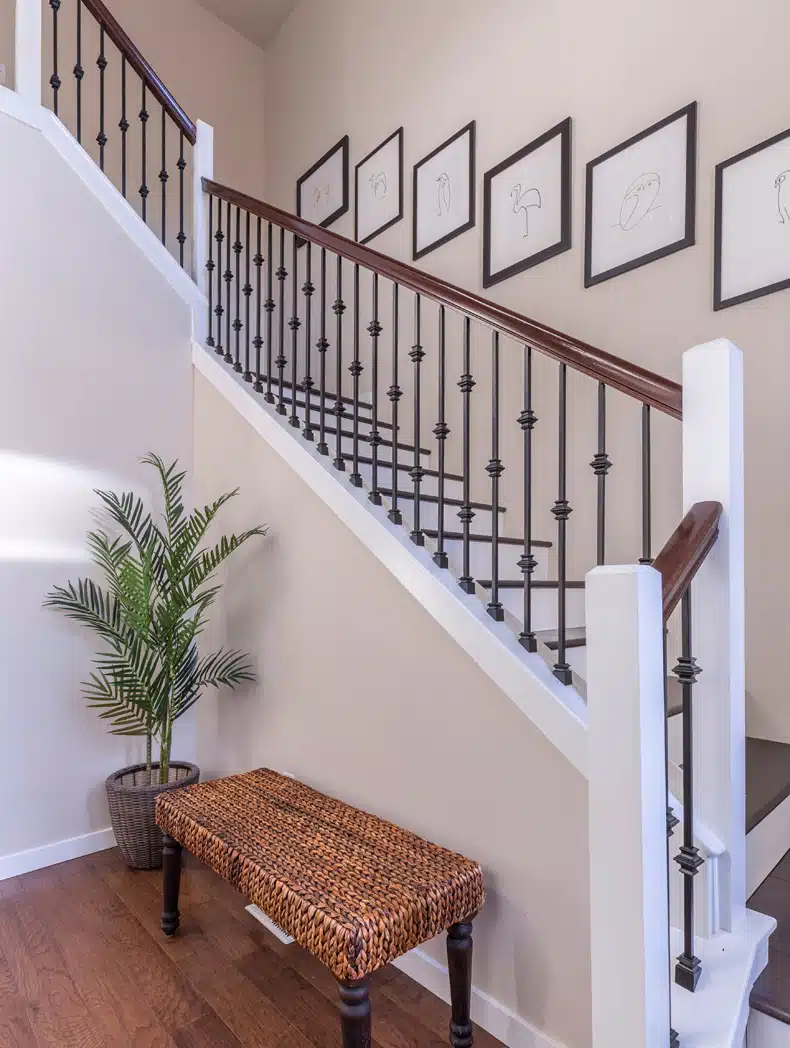 A large, bold artwork or single statement piece sanctions staircase space with a distinguished, removed appeal. There's something elegant about a brilliant and singular statement piece against a neutral or uniform background.
This is an excellent chance to explore varied artists and art galleries for that one piece that speaks to you. It's a great idea to employ a street artist as an unorthodox touch will push your style to new levels. A single statement piece is refined, sleek, and neat.
Conclusion
Typically, staircase walls are preserved for wallpaper and galleries of family photos, portraits, or pictures. These other decorating ideas stress the opportunity provided by this transitional space to explore and meaningfully have fun.
 Contribute to your home's overall style and emphasize this space's unique quality.
Follow Quiet Minimal for more home design tips and inspiration.