If you've wondered what size is a standard throw blanket, read on. Throw blankets are an essential accessory for the winter months. They're cozy, comforting, and warm – and here's everything you've ever needed to know about the standard blanket sizes.
So, if you're looking for a new throw blanket, you can find the best blanket dimensions here. You might need a smaller blanket or prefer a huge king-size blanket. Either way, I've covered all the options below.
Picking the right blanket for the correct use is essential. Because you don't want to end up with a blanket that's too small or too large. But I'll explain the different blanket sizes on offer to help you make your decision.
What Size is a Standard Throw Blanket?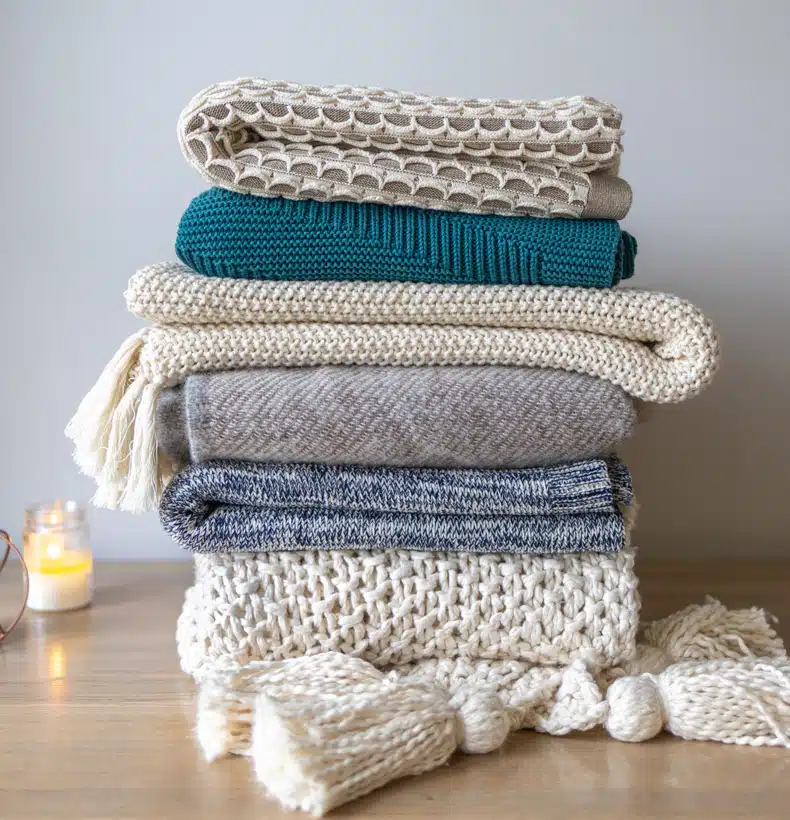 A throw blanket is handy, versatile, and, most importantly – super cozy! You can use it as an extra layer to stay toasty and warm while watching TV or reading. It's a winter essential for those chilly mornings and frosty evenings.
But now to the critical question – what size is a standard throw blanket?
Generally, a throw blanket tends to measure around 50 x 60 inches. That makes throw blankets significantly different from standard bed blankets.
And that's because throw blankets are designed for extra warmth or as a design feature. While a throw blanket is practical, it can also be a stylish addition to any room.
But a throw blanket isn't meant to be used as a regular bedding option for sleeping. So, it's probably not the right size for your bed.
Instead, you'll need a specific blanket size, depending on the size of your bed. There's more on that below, so read on!
As for throw blankets, 50 x 60 inches is the perfect size for one person to snuggle under. Or you could even use it for two people if you don't mind huddling up close.
You may find that throw blankets vary a little in size. For example, they could be 50 x 50 or 60 x 60 inches. But generally, they will fall into these general dimensions.
Standard Blanket Sizes
As you've seen, a standard throw blanket's dimensions are around 50 x 60 inches.
But you might need a blanket for a more specific use. For example, a blanket for a young child will naturally be much smaller. And if you want an extra blanket for your bed, you'll need to ensure you get the right size.
So, here's a quick reference guide to standard blanket sizes for all your needs.
Baby Blanket
A baby blanket is designed for even the smallest of babies. You'll use this frequently in the first weeks and months of your baby's life. And so these blankets are the perfect size for a baby, around 12 x 12 inches. It should also be soft and ideally made from natural organic materials.
Stroller Blanket
A stroller blanket is ideal for keeping your little one warm when you're on the move. Stroller blankets tend to measure around 30 x 36 inches. That's the perfect size for tucking around a baby in their stroller without it dragging on the ground.
Lap Blanket
A lap blanket does exactly what the name suggests. It's designed to drape over your lap to keep you warm. It's perfect for when you're sitting still, e.g., if you're working from home in the colder months. A lap blanket is also ideal for keeping elderly folk warm, especially if they use a wheelchair.
As a result, a lap blanket tends to measure around 36 x 48 inches.
Crochet Blanket
A crochet blanket is a medium-sized blanket, typically made by crochet or knitting. So, if you're crafty, you could even make your own crochet blanket. While knitting blankets can vary in size, a general rule is to aim for 50 x 65 inches.
Throw Blanket
As mentioned above, a throw blanket tends to measure around 50 x 60 inches. These blankets look stylish when draped over a chair or the back of a sofa. And they're handy to keep around in case you're feeling chilly – so they serve a dual purpose.
Standard Size Blankets for Beds
You might want to buy a blanket for your bed. It's useful in winter when you need an extra layer. Or you could use it when the weather isn't as cold, and you just need one thinner layer.
Here's a guide to the right size blanket, depending on the size of your bed.
Twin-Size Blanket
A twin-size blanket is designed for a single twin-size bed. So, it needs to fit these dimensions and should measure 65 x 90 inches.
Double Bed
If you have a double bed, you should choose a new blanket carefully. If you buy a queen or king-size blanket instead of a double, it could end up drowning your bed.
So, look for a blanket that measures 85 x 90 inches. That's the perfect size for a double bed – neither too small nor too large.
Queen-Size Blanket
If you have a queen-size bed, you'll need a blanket to match. The right size is a blanket measuring either 90 x 90 inches or 90 x 100 inches. The larger size will provide more drape and works better if you have an extra-long bed. 
As you can imagine, these blankets are too big to practically use as a throw blanket. They're almost double the size, making them bulky and unwieldy.
King-Size Blanket
The next size up is the king-size blanket. A standard king-size blanket should measure around 108 x 100 inches. However, you can get away with a blanket that measures 108 x 90 inches.
But it also depends on the thickness of your mattress. If you have a large, thick mattress, you should size up a bit. For example, if you have a 14-inch thick mattress, go for a 120 x 100-inch blanket. That will provide enough overhang to look nice as well as feel cozy.
What Size Throw Blanket Do I Need?
So, now you know the standard blanket sizes, it's time to make your decision. And that brings you to the question – what size blanket do I really need?
It all depends on how you plan to use the blanket. A standard throw blanket should do the trick if it's just for occasional use. But if you want a blanket you can snuggle under with your significant other, you might want to size up.
And if you're buying a blanket as an extra layer for your bed, you'll need to pick the right size. So, refer to the simple guide above to help you choose what you need.
When buying a new blanket, make sure you also consider the materials. First, it should feel soft and comfortable to the touch. But you also need to think about how easy it is to care for.
While some blankets are machine washable, not all are. So, you might need to hand wash certain materials or take your blanket to the dry cleaners.
And the larger the blanket, the more complicated it can be. A smaller blanket will easily fit in the washing machine, but a large blanket could be too large or heavy. So, keep that in mind when choosing a new blanket.
The Wrap Up
So there you have the standard blanket sizes, from throw blankets to baby blankets and more. Now, you should have a good idea of what size blanket you need.
To recap, the size of a standard throw blanket is
Let me know if you have any other questions about blankets. And good luck in finding the perfect blanket for your needs!
Follow Quiet Minimal on Pinterest for all your home and garden tips, ideas, and info!