The bookshelf can fit most of my educational and reading books, but it is not quite spacious. So, I have books piling up and no space to hold them. What are the standard bookshelf dimensions?
The standard bookshelf dimensions are 9 to 12 inches of spacing between the shelves with 10 to 12 inches in depth. The suitable width for a standard bookshelf is 31 to 32 inches; however, you can find bookshelves with a width of between 24 to 48 inches. Typical bookshelves are four feet tall.
To ensure you have enough space for your items or books, read about the dimensions of a standard bookshelf and the average number of books it can fit.
I added three of the best bookshelves on the market that guarantees sturdiness and will look modern and classy in the room! Also, look through the "Standard Bookshelf Dimensions By Number Of Shelves," too.
What Are The Standard Bookshelf Dimensions?
Bookshelves are used for various purposes other than books. You can place it in your living room or bedroom. It has multiple uses; you can store all your video games, showcase family photos, or compliment the room by placing vases and plants on the shelves.
Standard Bookshelf Depth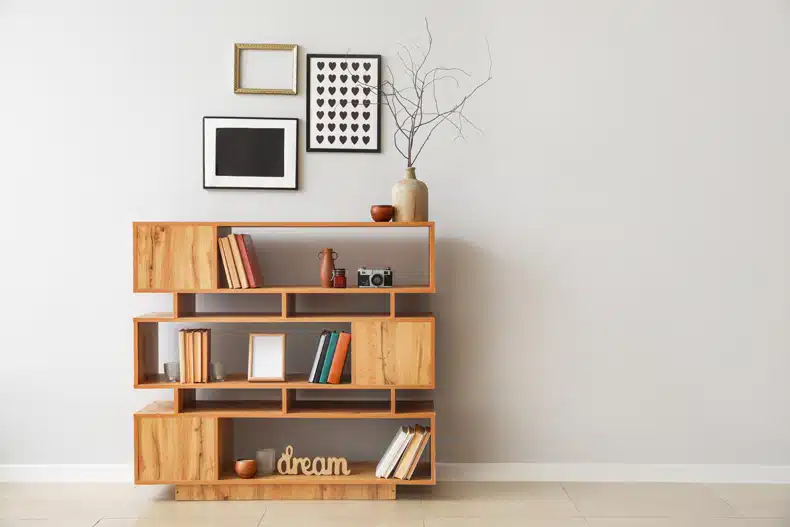 The average width of books is between 4.5 inches to 8 inches; thus, the standard bookshelf depth is around 10 inches to 12 inches to allow ample space. Many manufacturers put bookshelves on the market with a depth of 7 inches to 12 inches to play it safe.
Standard Bookshelf Width
Usually, the standard bookshelf width is between 31 inches to 32 inches. However, you can choose between various other bookcases with widths of 24 inches to 48 inches.
Standard Bookshelf Shelf Spacing
Standard bookshelves are usually about four feet tall (54 inches) with 9 to 12 inches of space between the shelves.
A standard library bookshelf can fit around 12 books. If you have more books or items you must place on the bookshelf, I suggest going for a bigger one.
Sometimes the standard bookshelf is insufficient, and overloading it can cause your bookshelf to topple over or break.
Not all books are the same length and width. The standard bookshelf spacing can vary depending on the books you place on the bookcase.
Book sizes range from 6.8 inches to 11 inches. I increased the height of my bookshelves to 15 inches because I own a lot of large books.
Standard Bookshelf Dimensions By Number Of Shelves
Now that we know the standard dimensions of bookcases let us look at the standard sizes of bookshelves based on their number of shelves.
Two-Shelf Bookshelf
If you do not own many books but would like to show off your collection, then a two-shelf bookcase is just what you need! It will fit snuggly into a home that has limited space for decor. You can use it to place ornaments or plants if you would like to do so.
The standard dimensions for a two-shelf bookcase are a depth of 12 inches to 13 inches with a width of 31 inches and a height of 32 inches or 36 inches.
Three-Shelf Bookshelf
The three-shelf bookcase comes in different dimensions. This bookcase comes in a width of 30 inches to 36 inches, a height of 41 inches or 48 inches, and a depth of 12 inches to 13 inches.
I recommend opting for one that has adjustable shelves. This way, you can make space for larger books or decor.
Four-Shelf Bookshelf
A four-shelf bookcase is about four feet tall (54 inches) with a width of 24 inches to 45 inches. It comes in various depths from 12 inches to 14 5 inches.
Five-Shelf Bookshelf
A five-shelf bookcase is around 72 inches to 77 inches, with widths varying from 31 inches to 37 inches. It carries many books, but it does not take up much space. This bookshelf has a standard depth of 12 inches to 13 inches. Five-shelf bookcases that are 5 inches deep are suitable for storing small books.
How To Choose A Bookshelf
When picking a bookcase, ensure that it is sturdy and durable, preferably made of solid wood or manufactured wood and metal. Read the descriptions of the bookcases, so you know if the bookshelf will fit your books and decor and that it will not be too big for the area in which you want to place it. Make sure that you do not exceed the weight capacity of the bookcase since you do not want it to break or collapse.
Please do not overload your bookcase; instead, replace it with a bigger one or add a smaller one to the room.
Three Best Bookshelves Available On The Market
If you struggle to decide on a bookshelf for your home, I have narrowed it down to three for you! I think the three bookshelves are worth a second look and worth your money.
Sauder Select Collection 5-Shelf Bookcase
Image Credit: Sauder
The first one on the list is the Sauder Select Collection 5- shelf bookcase. This bookcase's dimensions are 13.25″D x 35.25″W x 69.75″H, and it has three adjustable shelves. The engineered wood looks modern and classy and comes in six different colors with different finishes.
---
The Furinno Luder Bookcase
Image Credit: Furinno
Second in the row is the Furinno Luder Bookcase. These bookcases come in several colors and sizes. It is versatile so that it will complement any room in the house! The good thing is it is a quality bookshelf with an affordable price.
---
VASAGLE 2-Tier Bookshelf With Storage Cabinet
Image Credit: Vasagle
Last and certainly not least is the VASAGLE 2-tier bookshelf with a storage cabinet. This bookcase's dimensions are 11.8″D x 23.6″W x 47.2″H, and it is excellent for storing those extra books or items you have lying around!
You do not have to spend too much on a stylish and elegant prop for your living area or study room.
---
Conclusion
The standard bookshelves may not be spacious enough for storing your books or showcasing your decor. But if you like to keep it simple and sweet, go for a bookshelf that meets the following dimensions:
Width of 31 to 32 inches or 28 to 48 inches
Depth of 10 to 12 inches
Spacing of 9 to 12 inches between the bookshelves
When purchasing your bookcase, ensure that it is sturdy and made of quality materials. Keep in mind the weight capacity of the bookcases so you do not overload the shelves. Opt for a five-shelf bookcase to save space and have ample storage room for your books.
Make sure to follow Quiet Minimal on Pinterest for more interior design and minimalist tips!