Are you confused by all the different types of wood fences? If you need some help choosing the right style of wood fence for your backyard, you're in the right place.
A fence around your house and garden is essential for many reasons. It provides privacy, so you can use your space without being overlooked. I've personally felt much more relaxed since putting up a fence around my house.
And it can also help to keep children and pets safe and stop them from wandering away.
But a fence can also be a design feature – so you want your fence to look great. It's one of the most noticeable things about your house, so you need to choose a type of fence that looks good.
However, there are loads of styles of wood fences out there, and each one has pros and cons to consider. So, narrowing down the options can be tricky. And that's why I've put together this detailed guide to the different styles of wood fences.
By the end of this article, you should have a good understanding of each type of fence. And you'll hopefully know which one will work best for your home. So, let's dive in!
Types of Wood Fences Styles
There are lots of different styles of wood fences to choose from for your garden. So, here is a roundup of the various styles of wood fences.
Browse the list and see which one meets your needs and appeals most to you!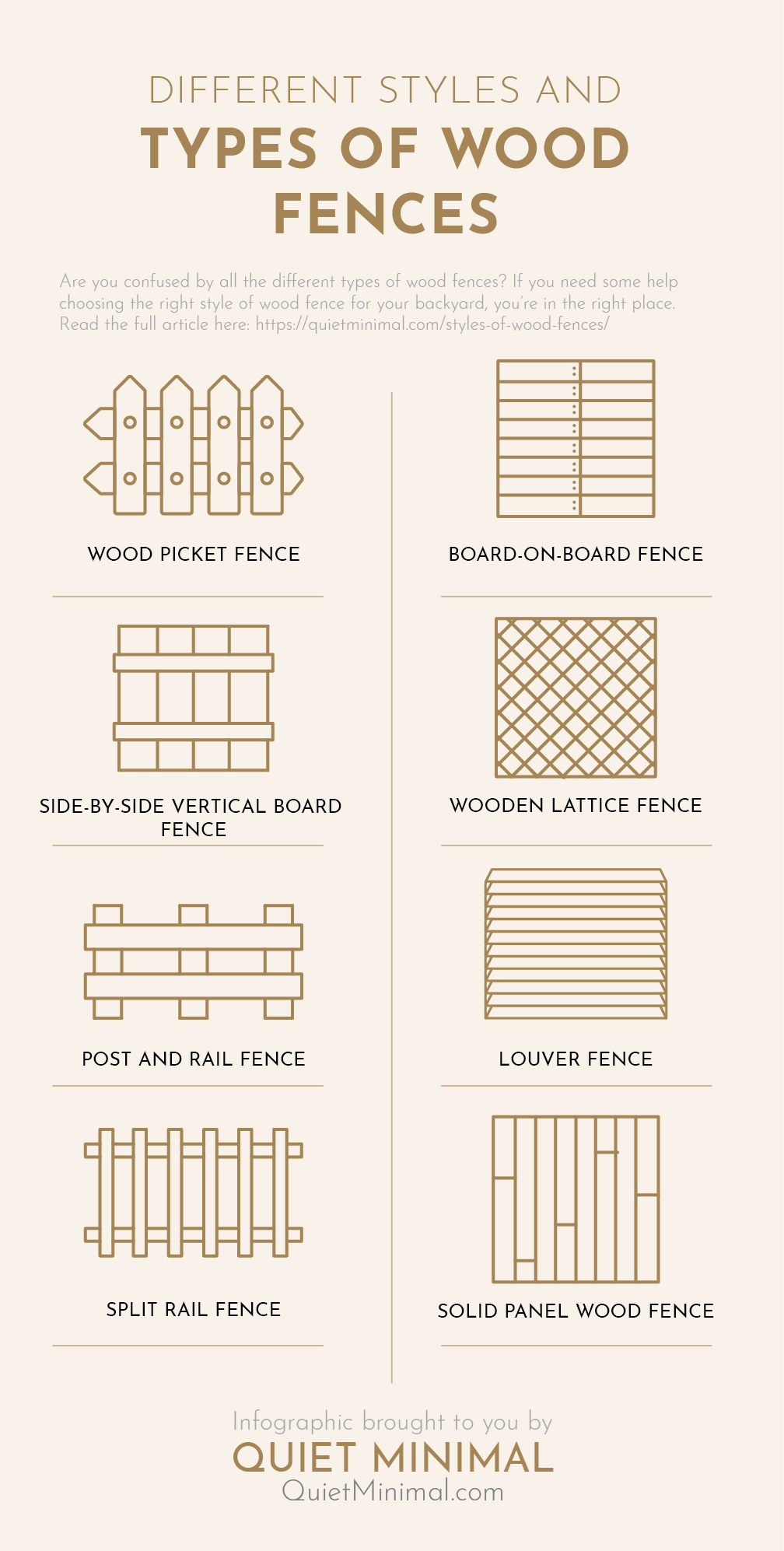 Wood Picket Fence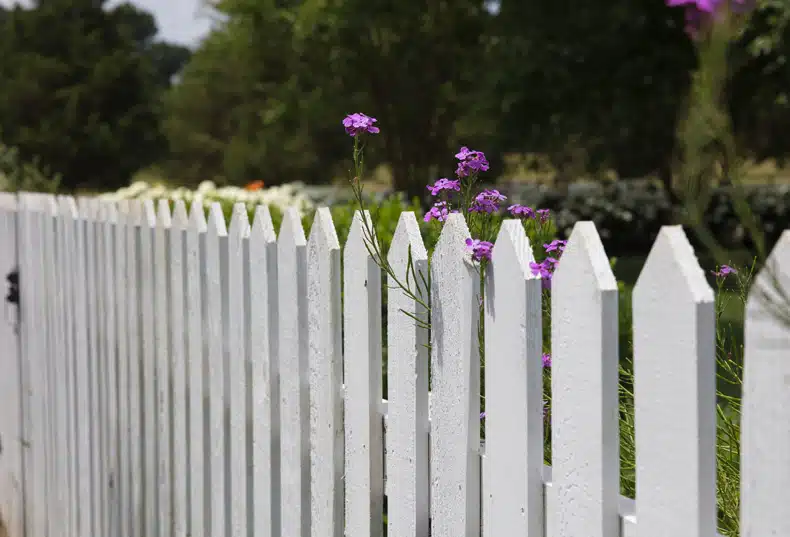 The picket fence is one of the most well-known and traditional types of fence. So, it's probably what comes to mind when you think of wood fences.
A picket fence is a shorter fence with a horizontal rail at the top and bottom. Between these rails are vertical boards with a point at the top.
Normally, these boards are spaced out, so there is a gap between each one. Because of this and the short height of most picket fences, they don't provide much privacy.
Instead, a picket fence is a great option when you want a more ornamental fence. They're also handy for demarcating your property without blocking off the view. So, that makes them a popular choice for front yards.
Board-on-Board Fence
The board-on-board fence is similar to the vertical board fence, but it offers more privacy. That's because each board overlaps with the one next to it, leaving no gaps. So, you can feel at ease knowing that no one can peep into your garden or swimming pool area.
This type of fence is sturdy, long lasting, and visually interesting. It looks good from either side of the fence, although it's quite costly to build. That's because it uses more wood than many other types of fences.
But it's worth it if you're after a fence that will give you the most privacy possible.
Side-by-Side Vertical Board Fence
Here we have another great option for your backyard. A side-by-side fence is made using boards that line up next to each other – hence the name.
But there's no overlapping like you get with the board-on-board fence. And that means this type of fence tends to work out a little cheaper, as you'll need fewer materials.
It's also pretty quick and simple to build – you could even DIY it, no need to be an expert. And while this style looks pretty basic, it does the job. Plus, you can choose the exact height you need to provide privacy for your yard.
However, one thing to keep in mind is that there's a risk of the wood shrinking over time. If that happens, you might find that there are small gaps between the boards. As a result, it's not such a reliable option for providing privacy.
Wooden Lattice Fence
A wooden lattice fence is a pretty, aesthetically pleasing type of fence. It's made up of strips of thin wood creating a lattice frame with small gaps between the strips.
This type of fence provides an air of privacy while still letting light in. So, it's useful if you want to partition an area of your property to create more of a secluded feel. But it won't provide as much privacy as a side-by-side or board-on-board fence.
You can also use a lattice fence around a pool area to make it more secure. That's useful if you can animals or children and want to prevent access to the swimming pool.
Post and Rail Fence
You'll see this type of fence most often on farms, although it's been adopted elsewhere too.
A post and rail fence is a simple yet effective design. It has vertical posts around 6 feet apart and several horizontal boards along the length.
This style of fence is handy for marking off larger areas like fields or animal pens. But as there are large gaps between each of the boards, you can easily see what's happening. And because of that, it's not ideal if you live in a built-up area and want more privacy.
But one benefit of these fences is that they're cheap and quick to install. They use minimal materials, which will cut your costs.
Louver Fence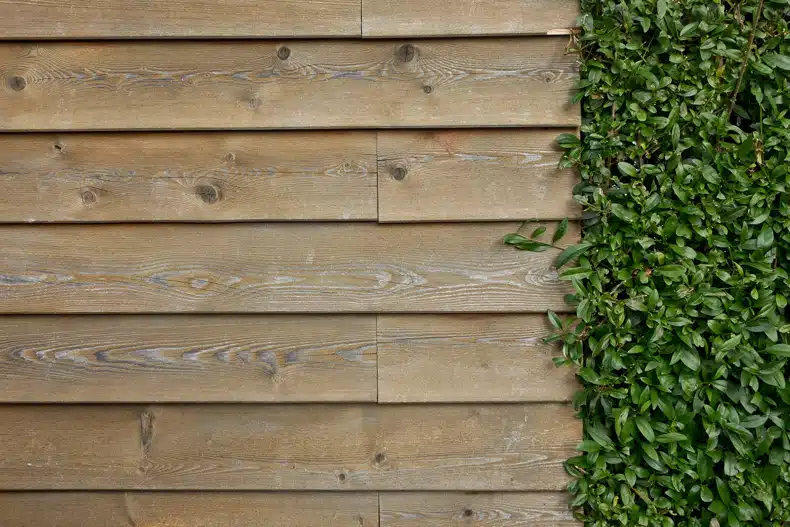 A louver fence consists of thin slats with a small gap between each one. They can be horizontal or vertical and provide a medium amount of privacy.
Louver fences allow airflow, which is helpful in areas with hotter temperatures. And depending on how they are made, they can also provide more privacy if the slats are angled in a certain way.
A louvered fence works well in a backyard or around a patio or swimming pool. And as it lets sunlight through, it means that plants can thrive under a louvered fence. Plus, it's pretty sturdy and can withstand adverse conditions like strong winds.

But the complicated design does mean that a louver fence tends to cost more to install.
Split Rail Fence
One of the simplest (and cheapest) fences, you could consider a split rail fence if you're on a budget. This basic fence is made of vertical posts with two horizontal wood slats between them.
Most often, this type of fence uses split logs (hence the name) rather than carefully hewn wood slats.
It provides very little privacy – but a split rail fence is handy if you want to mark off your property. It also works well on large sites in farming or wooded areas and is very cost-effective. And some people like the rustic look of this type of fence.
Solid Panel Wood Fence
Another option you could go for is a solid panel fence. You can buy these panels ready-made and install them yourself or hire someone to do it for you.
A benefit of solid panel fences is that they provide maximum privacy. There are no gaps between slats to worry about.
They also provide shelter from the wind, which is helpful during the cooler months. However, they can get blown away in very strong winds. So, they're not as sturdy as some other designs.
The Wrap Up
By now, you should have a good idea of the different styles of wood fences. And you might already have your eye on one style over the others.
Whether it's for your house, yard, pool, or patio area, you have tons of options. So, you can weigh up the pros and cons and make your pick!
Let me know which wood fence type you choose in the comments below! Feel free to ask any questions there, too.
And follow Quiet Minimal on Pinterest for more home and garden inspiration.