Pale taupe is an excellent color for your kitchen as it's neutral, soft, and versatile. You can pair it with many other colors to suit almost any interior design style. So, that makes light taupe cabinets a great choice for your kitchen.
Here is some inspiration if you want to have light taupe kitchen cabinets in your home! Browse these ideas and see if any of them appeal to your interior design style.
Light Taupe Kitchen Cabinets – Ideas & Inspiration
Light taupe is a warm, soft color that can look amazing in the kitchen. You can pair taupe with many other shades to create a complementary color palette. Find bellow some ideas to get you started.
Light Taupe Kitchen Cabinets & White Walls
You can't go wrong with light taupe and white walls kitchen cabinets. It's a simple yet stylish look with enough contrast to make it interesting. The lighter colors will make your kitchen feel more spacious and airy, so it's ideal if you have a smaller kitchen.
Marble Countertops & Taupe Cabinets
This is a match made in heaven! Marble countertops bring sophistication and elegance while being practical and easy to clean.
Light taupe is the perfect color to pair with marble countertops. It works well with marble's natural tones to create a cohesive, soft color palette.
You can add brown, cream, or white to this palette and finish with warm metallic fixtures. The result is a stylish and inviting kitchen.
Light Taupe Cabinets & Subway Tiles
You can pair light taupe cabinets with subway tiles for a practical yet attractive look. Subway tiles are classy yet minimalist and go perfectly with a neutral shade of taupe. Plus, as white and taupe are so versatile, you can add a brighter accent color if you like. Overall, you'll create a sleek and refined look for your kitchen with this combination.
Charcoal Walls & Taupe Cabinets
If you need to make a statement in your kitchen, go for deep charcoal walls. This intense color will draw the eye, but you don't want to overpower the room. So, you can counterbalance the dark grey with light taupe kitchen cabinets. The result will be a cohesive, modern look in your kitchen!
Light Taupe Cabinets in an Ultra Modern Kitchen
Have you been dreaming of a modern, minimalist kitchen? Even so, that doesn't mean you have to stick with an all-white color palette. You can create an ultra-modern kitchen with light taupe kitchen cabinets. This neutral color is ideal for a minimalist home. Opt for clean lines everywhere, no clutter, and push-open cabinets for simplicity.
Metallic Fixtures with Taupe Kitchen Cabinets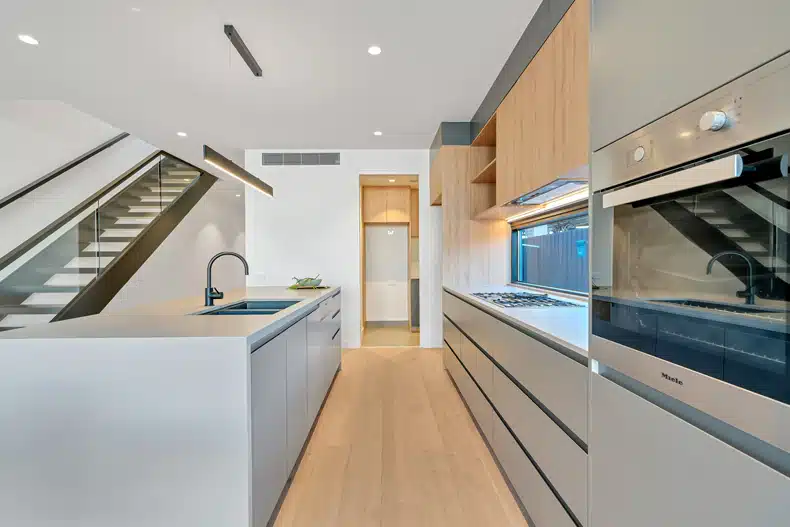 Warm metallic colors look amazing when paired with taupe. So, if you have light taupe kitchen cabinets, brass, copper, or gold are an excellent complement. You could go for fixtures and appliances in any of these colors to create a warm color palette. But if you want a different look, cool silver will create a dynamic contrast with taupe.
Light Taupe Cabinets in a Farmhouse Style Kitchen
If you're after the farmhouse look in your kitchen, taupe kitchen cabinets are an obvious choice. They look lovely against natural stone walls and wooden elements. Light taupe has warm undertones, so it pairs well with other warm colors. But it's not so bold a color to take over the room. So, your accent pieces can shine and take center stage.
The Wrap Up
Light taupe kitchen cabinets are a stylish and versatile choice. It's a soothing and gentle color that works wonderfully in a neutral palette or with bolder colors. And now, you should have plenty of inspiration for your kitchen and how to use this color scheme at home.
Follow Quiet Minimal on Pinterest for more home and kitchen design tips and content!