The Esquimalt House is perched atop a steeply sloping lot, connecting the living areas, side yard, and entertaining outdoor spaces seamlessly.
From Family to Guests: The Functionality of Dual Entrances
It features two entrances – one on the lower level, designed to welcome family, and another on the top level, tailored for guests – that create two distinct arrival experiences.
The Perfect Balance: Quasi-Public and Private Spaces in the House
The house offers striking interior and exterior quasi-public spaces for entertaining, as well as more intimate and private spaces for relaxation and contemplation.
A Place to Entertain and Recharge
It's a perfect place to entertain, as well as a place to escape from it all.
The Art of Multi-Purpose Architecture
The Esquimalt house is a truly unique and complex building, one that provides a perfect illustration of the many different ways in which architecture can be used to serve multiple functions.
Living with History: The House as a Connection to Heritage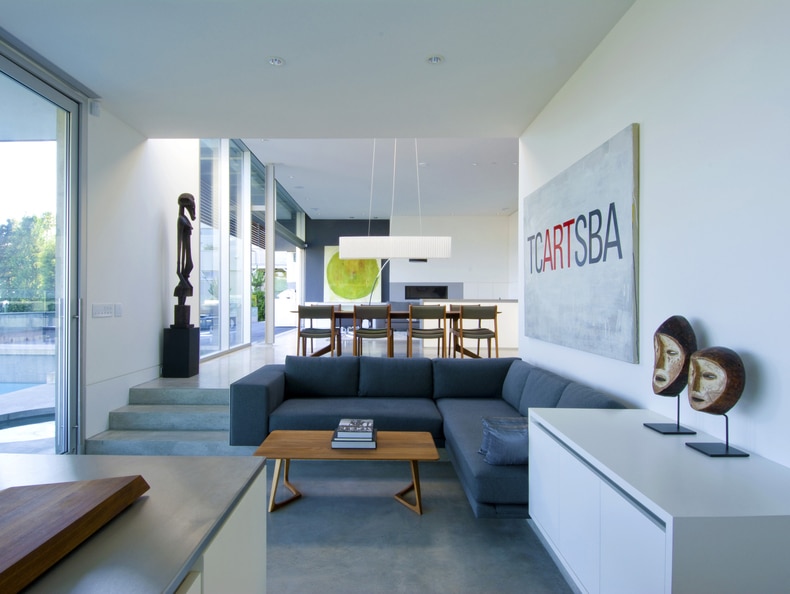 Not only does the house serve its main purpose of providing a living space for its owners, but it also acts as a gallery to show off various artifacts of spiritual and cultural significance, creating a space for the owners to feel connected to their heritage.
Stunning and Functional Design in the Esquimalt House
The house is also designed with a series of terraces, allowing for the efficient use of the site and providing a sense of elevation and grandeur. The Esquimalt house is a perfect illustration of how architecture can be used to create a stunning and functional home.
Separation with Style: The Art of Vertical and Horizontal Terracing
A vertical and horizontal terracing was used to divide the house, providing a separation between the quasi-public areas on one side of the property and the private living spaces on the other.
Consolidating Bedrooms for Optimal Use of Space
Bedrooms were consolidated into an upper floor volume, perched over an elongated main floor. This allowed for more efficient use of the site while also providing a sense of elevation and grandeur.
Esquimalt House by Mcleod Bovell
West Vancouver – completed summer 2012
7,000 SF single-family house
Follow Quiet Minima on Pinterest for more homeowner tips and interior design inspiration!