When you think of minimalism, cozy might not be the first word that springs to mind. But just because you love minimalist home decor, your home doesn't have to be sparse.
It's possible – and surprisingly simple – to create a cozy minimalist home. And this guide will show you how!
Minimalism is often associated with clean lines, clutter-free surfaces, and neutral colors. And it's true that some people take minimalism too far, resulting in a harsh, bright space. You don't want your home to feel clinical.
But you can make your home feel inviting, comfortable, and cozy by using warm minimalist decor. Minimalism doesn't need to mean cold and unwelcoming at all.
You can make your minimalist home feel cozy with a few simple steps. You don't need to be an interior designer to create a warm, minimalist-style home.
This guide will walk you through creating the perfect cozy and minimalist home. You'll get all the benefits of a clutter-free, calm home that's easy to maintain. But at the same time, it will be inviting, super comfy, and snug for you and your guests!
12 Tips for Inviting Cozy Minimalism Into Your Home
Cozy minimalism is a growing trend! Want to find out more about how to combine coziness with minimalism? Then, check out the Cozy Minimalist Home: More Style, Less Stuff book by Myquillyn Smith.
And you can create your own cozy minimalist home with these tips:
1. Use Cozy Textures & Textiles
When you're keeping your home minimalist, that doesn't mean it needs to be stark or boring. Instead, you can keep it interesting by layering up cozy textures and textiles.
That could look like a cushy rug underneath your feet or soft throw blankets on the sofa. You can add fluffy cushions or textured fabrics.
Different textures create visual interest, even if you only use neutral colors. Plus, they are inviting and make you want to snuggle up and feel at home.
2. Incorporate Warm Colors
While minimalist homes tend to have a limited color palette, you don't have to stick to white everywhere.
I do recommend going for a lighter color on your walls to maximize the natural light. It also makes your rooms feel larger and more spacious.
But you can go for softer shades like cream, off-white, or pale gray. It doesn't have to be bright white.
And you can mix it up a bit more, too. Warm shades like blush pink, burnt orange, and browns all look fantastic in a cozy minimalist home.
Or you can incorporate pastel blues and greens if you like. Because most importantly, it has to suit your style and you should love the overall look!
Pick out a primary color – the base color for your walls. Then, you can add in some secondary shades that vary in shade but fit in with the color palette.
Finally, pick out an accent color that you can scatter throughout the room. Aim to use the 60 – 30 – 10 color rule to make your home feel balanced.
By sticking to these three main colors, you'll create a gorgeous, warm home. It will feel cohesive, and the design will flow throughout.
But there's no way you could call it boring or plain, either. It's chic and cozy!
3. Area Rugs or Cushy Carpets Provide Comfort & Coziness
Minimalism isn't just about simplicity – it's also about comfort and function. You want items that look great and are practical. So, you don't need to skimp when it comes to cushy carpets.
When it comes to interior design, flooring is often overlooked. But it has a huge impact on the room visually and helps to set the tone.
Wood flooring in rich, warm shades can look amazing. Then, you can add in area rugs for extra comfort and padding under your feet.
Wall-to-wall carpeting is another great option for minimalist homes. The rule for carpets is to stick with your color scheme and keep it simple.
But you don't need to go for short-pile carpeting. Treat yourself (and your feet) and spend a little more on a thick, cushy carpet that will add a spring to your step.
Simply choosing a deep-pile carpet or a fluffy rug can create a feeling of luxury in your home. It fits with your aesthetics but gives a real boost to your comfort level.
4. Plants are Perfect for Minimalist Decorating
If you want to keep your home clutter-free, then consider buying a few new pot plants for decoration.
In a minimalist home, you don't want too many tchotchkes and trinkets all over the place. But your aim isn't to create an austere room, either.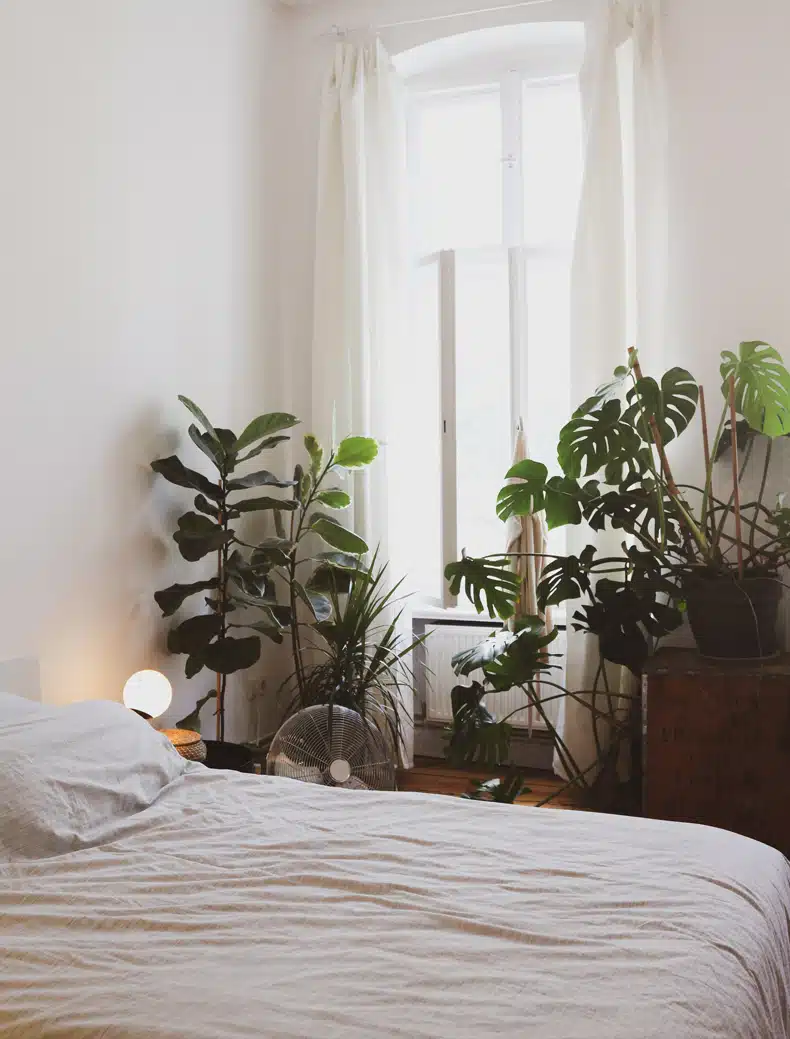 Plants are an excellent addition to any minimalist home. They bring the outdoors inside, freshening the air and brightening the place up.
The greenery creates a nice contrast against the other neutral shades in the room. And there are so many varieties to choose between. So, you can express your personality when choosing plants for your home.
Large plants with bigger leaves look great in a natural fiber basket directly on the ground. You can also experiment with trailing plants on shelves or a succulent on the coffee table.
Plants are ideal for creating a calm, homey atmosphere. So, make sure to swing by the local garden center and choose a new orchid, fern, or rubber plant.
5. Add Some Personal Touches
I've mentioned keeping clutter to a minimum. (Check out my guide to decluttering a room for some helpful tips).
But that doesn't mean you can't show any personality. You want your home to feel lived in – not like a show home.
The key point is to be intentional about anything you put on display around your home.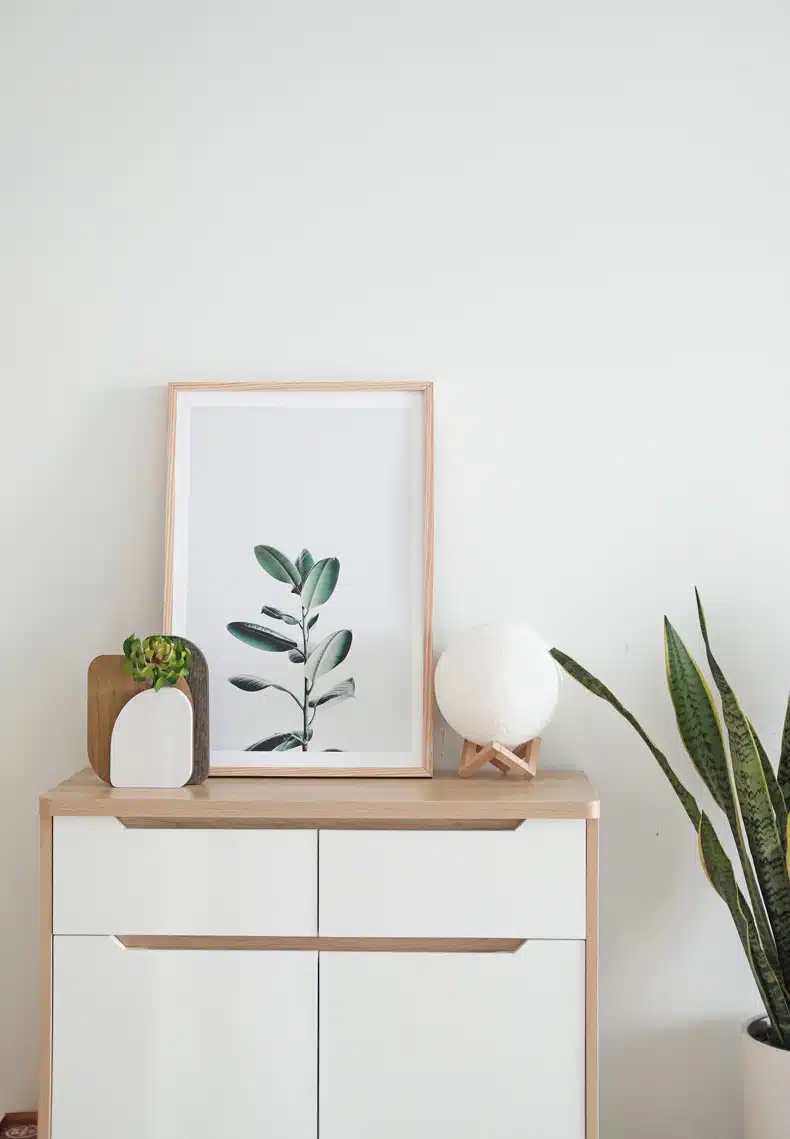 If you have sentimental photos, pick out some smart frames and create a gallery wall.
Or, if you're an avid reader, your bookshelves can double up as decor. You can add in little touches like a vase or even color-code your books.
Just draw the line at having them stacked up on the floor all around your bookshelf, too!
You want to keep decorative items to the essentials. That way, you'll appreciate them all the more.
When it gets cluttered, each item loses its appeal and gets lost among everything else. So keep it simple, and you'll show each item off at its best.
6. Experiment with Open Shelving
If you're into a minimalist decorating style, you might have ruled out open shelving right from the start.
But hear me out!
Open shelving is a great way to keep your possessions minimal. They can double up as functional items in your home and do double duty as decor.
One example of this idea could be your Mason jars holding dry goods, rice, and pasta.
It's practical to see what you have at a glance in your kitchen. And having things on display will make sure you keep them neat and under control.
It also creates that cozy, lived-in feel you want for your home. You have your items close to hand, and the room will have a welcoming atmosphere.
It's inviting you in to cook your favorite meal and spend quality time savoring it with your loved ones.
7. Sprinkle in Accent Pieces
I've covered accent colors already. But in many modern cozy homes, you'll find great accent pieces.
An accent piece stands out and draws the eye. It adds interest to the room and becomes a focal point.
Plus, when you're keeping to a limited color palette, it mixes it up and makes the room feel a little eclectic.
Your chosen accent piece should reflect your style and personality.
It could be a cozy armchair in a warm fabric or a statement pendant light. Other examples of effective accents are wall art or a unique clock.
Or you could go for a purely decorative item like a striking sculpture or vase.
Whatever you choose, make sure it's not too jarring with the rest of the room. It should contrast, but not conflict, with the decor.
8. Make Your Entry Way Feel Welcoming
Your entryway is the first space you'll step into as you come through the door. You want to feel like you've been enveloped in a warm hug as soon as you do.
You also want any guests to feel happy and welcome when they enter, too.
So, the entryway should be spacious yet have some little personal, cozy touches.
You don't want it to feel cluttered. So, you may need some storage for shoes, bags, and other accessories. Don't leave them strewn all over, or you'll feel stressed as soon as you walk in.
Every item should have a home.
But you can also create that inviting atmosphere by adding a little vase of flowers or a favorite photo. These sentimental items will bring a smile to your face.
9. Create a Cozy Minimalist Living Room
The living room is the heart of your room, so take some time to plan it out.
It should be a calm, comfy space where you can relax and let your guard down.
But it's also a room where you entertain guests, so it should be well-lit with plenty of space. The living room should flow nicely, allowing you to move around and air to circulate.
Avoid filling up the room with bulky furniture. Instead, it should be practical but also very comfortable. The sofa should make you want to curl up in it all evening.
Scatter little touches like throws cushions and blankets around. These add to the comfort factor and will complement the rooms' decor.
10. Get the Lighting Right
When it comes to any room, the lighting is a crucial factor in your cozy minimalist home. If you get it right, your room will feel bright, spacious, airy, and inviting.
But if you go for too harsh lights, it can be overwhelming or intimidating. So, you'll struggle to relax.
Swing too far in the other direction, and you'll end up with a dark, gloomy room.
The first step is to maximize the natural light. You can use light, transparent drapes and avoid blocking the windows with anything.
Then, you can choose overhead lighting that fits in with your room's interior design. It should look great and provide just the right amount of light.
Finally, you can add floor or table lamps. They're perfect for adding a stylish touch and brightening up darker corners.
Twinkle lights or candles are another nice addition for a cozy feel. Especially on cold evenings and long winter nights!
11. Consider Rustic or Vintage Furniture
When choosing minimalist furniture, you may want to stick to industrial-style metal furniture. While that has its place in a minimalist home, don't be afraid to broaden your horizons.
Rustic wooden furniture looks gorgeous in a minimalist home. For example, a sturdy kitchen table or bedframe – blemishes and all. 
A piece like that will bring personality and a little quirkiness to your home.
You just need to pick out something special and make it a focal point. Don't overload the room, or you'll lose the benefit.
Secondhand furniture is another fantastic option. You can find gorgeous vintage leather armchairs that are soft, comfy, and unique. The leather is broken in, and it gives off that warm, cozy vibe that a brand new sofa won't.
So, don't assume you have to stick to clean, simple lines in your furniture.
12. Introduce Natural Fibres and Elements in Your Home
Last but not least, you can use natural fibers in your minimalist home.
Many minimalists prefer to use sustainable, eco-friendly materials. So wool, cotton, linen, and bamboo are all great choices.
They look simple yet cozy and snuggly. These materials are soft on your skin, and you'll know you're doing good for the environment, too.
If you're looking for neutral colors, you can source simple, undyed fabrics. Or you can add in a pop of color with a cushion, blanket, or rug in a complementary shade.
Artwork featuring nature also looks amazing in a minimalist home. It channels the peace and tranquility of the natural world.
Whether that's a beach, waves, mountains, or flowers, you can take your pick.
Even though you're going for a cozy minimalist home, it should feel unique and personal to you. That's what will make it so homey and comforting.
Final Thoughts
With these tips, you can create a gorgeous home that is both cozy and minimalist.
Cozy minimalism is becoming more and more popular. And it's not hard to see why.
So, go ahead and get started creating your own warm, cozy minimalist home. Let me know how it goes in the comments (or even share a photo – I'd love to see!)
Then, follow me on Pinterest for more minimalist living & interior design content.
Tip: save the infographic above to your Pinterest to re-read this article later!