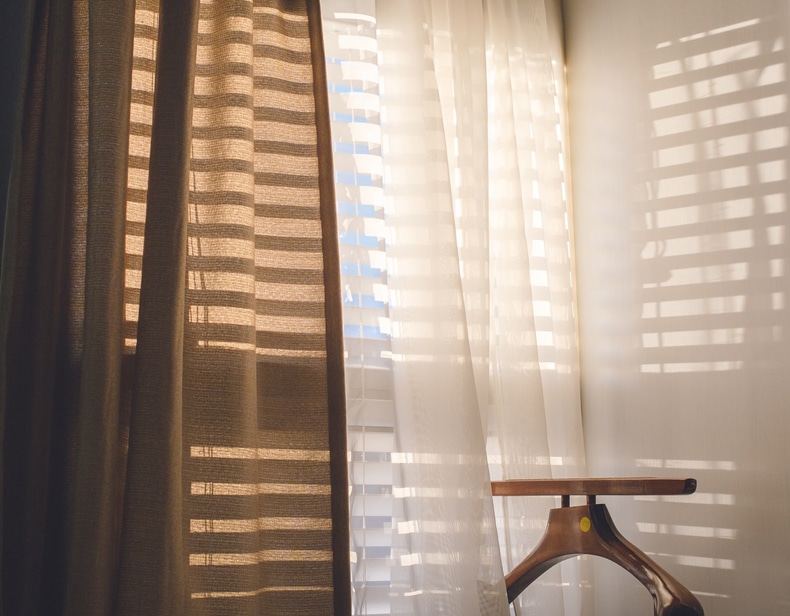 There are so many types of curtains that it's hard to narrow down which curtains would suit your home.
Curtains are nothing new – they've been around for over 3000 years. But they are a crucial factor when it comes to interior design. The curtains you choose can make or break a room!
And we all need curtains. They are practical – they block out sunlight and allow us to sleep. But curtains are also a design choice and make a huge difference to how a room looks.
You might have an idea of which curtain kinds you prefer. But choosing the best styles of curtains for your house isn't always an easy decision.
That's why I've put together this complete guide to the different types of curtains. I'll go over all types of curtain styles to help you pick out the best curtains for your home.
There's something for everyone on this list, including traditional and modern curtains. By the end of this article, you'll know all there is to know about curtains. Plus, you'll feel confident in choosing the right type of curtains for each room in your house.
Types of Curtain Styles: Take Your Pick
Rod Pocket Curtains
First, we have one of the most common types of curtains – the rod pocket style. This type of curtain consists of a fabric with a pocket or panel sewn along the top. Then, you pass the rod through the pocket – it's as simple as that.
Most often, lighter fabrics are used for rod pocket curtains. Linen and cotton are popular choices for these curtains. You could even opt for a gauzy, thin material as drapes if you don't need to block out light.
Or, you could add another layer of a thicker fabric. There's even the option to double up and pair it with blackout curtains or a blind.
Rod pocket curtains tend to look very relaxed, making a room feel casual and cozy. Another bonus is that they come readymade in many stores. So, it's easy to find rod pocket curtains that will work in any room of your home.
They're also very easy to hang and take down when needed. But the opposite is true of opening rod pocket curtains. Because of the design, the pocket can get caught up on the rod, which makes it harder to open them.
If you're tall, you'll find it easier to open and close these curtains. But if you're short, you may struggle a bit. So, keep that in mind if you're thinking of rod pocket curtain designs for your bedrooms.
Rod pocket curtains look stylish without trying too hard. They make a room feel light, airy, and relaxing. With all this in mind, they make a perfect choice for a guest bedroom or living room.
Grommet Curtains (aka Eyelet Curtains)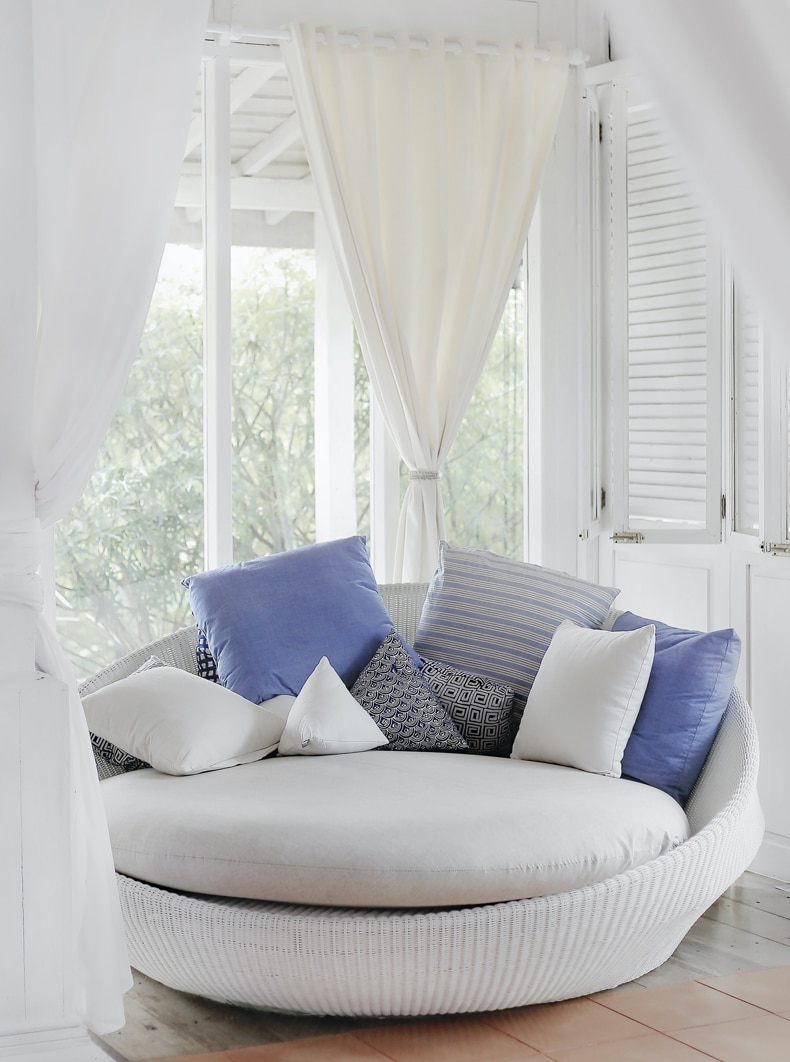 Another very popular choice is grommet curtains. You may know these as eyelet curtains, as both names refer to the same style of curtains.
Grommet curtains look modern and casual, making them a common choice in all sorts of homes. As well as looking fantastic, they are easy to pull and not too traditional.
So, what makes a grommet curtain? These curtains have an eyelet within each pleat, with a grommet around each eyelet. The grommet provides reinforcement and allows the curtain rod to pass through smoothly.
If you're looking for curtains for your master bedroom, consider grommet curtains. They come in all sorts of materials, so you'll be spoilt for choice.
There are all sorts of varieties of grommet curtains, from linen to cotton or polyester. But think about how thick the fabric is, as not all materials will block sunlight.
Another minor note to keep in mind is that with eyelet curtains, there's nothing to hide the rod. Unlike rod pocket curtains, you can see the rod at all times. For some people, that's a deal-breaker while others don't mind this look.
If you prefer a modern look in your home, grommet curtains are ideal. And as they're so easy to open, you can use them in any room. They work just as well in the bedroom as in reception rooms where you entertain guests.
Tab-Top Curtains
Tab top curtains are another distinctive type of curtains. They don't use grommets or a pocket for the rod. Instead, these curtains have loops sewn onto the curtain fabric itself.
It's the loops (or tabs) that are threaded onto the curtain rod. That could be once they've been attached to the curtain fabric. But in some cases, you then attach the tabs to the curtain with buttons.
Some tab top curtains use flat fabric eyelets, too. As you can see, there isn't one specific way to create tab top curtains. It varies a lot!
Tab top curtains have a real retro feel. So, if you like a vintage or retro vibe, consider going for this type of curtains.
But they're also fantastic for anyone on a budget. Tab top curtains use a lot less fabric than pleated styles. That makes them much more cost-efficient. They'll be gentler on your wallet and still look amazing!
On the other hand, loops made from fabric aren't the most durable. When compared to grommet curtains, tab tops may not be as durable. So, you might find that you need to replace your curtains sooner than you expected.
Sheer Curtains
The hint is in the name with this variety. These curtains are sheer and don't block any light. These are purely aesthetic curtains, often made from silk, gauze, or lace.
Sheer curtains look spectacular in the right setting. For example, they work well on balcony windows or French doors. Here, they can billow in the wind and showcase the view.
You'll find most sheet curtains come in white or other pale colors. As a result, they show up any kind of marks or stains very quickly. You may find them too high maintenance, as they need frequent washing to look great.
A sheer curtain can provide some privacy without blocking the sunlight. So, you'll often find them in dining rooms or living rooms.
Go for a sheer curtain if you prefer the minimalist look. Sheer curtains can make a space feel relaxed, bright, and stylish. But keep in mind that they won't provide much coverage or block the sun's rays.
Pleated Curtains
If you're into a vintage style, why not go for pleated curtains? These more formal curtains are a throwback to earlier (perhaps simpler) days.
Pleated curtains are an old-fashioned style that was common in earlier decades. You would find pleated curtains in any sort of room, but especially for formal rooms. Think of dining rooms, parlors, and guest bedrooms, and you're on the right lines.
The pleats use a lot of fabric, demonstrating that you have money to spare. And as pleated curtains tend to be thicker, they would keep rooms warm and cozy.
These curtains were made by sewing the top of the curtain into pleat shapes. There are many different ways to do this, so you get various types of pleated curtains. These include:
Pinch pleated curtains
Box pleated curtains
Pencil pleats
Cartridge pleats
Goblet pleats
Among others depending on the era and location
Both patterned fabrics and solid colors were used for pleated curtains. Gaudy fabrics and busy patterns used to be popular among previous generations.
But if you go for a pleated style nowadays, I would recommend choosing a solid color. It looks much more up-to-date and stylish.
Pleated curtains often (but not always) give a room an old-fashioned, formal vibe. You should think about how you want your room to feel before choosing this type of curtain.
If you opt for a pleated curtain, make sure you have a very sturdy curtain rod. That's because these curtains tend to weigh a lot as they use large quantities of thick fabric. You don't want the whole thing to come crashing down if the hardware can't support the weight.
Cafe Curtains
Cafe curtains also go by 'short curtains', which is a pretty self-explanatory name. These curtains are shorter than regular curtains and don't cover the entire window. Instead, they tend to cover just the top or bottom half of the glass.
This type of curtains was often seen in cafes, hence how it came by its name. You may also see this type of curtains in a kitchen, especially at a window over the sink.
With these short curtains, there's no need to open and close them. They stay up all the time as a feature of the room. So, you'll want to make sure you like the fabric you choose, as you'll be looking at it all the time. The benefit is that you won't need to worry about opening them every day.
They do work well if you have a window facing your garden. That's because you can easily see out with a glance and make the most of your outside space. But at the same time, you never get the full view as the windows are always partly covered by the curtains.
Cafe curtains can look stylish, but they don't suit every room. They're also not very practical as they don't block out sunlight effectively.
Instead, most people go for cafe curtains for the twee, old-fashioned style they create. If that's what you want in your home, then short curtains could be a great fit.
But I wouldn't recommend cafe curtains in a modern or minimalist home. They don't tend to fit with this sleek, simple aesthetic.
If you do want cafe curtains, bear in mind the cost. As most cafe curtains are made to fit your windows, they tend to be more expensive. You'll have to wait longer than with readymade curtains, too.
Most people feel strongly about this short type of curtains. You either love them or hate them – and you'll know which category you fall into!
Blackout Curtains
If you want affordable curtains for your bedroom, consider going for blackout curtains. Not only are they affordable, but they block out all the natural light. So, you're almost guaranteed a good night's sleep.
You can buy blackout curtains in all sorts of colors. There's a good range of shades, so you can take your pick. It's not difficult to find a color that will suit your room. Plus, you'll find lots of neutral shades that look great anywhere.
Many blackout curtains have foam backing. As well as noise, some can cut down on noise pollution from outside and insulate your rooms. That can promote better sleep and reduce your energy bill in the winter.

And on sunny days, you can draw your blackout curtains during the warmest hours. This clever trick will keep your rooms cooler, as the lining will bounce back light and heat.
Blackout curtains are a simple option, but they do have their drawbacks. For example, this type of curtains tends to be quite heavy. As a result, they are a little difficult to put up. And taking them down to wash can be another challenge.
But overall, blackout curtains are a reliable choice for bedrooms. They won't give you that airy, breezy look – but you will get a decent night's sleep.
Window Scarf
If you're after a unique look, you could consider going for a window scarf. While this style isn't very practical for keeping out daylight, it does look stylish.
It consists of a long piece of cloth draped over the window. There's no sewing necessary, and you can easily achieve the look yourself.
You can use any sort of fabric of any color for a window scarf. So, it's very customizable to suit your room. But most window scarves tend to be made from lightweight, transparent fabric.
But a window scarf is all about aesthetics. You can't open and close it or block out any light. And because of that, it's not a smart choice for your bedroom.
However, a window scarf could look dramatic in a living room or other reception room. It would suit a space where you don't need to adjust the lighting.
Instead, you can use a window scarf to create a certain type of feel to the room. Window scarfs feel very romantic, taking you back to a different time and place.
You also have the option to pair your window scarf with a blind. This might not look so fanciful and fashionable, but it is more practical. You'll get more privacy and can adjust the lighting, too.
Overall, the window scarf is a rare type of curtain. It's more for decoration than to serve a purpose and brings a certain style into the room. Plus, it's also very easy to DIY on a budget!
Essential Things to Consider When Buying Curtains
Now you know the main types of curtains available to you. But there are a few other things you should keep in mind when you're choosing curtains for your home. These factors will help you find the best types of curtains for each room:
Curtain Rod or Tracks?
The first thing to think about is what setup you have for your curtains.
Do you already have tracks (also known as traverse rods) installed in your home? In that case, it's much easier and cheaper to go with compatible curtains.
Unfortunately, that will rule out rod pocket and grommet curtains. But it's better to know up front than after you've bought your curtains.
Traverse rods or curtain tracks take up very little space. These tracks can be made of metal or plastic and are sturdy, providing good support to your curtains. You could even go for motorized tracks that will open automatically, saving you the hard work.
But curtain tracks don't look very visually appealing. In contrast, a curtain rod can range from simple to stylish, depending on the design.
A curtain rod is often easier to install and will cost you less. Plus, it works with the majority of curtain types.
But the choice is yours! If you're struggling to decide between curtain rods vs. tracks, find out more about them in this article. Then, take your pick, and then decide on a curtain compatible with your hardware.
Curtain Material
Curtains come in all sorts of materials. They range from lightweight to heavy fabrics and cheaper or more luxurious options.
You can find light fabrics including cotton, linen, polyester, and silk. They are good for most rooms like living rooms, dining rooms, and kitchens.
And there are even sheer options such as lace and voile. While these won't block any sunlight, they look stylish and provide some privacy.
On the other end of the scale, velvet and brocade are very heavyweight. They are opaque, making them ideal for the bedroom. Blackout fabric is another option if you want to control how much light you get in your bedroom.
You should also consider the ease of care when choosing fabric for your curtains. Some materials are machine washable at home. But with fabrics like silk, you'll need to take extra care when washing them.
Curtain Color
Curtains come in every color you can imagine, from solid colors to funky patterns. So, there's truly something for everyone.
One thing to keep in mind is how quickly they will show up dirt. Lighter fabrics tend to show up any dirt, marks, or stains. So, you might find that you need to wash them more often.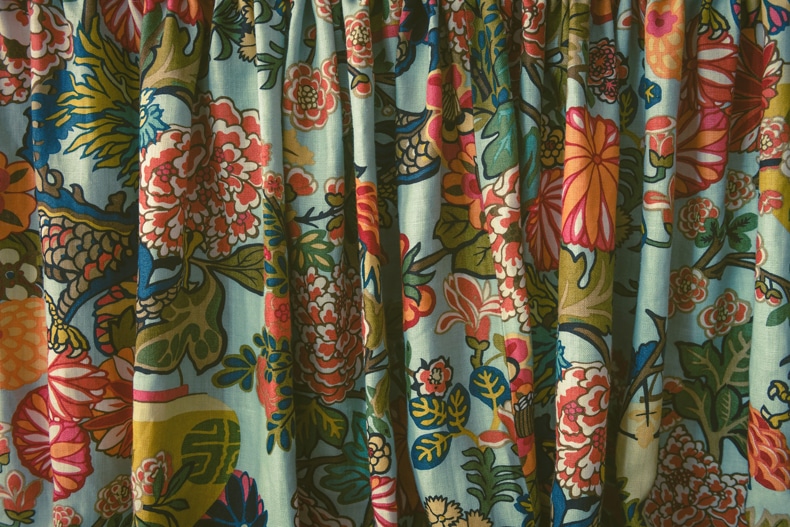 But ultimately, the color you choose comes down to your personal preference! Think about your home decor and the look you want to achieve in each room to help you decide.
Fabric Thickness
The fabric thickness or opacity is a crucial factor when picking curtains for your home. So, you need to think carefully about each room in your house. How do you use that room? And what purpose will the curtains play in the room?
You might need curtains for privacy and to control the lighting in your bedroom. For example, you don't want to be up at dawn during those short summer nights.
So, it's better to go with a thicker fabric that will block the sunlight. Blackout curtains or blinds make a great choice, as do thicker pleated curtains. Which one you go for will depend on the interior design and your personal style.
In contrast, thick fabrics might not be necessary for your living room or kitchen. Instead, you may want to let in as much natural light as possible. In that case, you may prefer sheer or semi-transparent curtains.
Gauzy or linen curtains are perfect for a laidback room with big windows. You can let in tons of sunlight while still getting some privacy from your neighbors.
Curtain Length
A final thing to think about is the length of your curtains. There are three main styles when it comes to curtain length.
First of all, you could go for curtains that float just about the floor without touching it. These are convenient, easy to pull, and look great in rooms with a contemporary style.
Or you could opt for curtains that kiss the floor. These types of curtains just touch the floor and look classy and polished.
They're perfect for a modern room, but make sure that you measure the curtains correctly! Otherwise, you could end up with the wrong length and you won't get the desired effect.
Finally, you could choose curtains that puddle onto the floor. These are longer curtains that look very elegant and lush but aren't as practical. That's because they aren't as easy to draw, and they can get dirty more quickly. They tend to suit formal or traditional rooms better than modern homes.
The Wrap Up
Now, you should know (almost) everything about the different types of curtains.
So, you'll be an expert when it comes to picking out curtains for your home. You'll know exactly what to look for and the style that will suit your rooms best.
Let me know if you have any questions about the various kinds of curtains in the comments below!
And make sure to follow Quiet Minimal for more interior design and minimal tips.