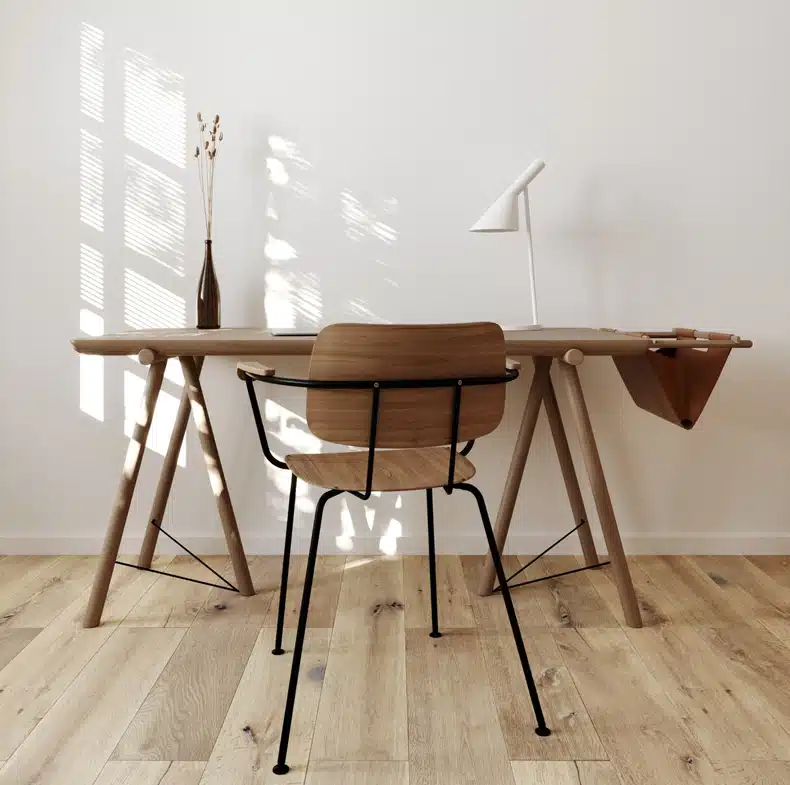 Desks are essential in classrooms, offices, and often at home. But do you know the names of different types of desks? If you're thinking of buying a new one, you should do it!
A desk is a functional piece of furniture you can use for working, writing, and all sorts of hobbies. If you need a surface to lean on, then a desk is a must-have.
And with more of us moving to work from home, you need the right kind of desk to suit your setup.
Desks range from small to huge with a range of different features. Some have drawers and cubbies for storage, while others are more minimalist.
With all these different options, it can be tricky to find the right one. So, before you start shopping around, it's essential to know the different desk styles.
In this article, I've covered some of the main names for desks for you. You can use this reference guide to narrow down your choices and help you find the best desk.
15+ Types of Desks Explained for You
The question 'what are the names of different types of desks' has probably never crossed your mind. But when it comes to buying a new desk for your home or office, you might suddenly find yourself wondering.
If you need to choose a desk, knowing the different names of desks is very helpful. You'll better understand what each desk is and what to expect from it.
As a result, you're more likely to end up with a desk you're happy with. So, read on to find out more about various types of computer desks and writing desks.
There's sure to be the perfect type of desk for you somewhere on this list!
1. Computer Desk
Let's start with a computer desk, as many people need to set up a workspace for remote work.
Computer desks were designed for desktop computers. So, they have plenty of space for all your tech, from your screen and keyboard to your CPU.
Typically, it will have a dedicated shelf beneath the desk to hold the CPU. Plus, you need a large desktop for the monitor, keyboard, and mouse.
Alternatively, some desktop computers will have a built-in keyboard tray. That's a great addition as it maximizes the desktop space, allowing you more room to work. It also ensures you have a comfortable, ergonomic position for typing.
But as more people switch to using laptops, you may find you don't need such a large desk.
Computer desks tend to be bigger than your average desk. So, they aren't always ideal if you have a smaller room. Instead, you could consider some of the more compact options on this list.
2. Writing Desk
A writing desk is a compact desk, much smaller than most computer desks. That's because writing desks were used for writing letters, papers, or journaling.
Despite this, you can also use a writing desk for working on a laptop. The deskspace is also generous enough for crafting, drawing, or other projects.
They often measure around 24 x 36 inches, so they can fit in most places. So, a writing desk could be perfect if you live in an apartment where space is at a premium.
Writing desks tend to be simple, with a decent-sized desktop to work on. Some may have small drawers to store your stationery or other items. That's useful as it keeps your desk clean and tidy, while your things are at hand when you need them.
You can find writing desks in all sorts of styles, from rustic to feminine. But keep in mind that they aren't the most robust desks, due to their thinner legs. So, don't weigh down your writing desk too much!
3. Trestle Desk
If you want a portable desk that's easy to pack away, a trestle desk ticks all the right boxes. It has a simple design of a wooden platform placed on top of two legs.
Each trestle leg has four feet, so a trestle table is also very stable. The legs can be attached to the desktop, or the plank may just sit on top of the legs. While that can make it a bit more flimsy, it's fine as long as you don't lean on it too hard.
And it means you can quickly assemble and dismantle the desk. So, that's ideal if you have a small home and can't keep the desk up all the time.
Once dismantled, the desk will lay flat for storage. So, it's super compact and a great space-saving solution.

A trestle desk provides a large worktop for all your items. It's suitable for working on a laptop or any other activity. But just make sure you don't weigh down one end, or it could tip over.
As for aesthetics, a trestle desk looks modern and minimalist. It's perfect for contemporary homes with its clean lines and functional design.
The main downside of a trestle table is that there's no storage at all. But you could pair it with a standalone cabinet if you need somewhere to keep your paperwork.
4. Lap Desk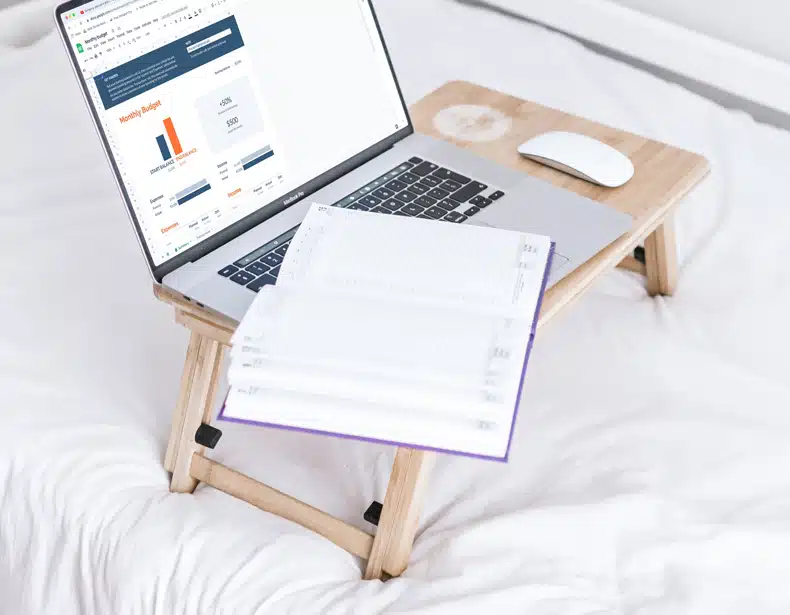 A lap desk is an outlier in this list, looking least like you would imagine a desk to be. But a lap desk can also be very useful in specific situations.
For example, you might want to get some work done while sitting on the sofa. That's not so easy when balancing your laptop on your legs. Plus, there's nowhere for your mouse to go.
So, the lap desk was invented! It's a compact little platform you can rest on your lap. It has enough space for your laptop and mouse, allowing you to work from anywhere.
Most lap desks have some padding on the underside, so they are comfortable to use. And the best ones allow you to adjust the height. That's a huge bonus, as it can prevent neck and back strain too.
If you don't have the space for a full desk, a lap desk could be the perfect solution. You can use it on the sofa or even in bed. So, it lets you get some work done and even move from place to place.
Lap desks might seem like a new invention, but they have a much longer history than you'd think. They were around as long ago as the 18th century, and even Thomas Jefferson used one. So, you'll be in good company if you go for a lap desk!
5. Standing Desk
Standing desks are well-known to have many health benefits, as shown in this study.
For example, people who use standing desks suffer less from back pain and other health issues.
So, it's well worth considering switching to a standing desk. It has a higher desktop so you can work comfortably while standing up. Using a standing desk is a great way to improve your health with just a small change.
Some standing desks allow you to adjust the height. That's very useful, as what works for a tall person will be too high for someone shorter. So, you can get the perfect ergonomic position for you specifically.
You can also find adjustable sit/stand desks that raise the desktop with the press of a button. These desks are ideal if you spend a lot of time at your computer, as you can vary your working position.
Standing desks are quite expensive, especially the advanced models with adjustable heights. But if your budget can stretch to it, you won't regret investing in your health and comfort.
6. Corner Desk
This type of desk is also known as the L-shaped desk. Either way, the name gives this type of desk away. It's shaped like the letter L, with two desktops joined by a corner unit.
A corner desk is ideal if you have an empty corner in your office. As it has two desktops, you get even more workspace.
So, it's ideal if you use two computer screens or need more space to spread out. Then, all you need to do is swivel around to the other side.
But you'll need quite a lot of space for a corner desk. It's perfect if you have a corner spare, but otherwise, it might not be the best choice.
And once you've got it into place, you'll want to avoid moving your L-shaped desk. Due to their shape, they aren't easy to move from place to place.

There are all sorts of corner desks to choose from. You'll find them made of wood, metal, or even glass.
Many are very minimalist and simple, with clean lines. But other options may also offer some storage, with built-in shelves below the desk.
7. Secretary Desk
A secretary desk is quite a unique design. It combines plenty of storage with a platform to write on. So, it's practical and multipurpose, but it looks quite different from most desks.
That's because it doesn't have a permanent desktop. Instead, it has a hinged wooden shelf that unfolds to provide a desk to lean on.
When open, this shelf reveals more cubbies to hold stationery, files, and other items. And when you close it, everything is neatly tucked away.
Beneath the top compartment, you'll typically find more drawers for storing paperwork.
This innovative design takes up less space than a full desk. But you'll need enough room around it to unfold the shelf.
You could work on a laptop at a secretary's desk. But it's not the most practical design as there isn't enough room to store your laptop when you're finished.
This type of desk isn't suited to a desktop computer, either. It's not large or sturdy enough to support the weight of a CPU or a printer.
But if you want a desk for writing or crafting, a secretary desk could be a good option. It takes up very little floor space and doubles up as extra storage. So, you could pack away all your craft bits inside.
8. Butler's Desk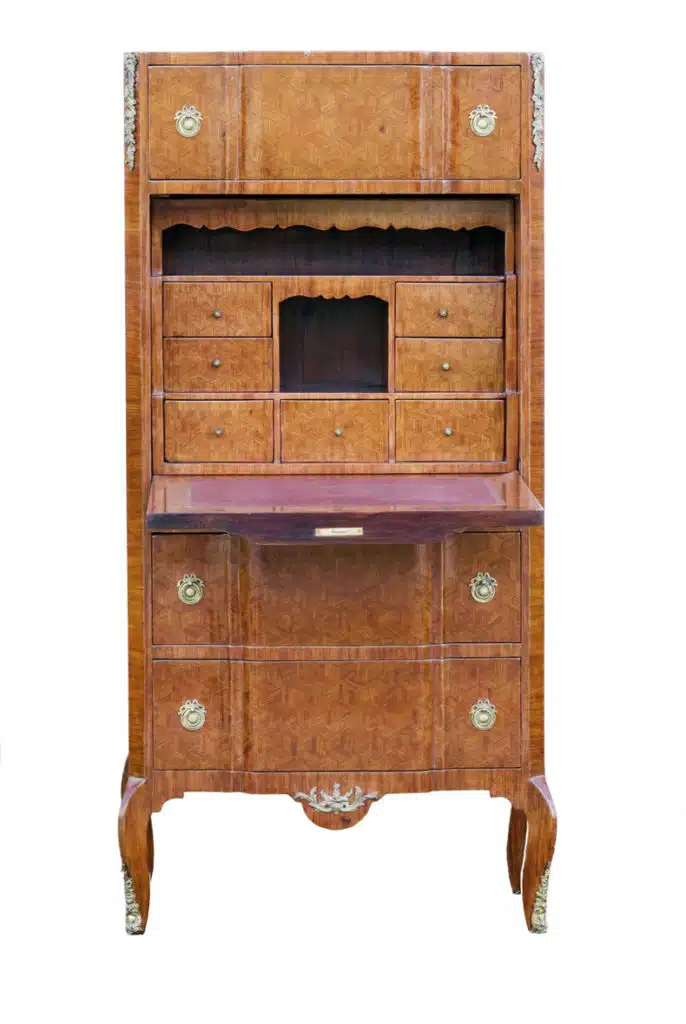 In many ways, a butler's desk resembles a secretary desk. It also has cubbies and drawers for storage and a drop-down panel to provide a desktop. But in contrast, it often has a flat top rather than tapering in like most secretary desks.
The butler's desk is a traditional piece from earlier times. They date back to when a butler would be in charge of managing a household.
The butler would have to keep track of important papers and documents. So, this type of desk evolved to fulfill this need.
Sometimes, a butler's desk would even have secret drawers. Here, they could store important records safely for their employers.
But the butler would rarely sit at the desk for long periods. It was mainly used when standing, so this desk is higher than most.
While butler desks are quite old-fashioned, they can add some style to your home. And due to their height, they work well as a standing desk. We know how good standing is for your health instead of sitting for hours at a time.
9. Armoire Desk
If you need even more storage, then an armoire desk could be just what you're after.
This is a tall desk with many shelves and a desktop. Some offer extra storage space for a CPU or larger items like a sewing desk.
And the best thing about many armoire desks is that they have doors that close, hiding it all away. So, they look neat and tidy while being very functional, too. The name itself comes from the French word for wardrobe.
An armoire desk can work well in a spare bedroom that doubles as an office. When it's closed, it looks just like a closet in the room.
Armoire desks come in a variety of sizes and designs. You can find them varying from compact to large, with lots of extra storage. You can shop around until you find the best armoire desk for your home.
But one drawback of armoire desks is that there isn't a lot of space for your feet below the desk. They don't have the largest desktop, either.
So, if you work from home full-time, you might find it's not the most practical desk for your needs.
10. Telephone Desk
A telephone desk is another relic of the past. But it would make a great statement piece, especially if you're into retro interior design.
The telephone desk was often found in a hallway. It's a small table where you'd find the telephone, providing enough space to take down notes.
This type of desk dates back to when telephones were a new invention. There weren't voice recorders or voicemail back then.
So, instead, you'd need to write down any information people left, including a contact number. That's why it was essential to have a desk to lean on with a notepad and pen handy.
Telephone desks are pretty hard to find nowadays. But you could find an antique one in a secondhand store if you know where to look.
As these desks are compact, they work well in the corner of a room or an entryway. It could be a nice addition to your home if you can get your hands on one!
11. Floating Desk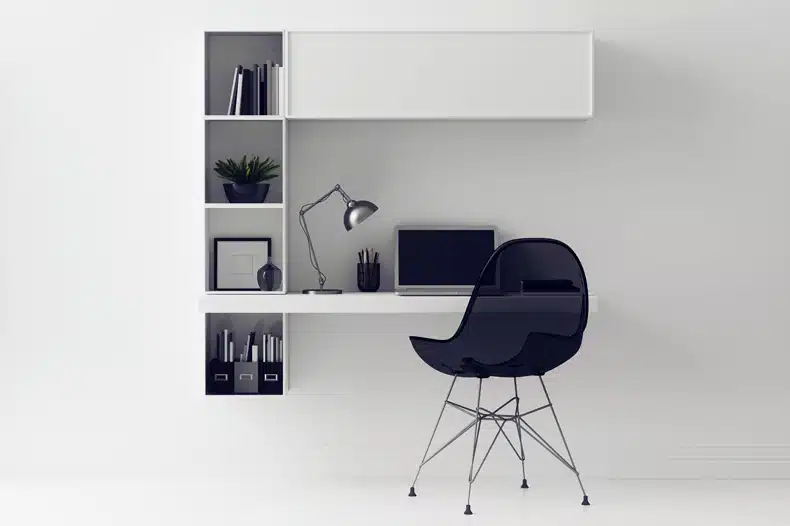 A floating desk does just what the name suggests. It's a raised desk attached to the wall, leaving the floor tidy and uncluttered. As a result, a floating desk looks very neat and minimalist.
But as it has no legs, you have to be careful what you put on it. If you weigh it down too much, the whole thing could fall off the wall and cause a lot of damage.
A floating desk is a great choice if you're short on space. They come in various sizes, from tiny for the smallest homes up to a normal desk size.
A floating desk works well for writing, crafting, or working on a laptop. Some may even have little cubbies or drawers to store a few items.
You can even find folding desks that flip up so that it sits flush to the wall. Then, you can use that space for something else when you're not working. That is perfect for tiny apartments or studios where space is limited.
12. Treadmill Desk
If you're ready to up the ante even more, you could go for a treadmill desk. Instead of just standing while you work, you could walk off some calories instead.
These desks are specially designed to fit a treadmill beneath them. So, they're as high as your regular standing desk.
But they are often wider to provide enough space for a built-in treadmill between the legs.
The great thing about treadmill desks is that you can stay active rather than sit down all day. A sedentary lifestyle isn't good for us, so the more you move, the better.
A desk with a built-in treadmill is much easier to control. Plus, you won't need to worry about the treadmill fitting like you would if you bought it separately. It's all very straightforward and stress-free.
You might want to consider whether it's practical only to have a treadmill desk, though. Will you be comfortable walking all day? If you get tired, you don't have the option to sit down, unlike an adjustable desk.
13. Roll-Top Desk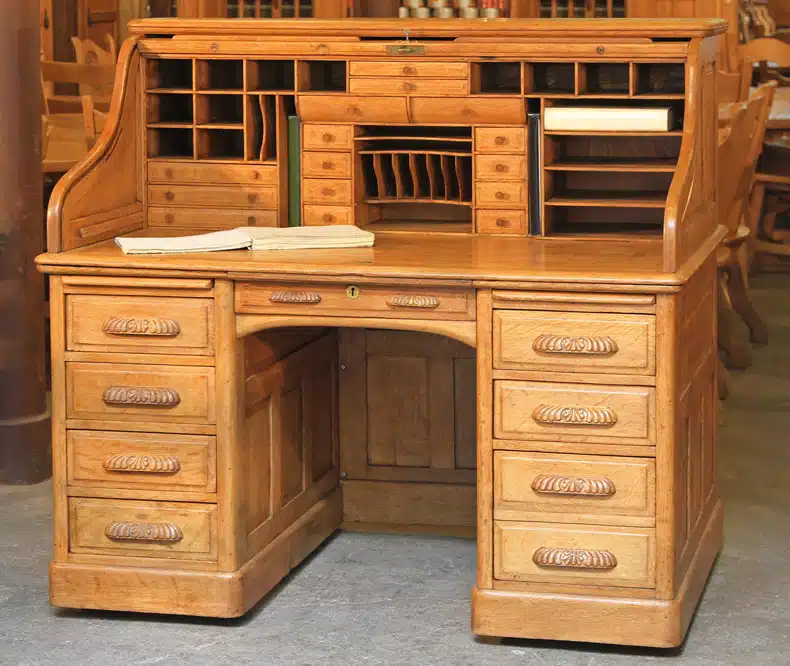 You wouldn't be alone if you got a roll-top desk mixed up with a secretary desk. Both have built-in storage and an upper compartment that opens to reveal a desktop.
But in the roll-top desk, the wooden compartment rolls back. Beneath, you have a fixed desktop to work on.
It's also more practical than the secretary desk as it has a space for your legs below the desk. That means you have a more natural and comfortable seated position.
As a result, it's ideal for working for longer periods. Plus, your chair can tuck under the desk to save space when you're not working.
Despite this, it also has ample storage. Most roll-top desks have drawers down on each side. It may have other extra cubbies built into the structure, too.
And when you close the cover, you have a neat and tidy desk within seconds. So, it's perfect for helping you to switch off from work mode when you're done for the day.
This desk is perfect if you need a lot of storage space. It also has a decent desktop, although you lose some space to the drawers and cubbies. But it's not well suited to using a desktop computer, as there's no place for the CPU.
14. Executive Desk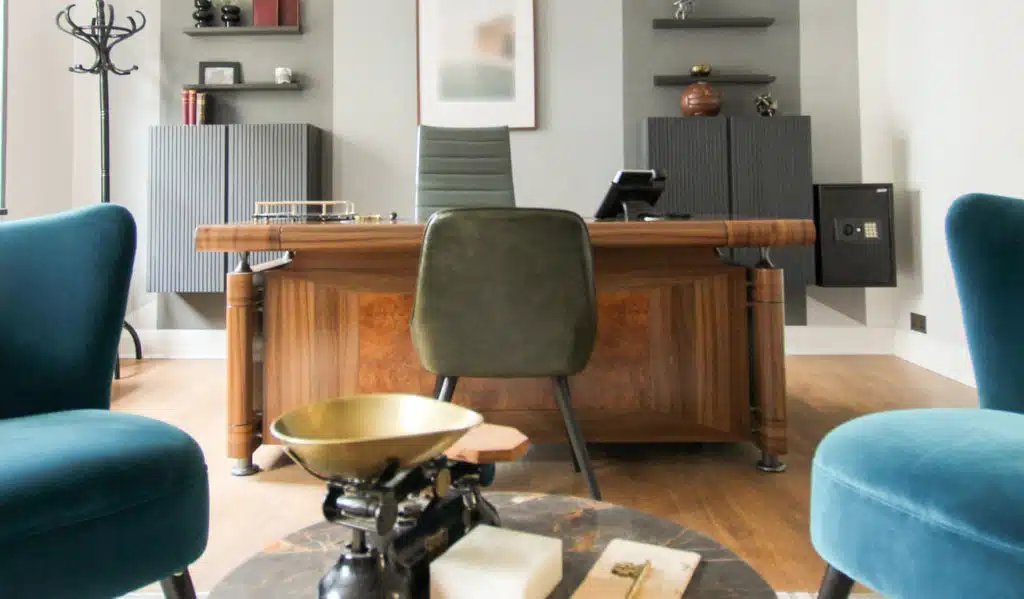 An executive desk is a timeless desk that is popular among many peoples. That's because it offers a large surface to work on and tons of storage.
But it also looks classy in a traditional (somewhat old-fashioned) way. These are the classic, grand desks you'd see in offices of C suite professionals. They give off an aura of professionalism and expertise.
Executive desks are generally made from a dark wood desk that's all enclosed. So, if you're sitting opposite someone at an executive desk, you won't see their legs.
The downside of an executive desk is that it's very bulky and heavy. So, it's not easy to move or install in your home, and you'll need a large room for it.
But while these desks take up a lot of floor space, they make up for it in the storage space provided.
An executive desk could be for you if you like classic, old-fashioned offices. It would also be useful if you have a lot of paperwork you need to keep at hand.
But nowadays, most documents are available online. So, you might find the executive desk too outdated (not to mention too big) for your needs. It also won't suit a modern or minimalist home design.
15. Dual-sided Desk
If you need a workspace for two people, a dual-sided desk is perfect. It looks like two desks joined together, with a full desktop for each person.
With this kind of desk, you'll sit opposite your colleague (or relative/flatmate/etc). But there's enough space for each person's computer, tech, and accessories.
A dual-sided desk is a great way to make the most of the space in your room.
You can each work on your tasks without getting in the way of each other. And as your screens will face in opposite directions, you won't get distracted by the other person.
But it's nice to have someone nearby for some company. You can check in with each other, ask a question, or have a quick coffee break together.
You'll find a variety of dual-sided desks on the market. Some have extra features like storage or drawers that can be handy.
A dual-sided desk is the best desk for two people in the same room. It ensures each person has enough space to work without the bulk of two separate desks.
16. Carrel Desk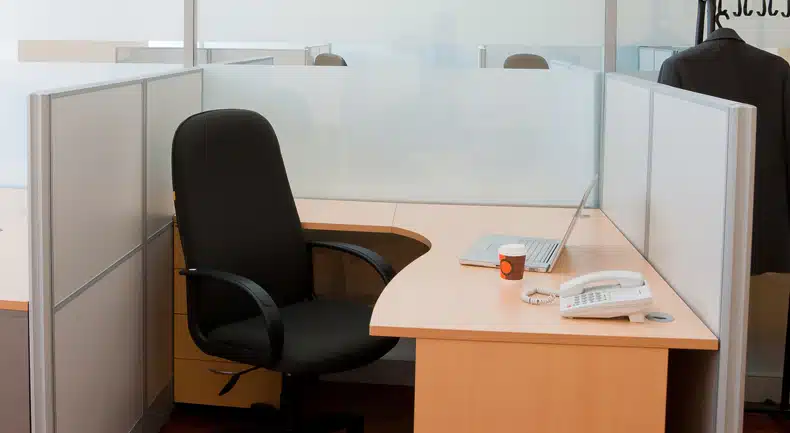 A carrel desk is commonly seen in many large open-plan offices.
It's a compact little cubicle with a divider to allow you to focus on your own work. The idea is to prevent distraction and provide a little privacy to each person.
While it's rare to need a carrel desk at home, there are some situations where it could come in handy.
For example, if you work or study in a room where other people spend time. Then, a carrel desk could stop you from losing track of what you're meant to be doing.
A carrel desk is also useful in any space with lots of people close together. It allows each one to focus on their studies. Plus, it's perfect if you need to do any testing. It prevents any copying from each other.
However, carrel desks are bulky, tall, and hard to store away. You can't stack them on top of each other like many types of desks.
And carrel desks tend to be quite compact, with a smaller desktop. So, you might not have enough space for your books, notes, laptop, etc.
17. Credenza desk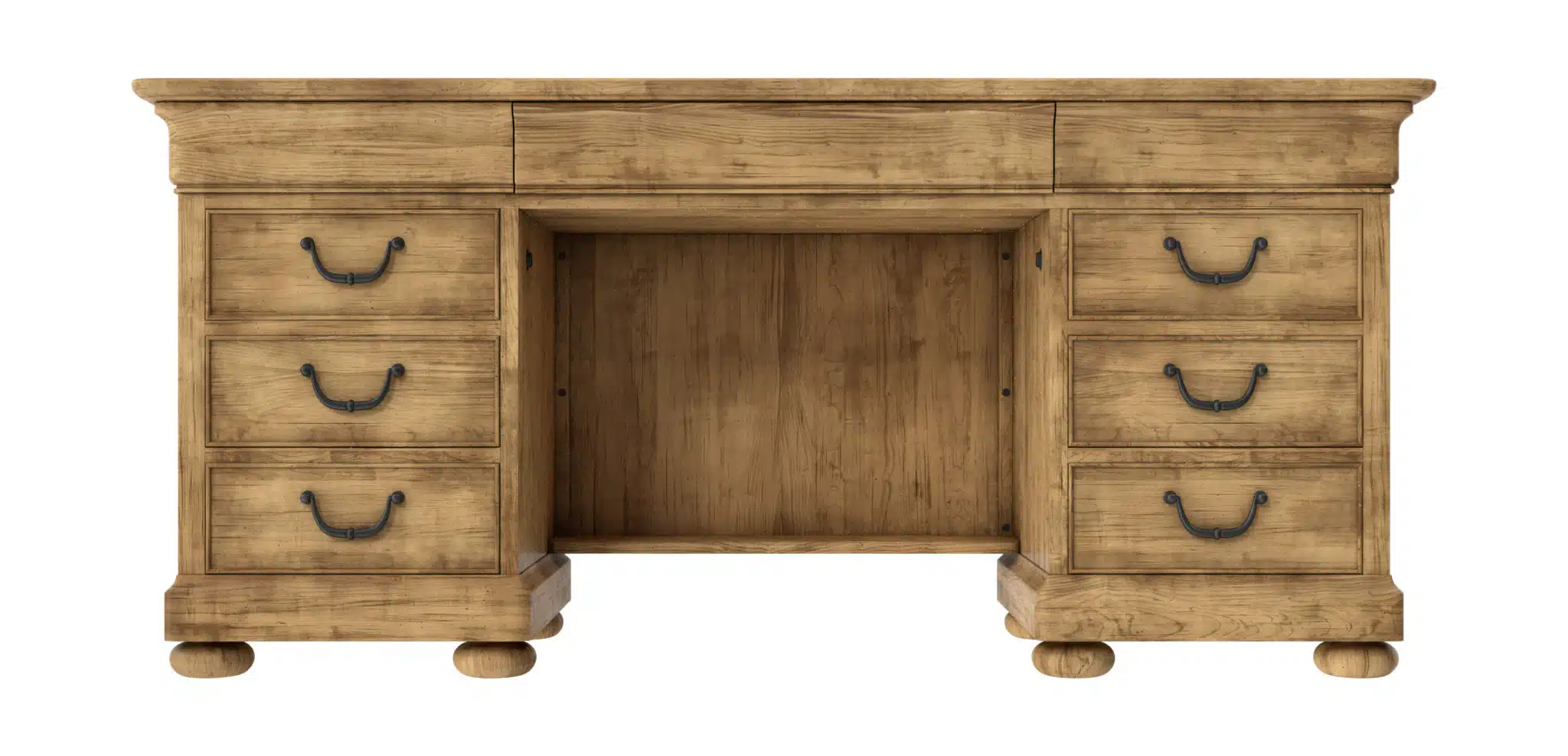 A credenza is another desk style that dates back to an earlier time.
These desks tend to be very ornate, handmade, with beautiful carving and details. They're typically made from high-quality wood and very heavy to move.
As with executive desks, a credenza desk is enclosed on the outside. They will often have a cubby for your legs, but it won't go all the way through. This is also a great place for hiding messy electrical cords and cables.
To understand a credenza desk, you first need to know what a credenza is. It's quite a rare piece of furniture nowadays, so here's a quick introduction.
You'd commonly find a credenza in a dining room. It's a large sideboard with short ornate legs, more for show than anything else.
A credenza desk combines this cabinet-style fixture with a desktop for writing. It's one of the original multipurpose pieces of furniture. So, it often has cabinets as well as drawers. You'll find space to store all sorts of things on a credenza desk.
But due to the structure, there isn't much space below the desk. So, if you use a desktop computer, you may struggle to fit the CPU alongside your legs. 
Different Types of Desks FAQ
What types of wood are used in desks?
The best desks are made from high-quality hardwoods. These include maple, oak, cherry, and walnut.
But nowadays, many desks are made from cheaper wood composites like MDF and plywood. These cost a lot less and are more lightweight but not as sturdy and durable.
Can used desks be sold?
You can resell an old desk depending on its quality and condition. If it's made from sturdy hardwood, you can get a good price for a used desk. 
But cheaper modern desks won't sell as easily secondhand. That's because they're not expensive to buy in the first place.
You could try selling your used desk on eBay or Facebook Marketplace.
What is a desk without drawers called?
Depending on the style of the desk, a desk without drawers could have various names. 
It could be a computer desk, trestle desk, corner desk, or something else. But most of these desks fit under the category of minimalist desks as they have no storage. 
Final Thoughts
A desk is an essential piece of furniture for all sorts of purposes. But choosing the right desk will ensure you get the best desk for your needs.
Desks vary a lot in style, design, storage, and features. But now, you should have a good understanding of the different types of desks.
So, you shouldn't have a problem buying a new desk for your home or office. Let me know which one you go for in the comments!
Don't forget to follow me on social media for more tips, reviews, and helpful content.