A couch is one of the most important pieces of furniture in your home. It's where you'll sit, relax, watch TV, read a book, or even take a nap. And when you have guests over, you'll sit together on your couch.
So, you shouldn't underestimate the significance of the right types of couches for your home.
Couches are also known as sofas, and these two terms are both frequently used. But initially, these words meant quite different things. You can find more on the difference between sofa vs. couch below.
If you're looking for a new couch or living room, this guide to different types of couches is for you! It's a complete guide to modern and classic couch styles. After reading, you should feel confident choosing a couch design for your home.
You'll also find it handy if you've ever wondered how to find out what kind of couch I have. Browse through these types of sofas and loveseats to see if any of them match what you have at home!
Sofa Vs. Couch: What's the Difference?
The word couch comes from the French verb to sleep, which is 'coucher.'
It follows that a couch was a comfy and spacious piece of furniture that you could stretch out on to relax. Often, a couch wouldn't have arms or even a back as it was meant for sleeping, although its use has since changed.
In contrast, the word 'sofa' used to refer to a wooden seat with cushions. It comes from an Arabic and Turkish term for a raised flooring section or a wooden bench. Sofas would typically have a back and arms to lean on, as well as cushions for comfort.
As you can see, these two words have very different origins. But nowadays, these two words are used interchangeably. So most people will know what you mean, whether you say sofa or couch.
20 Types of Couches and Sofas
Here's everything you could ever know about different kinds of couches for your living room. If you've been unsure about the various types of sofa styles, you'll soon be an expert!
Read on to get a clear idea of what each couch design is like and whether it would suit your home.
Settee Sofa
A settee is one of the earliest types of sofas or couches. So as you'd expect, it's a little outdated now. But it was commonly used in earlier times, dating right back to 17th-century Europe.
This type of sofa is quite small compared to modern-day couches. It would usually fit two people but no more.
A settee has a wooden frame with a firm, straight back. While it's not the most comfortable couch, it's great for your posture as it encourages you to sit upright.
You can find settees with full upholstery covering the entire design. But some styles have partial upholstery with some of the wood visible. Usually, there is some padding on the seat and sometimes on the backrest.
The benefit of a settee sofa is that it doesn't take too much space. So, it works well in smaller rooms or even a hallway.
You won't find many settees in furniture shops, although there are some modern takes on the settee. But if you like the traditional style, you could look in vintage or secondhand stores. You might find a gorgeous antique if you're lucky!
Chesterfield
A Chesterfield is another iconic type of couch with centuries of history. This luxurious sofa has rich leather upholstery and deep button tufting. So, it's very distinctive and easy to recognize.
The origins of the Chesterfield sofa date back to 18th-century England. The fourth Earl of Chesterfield wanted a sofa he could sit on without creasing his fine suits.
So, he commissioned this sofa with a high back and low seat that became known as the Chesterfield. It soon became a status symbol among the upper classes.
The Chesterfield has high-rolled arms at the same height as the back of the sofa. Another essential feature of this sofa is its tufted or quilted design.
Despite being designed 200+ years ago, Chesterfield sofas are still popular today. You can find these sofas in a wide range of colors, often in deep shades like burgundy or brown. Although it's most commonly upholstered in leather, you can also find other fabrics.
A Chesterfield sofa brings class and style to any room. But it particularly suits more traditional spaces rather than minimalist homes.
Loveseat
If you're looking for a compact sofa, why not go for a loveseat? It's a compact sofa that seats two people and will fit nicely in smaller homes.
The original loveseat has an interesting history. It was inspired by the wide chairs designed for Victorian women. Due to their voluminous skirts, they needed more space to sit. But nowadays, loveseats can fit two people with ease.
Nowadays, you can buy a loveseat individually or bundled with another, larger sofa. But if you live alone or in a couple, a loveseat might be all you need. It's especially suitable if you have a small apartment and need to make the most of your space.
Loveseats are very comfy, ideal for lazing around watching a movie or reading. And they
come in all sorts of colors, patterns, and materials. So, you can shop around until you find one that suits your home.
Daybed
A daybed is an innovative and functional piece of furniture. It's versatile, as it's just as good for sitting as for sleeping. So, if you have a room that fulfills both purposes, you could opt for a daybed.
For example, you may have a spare room you use as a study or game room. Then, a daybed will offer plenty of seating. But if you have guests to stay, you can pull it out as an extra bed for the night.
Daybeds have a bed frame consisting of a backboard and an arm at each side. The backboard is ideal for leaning against as you read, watch TV, or chat with friends. But a daybed can easily transform into a full-sized single or double bed (depending on its exact style).  
They also work very well in children's rooms. A daybed is perfect for sleepovers or simply having extra space to lounge and chill.
One drawback of a daybed is that the footboard could make it awkward for taller people. They may find the space a bit cramped. But for many situations, a daybed is a useful type of couch and could be ideal for your home.
Cabriole
A cabriole is a romantic, rather feminine type of sofa. It oozes elegance and style, but it's also very comfortable.
But Cabrioles are pretty rare nowadays, so they need a little introduction. This type of sofa is a little like a daybed but fancier. They differ as they have a padded back and a cushioned seat.

As Cabrioles don't tend to have a deep seat, they are better for sitting upright rather than lounging. This isn't the best type of sofa for curling up to watch a movie. But it's perfect for sitting and socializing with friends over drinks.
Cabrioles appeared in early 18th-century France, and you can still see that influence. They have a gently curved back with smooth lines and rich patterned upholstery. Another key feature is the delicate carved legs made of exposed wood.
A cabriole was the mark of a stylish rich woman. They were all the rage among the upper classes. And to this day, a cabriole makes an elegant addition to a formal room.
Chaise Lounge
A chaise lounge is a chair/sofa combo, with some elements of the daybed too. It's a long padded bench with a headrest and a back/armrest on the top end of the sofa.
Unlike most couches, the backrest doesn't extend the entire sofa's length. That's because this couch isn't intended for sitting on, but rather for lounging or lying down.
The chaise lounge dates back to ancient times. Some version of it was used by the Ancient Egyptians, Greeks, and Romans at one point or another. Back then, they would make it from palm stalks, cord, or wood if you were rich.
But despite this long history, the name comes from the French language. It means 'long chair'. The chaise lounge became popular again in France in the 16th century. Then, it would have very elaborate designs.
If you want a luxury vibe in your home, you could add a chaise lounge. They tend to work best in a bedroom or dressing room but could also work in a living room. While it's not the most practical type of couch, it has a real flair and looks very stylish.
Mid-century Modern Sofa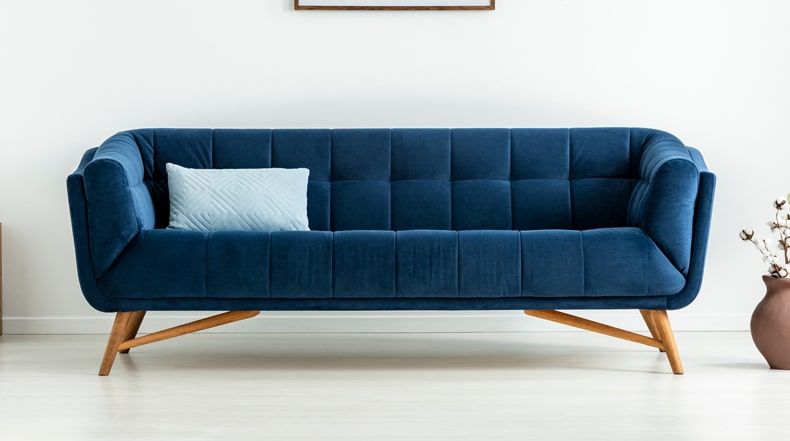 The mid-century modern sofa has a retro vintage look that some people love. And as the name suggests, it was designed in the mid-20th century.
This type of sofa was at peak popularity in the US between the 1930s and 1970s. But due to its modern and contemporary style, it still works well in homes today.
The mid-century modern sofa tends towards minimalism. It often has clean, straight lines and block colors or geometric patterns.
Large removable seat cushions make it easy to clean, so it's a great choice if you have children or pets! It may have tufting in the upholstery, although not all do. Other details can also vary, from the edging to the style of arms and legs.
So, the mid-century modern sofa is a versatile and practical design. It comes in a wide range of colors and materials, so the choice is yours. If you have a minimalist or modern home, this type of sofa could be the finishing touch you need.
Divan Sofa
A divan is quite distinct and easy to recognize as it has no back. So, it stands out from most other types of sofas.
It's basically a bench with cushioning and often a wooden arm at each end. They originally come from Persia, but there are many modern divan styles, too.
In some ways, it's like a chaise lounge but more symmetrical. As divans are long, you could stretch out and take a nap on one.
Divans work well in small, narrow spaces, such as an entrance hall. You'll need to have a wall behind your divan to provide support, as there is nothing to lean on otherwise.
If you have a statement wall, a divan will showcase it instead of blocking it. They also work well in front of large windows to make the most of the view.
Recamier
A recamier resembles a chaise lounge in some ways, with significant differences. It's also a long backless wooden bench with cushioning. But it varies from a chaise lounge because it has two rolled or raised ends.
A recamier can be symmetrical, with armrests at each end of the same size. In that case, you can use it either way around. But sometimes, it will have a higher, raised headrest and a low rolled footrest.
Either way, recamiers are traditionally ornate, with an exposed wood frame and legs. They first became popular during the neoclassical era in France. The name comes from a famous painting of Madame Recamier reclining on this type of couch in the 1800s.
However, you can find some modern recamiers with a minimalist design. Some are very simple, with clean lines. They may not even have a raised headrest or footrest at all.
Futon
This versatile piece of furniture has the best of both worlds – it serves as both a bed and a sofa. With a simple click, you can fold the backrest down, and you have a large space to sleep on.
While it may not be as comfy as a regular bed, futons can provide a decent night's sleep. So, if you need to save space, consider going for a futon in your living room. It's perfect if you have a tiny home but still want to offer guests a bed for the night.
The word futon is the Japanese term for bedding. That's because this sofa takes inspiration from Japanese sleeping mats. While it's not exactly the same, the principle of saving space remains.
Futons come in all sorts of styles and materials. So, you're sure to find out that suits your living room and interior design style.
Sectional Sofa
The sectional sofa is one of the most popular couch choices. That's because it's super versatile, adaptable, and comfortable.
What's unique about the sectional sofa is that it comes in several pieces. You can put these pieces together in any configuration you like to design your own sofa!
So, you can set it up to suit your home. They have fixtures that hold the pieces together, preventing them from moving about. Common configurations are U-shaped and L-shaped, but there are others, too.
The sectional sofa came to popularity in the US but is now used worldwide. Now, you can find them in all sorts of materials, from leather to cotton, cord, or velvet.
They can range from a smaller 3-piece up to much larger couches. That makes them ideal as a family couch everyone can fit on!
Another bonus is that they're easy to get into apartments or through small doorways. You can take them apart, making it much more straightforward than a large one-piece sofa.
Camelback Sofa
This sofa gets its unusual name from the curved shape of the back. A camelback sofa has a high back with two or three curves that resemble a camel's humps.
Camelback sofas tend to look quite formal. They have a carved wooden frame, a high back, and claw-and-ball feet. And while they have some padding, they aren't the most comfortable type of sofa.
The furniture designer Thomas Chippendale began producing these sofas in the 18th century. It was a popular choice among the aristocracy. That's because Chippendale was well-known for its excellent craftsmanship.
These classic sofas are an all-in-one piece. However, the padding is attached to the frame rather than having removable cushions. That makes it quite high-maintenance, as it's harder to wash the fabric if it gets dirty.
But they do bring elegance and style to a room. Plus, camelback sofas are often on the smaller side, so they can fit in a tiger space.
English Roll Arm Sofa
As the name suggests, the English roll arm sofa is another import from England. This couch is cozy and comfortable, with lower arms perfect for leaning on.
You'll know the English roll arm sofa by its tight upholstery and distinctive arm shape. It also has thick, deep cushioning that makes it pleasant to sit on.
The English sofa typically has loose cushions, making it easier to maintain. But that wouldn't extend to the back cushions, which are often attached to the frame. So, traditionally, people would use slipcovers to protect the fabric and keep it clean.
In the past, this type of sofa was used in formal reception rooms. But it comes in many different variations nowadays and can work just as well in modern rooms. So, it's a strong choice for your home!
Lawson Sofa
Next up is the Lawson sofa, a more modern take on the English rolled arm sofa. It has the same straight back, but it differs in the loose back cushions.
Where the English roll arm sofa has tight upholstery, this has removable cushions. They are generally thick, squishy, and offer a lot of comfort. So, this type of sofa is very cozy for curling up on and relaxing.
The Lawson couch also has a different arm design. It doesn't have rolled arms, instead has molded wooden arms covered in fabric.
Another key feature of the Lawson is two extra loose cushions on either side of the arms. But some people find these extra cushions unnecessary nowadays. So they're often missed off on modern versions.
Tuxedo Sofa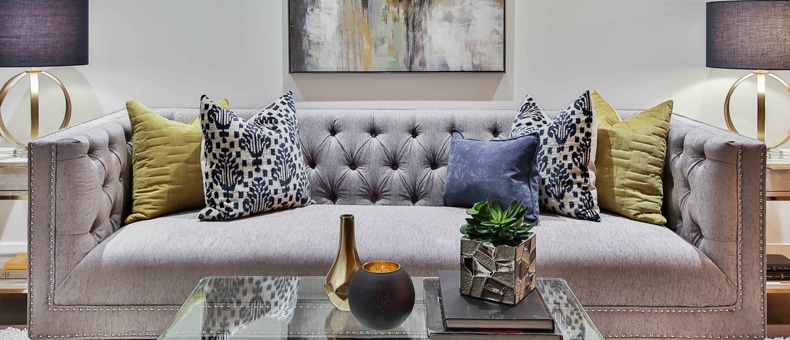 A tuxedo sofa has a classy, striking design, thanks to its square form. It features straight lines and angles, deep tufts, and plenty of cushioning. This type of sofa emerged in 1920s New York, taking its inspiration from the Art Deco movement.
While the tuxedo sofa features a padded seat and back, it's not the squishiest of designs. But instead, it oozes style and sophistication. If you're looking for a focal piece for your room, a tuxedo sofa is sure to get a lot of attention.
Rattan Sofa
You'll often see rattan sofas in outdoor spaces. They make excellent couches for patios, gardens, and even balconies. That's because they're hardwearing and durable, with a relaxed and casual look.
Rattan sofas are made from abaca strands from the rattan plant. It's from the palm family and grows around the world in tropical areas.
But while rattan is strong, keep in mind that it won't withstand all conditions. So you may need to weatherproof it so that it lasts longer.
Bridgewater Sofa
Bridgewater sofas date back to the mid-19th century in England. They were made by Howard & Sons as a comfortable and practical sofa for the everyday person. These sofas weren't just for show – they were used day in, day out.
The Bridgewater feels more relaxed and casual than many of the more formal types of couches. And although it's a little old-fashioned, it's still quite a popular design choice.
It often has a quilted or tufted design on the back cushions. They tend to sit two or three people, depending on the design.
Other significant features are low arms and a tailored skirt to hide the wooden legs. Also, Bridgewater sofas have a low form, sitting closer to the ground than some couches.
While Bridgewater sofas aren't very fancy, they are comfortable. And that's the most important thing about a sofa. And as they come in so many different fabrics, colors, and patterns, you can find out to suit your home.
Although Bridgewater sofas aren't as fashionable as they used to be, they're still a solid choice.
Recliner Sofa
A recliner sofa looks like most regular sofas, but it has a hidden feature. At the press of a button, you can raise the footrest and tip the sofa back.
Then, you can comfortably recline to take a nap or relax. So, it's a versatile multi-purpose piece of furniture for your home.
If you like to change your sitting position, a recliner sofa might be right for you. The best recliner sofas will have offer adjustability, so you can get a comfy position.
But you should look for one that also offers great lumbar support for your back. Then, you'll have better comfort while reclining.
One thing to keep in mind is that recliner sofas are often quite bulky. Plus, you'll need to have extra space around the couch so that you can recline it.
If you have a large living room, it will work well in your home. But if you're tight on space, go for a different type of couch instead.
Pull Out Sofa Bed
If you have a small home, you might need a pull-out sofa bed. They come in very handy in apartments or tiny homes, as they are versatile and multipurpose.
A pull-out sofa bed transforms into a full-sized single or double bed in seconds. They're like a sleeper chair but provide more space for sitting.
When you're tight on space but like to host guests, a pull-out sofa bed is a perfect solution. It's a clever space-saving piece of furniture.
All you need to do is pull out the mattress that tucks away beneath the seat. Then, you've turned your lounge into a spare bedroom for the night. Unlike a futon, the back stays in place at all times.
Sofa beds have improved a lot in recent decades. Now, they are very comfortable and super easy to put up and pack away. So, a good sofa bed will save you money and space.
Convertible Sofa
A convertible sofa is another multifunctional couch. It's similar to a sofa bed, but the main difference is that it doesn't have a mattress.
Instead, you sleep on the sofa cushions. As you can imagine, they can move about a bit during the night. So, it's not always as comfy or practical as a well-made sofa bed.
Convertible sofas can vary in how comfy they are to sleep on. So, your comfort will depend on the sofa quality, construction, and materials used. But while sleeping on a convertible sofa isn't a long-term solution, it's fine for a night or two when necessary.
But if you don't have a lot of room, a convertible sofa is a good option. You can have one in your living room, a child's bedroom, or a study. Then, it's quick and easy to turn it into a spacious bed to sleep on.
Different Kinds of Couches FAQ
What are the different names of couches?
A couch is an essential piece of furniture in your home, and it goes by many names. Other common words for couches include sofas, settees, divans, and loveseats. 
Chesterfields and davenports are names for specific types of sofas. Other less common words for couches include daybed, lounger, banquette, or ottoman. 
Ultimately, these are all different terms for a place to sit (or lounge). They vary according to style, region, and use of language over time. Which word you use is up to you! 
Which is the best type of sofa or couch?
That will depend on your room layout, personal style, and how you'd like to use it. If you have a large family, you may want a huge squishy sectional everyone can fit on. Perfect for family movie nights and relaxed weekends! 
In contrast, you may prefer a sofa bed if you often have friends to stay. Or, you might want to go for something more stylish and fashionable. The choice is yours. 
What are L-shaped couches called?
An L-shaped couch has another name, the L-shaped sectional couch. As the name suggests, this couch is in the form of an L and fits perfectly in the corner of the room. It maximizes the seating space without taking up too much of the room. 
Final Thoughts
Choosing the right kind of couch or sofa is a huge decision for anyone to make.
You'll use your couch every day, and it will make a big difference to the look of your room. So, you want to make sure you pick the best one for your living room.
The first step is understanding all the different types of couches out there. And now, you should be an expert. Plus, you'll have an idea of the couch designs that will work well in your home.
Now, it's time for you to start shopping around for the sofa for your home. Let me know which type of couch you'll go for in the comments below!
Make sure to follow me on social media for all the latest content, tips, and reviews!