Are you considering possibilities to make your outdoor space more inviting? Do you want to create a cozy and inviting patio area where friends and family will love gathering?
You can effortlessly transform your outdoor space into an oasis with the right decorations and furnishings. In this article, we'll provide ten tips on how to create a cozy patio space.
From selecting the perfect furniture to adding some greenery, there are plenty of ways to liven up your patio. With these suggestions, you can transform your backyard into a comfortable and stylish entertaining area.
From brightening up the space with colorful accessories to adding ambient lighting, many ideas can help create a warm and inviting atmosphere.
Whether hosting parties or enjoying some time outdoors with friends and family, follow our guide to create the perfect patio. You'll be astonished at how effortless it is to turn your outdoor area into an extension of your home!
Choose The Right Furniture
When creating the perfect cozy patio space, furniture plays an important role. It's essential to pick pieces that add visual interest while feeling comfortable and inviting. Consider using wicker chairs or sofas with plush cushions for a laid-back feel.
Rattan is great for achieving a tropical vibe; metal furniture can create a modern look. Whatever you choose, make sure it's durable enough to withstand the elements.
Lighting is another way to make your patio more inviting. String lights are a great option as they illuminate without being too bright or harsh. Consider adding floor lamps or hanging lanterns if you want something more substantial. You could even opt for solar-powered lights for convenience and ease of use.
Remember to add some color! Incorporate bright hues in the form of throw pillows and blankets in vibrant shades such as orange, pink, or yellow.
Enhance the space further by incorporating plants like ferns and succulents in colorful pots or hanging planters – they'll add life to your patio while helping filter out pollutants from the air.
Invest In Quality Outdoor Rugs
When it comes to creating a cozy patio space, investing in quality outdoor rugs is key. Not only do they add texture and color, but they also make the area more inviting. Plus, if you get one with a thicker pile, you'll be able to provide extra cushioning on those hard surfaces.
It's also worth looking into outdoor rug materials that withstand the elements. This will ensure your outdoor rugs will last for years to come.
When selecting outdoor rugs, there are many trends and styles available today. From vibrant prints to classic solids, there's something out there for every type of patio decor.
Try layering multiple rugs in complementary colors and patterns to achieve the ultimate cozy atmosphere. Doing this brings your patio space together and creates a unique look that feels like home.
Take some time to consider what kind of outdoor rug would work best for your patio space before making any purchases. This will help you achieve the most aesthetically pleasing result while adding comfort and style!
Find The Perfect Lighting
Finding the perfect lighting for your patio space can be a daunting task. Yet, simple tips and tricks can create the cozy atmosphere you want.
When it comes to lighting, there are plenty of options available. Think about the size of your patio and any existing furniture or plants that could enjoy additional lighting.
You could use soft overhead lighting to create an inviting vibe or install wall lights to achieve a dramatic effect. If you want to amp up the intensity, string lights or lanterns are great ways to add a touch of charm.
No matter what lighting you choose, be sure to pick weather-resistant and long-lasting. Consider investing in LED bulbs that won't give off too much heat so they won't disturb guests while they sit out on the patio enjoying the night air.
With the right light fixtures, you'll have no trouble transforming your patio into an inviting retreat.
Add Plenty Of Cushions And Pillows
Adding comfy cushions and pillows to your patio is a great way to make it cozy. Not only do they look inviting, but they also provide a soft spot to sit or lie down in the sun.
Mixing different shapes, sizes, patterns, and textures will give your space a unique feel. Plus, you can easily switch up your style by changing out the pillows with each season.
When choosing cushions and pillows for your patio, be sure to select ones that are designed specifically for outdoor use. This will ensure they last longer and won't be damaged by rain or harsh sunlight.
Additionally, remember practicality when selecting items – choose materials that are easy to clean, so you don't have to worry about dirt or spills.
To finish the look, layer throw blankets on the cushions for extra coziness. Adding even more color and texture to your patio setup is also great. With these tips in mind, you'll have a comfortable and stylish space in no time!
Invest In A Fire Pit Or Chiminea
A fire pit or chiminea is an excellent investment when creating a cozy patio space. These additions provide warmth and ambiance to the space, making it the perfect spot for relaxation or socializing.
They come in various sizes, shapes, and materials to find the perfect one for your outdoor area. Plus, their presence adds an inviting feel to any outdoor gathering.
In terms of maintenance, fire pits, and chimineas require some upkeep but are generally easy to take care of. They should be regularly cleaned out after use and covered when not used to protect them from the elements.
It's also essential to ensure they are placed on heat-resistant surfaces such as stones or concrete pavers. This will help keep your fire pit or chiminea safe and functioning correctly for years.
No matter what type of fire feature you choose, it can be the centerpiece of your patio area while providing much-needed warmth and atmosphere during cool nights outdoors.
Incorporate Potted Plants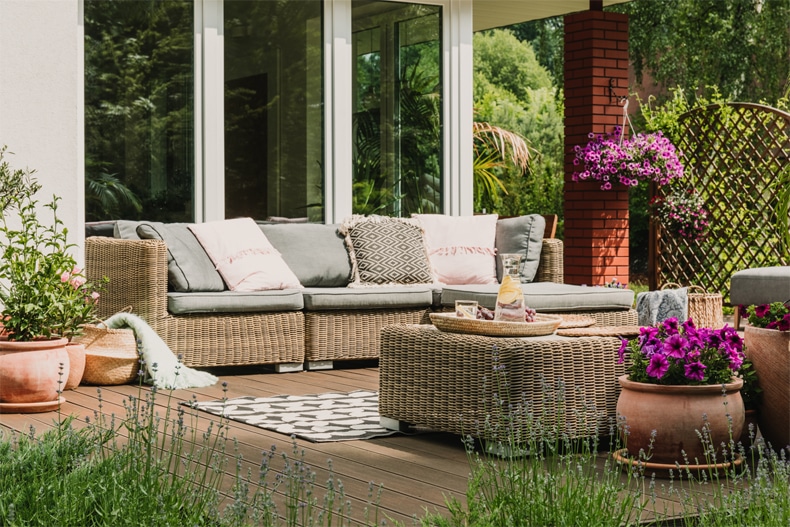 Potted plants are a great way to create a cozy patio space. Not only do they add a pop of color and life to the area, but they can also help soften hard surfaces and provide natural privacy screening.
Plus, with the proper selection of plants, you can enjoy seasonal blooms all year.
When adding potted plants to your patio, there are plenty of options. Try incorporating trailing flowers, like ivy or petunias, for an eye-catching display, or opt for some evergreen shrubs or trees if you want something more permanent.
You could mix and match different types and sizes of pots to get creative and make the space your own.
Most importantly, though, remember to give your potted plants proper care. Make sure they're in an area that gets enough sunlight, water them regularly, and remember to add fertilizer now and then! With just some extra effort, you'll have beautiful plants gracing your patio in no time.
Create An Outdoor Bar Or Kitchen Space
Creating an outdoor bar or kitchen space is a great option when designing a cozy patio space. It can add to the atmosphere and provide useful amenities for entertaining guests. Not only that, but it can also help define the outdoor living area and create a unique focal point.
Setting up an outdoor bar or kitchen is pretty simple. Start by selecting furniture that fits your design aesthetic and has enough seating for everyone. You can add potted plants or flowers to give the space extra life. Then choose accessories like grills, fire pits, and refrigerators to complete the look.
The possibilities are endless when creating an outdoor bar or kitchen space. From customizing it with your favorite colors to adding unique features such as a pizza oven or kegerator – you can make this area as unique as you want it to be. Adding this feature will make your patio space stand out and feel like home.
Incorporate Water Element
Incorporating water features are a great way to add visual interest to your patio and create a tranquil atmosphere. Water elements can be incorporated in small or large spaces and will transform the entire atmosphere of the area. From fountains to pools, several options are available to make your patio even more inviting.
Adding water features to your patio can be as simple or intricate as you'd like. If you have a smaller space, consider installing a tabletop fountain or bubbler, which adds sound and movement without taking up too much room.
You might opt for a pool or pond with aquatic plants and colorful fish for larger patios. No matter what size space you're working with, incorporating water features into your patio design will surely add an element of tranquility that will make it feel like an oasis from the outside world.
No matter what type of feature you choose, it's vital to ensure that it's installed correctly. Consider consulting with a local landscaping company if you need help incorporating water elements into your outdoor space for added relaxation and beauty.
Hang Outdoor Art And Decorations
Decorating a patio space is a great way to make it cozy. Hanging outdoor art and decorations adds a personal touch, making the area feel like home. As you choose what to hang, consider pieces that reflect the style of your patio and its surroundings. For example, try incorporating items with a coastal vibe if your patio is in a beachy location.
To create an inviting atmosphere, select art and decorations that are attractive and eye-catching. Consider what kind of mood you want your outdoor space to have. Bright colors add energy, while softer hues may bring peace and relaxation.
When selecting items for your patio, check weather resistance requirements so that any decorative pieces can withstand sun, rain, or snow.
Finally, carefully consider how you will hang art and decorations on your patio. It may be possible to use nails or screws depending on the material of the wall or fence surrounding the area.
Alternatively, hanging baskets filled with plants are an excellent option for adding some life without causing permanent damage to walls or fences. You can transform your patio into an inviting oasis with creativity and careful consideration.
Create A Cozy Seating Area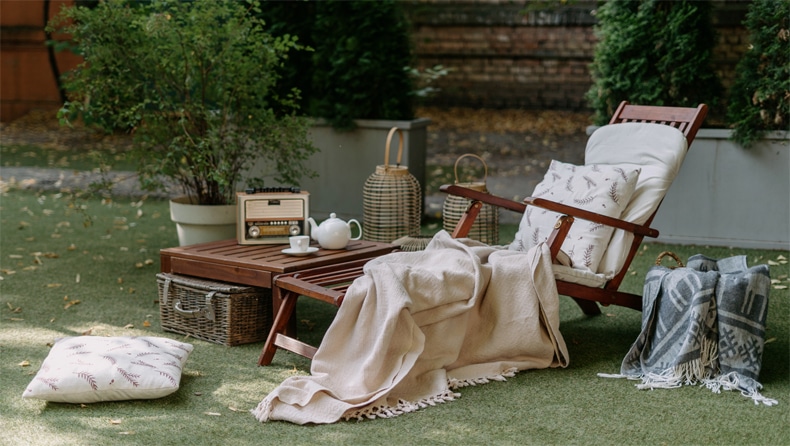 When it comes to outdoor furniture, comfort should be your top priority. Creating a cozy seating area is important in crafting the perfect patio space.
Look for comfortable and stylish pieces – think plush cushions, inviting colors, and durable fabrics like Sunbrella. Add accent pieces like outdoor pillows and throws to create an even cozier atmosphere.
Adding a few touches of nature can also bring the outdoors into your patio space. Consider incorporating plants or flowers around the seating area to create a peaceful ambiance. You could also hang string lights or lanterns for extra lighting and decoration.
When you have all the elements of your cozy seating area in place, it's time to enjoy! Invite friends for dinner or drinks or have a relaxing night out on your own – either way, you'll make the most of your private oasis.
Conclusion
Creating the perfect cozy patio space doesn't have to be a daunting task. You can create an inviting outdoor oasis you'll love spending time in with a few simple steps.
Start by carefully selecting furniture and quality rugs that fit your style. Then, add lighting, cushions, and pillows for warmth and coziness. Invest in a fire pit or chiminea to keep your guests warm during cooler evenings, or create an outdoor bar or kitchen space for entertaining.
Finally, add water features, hang artwork and decorations, and create a special seating area to relax and enjoy the outdoors. With these tips, you can turn your patio into a comfortable retreat you and your guests will love!
Follow Quiet Minimal on Pinterest for more home design tips and inspiration.