Have you ever pondered what to do with all those old vintage windows lying around the house? Are they taking up space and collecting dust?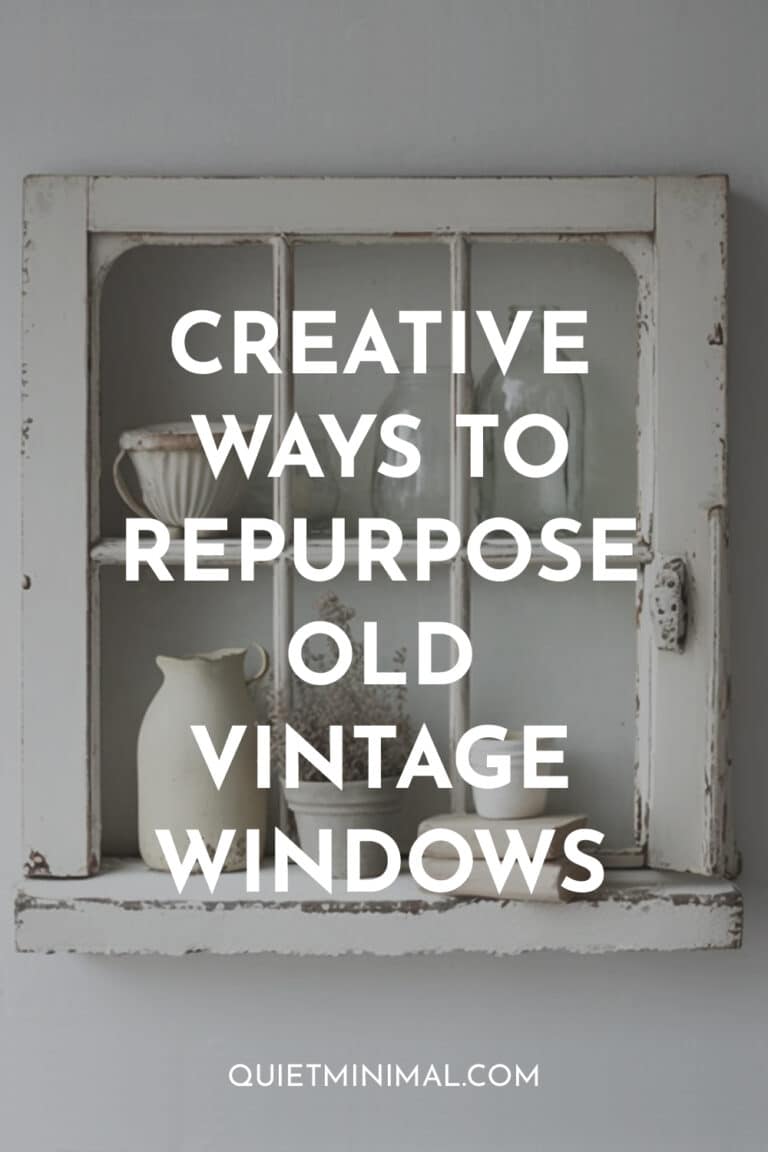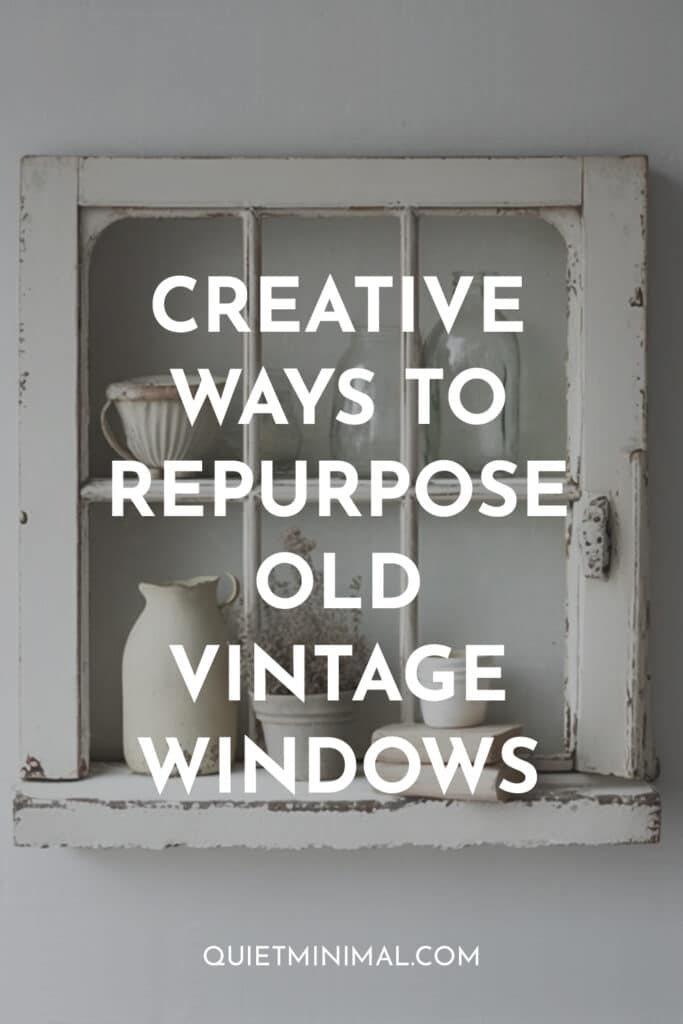 Well, wonder no more! There are many creative ways to put your old vintage windows to good use, whether for decoration or a functional purpose.
These ideas will show you how to make something new from something old. From eye-catching wall art pieces to practical shelves and planters.
Read on to see what fun projects you can make with your vintage windows!
Vintage windows have long been popular among DIYers because of their unique charm and character. The possibilities are endless when creating something beautiful from an old window frame.
And best of all, nothing is as satisfying as transforming a discarded item into something new and purposeful—and transforming it into a unique piece for your home.
With some imagination (and maybe a few supplies), you can turn those forgotten frames into fabulous works of art. And, of course, without breaking the bank.
Whether repurposing an entire window or just using bits and pieces, anything goes when designing with vintage windows. You don't even need actual glass panes. Instead, you can use fabric, photos, paper, burlap, or stenciled designs.
So if you're looking for a budget-friendly way to add style and personality to any room in the house, choose one of these fantastic projects and get started!
Ways To Repurposing Old Vintage Windows
Repurpose As Wall Art
Repurposing old vintage windows into wall art is a creative way to bring life back into an outdated space. It's also a great way to recycle and upcycle while giving your home some unique character.
Whether you have one window or several, there are plenty of ways to turn them into eye-catching works of art! Or anything that will give your walls a personal touch.
One option is to use the window as a traditional picture frame. Fill it with pictures of family or friends, favorite quotes, vacation memories, and artwork.
You can even add paint for extra flair. For added style points, hang several windows side by side in a gallery layout.
Another approach is to take advantage of the glass panes and create something interactive. Try affixing postcards, photos, fabric swatches, or string lights behind the glass.
This allows you to switch out pieces depending on the season or occasion without removing the entire piece from the wall and making it easy to reinvent your décor!
Use As Shelves
The creative possibilities for old vintage windows are endless! One popular idea is to use them as shelves. It can be a great way to bring a unique touch of style and character into any space while also being incredibly practical. It's perfect if you have books, trinkets, or other items that need storage without taking up too much room. 
Plus, it's an opportunity to put your stamp on the design. Opt for a classic farmhouse look with rustic wood shelves and shutters. Or a more modern urban feel with metal frames and glass panes.
Installing shelving using vintage windows doesn't have to be tricky, either. All you need is some basic DIY skills. Start by measuring the window opening to know which size shelf fits best.
Then cut down some wood to make the necessary supports before securely attaching them.
Finally, sand down and paint the shelf board in whatever color suits your decor scheme. Voila!
You've now got a one-of-a-kind storage solution that adds function and fashion to any home.
Repurposing vintage windows help reduce waste and give something new life. Not to mention how aesthetically pleasing they can be. So don't hesitate; take advantage of this timeless trend today!
Create A Picture Frame
Creating a picture frame from an old vintage window is one way to repurpose the item. You can add some backing, like foam board cut to size, and secure it.
Then add your favorite artwork or photo, and you have a unique piece that will look great on any wall!
The incredible aspect of this project is that the windows already come with beautiful frames, which makes them perfect for displaying photos or artwork.
You can also use different paint colors to make the frame stand out, giving it a custom look. Plus, there's no need for glass – hang it up as-is, and you have one-of-a-kind home decor.
This DIY project is easy and rewarding; plus, you'll get the satisfaction of knowing that you've given an old object new life! With minimal effort, you can create something unique that will last for years.
Build A Greenhouse
Building a greenhouse with old vintage windows is an innovative way to repurpose them. Not only can it be aesthetically pleasing, it also provides the opportunity to grow plants and vegetables all year round. Plus, this type of project is relatively easy to do.
The first step in creating your greenhouse is deciding where you want it to go. Once that's been agreed upon, you can begin assembling the structure.
Depending on what shape or size you are looking for, various methods could work best for you.
Adding the windows should be pretty straightforward if you use posts and beams as your base. Though using heavier materials such as brick may require more time and effort.
After deciding how you will construct the frame of your new greenhouse, attaching the windows is next. You'll need tools like screws, nails, and glue to hold everything together.
Remember to fill in any gaps with sealant or weather-resistant caulk. Once complete, check over all joints and frames one last time before admiring your created masterpiece!
Make A Table
Making a table from old vintage windows is a great way to put them to use and bring some unique character into your home. You can make the most of their beauty by combining them with other materials such as wood, metal, or glass.
It all depends on what look you want. If you enjoy DIY projects, this could be a fun one to take on!
To start, start by measuring the window frames to fit together correctly. Then, decide which material will serve best as the tabletop and shelf.
Attaching the pieces is vital: use screws or nails that are strong enough to hold up whatever weight you will place atop it. Choose any accessories you would like to add to the table, such as decorative knobs or handles.
Making a table from vintage windows is an easy project that'll show off those beautiful panes in no time!
Transform Into A Mirror
Mirrors are always functional, so instead of throwing away the window frames, why not turn them into something beautiful?
All you need for this project is some glue, paint, and supplies for mounting the finished product.
Start by removing any glass from the frame – you don't want it shattering when you start working on your project! Then use sandpaper or a wire brush to remove any debris or buildup.
Paint the frame with acrylic paints in whatever colors you desire. Once it has dried, adhere thin mirrors cut to size over each pane in the window frame using strong adhesive glue.
To finish your transformation, use picture hangers or other hardware to mount your crafted mirror onto a wall in your home.
With just a few simple materials and steps, you can transform an old vintage window into a unique decorative statement piece in no time!
Your creativity and hard work will be rewarded with a stunning new addition to your home décor that you made yourself – what could be better than that?
Hang With Chains
Hanging windows with chains is a great way to give your home an industrial or rustic look. You can take any old vintage window as part of your decor.
The best part? It's easy to do! You'll need some strong links, screws, and the window itself.
Adding chains gives an interesting texture and dimension to the space—experiment by placing them above or below the frame for different effects.
You can turn any ordinary window into something extraordinary with just a few simple steps. Don't hesitate to think outside the box and get creative – start hanging those windows today!
Design A Headboard
Creating an eye-catching headboard can be a great way to repurpose old vintage windows. You don't have to stick to one window, either.
Why not combine several of them for impact? This project is straightforward; it requires basic DIY skills and tools.
You could design your unique headboard pattern using different-sized and shaped windows that you may find in thrift stores or flea markets.
A wood frame can be a backing structure that will hold all the components securely together. This approach's versatility means you can adjust the size and shape according to your preferences.
The result is a beautiful display piece with plenty of character that will become a talking point in any bedroom!
Build A Room Divider
Building a room divider with old vintage windows is an excellent way to use these items. It's also a great way to add style and personality to any space.
You can achieve this by attaching the windows in your configuration. When constructing your room divider, measure the desired dimensions so that all pieces fit correctly.
Then attach the frames using screws or nails and wooden boards on the backside for added stability. And if necessary, reinforce them further by adding corner braces at each joint where two window frames meet.
Finally, hang curtains from the frame of the room divider for extra privacy or just as a decorative element.
Conclusion
You can transform old vintage windows into something unique and amazing with creativity and imagination.
Repurposing them for other uses is a great way to add character to your home without spending a fortune. The possibilities of what you can create with your old vintage windows are almost endless.
So go ahead and get creative. Who knows what fun ideas you could come up with!
Follow Quiet Minimal for more home design tips & inspiration!