Are you looking for ways to give your small kitchen a new look without breaking the bank? Orange oak cabinets can be an eyesore, but buying all-new cabinets is unnecessary.
There are some easy and affordable ways to give your small kitchen a fresh look. Transform your cabinets from boring to modern and fashionable with these cost-effective ideas! You don't need to drain your wallet to update your outdated orange oak cabinets.
First, let's talk about paint. It's one of the cheapest and easiest ways to makeover your kitchen cabinets. You don't even have to stick with white or neutral shades – why not try bold colors like navy blue or emerald green?
You can also get creative with finishes – think matte, satin, glossy, or distressed! Painting is a sure way to bring character and appeal to any room. No matter which route you take, you can't go wrong!
Finally, it's time for hardware. Knobs and handles are minor details but can change your kitchen's appearance.
Modern knobs are available in various materials such as wood, ceramic, brass, and more. Find some that reflect your style and upgrade your orange oak cabinets!
You can make old orange oak cabinets look great without spending a lot of money. Here are some ideas.
Definition Of Orange Oak Shade
Some may think orange oak cabinets are outdated, but they can look stylish in a modern kitchen. Orange oak is a unique wood tone with a warm and inviting feel.
This is the perfect option if you want to add a unique paint color or wood tone to your kitchen.
Oak can have an orange hue, which may be yellowish or reddish, depending on the type of stain used. For example, red oak has more reddish undertones, while white oak tends to be more yellowish in hue.
The shade can range from creamy peach to deep rustic orange and everything between. This facilitates the selection of the appropriate shade for your specific kitchen design.
No matter what shade of orange you choose, it will create an inviting atmosphere in your kitchen. Revamp your orange oak cabinets to make them look modern and stylish. Choose colors and materials carefully.
Assessment Of Existing Cabinets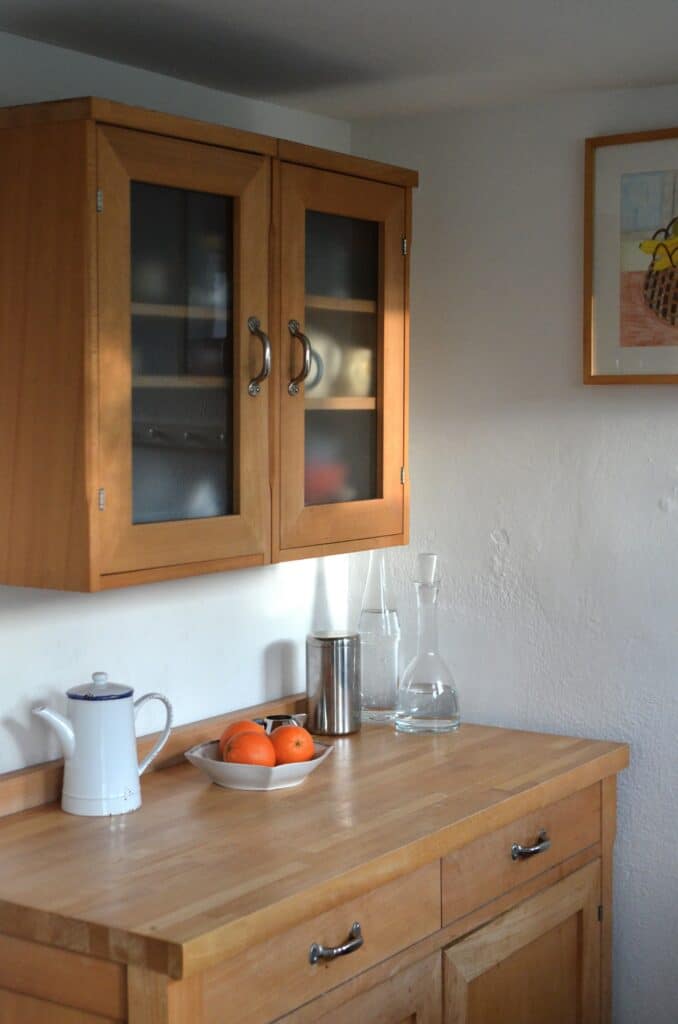 Assess the condition of the orange oak cabinets before making any changes. Examine the cabinets you already have and see if you can find ways to make them more useful and attractive.
It's important to note any signs of wear and tear, such as chips, scratches, or discoloration. If there are parts that need to be replaced, this should be done before moving onto other updates.
If you want to update small kitchen cabinets, look at their current condition. You may need to replace some parts or hardware to give them a new look and feel.
With just a few simple changes, you can give your kitchen a fresh look without spending a lot.
Painting Options
Painting orange oak cabinets is a great way to give your small kitchen a cheap makeover. Plus, it can be done easily with the right techniques and materials. To get started, you'll need to choose the best paint and finish for your project.
When painting cabinets, semi-gloss or satin paints are better than flat paints. They're easier to clean.
Finishes on cabinets can help resist fingerprints and scratches, making them great for busy places like kitchens. Paints made for cabinets are better than those for walls. They provide more protection and coverage.
If you want to do it yourself, there are many tutorials online about painting cabinets. Don't rush it! Be sure to read the material instructions carefully and take your time.
Before painting, get the following: drop cloths, painter's tape, primer, and sandpaper.
Think about the colors you'll use before you start. This will help your kitchen's new look match the other decoration.
Refacing And Refinishing
Refacing and refinishing are two budget-friendly ways to update orange oak cabinets. We keep existing frames, doors, and drawers, but change the external surfaces of the cabinets with a new finish or material. This is called cabinet refacing.
It's an easy way to give your kitchen an instant facelift without spending a lot of money. Wood refinishing is another cost-effective option for updating your cabinets.
Sand the wood, stain it, and seal it. Refinishing your orange oak cabinets will bring back their original beauty and give them a modern look.
To refinish orange oak cabinets, start by sanding the wood. Then, apply a stain and seal the cabinets to give them a modern look and restore their original beauty.
Replacing Doors And Drawers
Replacing cabinet doors and drawers is an easy and cost-effective way to update orange oak cabinets. Here are three ways you can make the switch:
1 Paint: Painting your current doors and drawers is a wonderful option if you want to recycle them. You don't need to spend much money on paint, as a wide array of affordable options are available. Painting will also give the kitchen a new look without replacing the entire cabinet.
2. Replace: Upgrading your orange oak cabinets without breaking the bank? Consider replacing the cabinet doors and drawers with newer styles. This will help create a more modern look in your kitchen while keeping oak cabinets' classic feel.
3. Refinish: You can inexpensively update your existing oak cabinet doors and drawers by refinishing them. To do this, you must strip the old finish, sand it, stain it, and apply a clear coat or lacquer for protection. 
Refinishing cabinetry can take a while, but it's worth it. It will give your cabinets a new look without costing much.
You can give your kitchen a new look without spending much. Paint, replace, or refinish your orange oak cabinets – that'll do the trick. All three of these options are budget-friendly.
Adding New Hardware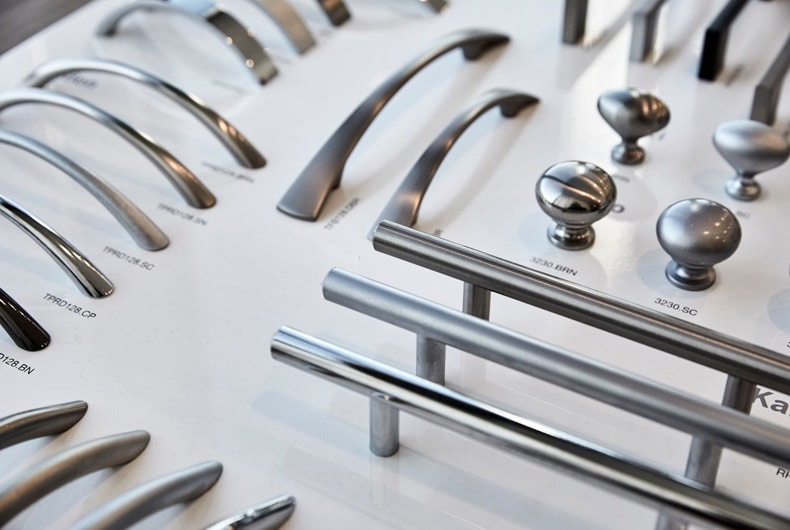 It's no secret that orange oak cabinets are a dated look. But updating them doesn't have to break the bank. Adding new hardware is an easy and cost-effective way to give your small kitchen a facelift.
You can give your cabinets a makeover with stainless steel knobs, decorative pulls, hinge screws, and cabinet latches.
Not only will they make your cabinets look more modern and stylish, but they can also add an interesting texture to the room. Plus, installing these items is pretty straightforward and be accomplished swiftly.
No matter what you choose, you'll be happy with the result – you can give your kitchen a new look with orange oak cabinets!
You can also get creative by painting or adding decals to the existing doors and drawers for a unique touch. With a wide variety of choices, you can find something that fits your budget and style.
You'll love the result: modern, orange oak cabinets in your kitchen at an affordable price!
Countertop Alternatives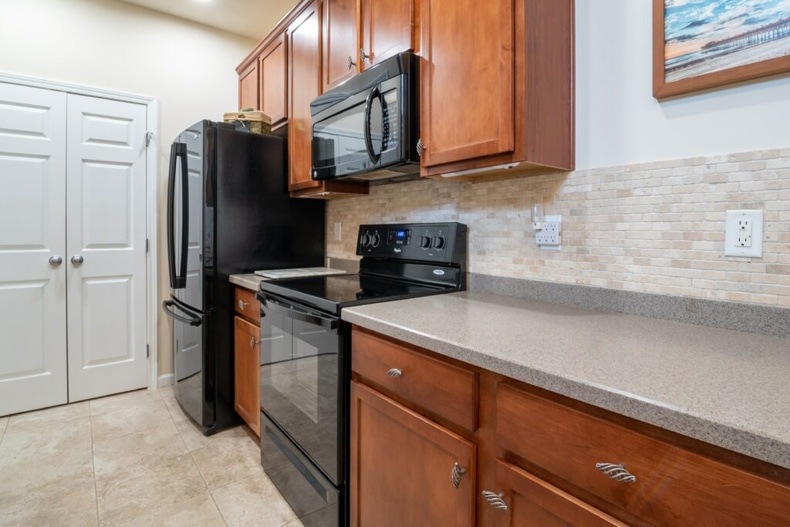 If you're trying to update orange oak cabinets on a budget, consider alternatives to granite countertops. You have many economic choices to choose from and still give your kitchen a modern look.
Laminate countertops are an affordable option and come in various colors and styles. They are water-resistant and easy to maintain, making them perfect for those on a tight budget. Plus, they offer the same sleek look as granite without the hefty price tag.
Quartz countertops are another great alternative to granite. They're incredibly durable and low maintenance and come in an array of colors and textures. Quartz is pricier than laminate but still affordable and gives a luxurious feel.
Updating orange oak cabinets can give your kitchen a modern feel without the cost. Whatever countertop you choose will make the difference.
Wall And Floor Tile Ideas
Updating your orange oak cabinets does not have to cost you a lot of money. Many budget-friendly tile options for small kitchens will give the space a modern look. The key is to find tiles that pair well with your cabinets' existing color palette and style. Oak kitchen tiles are a great choice for achieving this goal. They add warmth and texture to the room while complimenting the wood grain of your cabinets.
Choose different shades and materials for wall and floor tiles to create a unique look. For example, if you're tiling around an orange oak cabinet, opt for a darker tile such as black or navy blue, to create contrast and make the cabinet stand out. 
For a kitchen design, adding a patterned tile can create an interesting effect while still fitting with the look.
If you're low on money, vinyl or laminate tiles are good choices. They can give you the same style without costing a lot.
These materials come in a wide variety of colors and finishes so you can find something that fits perfectly in your small kitchen.
You can upgrade your orange oak cabinets without spending a lot. Pick tiles that fit your budget and match your style for the best results.
Lighting Options
The warm orange glow of oak cabinets can seem welcoming and inviting. But if you're looking to update the look of your small kitchen with orage oak cabinets, adding a few strategic lighting updates can go a long way.
Light fixture ideas are all around us, from simple pendant lights to grand chandeliers. Consider pairing different fixtures together to add depth and interest to your kitchen for a unique look.
Two or three pendant lights over the kitchen island or peninsula, plus some under cabinet lighting, can give your kitchen a new look.
Switch up the color scheme of your lighting for an unexpected twist. Adding in some cool blues or greens gives a modern and stylish feel in contrast to the warm wood tones of the cabinets.
LED strip lights under kitchen cabinets are becoming more popular. They're energy-efficient, and you can customize them to suit your style.
With these strips, you can choose from various lengths and colors that fit within your existing cabinet lighting design.
You can easily install these lights underneath each cabinet. They will provide extra light when you cook or work on recipes.
Lighting is essential in kitchen remodeling. It can affect aesthetics and functionality. Remember to choose the light fixtures carefully. 
Pair Oak Cabinets With Light Tones
One way to update orange oak cabinets in a small kitchen is to pair them with light tones. This budget-friendly option can help transform the look of the space while still keeping the same cabinets.
A lighter paint colour on the walls or a neutral or soft backsplash can give the cabinets an updated look. For a bolder effect, paint the doors and drawer fronts of the cabinets. 
If replacing the doors isn't workable, simply painting them in a lighter oak shade will make a big difference.
You can update the look of orange oak cabinets without spending a lot of money. Change the knobs, pulls, handles, and hinges; all these options are affordable and will make a big difference in your small kitchen. 
Updating orange oak cabinets can be inexpensive and time-consuming if done properly.
You can give your small kitchen a modern look on a budget by painting and adding hardware. It only takes a few simple changes!
Conclusion
Updating your orange oak cabinets in a small kitchen doesn't cost a fortune. With thoughtful ideas, there are plenty of budget-friendly ways to create the perfect look for your home.
Painting is a great option for those who want to makeover their cabinets without breaking the bank. Choose light, neutral tones or even bolder colors if you're feeling daring!
Refacing and refinishing can also be done with some DIY elbow grease and patience. Replacing doors and drawers can completely change the feel of your space while adding character and dimension.
Give your kitchen a makeover without spending a fortune! Try quartz or laminate countertops. Wood-look or classic subway tiles will add a modern touch to walls and floors without being too expensive.
Lightings, such as under cabinet and pendant lights, can be both decorative and practical. This lets you be creative with your space.
Finally, pair oak cabinets with lighter tones, such as white or cream to create a modern yet timeless look.
No matter your budget-friendly ideas, updating orange oak cabinets in your small kitchen can be done on any budget!
Make sure to follow Quiet Minimal on Pinterest for more interior design and minimalist tips!