Beige walls are a neutral and soothing backdrop for your walls. But then comes the question: what color carpet goes with beige walls?
Read on for six different options for carpet that goes with beige walls. There's something for everyone here, from minimalist styles to bolder looks.
The Perfect Match: 6 Carpet Colors for Beige Walls
Gray
If you're looking for another neutral to pair with beige, you won't go wrong with gray. It's one of the most versatile colors and will look gorgeous in any shade. A dark charcoal gray carpet can add contrast, but you could also go with a light gray. That will maximize the natural light and make it feel more spacious in the room.
Brown
Brown is a perfect shade to pair with beige walls. It's an earthy, natural color that matches well with beige, no matter what shade you choose. You could go for a light brown if you prefer a neutral, minimalist color palette. But if you'd like more contrast with the walls, opt for a rich chocolate brown instead.
Red
If you prefer a bolder look, why not go for red? It's an intense color that will make an impact but also feel warm and welcoming. Red works well if you pair it with a warmer shade of beige.
Depending on the red shade, it can look fresh and modern or classic and vintage. So, pick your shade carefully, depending on the desired aesthetic!
Cream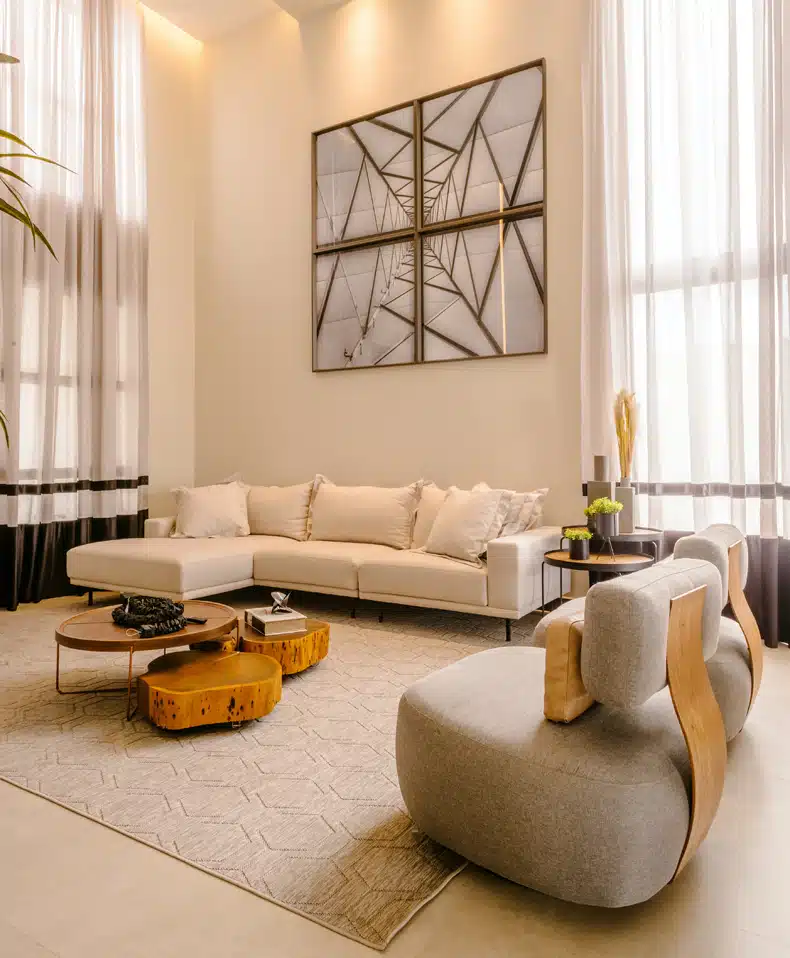 Cream is perfect if you want a light color that's warmer than white. It will make any room look fresh, bright, and airy and pairs wonderfully with beige. The result will be a stunning, minimalist, yet stylish room. But watch out for any stains as they stand out on a cream carpet.
Sage Green
Sage green and beige work well together for an earthy neutral color palette. As sage is a more muted shade of green, it has similar tones to beige. It's a popular choice for a boho or zen-style living room or bedroom. Add other natural materials and elements for the finishing touches.
Navy Blue
If you want to add more color to your room, consider going for navy blue. This color will add confidence and sophistication to any room. It will contrast nicely with your beige walls, and as a bonus, stains won't show!
Burnt Orange
Burnt orange is another warm shade that looks gorgeous against beige walls. Both colors have warm tones that complement each other beautifully without competing. As a result, they create a warm and cozy vibe in any room. Plus, orange can bring more vibrancy and energy into your home.
A Multi-Colored Rug
Beige is such a neutral and versatile shade, so you can pair it with almost any color. But that also means it's a wonderful match for a multi-colored rug. And you won't need to worry about colors clashing. So, if you've had your eye on a patterned or colorful rug, why not go for it?
What Color Paint Goes With Beige Carpet?
On the other hand, you might have a beige carpet and wonder what color to paint the walls. What colors go with a beige carpet or rug?
You might think you could simply swap these colors around, but it's a bit more complicated than that. While some colors look great on the floor, they could become too overwhelming on the walls.
In most cases, I recommend going for a light neutral shade on your walls. For example, white, cream, or gray walls go well with beige carpets. Teal, red, orange, or forest green are all excellent options for a feature wall if you want to make a statement.
But you could also opt for a feature wall in a bold or brighter color. That will add more visual interest to your room and liven things up!
The Wrap Up
Now, you should have plenty of inspiration for which color carpet to pair with your beige walls. Which of these suggestions appeals most to you? Let me know in the comments below!
And follow Quiet Minimal on Pinterest for more home design tips and inspiration.