Have you ever wondered what color curtains go with gray walls? Then, you're in the right place! Here are my tips on choosing curtains to complement your gray home decor.
Gray walls are effortlessly stylish and look amazing in any room. And the best part is that gray is such a versatile color. You can pair it with a wide variety of shades, and it will look stunning.
So, you don't need to worry too much about your gray walls clashing with your curtains. But what is the best curtain color for gray walls?
Read on to find more than ten different options that will look classy and sophisticated. There's something for every taste and preference.
The Best Curtain Color For Gray Walls: 10+ Ideas
Gray
It might sound basic, but you can pair gray walls with gray curtains without it looking boring. Gray comes in every shade imaginable, and the key is to pick contrasting shades.
So, opt for a light, gauzy sheer gray curtain if you have dark charcoal walls. But if your walls are light, you can pick out a darker shade to bring a dash of sophistication to the room.
But if you don't like the gray-on-gray look, don't worry. Instead, keep reading to find tons of inspiration for the best curtain color to pair with gray walls.
White
White curtains are simple and minimalist yet gorgeously stylish and chic. They come in every texture, material, and weight, so you can find the perfect white curtain for your room.
And even better, white and gray are a match made in heaven. We consider them tints rather than colors, and there's no chance of gray and white clashing.
Plus, white curtains can brighten your room and make it feel larger. They're especially attractive against a darker shade of gray due to the deep contrast.
Pale Pink
If you're looking for an option to make your room feel feminine, consider going for pink curtains. A gray-and-pink color combination looks fantastic with its contrasting tones.
Gray is considered a more masculine color, but pink softens it. So, this look works well for bedrooms, but you can also use it in a living room or dining room.
Baby pink pairs well with gray, but you could opt for a richer blush pink if you prefer.
Oatmeal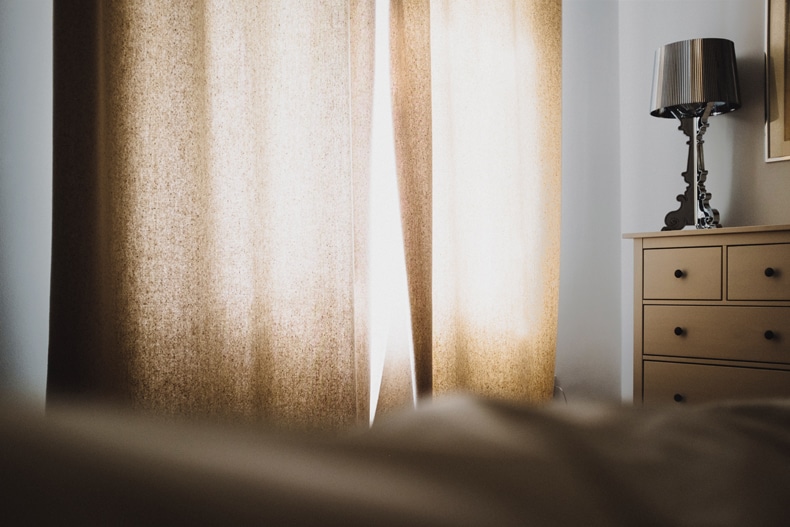 Oatmeal is a gentle, warm neutral color that pairs beautifully with gray. It's ideal if you prefer a simple color palette and will make your room feel big and bright.
As always, a lighter color will maximize any natural sunlight you get. And that will make it feel more spacious. So, it's a great choice for a smaller room.
Gray and oatmeal work well together, as oatmeal has undertones of gray. But as it's a warmer color, it contrasts with the cooler gray shade to create balance within the room.
Tan
Tan is another neutral, although it's darker than oatmeal. So, it stands out more against pale gray walls. It's an excellent option if you want to create layers of color rather than keeping it very minimalist.

At the same time, tan and gray work well as a neutral backdrop. They're both versatile shades you can pair with other colors. So, you could also add a bright accent color like navy or red to this color scheme.
Yellow
Gray and yellow is a timeless color combination. Yellow is a bright, warm color that contrasts nicely with cool gray tones. So, yellow curtains will look amazing against gray walls of almost any shade.
You could go for a bright, solid yellow or a fun pattern – either way, it will make your room feel cheerful and inviting.
But choose the colors carefully, considering the warmth and saturation of the shades. For example, mustard yellow pairs well with dark gray. But a cooler lemon yellow will work well with a lighter shade of gray.
Navy blue curtains will stand out against paler gray walls. It's a color that conveys confidence and elegance. And as navy is such a dark, bold color, it creates a strong contrast with gray paint.
But take care not to pair dark gray walls with navy curtains, or it could make your room feel too dark. Instead, opt for a pale gray on the walls. You can also play around with different shades of blue, as gray matches nicely with any shade of blue.
Sage Green
Sage green curtains look gorgeous against gray walls. This shade of green is lighter and less dominating than dark green, making it more versatile.
Velvet sage curtains pair beautifully with tan accessories and gray walls. This color combination feels earthy and natural yet sophisticated.
Purple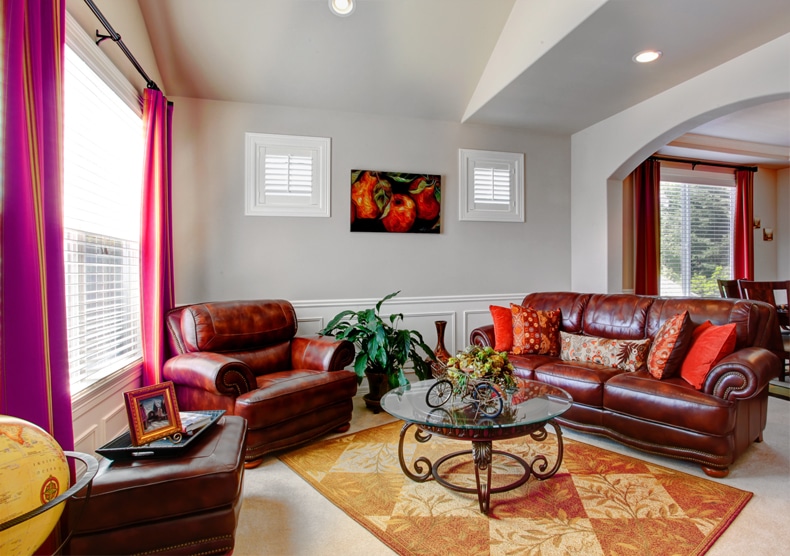 You have so many options when pairing purple curtains with gray walls. So, it depends on the look you want to create.
A soft lavender will pair with gray walls to make a pastel color palette for your room. This lighter, gentle look allows you to accessorize however you like.
But you could use deep, royal purple to make more of an impact. This shade goes well with light or dark gray and creates a luxurious feel. It's bold, dramatic, and eye-catching.
Floral Patterns
As you've seen, gray walls are so versatile and will go with almost any color. So, you can pair floral curtains in many shades with your gray walls. If you're into patterns, you can't go wrong with florals to add a sense of fun and freshness.
I recommend going for a large, eye-catching pattern in rich shades of orange, yellow, or pink. These will provide a rich contrast with your monotone gray walls and act as a focal piece for the room.
Neutral Patterns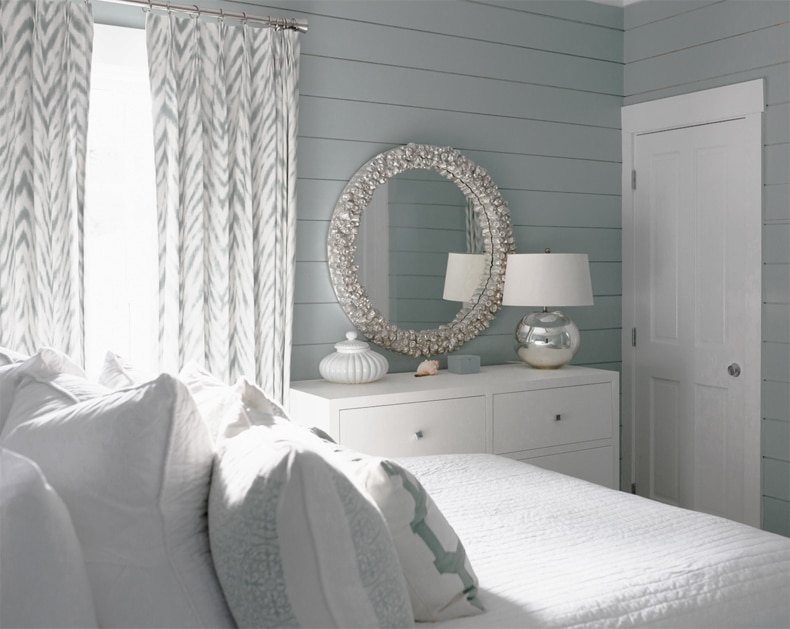 If you prefer a neutral color palette, you can still find the perfect curtains for your gray walls. But rather than sticking to monochrome curtains, why not spice it up with a pattern?
You could go for stripes or another type of pattern using neutral colors like gray, tan, and cream. So, you'll keep the room's aesthetic while adding visual interest.
Vibrant Boho Curtains
Yes, you can have gray walls in a minimalist boho home. The gray color is an excellent backdrop for more funky, eclectic features. 
To ensure it feels boho, add some vibrant patterned boho-style curtains. You could go for a mandala pattern, paisley repeat, or anything else that catches your eye.
Don't be afraid to play with different colors against the gray walls. You can choose rich jewel tones with confidence, knowing they won't clash with the neutral gray color.
FAQ
What Color Curtains Go with Light Gray Walls?
Here are some options if you're wondering what color curtains go with light gray walls. Generally, a darker color works well against lighter gray walls to create a nice contrast. For example, you could go for charcoal gray, navy, or royal purple. 
But if you prefer a fresh, softer look, you could opt for pale pink or lilac. These pastel shades will create a gentle ambiance and feel inviting. Plus, using lighter colors makes the room feel more spacious. 
What Color Curtains Go with Dark Gray Walls?
If you have dark walls, you might feel confused about what color curtains to choose. 
A bright color that's not too dark is a safe and stylish choice. For example, sky blue or yellow will balance the room and add a pop of color. 
Or you could go for a fun pattern. Either soft neutrals or a fun boho pattern will look amazing against a dark gray background.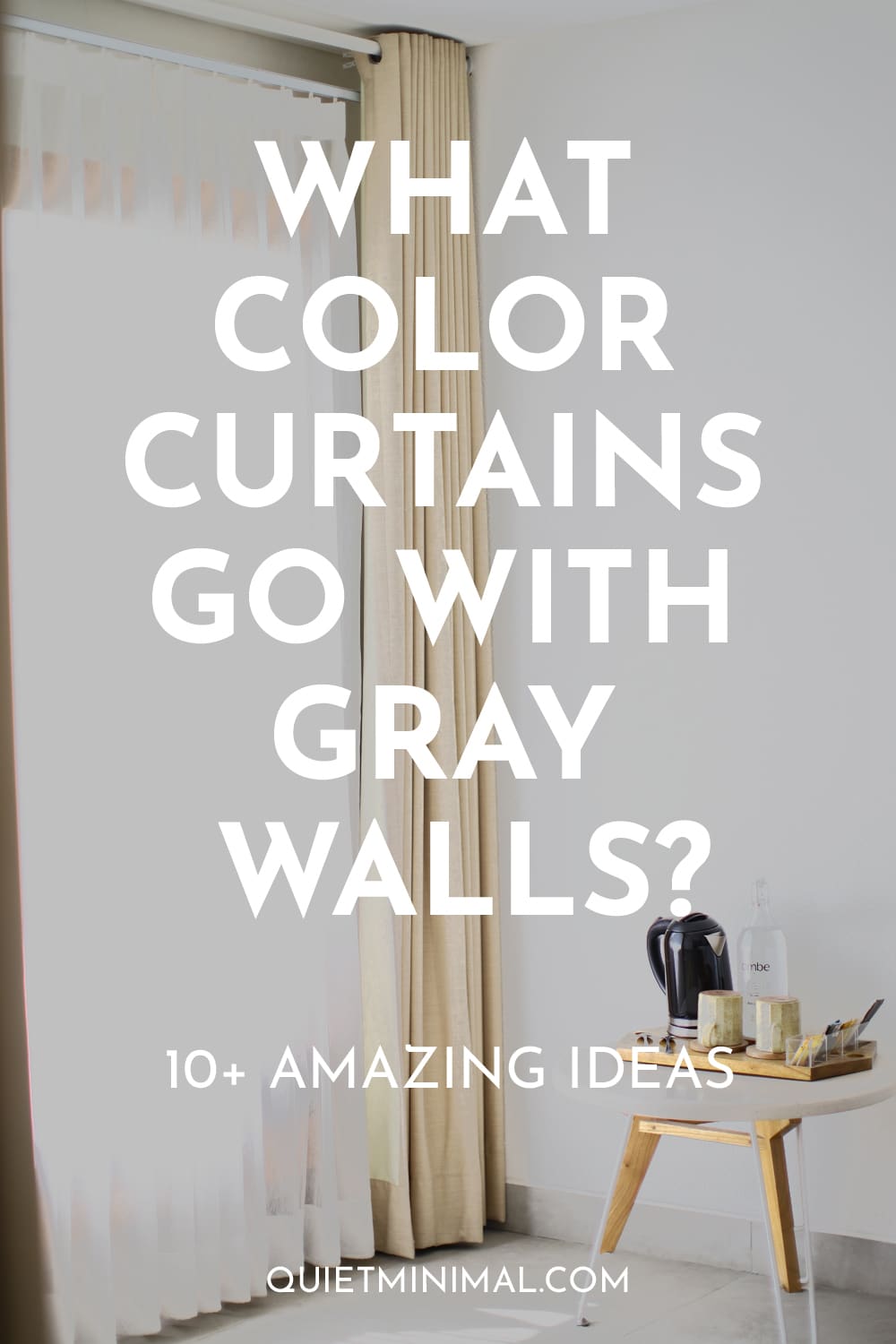 The Wrap Up
Gray walls will look amazing when paired with any of these color curtains. So, pick what appeals most to you – and let me know what you go for in the comments below!
As gray is such a versatile color, you have loads of options. And that means you can create a room that suits your personal style.
Follow Quiet Minimal on Pinterest for more home decor inspiration and minimal living tips.