Bronze is a sophisticated color to use in your home. It's stylish, warm, and welcoming. But what color goes with bronze to create a compelling color palette?
I've created a guide to the colors that will complement and contrast well with bronze. Browse and see which of these suggestions match your home decor style.
These tips apply to you whether you've gone for bronze walls or bronze fixtures. From your bathroom or kitchen to your living room, you'll find the perfect color to use with bronze.
So, read on to find the best colors to pair with bronze in your home.
Gorgeous Colors That Go With Bronze
Here are some colors that go with bronze and will look spectacular together in your home.
White
For a simple, minimal look, you can pair white and bronze. This style works especially well in your kitchen or bathroom. Because in these rooms, a clean, minimalist decor is essential.
White walls will complement bronze fixtures and accessories. The deep contrast between the colors makes them work so well together.
White is such a neutral color, allowing your bronze details to shine. So, they become eye-catching accent pieces in your home.
Black
Although white pairs well with bronze, black is another stylish option. Just like with white, you'll create a simple look.
But a black and bronze color palette is a bit more edgy and sophisticated. So, if you're feeling bold, black is the perfect complement to bronze.
The bright, metallic bronze will stand out against the deep black color. So, black makes a fitting background for your bronze fixtures.
And if you have bronze walls, you could choose black furniture to create a monochrome look. It's ideal if you're not into bright colors but want a stunning home.
Dark Purple
Purple contrasts nicely with bronze and even more so if you choose a deep aubergine shade.
Rich bronze and purple are a match made in heaven. Purple is a mysterious and beautiful color with royal associations. In the past, only the royalty and nobility could wear this color to mark their higher status.
So, bronze and purple feel very luxurious and decadent when used together.
I would recommend choosing a deep purple color to create a high contrast with bronze. That way, you can appreciate each color more.
However, you could also pair a lighter lavender color with bronze. This look might appeal more if you prefer paler, pastel colors.
Burgundy
Burgundy is another color that goes well with bronze. This rich, dark red shade is a safe choice to use with burgundy.
Burgundy is the result of mixing red and black. So, it's intense, warm, and eye-catching. Pair it with bronze, and your fixtures will stand out.
A burgundy sofa is a perfect addition to a room with bronze walls. You can also find gorgeous curtains or rugs combining these colors.
You may want to add another lighter color to the palette, so your room doesn't feel too dark and crowded. That's especially true if you've chosen a dark burgundy or bronze for all your walls.
Brown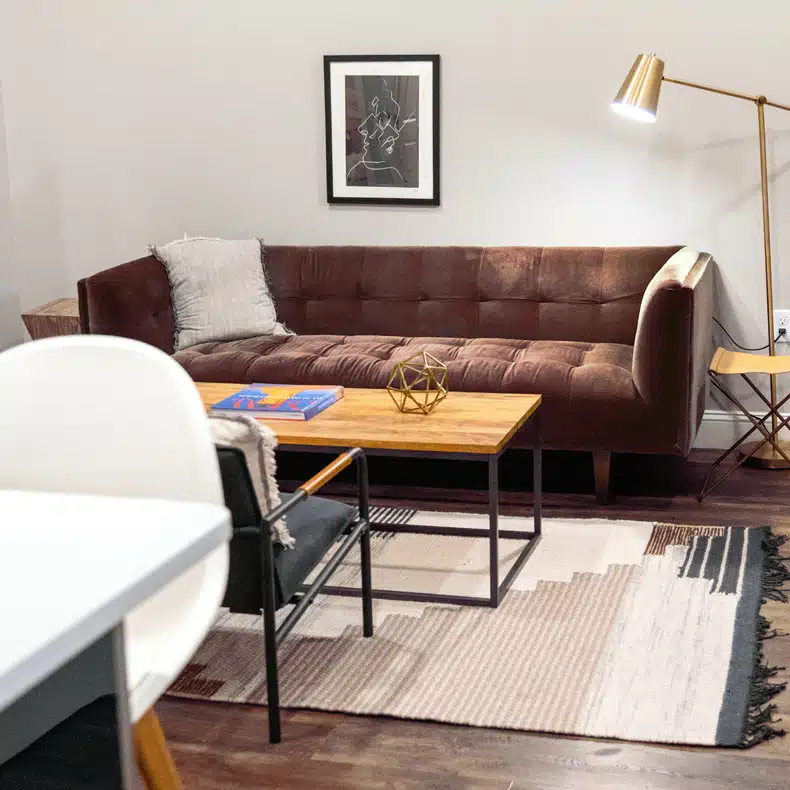 Brown isn't an obvious choice to pair with bronze. But if you pick the right shade, these colors will really vibe together.
These colors are similar, although bronze is brighter and more striking.
When choosing the right shade of brown, the sweet spot is one that's not too light and not too dark. You might need to play around with different combinations to get the perfect pair.
But generally, a chocolate brown will contrast nicely with bronze. You could use bronze as an accent color to brighten your neutral living room.
Or, you can choose bronze as your main color. Then, you can layer in some brown to tone things down and make it more subtle.
Gray
Gray is such a versatile color that you can use it confidently in almost any color scheme.
But gray will act as an excellent background for bronze features. It's subtle and low-key, so it will make the bronze stand out and really shine!
You can use bronze and gray together for a stylish, sharp, and contemporary look.
Charcoal and bronze are an excellent color combo. But you can also go for a lighter gray if you have a smaller room or don't get much natural light.
Dark Green
Recent interior design trends show that dark colors can work well in the home. And so, going for shades like dark green on your walls is becoming much more common.
If you like the idea of painting your walls dark green, bronze is the perfect color to pair with it.
That's because the bronze will contrast nicely with the green. So, it will break up the darker areas of color and make it feel stylish instead of looking too busy. Plus, you'll create a sophisticated feel by using metallic bronze.
Or, you could pair bronze walls and rich textiles in dark green colors. Forest green, pine, and midnight green are all fantastic options. And as for the textures, I would recommend velvet or silk to complete the luxurious look. 
Teal
Teal is similar to green but with more of a blue undertone. So, it's a very mysterious color that is both stunning and serene.
It works well when used with bronze for a bold, bright, and elegant style. As bronze is close to orange on the color wheel, these two shades have a high contrast.
And so, these colors create an eye-catching and exciting color palette.
Brass
You might be skeptical about pairing two different metallic shades. But a bronze and brass combination can work surprisingly well.
Brass has a lighter shade, much closer to yellow, while bronze is a deep metallic brown.
So, these two colors have enough contrast to look great together.
But a word to the wise, only use these colors in small amounts. I would recommend choosing your main metallic color first of all. Then, add hints of the other color to add another layer of interest to the room.
For example, you could go for bronze walls. Then, you could choose a brass lamp or accessories as the finishing touch.
Last but not least, navy blue and bronze create an iconic, stylish look.
Depending on how you use these colors, you could go for a nautical or industrial style.
Bronze will brighten up and play off of the deep navy blue shade. As a result, it will look elegant and break up the darker color, so it doesn't become boring.
FAQ
What color goes with anodized bronze color walls?
Earthy colors look amazing with anodized bronze walls. For example, you could pair a dark green or orange with your bronze walls for an eye-catching, earthy look. Or, you could use brown for a subtle, minimalist style. 
What color goes with dark bronze?
When choosing a color to pair with dark bronze, you need to pick a shade with a lot of contrast. 
But you should also avoid choosing a very dark color, as you'll need a lighter shade to brighten your room. 
So, I would recommend going for white, ivory, or bright teal. These colors will create contrast, so your room won't feel too dark or overpowering. 
The Wrap Up
So, there you have some great suggestions for colors that go with bronze.
It's one of the trickier colors to use in the home. But when you select your colors carefully, it can make your bronze walls or fixtures sing.
The right color will complement the bronze and create a gorgeous contrast.
Good luck in picking out the right color scheme for your home! Let me know which colors you go for in the comments below.
And follow Quiet Minimal on Pinterest for more minimalist living and home decor tips.