Many readers might ask, 'why choose a brown leather sofa.' My answer would be that it's simply an excellent choice! A brown leather couch has timeless versatility and will look great in any home. Brown evokes the earth's natural color, which brings a sense of warmth and makes a sofa look comfy and inviting.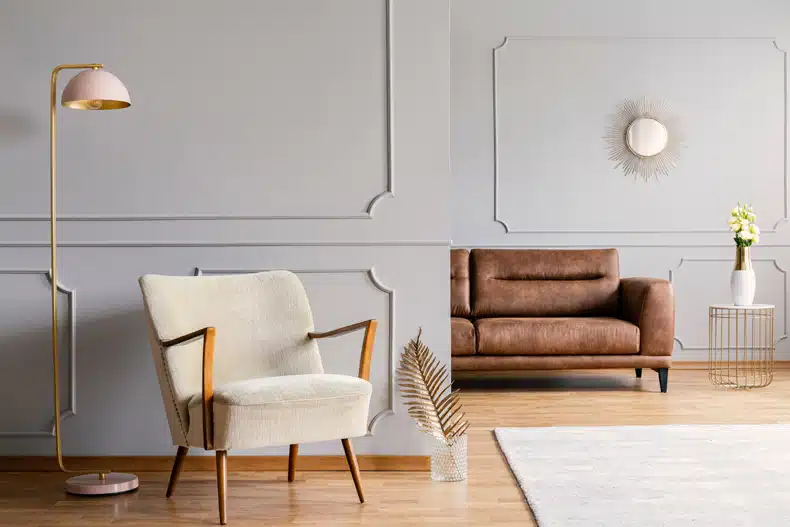 You can choose a sofa in various shades of beautiful browns, from light tan and caramel to deep chocolate hues. And if you are wondering what color goes with a brown leather sofa, this article has many stunning ideas to help you dress up your couch.
Classic brown tones are a dream to decorate, so read on to find out which colors will best enhance the beauty of brown leather.
What Color Goes Best With A Brown Leather Sofa?
Brown is often labeled a dull color, but the overall effect can be inspiring and stunning when mixing this warm, earthy hue with the correct shade. The following colors match beautifully with a brown leather sofa.
Blue Hues And Brown Leather
Blue represents the beauty of the sky and the natural coolness of the sea and is the complementary color of warm brown. Here are some ideas for matching two of these hues with a brown leather couch.
Paint the wall behind the sofa a rich navy color with white ceilings and trim. Navy is a rich color and will bring an appealing look to a chunky light brown or tan leather couch. Place a thick abstract printed rug in tan, brown, and white shades on the floor.
Place rows of throw pillows on the couch in solid colors of tan and navy and patterned cushions in white, navy, and tan. Hang a large painting or print above the sofa of your choice that will blend in with the color palette. Add a green plant to the mix to offset the blue and brown creating an appealing seating area.
Matching Turquoise And Brown
The refreshing yet tranquil color of turquoise will add a serene touch to all shades of brown and is a trendy color pairing. You can bring touches of turquoise to the room's décor by hanging beautiful solid turquoise drapes to frame the windows of the living room.
Painting the walls white or a creamy color will allow the curtains to stand out and add vibrant color to the couch. You can place a patterned rug of cream and brown on the floor.
Place turquoise and cream pillows on the couch. Mix solid or marbled-colored pillows with pillows embellished in trimmings of chocolate brown tassels or brown pillows with rows of cream lace or ribbons. These pillows will add a rich texture to the sofa.
Keep the wall decorations simple in form and neutral in colors such as pewter or silver, and let the turquoise curtains and the different pillows accentuate the colors in the room.
Pink Hues And Brown Leather
Pink is commonly associated with femininity and emotions of love, affection, and joy. But what better feeling than this to evoke for a living room! Adding pink to your brown leather couch enhances a welcoming feel. There are different tones of pink that will match perfectly with browns.
You can pick colors such as magenta, rose, or blush pink to go with your light or dark brown, or even a tan leather couch. Be creative and bold by choosing the darker, vibrant shades of pink, or opt for the softer hues for a subtle touch of pretty candy color.
Pair 3 Shades Of Pink With Brown Leather
For a dark or chocolate brown leather sofa, you can play with all three shades of pink! Paint the walls in a soft blush pink and add a beautifully patterned Bohemian rug in shades of pink on the floor.
Decorate the sofa with pillows in solid colors of rose, magenta, and blush pink. Choose fabrics with a sheen, such as satin or soft velvet, and different shapes and pillow sizes. You can add two or three gold-colored satin pillows to the mix for added depth to the pink color palette. A rich-colored bohemian throw blanket will offset the pinks hues on the sofa.
Decorate the wall behind the sofa with beautifully framed mirrors in gold, or choose one or two decorative glass-framed mirrors in shades of pink.
Shades Of Green And Brown Leather
Green hues of lime and olive pair well with light brown leather, whereas mint green is stunning with chocolate brown leather sofas. Green evokes the feeling of abundance and is associated with peace and rest.
Match Lime Green And Light Brown
Lime green is a color one associates with nature as it is the color of the lime citrus fruit. It is a fresh and bold color that promotes the feeling of liveliness and creativity. Pairing lime green with your brown couch will give the room a bright and modern look.
Paint the wall behind the sofa lime green and hang two large modern prints depicting nature in colors of greens and browns. Use unframed canvas prints, or you could frame the prints in brown frames to stand out against the green walls. You can lay a solid brown or beige carpet on the floor.
Add a selection of decorative pillows to the couch, such as brown and green stripes or green and beige floral prints and some solid lime green pillows. You could also add navy blue and beige to the color palette of the cushions or a navy blue and lime green throw.
Pair Mint Green With Chocolate Brown
Mint green is a tranquil color and will have a calming effect when paired with a warm chocolate brown leather sofa. Paint the walls a rich coffee color for a warm ambiance, and lay a plush shaggy coffee or beige-colored carpet on the floor. Place throw pillows in mint green on the couch to brighten the look.
Choose patterned pillows in colors of mint, coffee, and beige. Add a touch of tangerine or orange to the pillows for an extra pop of color. Move the sofa a few feet from the wall and fill the space with wooden or metal stands with shelves filled with a selection of beautiful green plants.
Bringing nature indoors will create a feeling of well-being, and the different greens will blend in perfectly with the browns and beiges in the room.
Yellow Hues And Brown Leather
Yellow, the color of the sun, complements the earthy brown beautifully. This bright color is a fun and lively way to add a splash of energy to the soft brown in the room. Being a deep and muted color, brown is rich, so tone down the yellow when pairing it with a dark brown leather sofa. The best yellow hues to use with browns are mustard and pale lemon.
Match Mustard With Brown
Mustard may not be the most popular yellow color. Still, it makes a bold statement and is stylish when matched with a chocolate brown couch. Paint an accent wall in a bold mustard color and hang a huge painting in a brown frame above the sofa so that the mustard on the wall is not too overpowering.
Place an abstract multi-colored rug on the floor to give the colors depth. Add solid-colored pillows in mustards and creams and add the complementary shade of midnight blue to match the colors in the painting and rug.
Pair Pastel Lemon Yellow With Brown
Pale lemon is beautifully matched with a tan leather couch. Paint the walls in a rustic dark brown as a backdrop to the tan sofa and lay a chocolate-colored jute rug on the floor to blend in with the tan sofa and brown walls. Layer the couch with pillows in shades of solid pastel lemon and floral prints.
Add some solid turquoise pillows for a beautiful palette of browns, yellows, and blues. Finish the décor by hanging some prints on the walls in yellow, blue, and tan colors, which will look beautiful against the dark wall.
Red And Brown Leather
Red will instantly grab the attention and is a bold and confident color. Pairing a dark or chocolate brown neutral-colored sofa with the warm tones of burgundy creates a rich and warm ambiance to a room. You can add a light complementary color for a splash of brightness.
Match Chocolate Brown And Burgundy
Paint the walls a dark grey color which will be aesthetically pleasing as a backdrop to the chocolate brown couch. Hang beige-colored satin curtains in front of the windows and lay a solid burgundy shag rug on the floor.
Place solid burgundy pillows in satin fabric on the couch. Pair these pillows with complementary lemon-yellow or gold-colored pillows to add some playful color to the dark color palette. Finish the look with a huge mirror in a gold frame or burgundy abstract décor art on the dark grey wall above the couch.
Neutral Colors And Brown Leather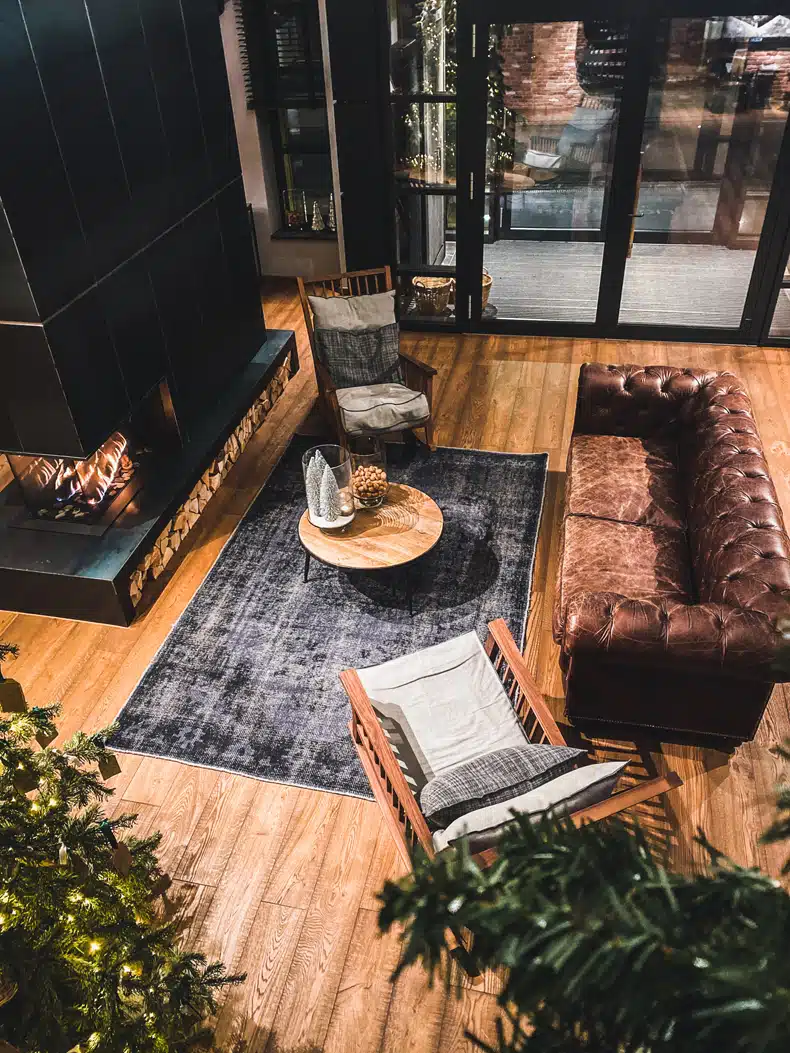 The neutral color of white paired with brown leather creates a traditional and welcoming ambiance. Other neutral colors that match well with brown are cream, black, beige, and different shades of brown.
Pair White With Brown
White reminds us of snow, milk, and chalk and is the color of purity and perfection. It will create stunning contrast when pairing white with different shades of brown, from tan to sandy brown, dark brown, and chocolate. White evokes feelings of freshness, simplicity, peacefulness, and calm.
Paint the living room walls a rich pure milky white, add a leather couch in any shade of brown, and create a space of simplistic beauty. Keep the palette brown and white but change the intensity of the colors and mix them. Pair a medium or light-colored brown couch with plain chocolate brown colored curtains.
Add a thick Moroccan tasseled rug in shades of brown and white on the floor. Choose throw pillows in solid chocolate brown and fluffy white faux fur and pair them with cushions in patterned white and tan colors. Choose embroidered pillows or embellished with tassels and lace.
Adorn the white wall behind the couch with a large Moroccan tapestry or vintage prints. Place exquisite white orchids on a coffee table to further enhance the timeless unity of white and brown hues.
Match Black With Tan
Adding black to a tan couch gives the setting a sense of elegance and sophistication. This color combination is dramatic and modern. Paint the walls a light shade of dove grey with a black accent wall behind the tan sofa. Hang sheer voile or linen drapes in white with tan or gold tiebacks.
Decorate the black wall with a collection of various sizes of abstract art in hues of tan, white, and gold. Place a monochrome black, tan, and white rug on the floor. Add decorative pillows, solid and patterned in shades of peacock blues, black and white. You can use various textured fabrics and embellish some of these pillows with old gold.
Emphasize the black wall with two tall gold standing lamps on either side of the sofa.
Metal Colors And Brown Leather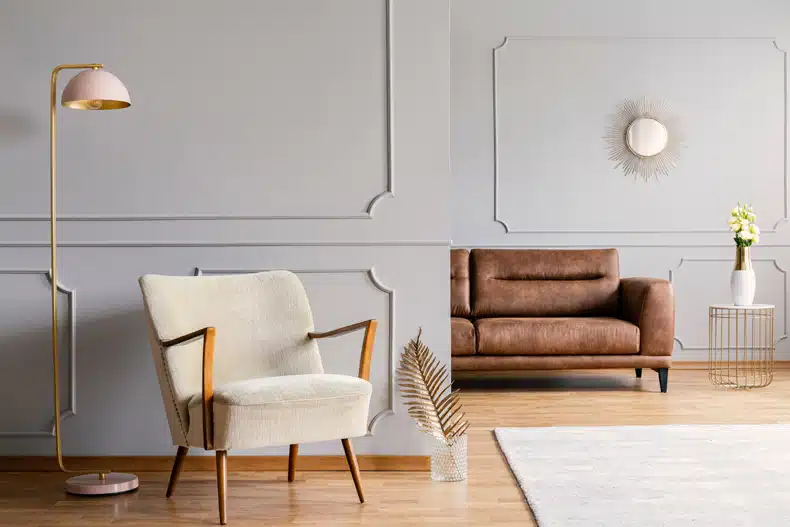 Copper, pewter, and silver are metallic colors that will compliment any tone of brown. These will add a lush and rich extravagance to the room.
Match Copper With Brown
Copper is the combination of burnt sienna and amber and supplies richness to any brown tone. Paint an accent wall behind a chocolate brown patina leather couch in a rich burnt orange for a luxurious vintage feeling.
Hang dark beige or dark brown drapes and place a patterned rug in a lighter cream with copper and brown tones on the floor. Place cushions in solid orange and metallic copper sheen shades to add further luxury and richness to the dark patina vintage look. Adorn the walls with beautiful vintage copper pieces such as a classic timepiece.
What Color Goes Best With A Caramel Sofa?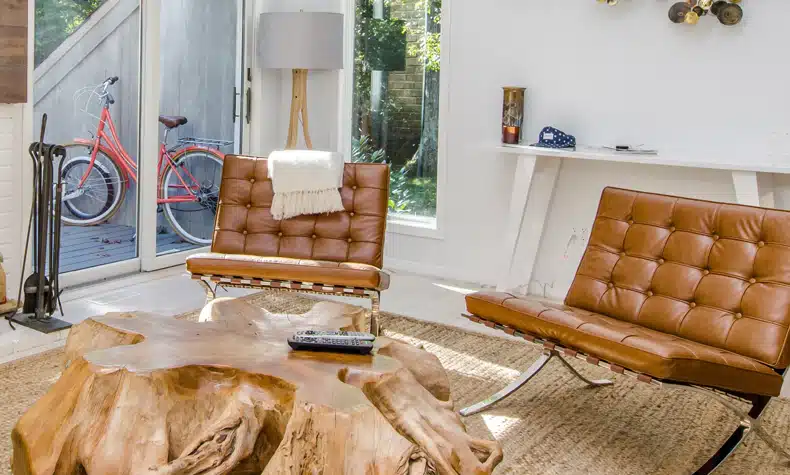 Caramel is a warm, lush shade of honey-cream or cozy orange-brown hues. You can match the warmth of caramel with the neutral and muted shades of charcoal or dove gray. Or add a zing of color with shades of green and jade or add some passionate deep rose and blush pink for a demure and bashful look.
Match Gray And Caramel
Charcoal-painted walls and accents of gray, charcoal, and caramel in a plush rug will bring out the beauty of a caramel leather sofa. Choose curtains in a lighter shade of caramel or tan to offset the dark wall and match the richness of the couch.
Decorate with accessories in a combination of tall bold pewter and black vases and decorative mirrors with thick heavy intricate pewter frames. Place patterned throw pillows in copper, charcoal, and silver and even a pop of turquoise on the couch. Finish the opulent look with a black cashmere throw against the caramel sofa.
Pair Poppy Red And Caramel
Poppy red is a rich deep color that evokes feelings of remembrance and nostalgia. Poppy red and caramel will create a joyful room setting of memories like a spectacular picturesque sunset.
Paint the walls an ivory white and hang poppy red and black striped curtains for a powerful statement to offset the caramel couch. Lay a black shag rug on the floor to balance the rich colors. Decorate the sofa with solid poppy red and solid black throw pillows in different sizes.
Add beautiful and bright white pillows decorated with red poppies to tie in with the room's theme. Decorate the walls with a large abstract painting in a sunset nuance. Use glassware decorations like large vases in different colors, shapes, and sizes to offset this rich color palette.
Conclusion
A beautiful warm and earthy brown leather sofa is in a league of its own when paired with shades of blues, greens, reds, yellows, pinks, metal, and natural colors. Use these complementing colors on walls, drapes, rugs, decorative wall hangings, and throw pillows.
When cleverly paired, shades of different colors will enhance the beauty of a sofa in all hues of versatile and timeless brown leather.
Make sure to follow Quiet Minimal on Pinterest for more interior design and minimalist tips!