Any room can look bare without a rug or carpet on the floor. Choosing the right rug can create the perfect atmosphere – but you also want it to match your flooring.
So, what are the best color rugs for grey floors? The good news is that loads of color rugs go with grey floors, so you have plenty of options.
I love using rugs in my home to make it feel cozy and comforting. But I've also found that a rug can be the perfect finishing touch to any room. And you can also use rugs to create a certain mood – from classy and sophisticated to fun and whimsical.
Here are some of the best color rugs for grey floors. With more than ten options, you can browse through and find the best color rug to match the gray floors in your home.
What Color Rugs For Grey Floors? 10+ Ideas!
If you're looking for a simple and classy look, you could pair a navy rug with gray floors. A darker rug will create a big contrast with lighter gray shades. And you won't need to worry about spillages on a navy blue rug.
With a gray and navy combo, you'll channel nautical vibes. Add a little white, and you have the perfect color palette for any room.
Sky Blue
Sky blue is a light, refreshing color that will brighten any room. And even better, blue is a cool color like grey, so these tones work well together.
Beyond that, blue creates a calm atmosphere, making you think of the sea and the sky. So, it's perfect if you want to create a beachy or coastal feel, too!
Sky blue isn't as dominant as navy blue. And as it's a lighter shade, it can make the room feel more open and brighter. You'll find that this color works well in a living room or dining room.
Gray and sky blue are somewhat similar shades. So, you can have fun by adding other colors to this palette. Or you can play around with patterns to add more visual interest.
Purple
Purple is an excellent color to pair with grey! It's a strong, beautiful color that conveys luxury and power and will catch the eye. We even associate the color purple with royalty!
So, if you want your home to feel stylish and sophisticated, you won't go wrong with purple. A rich, royal purple is the best shade as it contrasts strongly with gray.
But the cool tones in purple and gray also create harmony within the room. So, a purple rug will look fantastic in any room, from your bedroom to your living room. 
Red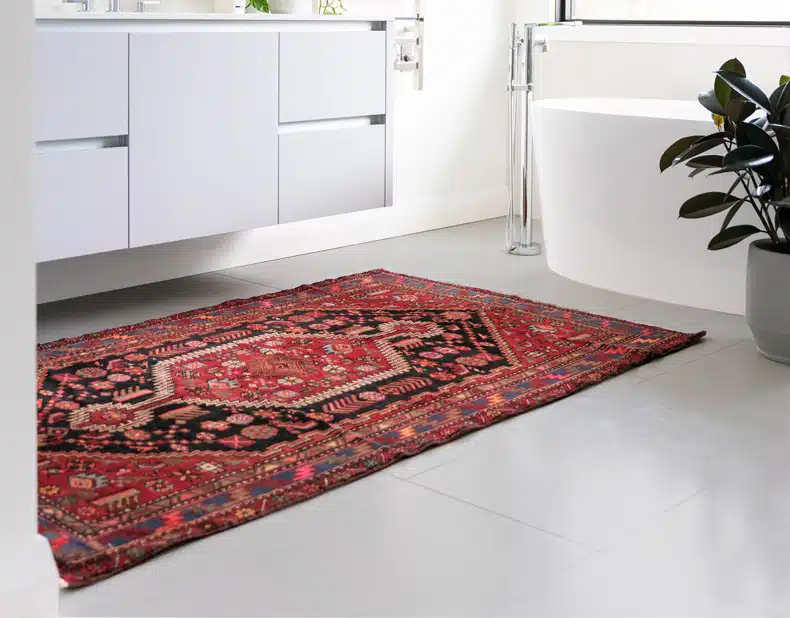 Red is one of the boldest colors, and it's sure to make an impact. With its warm tones and bright color, red will stand out against your cooler gray shades.
But at the same time, gray balances out the red to prevent it from becoming too overwhelming. So, these colors together create a harmonious and stylish look.
You'll find that this color combination works well in any space where you want to gather people. So, it's an excellent choice for your living room or an elegant dining room.
Yellow
Yellow always adds a burst of color to any room, creating a sunny and cheerful atmosphere.
Gray and yellow are a favorite combination of many interior designers. So, you'll often see these colors paired together.
Compared to yellow, gray is more subdued and lowkey. It's also a cool shade to yellow's warm color. But when combined, these colors create a kind of magic and look amazing together.
Black
If you want to create a modern, classy room, consider going for a black rug. It's simple and sophisticated and also a strong design choice. And even better, you won't need to worry about stains showing up!
A black rug can create a very edgy and modern look. It works well in a minimalist or industrial-style home and is a perfect color to pair with gray floors.
Both black and gray are considered tones rather than colors. So, they complement each other and create an exciting aesthetic. You can complete the look by adding white or light gray accessories for a stylish minimal home.
White
You might balk at the idea of a white rug. And although you'll need to be careful with coffee or red wine, you can't beat a white rug for sophistication and style.
The clean white color will highlight your gorgeous gray hardwood floors. Plus, it can make your room feel more open, brighter, and bigger. So, there are lots of reasons to go with a white rug. It will look especially appealing in a bedroom. (Think thick, cushy pile as you wake up in the morning!).
But you can also use a white rug in a minimalist living room. You'll find lots of options and varying textures to choose between as you shop around. There's everything from luxurious, high-pile rugs to gorgeous white kilim rugs.
Bright Orange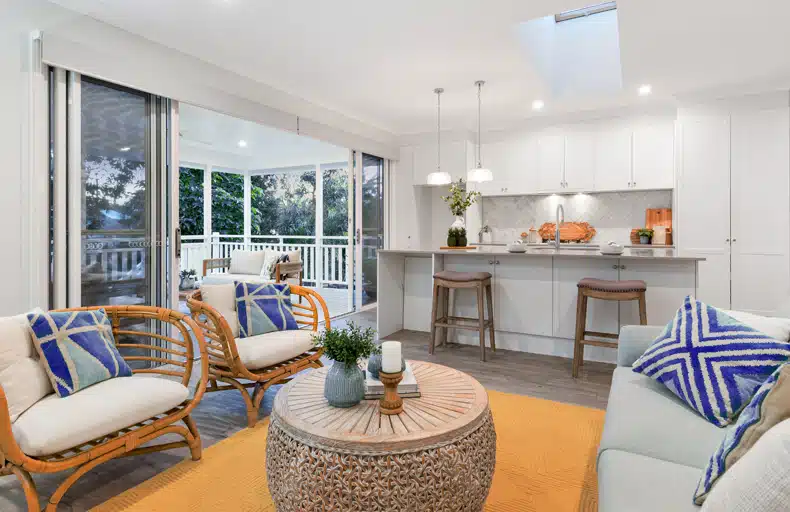 Bright orange is another fabulous color you can pair with gray. A vivid orange rug can brighten up any room and will stand out against grey flooring. As it's a warm and vibrant color, a bright orange rug will add some energy to your living room. It's perfect for a space where you'll entertain guests!
Burnt Orange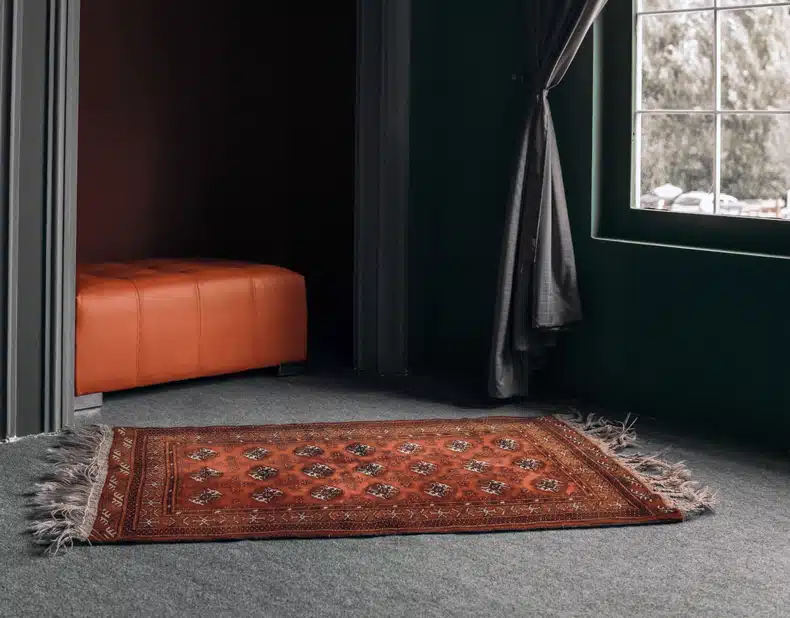 So, you like warm colors but prefer more of a muted tone? In that case, you could go for a burnt orange rug instead.
It has all the benefits of orange – adding warmth to your room and making it feel inviting. But it's more sedate and calm, which is perfect in a space for relaxation and connection.
Lilac
If you're looking for a rug in a lighter shade, consider going for lilac. This shade is gentle, soft, and calming, so it's perfect for the bedroom or living room. And as it has similar undertones to gray, it will look fantastic against your gray floors.
Light Brown
It might not sound too exciting, but a light brown rug is an excellent choice for a minimalist room. And it also works well if you have lots of bright colors going on in the room. This neutral color choice pairs well with gray and helps to bring balance to the room.
Multicolored
There's no reason why you have to stick to monochrome rugs on your grey floors. Happily, grey is such a versatile color. So, almost any multicolored rug will look amazing against a grey background.
You can have a lot of fun picking out multicolored rugs for your gray floors. You could choose a gradient, an abstract design, or a funky pattern. Geometric designs tend to work well against a gray backdrop.
But before buying a multicolored rug, consider how all the colors work together. What kind of feeling do they create? And do they work with other elements you have in your room?
That way, you'll choose the best rug for your gray floors and your interior design style.
Pastel Pink
You can add a pastel pink rug to make your room feel soft and feminine.
The best thing about gray floors is that they're like a blank canvas. You can design your home in any way you desire. But with gray, we often default to a more masculine, minimalist look. However, that doesn't have to be the way!
If you want to create a gentle and soft look, pink pairs wonderfully with gray. Pastel pink is an excellent complement to a darker gray but can also work well with a light gray.
But if you're more daring, you could go for a bright pink rug to add a pop of color to your gray floors!
The Wrap Up
As you can see, there are almost no limits to what you can pair with gray floors. With such a versatile color, you have loads of options. So, you're sure to find the perfect rug to go with your gray floors.
Let me know what color rug you choose in the comments below!
And follow Quiet Minimal on Pinterest for more home design tips and inspiration.