Gray is a great neutral color that looks amazing in homes. It can ooze style and sophistication, and it works with many color schemes. But that brings us to the vital question – what colors go with gray?
In this guide, I'll share the best gray color palette for your home. So, if you're wondering how to decorate your home with gray, read on.
What Matches with Gray? Tips for Your Home
Gray is a trendy color that goes with a variety of different shades. You can create any look you like using a grey color palette. It could be bold and bright or simple and neutral.
If you prefer the minimalist design style, gray is the perfect color to choose. But you can brighten it up with some nice pops of color, too.
Let's find out what color goes with light gray, dark gray, and every shade in between!
Gray + Bright Colors
You might want to avoid gray if you're into brighter colors. But gray is the ideal shade to offset bright colors and really make them pop. For example, it works well with sunshine yellow or vibrant pink.
You can combine gray with brighter colors to keep it interesting. But the grays will tone it down a little, so it doesn't become overwhelming. It gives those strong colors space to breathe, so you can appreciate them better.
One way to combine gray with bright colors is to use gray on the walls. Then, you can add beautiful jewel colors as accent pieces. Some ideas include the sofa, a rug, a lampshade, a bright armchair, cushions, etc.
It's better to choose one or two more vibrant colors to use with gray. If you have too many different colors, they will overpower each other. Bright colors that go with gray include purple, red, turquoise, and rich blues.
So, for example, you could have a gray blue yellow living room. These colors compliment each other rather than contrasting or competing too much.
Gray + Neutrals
But if you prefer to keep your home more neutral, gray is also the perfect shade for you. It works well with other natural shades like beige, white, and cream. 
If you want to add a little more interest, you could include a pale pink or light green. These shades take inspiration from nature, such as fresh grass or new blossoms.
With this color scheme, almost any gray is suitable. Whether you go for a dark or light gray will depend on the other shades you're using.
But either way, a neutral room with gray will feel comforting, calm, and tranquil. It's the perfect place to escape from the world and destress.
It's also ideal if you're into the minimalist interior design style. Gray often features in Scandi minimalist homes. You can find more tips on creating a cozy, minimalist home here.
Gray + Black
If you want to keep things simple and stylish, you could go for a black and gray combination. It's cool, sleek, and sophisticated. But it can also feel very cozy and safe, like a cocoon.
You can use a black and gray color palette in almost any room in your house. It can work in your living room, bedroom, and even your kitchen. Just make sure that you balance out the black with lighter gray shades to make the room seem more spacious.
Gray + Pink
For a feminine look that's not overly sweet, pair gray with pink. A light gray will complement a blush pink, while a darker gray makes it stand out more.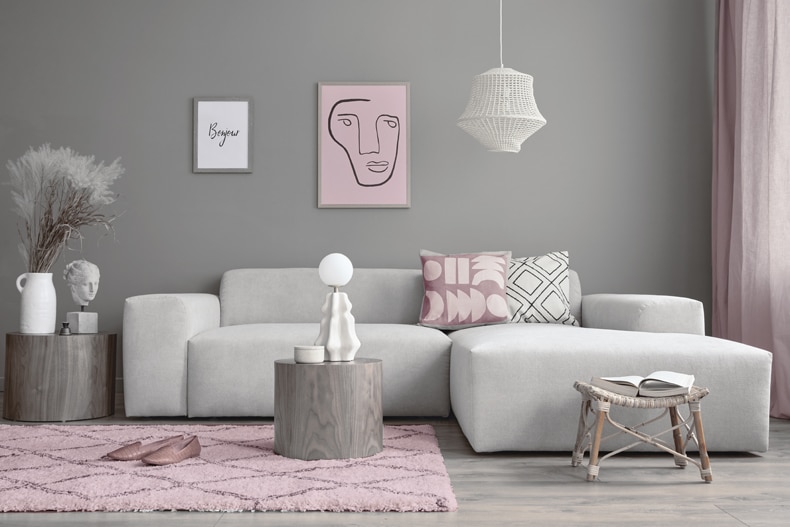 These colors look stylish and soft together. The pink ensures that the gray shades come across as cozy rather than cold and metallic.
You could create a pretty living room or bedroom using gray in combination with pink.
Choosing the Right Gray for Your Color Scheme
So, now you have a good idea of how you can use gray in your home. But it's still tricky to narrow down the different shades of gray and choose the right one.
One thing I'd recommend is looking at your room as a whole using the key design concepts. Does it need balancing out with some lighter or darker shades? If you have a lot of bold colors, a lighter gray can help harmonize your room. But if it's looking a little pale and washed out, a darker gray can work well.
But another factor to consider is the undertones of the gray colors. For example, imagine that you've decided upon a blue and gray living room combination. So, I'd avoid going for warm grays.
Instead, I would encourage you to look for cooler shades of gray with blue undertones. That will create harmony in your room and ensure that it all comes together effectively.
Grey Color Palette FAQ
What colors look good with light gray?
Many colors look good with light gray, as it's such an adaptable color. It can complement many other shades, from red to blue to yellow, teal, pink, and more. 
What color flooring goes with gray walls?
Gray is a neutral color that matches many other shades. So, you could pair gray walls with white tiles, black flooring, or light or dark wood floors. Other suitable shades include beige and grey floors with a blue undertone. 
If you want something truly unique, you could even go for patterned tiles. A blue and white design would look nice, or you could go for whatever color appeals most to you. 
What colors make gray?
You can make gray by combining equal amounts of gray and white for a mid-gray shade. But if you add more or less white, you'll get a lighter or darker gray. And because gray is a mixture of white and black, it works with most other colors. In my opinion, it's one of the most versatile colors around. 
The Wrap Up
As you can see, gray is a versatile and stylish color for your home. You can pair it with neutral or bold, bright shades, and it will look amazing. So, you can incorporate gray into your color palette but still make it look unique.
Let me know which colors you pair gray with in your home. I'd love to hear how it goes and what it looks like when it's finished!
Make sure to follow Quiet Minimal on Pinterest for more minimalist and interior design tips.