Grey floors have become increasingly popular over the years, and they can turn any home into a modern space with a beautiful aesthetic. However, you may be uncertain about what wall colors go with grey floors, depending on what atmosphere you prefer in that area. Let's look at wall paint colors that go with grey floors!
Wall Colors That Compliment Grey Floors
A grey floor can turn any area in your house into a high-tech, modern hub or a calm and welcoming haven. It all depends on the colors you choose to go with it. It doesn't matter what shade of grey you choose for your floor.
Follow this comprehensive list to achieve the aesthetic that best fit your style:
Pair Your Grey Floor With A Clean White Wall
If you prefer neutral colors in your home for an elegant and calm feel, one of the most excellent methods is to use white on your walls.
This will not only decorate your home and create a bright contrast with your grey floors, but you won't be putting your resale value at risk, as white paint can always be painted over after a few years.
Pair A Grey Floor With Black Walls
Black is the perfect choice for your walls if your grey floor has undertones of brown, as it will create a more vintage color scheme.
A black wall paired with grey flooring gives you endless opportunities to decorate, such as bringing shades of brown to your furniture, carpets, and pillows.
Pair Your Grey Floor With Grey Walls
This may come as a surprise, but it's possible to pair your grey flooring with grey walls! However, it's encouraged to use a lighter shade of grey on your walls as the color of your flooring as it will help your floor to pop more.
Of course, you could use the same color grey on your walls as well but only use this as a way to make a dramatic statement. Generally, pairing grey with grey has a pleasant feel that works in any bedroom or office.
Pair Your Grey Floor With Cream, Beige, Or Brown
Shades of brown pair wonderfully with any shade of grey flooring, as it could either add a dark, dramatic feel to a room or a calm and modern feel.
Depending on what you like, you have endless opportunities to pair other bright colors in the room itself that would go along with your grey floors and shades of brown walls!
Choose Silver Walls For A Grey Floor
Consider using silver to compliment your grey floors if you want a more masculine and high-tech area in your office or living room. Make sure the silver you choose has some shine, as you won't want the grey flooring to take the attention off your walls.
Play With Wall Shades Of Blue To Compliment Grey Flooring
Blue is known to be one of the best colors to pair with grey flooring, as most shades of grey often have a cold undertone, similar to lighter and darker shades of blue.
Blue rooms are known to be peaceful and calming, which is perfect for bedrooms or bathrooms. Studies also show that simply being in a blue room could lower your blood pressure.
A darker scheme of blue could be perfect for your bedroom, but keep in mind that the area could feel cold if it's not properly decorated.
On the other hand, a lighter shade of blue has a calming feel, and where dark blue may be too eye drawing, a light blue will become part of the background, allowing you to place all your focus on the rest of your toom's features. Additionally, light blue walls will make any space look clean and crisp!
Pair Your Grey Flooring With Green For A Natural Feel
Green is one of the best colors to bring an area a natural and adventurous feel. Whether you choose a pastel green or an olive green, don't forget to place some leafy plants or bamboo furniture to go with it!
Green walls with grey flooring are perfect for outdoor areas, such as patios and balconies.
Pink And Purple For A Feminine Feel With Grey Flooring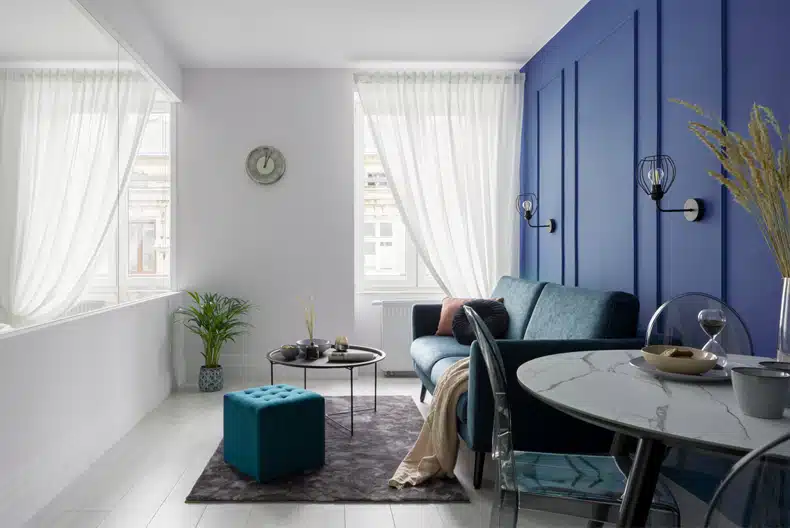 If your grey floors have warm undertones, choosing pink or purple walls to go with them is the perfect way to soften the color of your floor.
Shades of pink and purple will allow for a feminine and sensual feel and would work best in bedrooms with similar colors.
Pair Grey Floors With Bright Yellow Or Gold Walls
Yellow or gold walls will bring a pop of color into any area with grey floors. If you like vintage color schemes, painting your walls with yellow or gold gives you the perfect opportunity to bring in other decorations, such as copper, orange, or brown, for an earthy feel!
Accessorise Grey Floors With Bright Red Walls
If you want to make a bold and dramatic statement, use red to enhance warm undertones on your grey floors. Red is known to go best with grey floors in kitchens and living rooms, as it creates a warm and welcoming atmosphere for guests.
Frequently Asked Questions
How Can You Determine Which Wall Should Be The Focus Point?
When it comes to choosing which wall to make the focus point, it's important to keep in mind that, ideally, it should be the wall you want to emphasize, which will allow the entire room to look bigger. 
As a general rule, if you want to pair a color with your grey flooring in your bedroom, you need to choose the wall that is not located where the windows are. 
It would be best to choose the wall people will immediately lay their eyes on when they enter the area, such as behind your bed. 
However, in a living room, it would be best to paint the wall where the windows are located if the wall is large enough, or on the wall with a fireplace or other large feature.
Should I Be Concerned About Resale Value?
While you should always keep your personal preferences in mind when painting any wall, you need to consider the home market value and how long you plan to live in your existing home when you have painted it. 
Buyers will be more hesitant to buy a new house if the color scheme is not preferred. After all, even if you have the best grey floors, a buyer will be put off if they do not like the color paired with it.
Can I Pair Dark Walls With Grey Floors In A Small Room?
It's not recommended to pair grey flooring with darker colors if the room is too small and doesn't get adequate sunlight. 
In smaller rooms, less could be more, and it would be much better if you chose a color a shade or two lighter than the flooring, as it will create the illusion that the room is bigger. This is especially true in small rooms with small or no windows and dimmed lights.
Conclusion
Grey floors have become more stylish over the years, and many prefer grey hardwood or concrete floors in their homes. When you have dark or light shades of grey on your floors, it could become challenging to determine which colors would suit them best on your walls, but it's all about personal preference and what atmosphere you want to give off!
Follow Quiet Minimal on Pinterest for more home decor inspiration and minimal living tips.