A backsplash is a must-have for any kitchen. It can protect the walls from splashes of water and food, plus add a stylish touch. With so many options, deciding which one is right for your small kitchen can be challenging.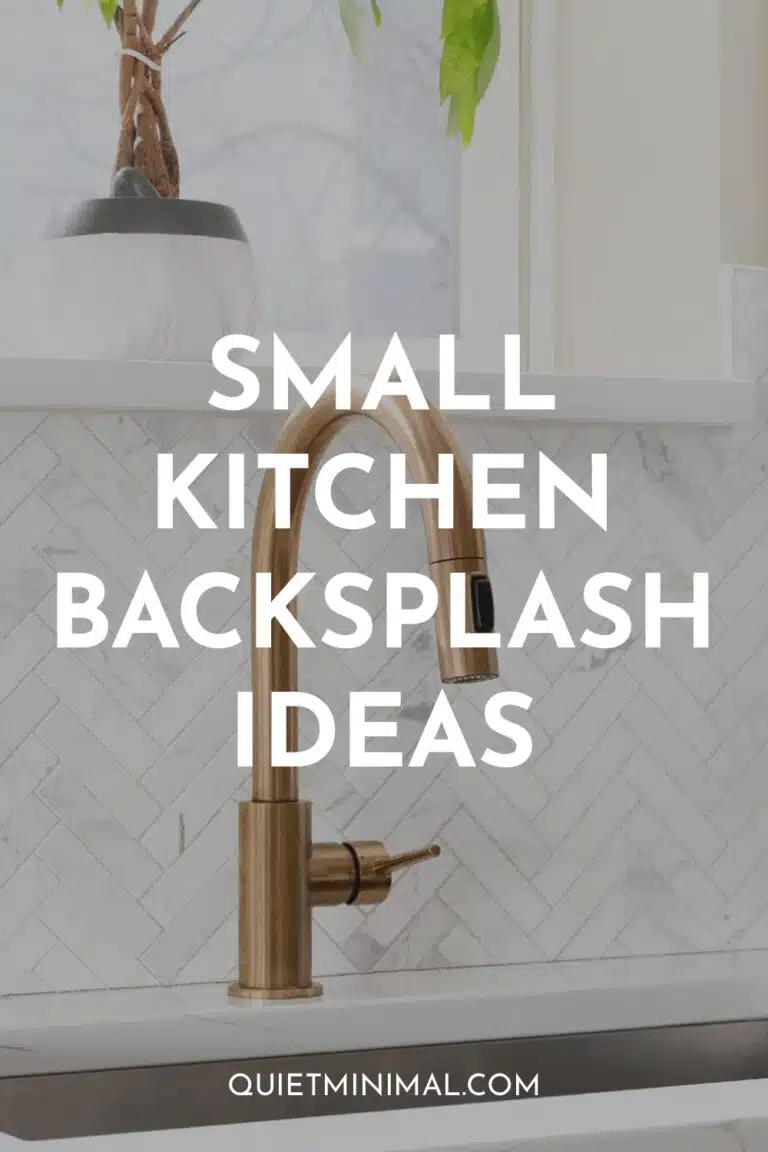 Whether you don't have a lot of money to spend or want something more luxurious, there are lots of ways to get a great look that fits your style and space.
Choosing a backsplash for your kitchen starts with deciding what material is best. You can choose from many options, like classic white tile or luxurious marble.
Pick a color scheme that matches your cabinets, countertops, and appliances to make your kitchen look great.
Finally, it's important to consider how much time and effort you want to put into maintenance. If you don't have much time to clean, ceramic or porcelain tiles are a good choice.
Here are some great small kitchen backsplash ideas to make your cooking area look stylish!
Glossy Herringbone Tiles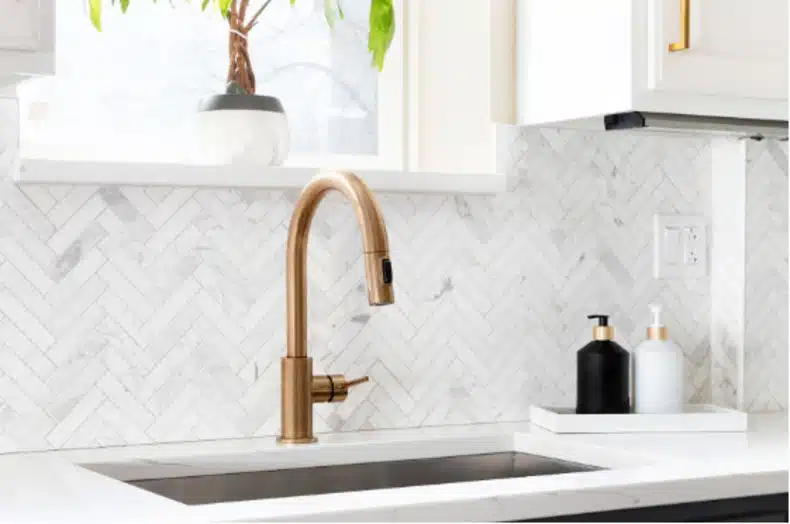 When designing a small kitchen backsplash, glossy herringbone tiles are an excellent choice. Not only do they look stunning, but their unique pattern adds visual interest to the space.
As well as livening up the area, these tiles also have practical advantages: they're easy to clean and require minimal maintenance.
Herringbone tiles come in many colors, sizes, and styles. From neutral black and white to bold blues and greens, you'll find the perfect one to match your decor. If you prefer a chic, modern look, metallic tiles are a great option.
Installing herringbone tiles is easy! Put the pieces on adhesive mats and press them against the wall. This makes them great for DIYers who want to finish their project fast and still get great quality.
If you're looking for a nice, low-maintenance backsplash for a small kitchen, herringbone tiles are the perfect choice. You'll be glad you chose them!
Spillover Style
Spillover style is a great choice if you're looking for a kitchen backsplash that stands out. This look combines color and pattern to make something stylish and eye-catching. One tile spills over onto the next, creating a unique design that adds a special touch to your kitchen.
A spillover kitchen backsplash lets you create a unique look. You can choose from bright colors like yellow or teal, or go with neutrals like white or gray. You can make it your own! The possibilities are endless.
Plus, creating this look requires little time or effort – all it takes is some creative planning and finding the perfect set of tiles for your vision. Once installed, you'll be able to transform your boring old wall into an eye-catching work of art!
Single Row Of Tiles
When it comes to small kitchen backsplash ideas, one of the most popular is a single row of tiles. This style offers an eye-catching look without overwhelming the space. It's also incredibly versatile and can be customized in many different ways.
The best part about this design is that there is an extensive array of tile materials and sizes to choose from. You could opt for classic white subway tiles or something more unique, like glass mosaics or terra cotta. You'll also have the opportunity to mix up shapes and sizes for a creative result.
Installing a tile backsplash is easy. It doesn't matter what kind of material you use.
Brick Veneer
A brick veneer is an excellent choice for your backsplash. This type of material offers many advantages and can be used in various ways. It's easy to install and even easier to maintain. Plus, the look is timeless and adds character to any space.
Brick veneers come in different colors, sizes, and shapes, so you can find something that suits your style perfectly. You can also customize the pattern for more visual interest. The best part is that they are suitable for both indoor and outdoor applications, making them versatile enough for any project.
Want to give your kitchen a unique touch without spending too much money or time? Brick veneer is a good option. It has a classic appeal and is affordable. Consider it before deciding on another backsplash.
Colorful Tile Backsplash
Tiles are perfect for sprucing up your kitchen. They're easy to keep clean and come in many colors. Create a unique design that reflects your style with a tile backsplash. Choose something subtle, or go for a bold, bright look. There's something for everyone!
Tile is very versatile for design. Mix different shapes and sizes for complicated patterns, or use larger tiles for a simpler look. Technology has improved, giving you many materials, such as glass, stone, ceramic and metal. This gives you many options for customizing your space.
If you have experience with DIY projects, you can easily install a tile backsplash. Cutting the tiles correctly requires precision, though. If you're not comfortable doing this, you should hire professional help. If you plan carefully and pay attention to detail, you'll have a beautiful wall in no time.
Boho Chic Teal Hexagon Tile
Boho chic teal hexagon tile is an exciting way to give a kitchen backsplash some visual pop. This pattern is perfect for boho and eclectic kitchens. It looks great and protects from splashes. Plus, it's easy to clean and maintain – wipe it down with a damp cloth once in awhile.
This blue tile looks great with white and grey. It adds warmth to a room when paired with natural elements like wood cabinets and countertops. As the hexagon pieces are bigger than traditional tiles, there are fewer grout lines that require cleaning.
Teal hexagon tiles are a great pick for a kitchen backsplash. They're unique and classic. They come in many colors and are easy to take care of. Plus, they give your kitchen an extra bit of style.
If you're looking to transform your small kitchen with a backsplash tile, why not go for something Scandinavian and rustic? Diamond tiles offer plenty of style and texture, perfect for giving your room an eye-catching look. Plus, they come in a variety of colors with a wide range of choices best suits your decor.
Installing diamond tiles is relatively straightforward but will require some effort on your part. You'll need to measure out the area first before applying adhesive and grout between each piece. With careful planning, though, you can create a stunning mosaic pattern that's sure to make heads turn.
In short, diamond tiles provide an ideal way to spruce up your small kitchen backsplash and give it a unique twist. Whether you opt for warm or cool tones, this type of tile adds just the right amount of character and charm to any space.
Antique Old Copper Subway Tile
Antique old copper subway tile is a great addition to any small kitchen. This backsplash option has an elegant, vintage feel that can transform the look of your space.
Its unique metallic hue and classic shape will give you a timeless design without having to spend too much money. Plus, its easy-to-clean surface makes it perfect for busy cooks who don't have time for complicated upkeep.
When combined with subtle colors like white or gray, antique copper subway tiles create a stunning contrast in the kitchen. You can also use them as accents against other materials, such as marble or granite countertops.
The possibilities are endless! And because they're so affordable, you won't break the bank when installing these beautiful tiles in your home.
Adding antique copper subway tiles to a small kitchen backsplash is a good idea. They look great and are practical. They can help create a nice atmosphere in the kitchen.
Modern Matte Black Diamond Tile
Regarding modern kitchen backsplash ideas, nothing compares to the sleek look of matte black diamond tile. This popular choice for today's kitchens creates a bold statement that will bring any space into the 21st century.
This backsplash is easy to install and maintain. It has a stylish design that won't go out of fashion. Its unique texture and color add depth and light to your room. Plus, it's versatile – it fits traditional and contemporary decor. Matte black diamond tiles are perfect for any application.
Want to upgrade your kitchen without spending too much? Try adding matte black diamond tiles! You can create unique designs that will make your kitchen look amazing.
Conclusion
Small kitchen backsplashes come in various styles, colors, and shapes. They can range from glossy herringbone tiles to colorful tile backsplashes to modern matte black diamond tiles.
Whatever style you choose for your small kitchen, many options will make it look beautiful and unique. From classic brick veneer designs to boho chic teal hexagon tile patterns, there is something out there for every taste and budget.
When it comes to small kitchens, the backsplash you choose is important. You want something that reflects your style and goes well with the rest of your space.
There are lots of options today, from traditional to antique. Adding a backsplash to your small kitchen can give it a new look. Pick the one that's right for you! 
Follow Quiet Minima on Pinterest for more homeowner tips and interior design inspiration!