You've created a beautiful boho home, and now you want your kitchen to have the same boho chic vibe. So, you're looking for ideas for boho kitchen island lighting.
Your lighting is a great place to start creating that boho look in your kitchen. And it goes without saying that the kitchen island needs to be clearly lit. But you can also make it a design feature with a chic boho light fixture.
There are some amazing boho lighting options out there – but finding them can be tricky. So, I've done the hard work picking some chic boho lights for you to peruse.
You'll find pendant lights and ceiling lights in a range of materials and styles. So, browse these suggestions, and let me know below if you find the perfect boho kitchen light!
How to Choose Your Kitchen Island Lighting
There are a few things to look for when selecting the lighting for your kitchen island. For example, how big your kitchen island is.
A larger island will look better with an oversized lamp or a set of three pendants. But a single, smaller fixture might work better if you have a small kitchen island.
You should also consider your color scheme and design style. You're aiming for a boho look – but do you want it to be minimalist or maximalist? Modern or vintage? 
You should also consider what materials you prefer and your budget. If you keep these things in mind, you'll soon find the perfect kitchen island lighting.
Boho Kitchen Island Lighting Ideas
Here are loads of ideas for stylish boho kitchen island lighting. From rattan and wicker to glass and metal fixtures, there's something for everyone. So, take a look and see which one would suit your boho kitchen.
Round Rattan Ceiling Lights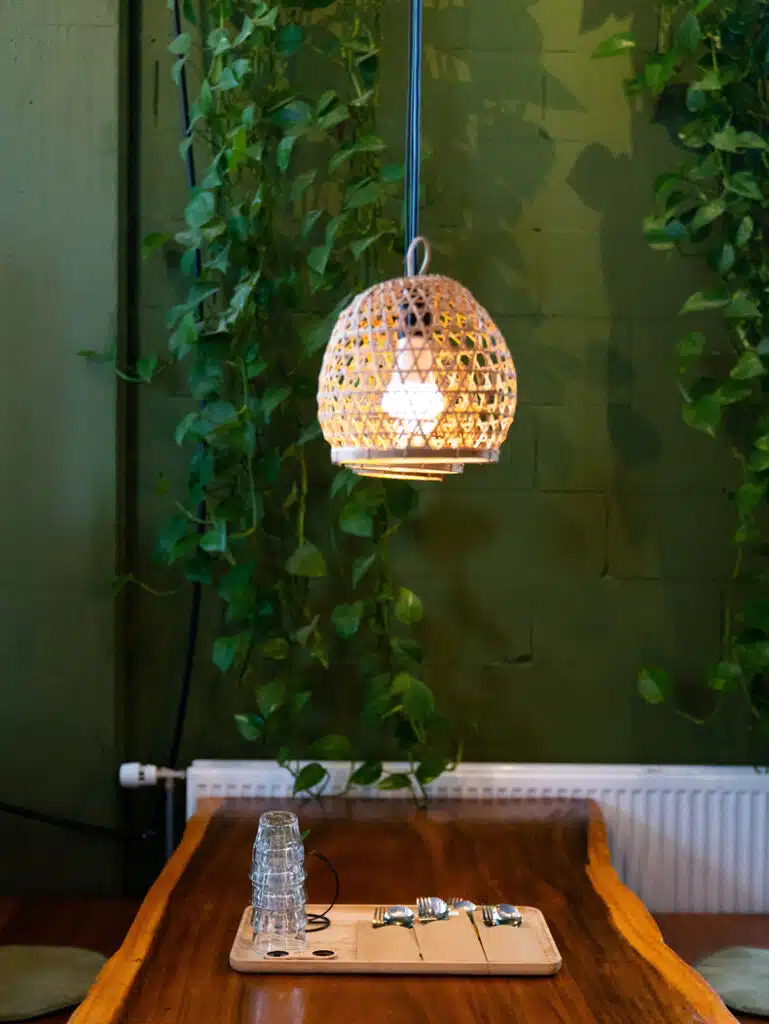 Rattan is a mainstay for boho interior design. So, incorporating rattan into your kitchen will immediately create that boho feel. While the rest of the kitchen may look polished, a rattan pendant light is more relaxed and organic.
So, it contrasts with the clean lines of kitchen cabinets and countertops. Add a few potted plants and some natural wood accessories for the finishing touches.
Rattan Pendant Light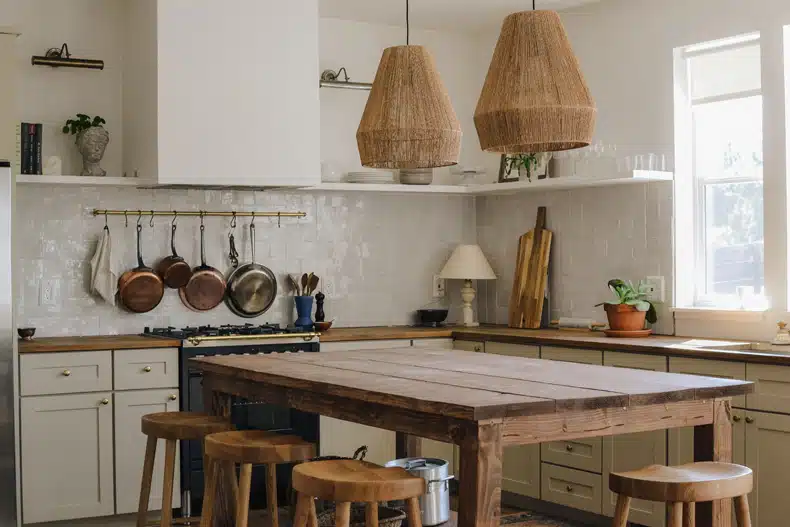 Perhaps even better than a round rattan light is a rattan pendant. You get even more of that gorgeous rattan in a beautifully crafted design. This item will become a focal point in your boho kitchen.
Exposed Glass Pendant Lights
This stylish light fits right in with the boho style in your kitchen. It looks simple and minimalist, with a nice touch of rope to hang the pendant from the ceiling.
The exposed bulb feels less fussy and formal, so it's perfect for a relaxed boho kitchen. Plus, this clean design ensures that your kitchen is brightly lit. And that's essential when you're preparing a quick meal or snack.
Bamboo Lattice Pendant Light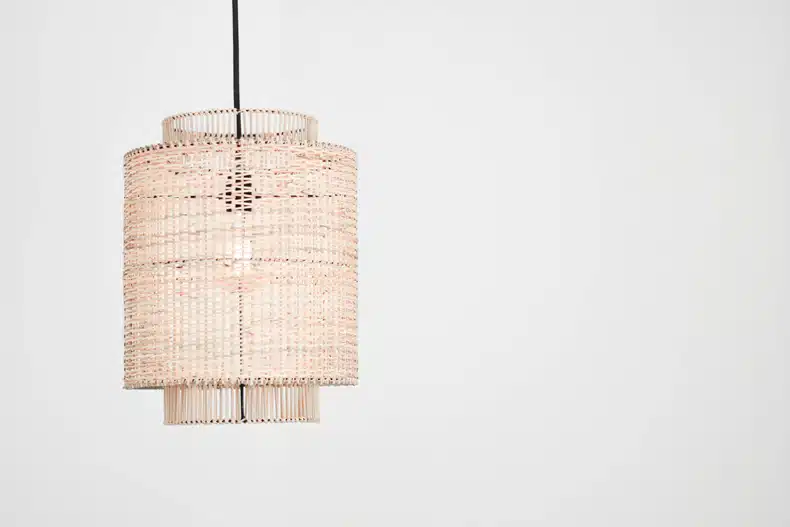 This bamboo pendant light is perfect for creating a boho feel in your kitchen. Continuing the boho look in the kitchen can be tricky, but this light does the trick.
The latticed bamboo design looks rustic and handmade but lets out plenty of light. It's also affordable, so you don't have to break the bank for your chic boho kitchen look.
Metal & Glass Pendant Light Set
While one pendant light can draw attention, a set of pendant lights is even more dramatic. It helps to center the focus on the kitchen island while lighting the entire space.
This minimalist metal and glass pendant set will complement any boho kitchen. They keep it simple and stylish while doing the job. You could go for black metal or a warm metallic shade like copper – either will look amazing. The glass shade is clean and simple, maximizing the light in the room.
Macrame Globe Light
This unique globe lamp is made from knotted jute rope. It creates an intricate design that invites you to look a little closer. And the macrame knots throw pretty patterns onto your walls.
So, it's practical and decorative. This boho-inspired lamp comes in different sizes, so you can find the perfect style for your kitchen.
Macrame Pendant Light
Snap up this pendant if you're looking for a more traditional macrame look. With its white macrame cotton and metallic beads, you can't beat this boho-style light.
Glorious tassels complete the look. A must-have for any boho kitchen – you won't get bored of this stylish fixture.
Rustic Wood Lanterns
You might think of metal lanterns rather than wood – but this light fixture will change that. With three hanging pendants, it's charming and eye-catching.
This light has an aged wood frame, an exposed bulb, and a metal chain attaching it to the ceiling.
If it wasn't for the deep wood tones, it might look too industrial for a boho kitchen. But the warm wooden hue and its rustic texture make it fit for a boho kitchen.
Depending on the length of your kitchen island, you might want to opt for one or two lanterns instead of three.
Woven Light Shades
Another alternative to bamboo or rattan is abaca. You might not be familiar with it, but it's a sustainable material. You can find stunning woven light shades made from abaca that are unlike anything else.
As they're finely woven, they don't let us much light through as some lights. So, you might want another, brighter light source alongside this style. Despite that, they are perfect for capturing that boho essence in your kitchen.
Boho Kitchen Island Basket Lights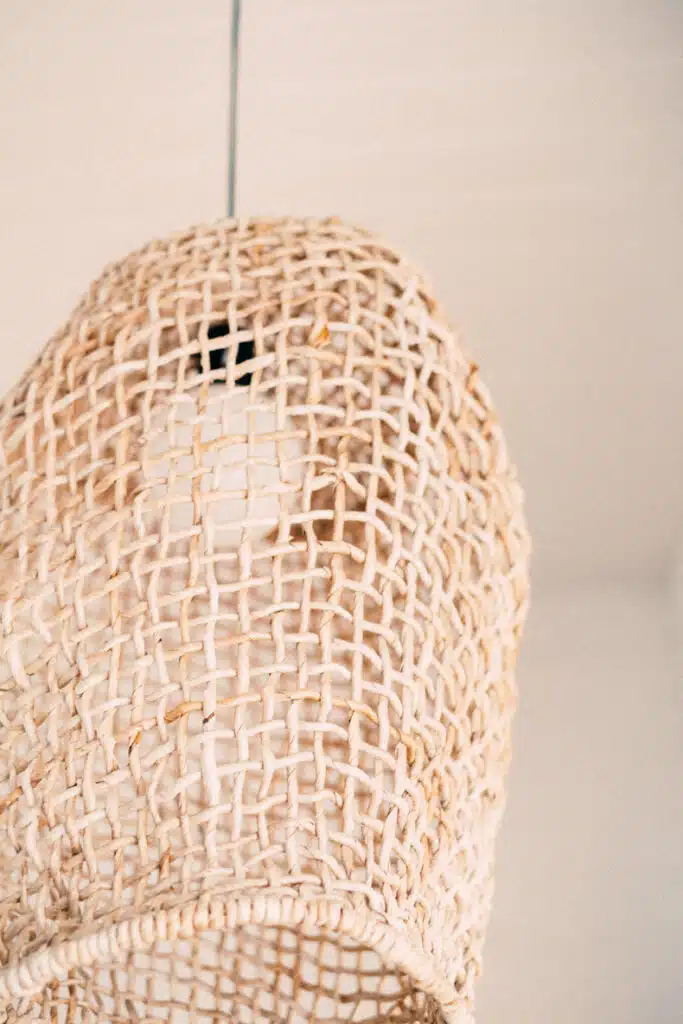 This style of basket lights is ideal if you want to create a spotlight on your kitchen island. While they don't give off much peripheral light, they look fantastic. They're simple yet undeniably boho.
You can buy a boho basket light online or even DIY it yourself. For that, all you'll need is to cut a hole in the bottom of a woven basket and attach it to your light fixture.
Rattan Bell-Shaped Light Fixture
Rattan comes in many forms. This bell-shaped fixture will look beautiful above a kitchen island. It draws the eye to the island, making it a centerpiece of the room.
Not all rattan light shades are densely woven. This loose, open style is well suited to the kitchen as it lets plenty of light through. And instead of using natural rattan, this dyed black rattan is chic and a little more modern. Plus, it will go with almost any color scheme.
Modern Boho Wooden Pendant Light
If you're not into rattan or macrame, there are plenty of other options. For example, you could go for a stylish wooden boho pendant light like this one.
It combines the boho style with a more contemporary look, ideal for the kitchen. This wooden light is unique and sleek, with smooth lines and a simple design. It gives off a warm glow, perfect for eating or working at your kitchen island.
Moroccan Handmade Hanging Light
A more unusual choice for your kitchen island is a stunning Moroccan-inspired light. These lamps are handmade from pure metals, often copper or brass.
They are engraved with intricate details, throwing gorgeous patterns onto your walls. This Moroccan lamp is a real show-stopper unlike anything else you've seen.
The Wrap Up
If you were unsure what boho light to go for above your kitchen island, hopefully you have plenty of ideas now. You can go for the traditional boho materials of wicker, rattan, and jute. Or you could opt for a modern boho look with a metal and glass pendant. The choice is yours!
Let me know which of these lights you like best – share your opinions in the comments section. And don't forget to follow Quiet Minimal for all the latest tips, trends, and home inspo.