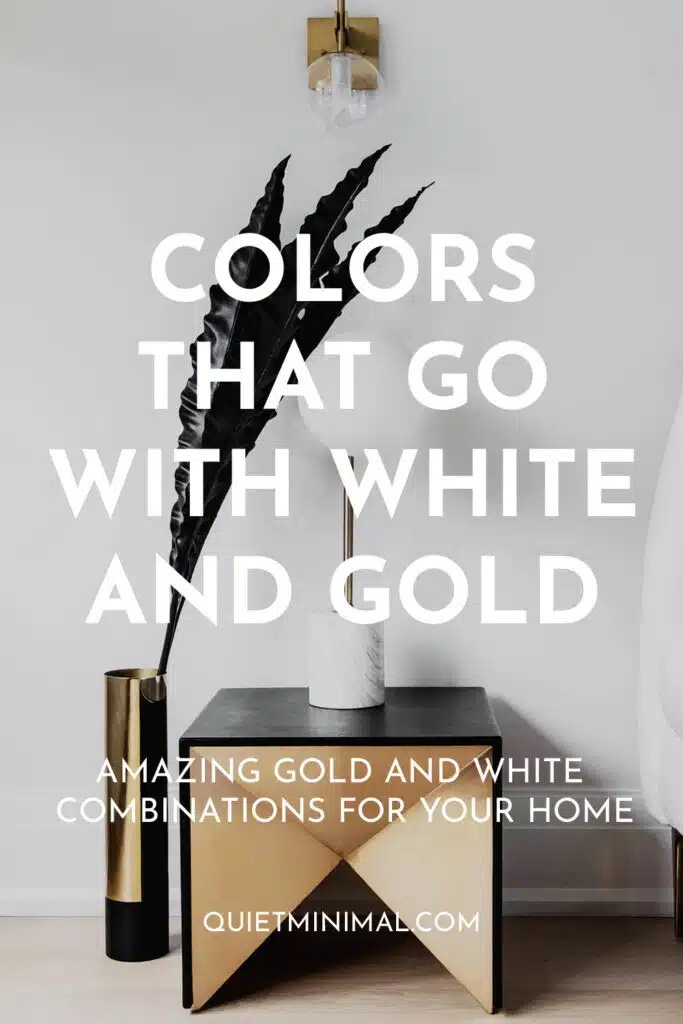 White and gold is a match made in interior design heaven! It's elegant and sophisticated with a luxurious feel. White is a clean, fresh color that maximizes the spacious feel of any room. Add some gold touches, and you'll have a gorgeous home! But what colors match with white and gold?
Knowing what colors to pair with your white and gold palette can be tricky. You don't want to outshine your gold accents or choose a shade that clashes with it. So, here are ten amazing ideas for colors that go with white and gold!
What Colors Go With White and Gold?
Here are suggestions for colors that look amazing with a white-and-gold color palette. Take inspiration from these ideas you can use in your own home!
You'll find a range of looks from classic to minimalist or cozy and traditional. There's something for everyone, no matter what your design style is. So, browse through the suggestions and take your pick.
Emerald Green
Emerald green is a lush jewel tone which is the perfect addition to a white and gold room. It's a cooler color, so it contrasts nicely with warm gold. And it brings out the sparkle of this metallic shade. The result is an elegant and stylish room.
Whether you're going for minimalism or a boho feel, this color scheme works. So, you have the versatility to go to town with the look and make it your own. 
Classic Black
Black might not be the first color that pops to mind, but it's undeniably simple yet classy. Adding a few black elements to your white and gold room will help to anchor the space. And your gold items will look even more eye-catching against such a dark backdrop.
A black accent wall is a bold look that can pay off if you love to make a statement. 
Black and white accessories are also easy to find. For example, you could go for a geometric patterned rug or curtains. You can also find gorgeous abstract artwork to complete the look. Simply add golden fixtures, and you'll have an iconic design theme.
Royal Purple
Purple is another color often associated with luxury – hence the name royal purple. In previous centuries, only royalty could wear the color purple. So, it became synonymous with elegance and style. So, you can pair gold, white, and purple together for an iconic color palette!
Deep purple looks incredible when contrasted with shiny gold. These colors are on the opposite ends of the scale, but that means they work well together. Opt for a rich purple with berry undertones to complement your warm golden color scheme.
Sophisticated Red
Red will always make a statement in any room. But paired with gold, it's a rich and glamorous combination. You can use these colors together to draw the eye and spice up your space. Depending on the furniture you choose, this look could lean towards modern or classic.
Red walls will add warmth to a living room and highlight your gold accessories. But if that look is too much for you, go for white walls and some carefully chosen red accessories. A bright red clock or vase will become a focal point. Or you can tone it down by selecting a muted red shade for a softer look.
Warm Brown
Are you looking for a neutral color to pair with white and gold? Consider going for brown. It's a warm color that will complement gold without distracting from it. And wooden furniture looks classy and stylish with this interior design style.
If you want to keep it light and minimalist, blonde wood is the perfect option. But for a more traditional style, solid dark wood adds a touch of glamour and sophistication. You can source fantastic vintage pieces at antique stores. Or even keep your eye out on online marketplaces for any unexpected bargains.
Gold tints will look gorgeous when paired with navy blue. The metallic sheen of gold accessories will stand out even against this dark blue shade. You'll create a deep contrast that draws the eye and really brings out the sparkle.
And this match will look gorgeous in any room, from the bedroom to the kitchen.
Sapphire Blue
You might not want to add such a dark tone as black or navy to the color palette. In that case, sapphire blue is an excellent choice. It's bright, beautiful, and looks amazing with gold. It's another jewel tone that pairs well with a metallic color like gold. But it's also peaceful, calm, and uplifting.
Blush Pink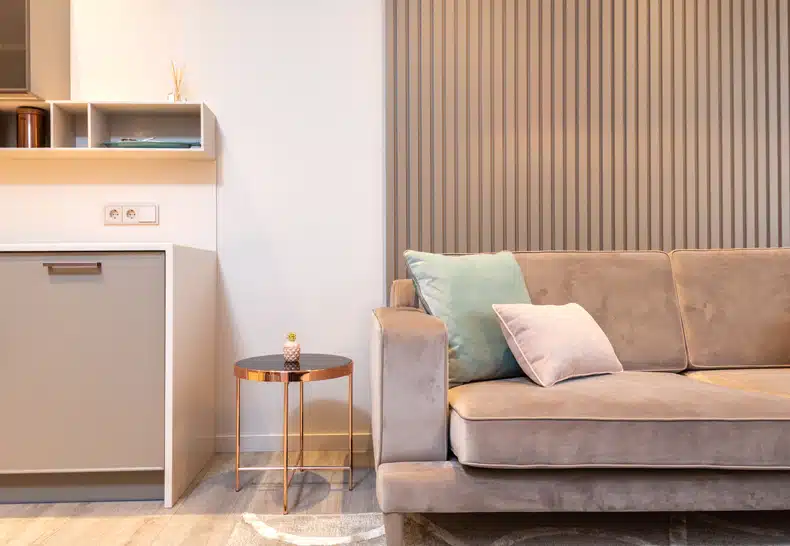 If you're happy with your white and gold color scheme, you might still want to add a touch of color. You won't go wrong with blush pink, a sophisticated color that matches wonderfully with gold. It's not too dark or overbearing, so it won't dominate the room. Instead, it's feminine, fresh, and pretty.
You could go for a darker shade of pink to add more contrast and balance to the color palette. Consider opting for a velvet pink sofa or curtains for a touch of glamour. Or a pink accent wall is the perfect backdrop for white furniture and gold accessories.
Rust Orange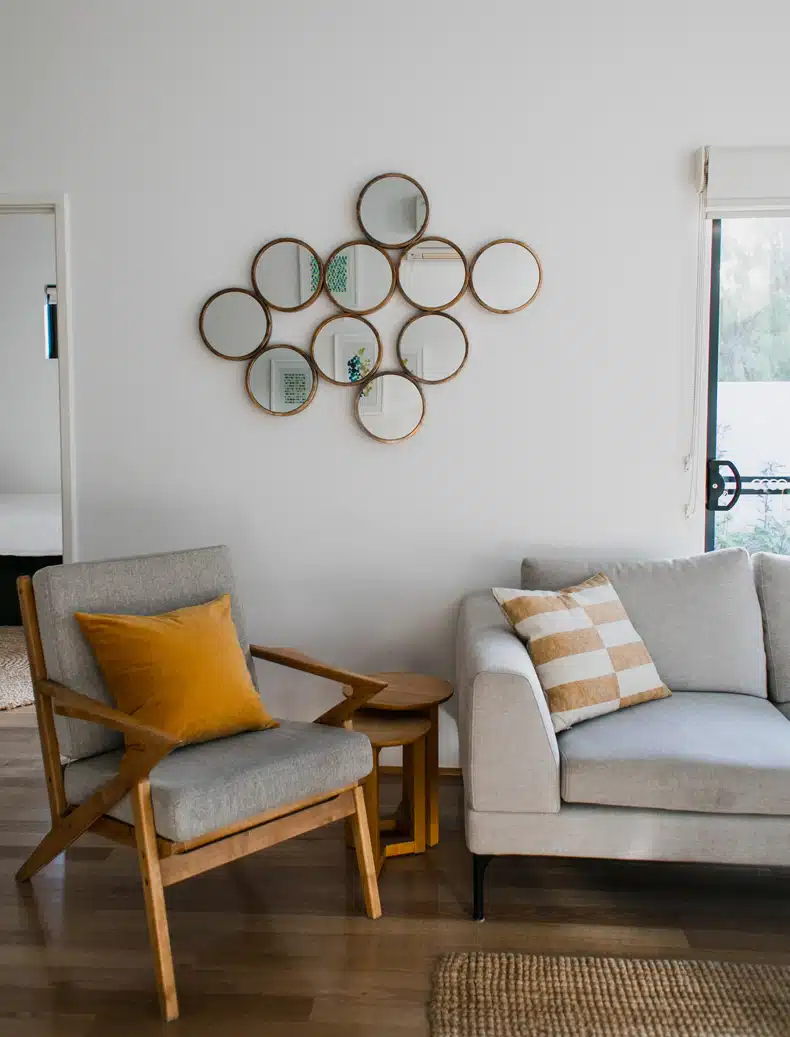 A rusty orange shade is another stylish color to pair with gold and white. Just like gold, it's a warm color on the color wheel, so they complement each other. It has similar tones but is deeper and darker than gold. So, you get a nice contrast by pairing these analogous shades together.
For example, you could go for a gorgeous burnt orange sofa and gold throw cushions. Or if you have terracotta tiles in the kitchen, add some gold accessories to the mix. Make sure you have plenty of white space to ensure that your room feels fresh and breezy. That will help to balance out these strong, rich tones.
Soft Grey
Gold is quite the statement color for your home. If you want it to take center stage, you can team it with a soft neutral grey shade. It will harmonize with your white-and-gold color palette without competing for attention.
Almost any shade of grey can work with gold, from pale tones to deep charcoal grey. But a darker shade is a smart move to create more contrast and add visual interest to the room. 
Mint Green
This refreshing color is another option for your white and gold color scheme. It will add a splash of color and brighten any room. As it's a light color, it works well in smaller rooms to make it feel more spacious. This color combination is perfect for a stylish kitchen (or even a bathroom).
You could go for mint green tiles or paint your cabinets in a mint shade. Pair with white walls and gold fixtures, and it's a kitchen to die for. You'll be the envy of all your neighbors. 
The Wrap Up
As you can see, choosing the right accent color for a white and gold room can take it to the next level. Pairing a complementary color with gold will make your room look even more stunning.
By now, you have a good idea of which accent color you'll choose. It's easy to create any design style, from fresh and minimalist to warm and cozy or classic and stylish. So, the choice is yours!
Let me know which of these colors you think looks best with white and gold in the comments below!
And follow Quiet Minimal for more home design and minimal living tips.