A coffee table is an essential piece of furniture for every home. It's a useful spot to display some books or place your drink as you relax at the end of the day.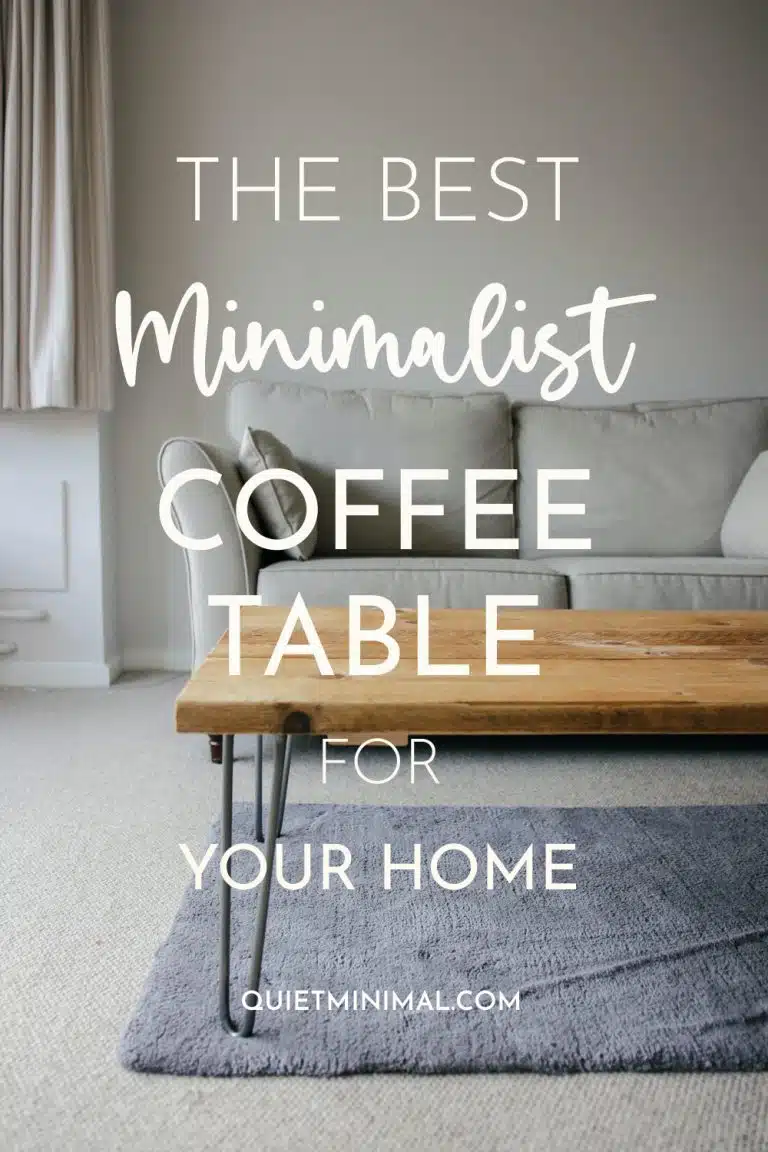 With minimalism so popular, there are tons of gorgeous minimalist coffee tables around. The right minimalist table will create a spacious, relaxed atmosphere.
A coffee table is a focal point that people gather around in any room. So, you want a beautiful table that is also practical.
I've found some of the best modern coffee table designs for your minimalist home. Read on to find that perfect minimalist coffee table to complete your living room.
Buying Guide for a Minimalist Coffee Table
There are a few things to keep in mind when choosing any piece of minimalist furniture for your home.
This is especially true for a coffee table. a coffee table for your home. This essential piece of furniture is an accent feature in any room, drawing the eye.
While there are loads of great coffee tables out there, not every style will suit your house.
Choosing the Right Minimal Coffee Table for Your Room
You want to choose a coffee table that enhances your room. It should fit with the style, color scheme, and layout of the room.
Size
The coffee table needs to suit your room, and the size is an important factor. If you have a spacious living room, a tiny coffee table will look lost in all that space.
But if you're tight on space, you don't want the coffee table to overwhelm the room. It's all about getting the balance right.
Coffee Table Styles & Designs
As you'll seen from the products bellow, there are all sorts of coffee table designs around. You can choose from rustic, sleek, stylish, or traditional. Think about what style suits your home and will provide the perfect finishing touch to the room.
You want a design that isn't so simple that it becomes boring. But at the same time, it should complement your existing look and individual items like your sofa.
Color & Materials
The color and material of the table are key pieces of the puzzle when choosing the best minimalist table.

Do you want a monochromatic table that goes with any decor? Or maybe you want to introduce a pop of color into your room?

Lighter designs can make a room seem more airy and open. While darker tables feel cozy and welcoming, especially on cold winter evenings.
Functionality
The last thing to consider is whether you need a multipurpose table. What function will your coffee table serve? Is it just for display, or do you need it to double up as storage space?
Some coffee tables have shelves for storing smaller items or books. You know what your living room needs, so keep that in mind when shopping around!
11 Best Coffee Tables for Small Spaces and Minimalist Homes
Walker Edison Cora Modern Round Faux Marble Top Coffee Table
Image credit: Walker Edition
If you want a sophisticated and glam living room, then you need this faux-marble coffee table. It's bold and iconic, with a white faux-marble top and gold table legs. These materials contrast beautifully with each other. This table is sure to become a focal point in your home.
The light shades and X-cross leg design create an airy and spacious illusion. It's perfect for a minimalist home.
This coffee table is generously sized at 36 inches. But it also comes in a 16-inch design if you need a minimalist side table.
It's easy to put together, thanks to the detailed instructions. Maintenance is also simple – you just need to wipe it down with a wet cloth.
This beautiful faux-marble table is the perfect feature item for your room
It's also functional with a large surface for your items
The marble covering can chip off if you're not careful
---
NSdirect 36 inches Round Coffee Table
Image credit: NSdirect 36
This gorgeous wooden coffee table will make any room feel warm and inviting. With a round design and smooth lines, it's understated yet stylish. But it's also convenient, with plenty of space for all your items.
You can use the top surface to display an ornament or vase and anything you need handy. The bottom shelf provides more storage space for books, magazines, and other items.
This small-scale coffee table allows you to make the most of your space. The elegant mix of wood and metal materials will suit any room decor to create a cozy ambiance.
It's durable but also eco-friendly. The multi-step finish ensures that it's waterproof, hardwearing, and a good investment! But it looks vintage and classy with the natural grain design.
This gorgeous round coffee table has lots of storage
It looks classy and stylish but is also eco-friendly
You'll need to assemble it yourself
---
Sauder North Avenue Coffee Table
Image credit: Sauder North Avenue
This simple and practical coffee table gets to the core of a minimalist design. It's all sleek lines and multipurpose functionality.
If you want a hard-wearing table large enough for all your items, grab the Sauder North Avenue table. There's enough space to sit and chat over tea and biscuits with a friend. You can use the lower shelf to organize your items, so your room isn't cluttered.
The black metal frame is robust, while the Oak finish complements any color scheme. It's just the right shade – not too dark or light – and the rustic wood finish looks attractive.
It's also eco-friendly, as it's made from sustainable, responsibly sourced wood. So you can feel good about this table!
This coffee table is simple, minimalist, and versatile
It will suit any room decor and provides lots of storage space
Assembly is required, but it's quick and easy to put together
---
Walker Edison Anastasia Coffee Table
Image credit: Walker Edition
This robust and sturdy coffee table is one of the best modern wooden coffee table designs around. It's compact, which makes it ideal as a minimalist side table or for cozy little rooms.
The reclaimed wood contrasts with the black metal for a rustic yet industrial feel. The striking leg design is a design feature and creates a sense of space around the table.
The round shape makes it safe for young children, as there are no sharp corners. It's also strong enough to support 100 lbs, so you won't need to worry about overloading this table.
This low-profile table is compact yet very robust
It will look great in any industrial or rustic style room
It's a little expensive for what you get
---
Sauder Harvey Park Coffee Table
Image credit: Sauder Harvey Park
Glass coffee tables are sophisticated and elegant. The transparent material creates a sense of space, making the room feel larger. So, this Sauder Harvey Park coffee table is ideal for small or larger rooms.
The glass and metal table will complement your existing decor. Its graceful round form and delicate glass top make it stand out as an accent piece in your home.
But it's also super sturdy, as the glass is safety-tempered. The metal frame with four legs and an extra bottom frame provides more support. So, you don't need to baby this item, and it's even suitable if you have children in the house.
This sleek and stylish coffee table is the perfect addition to your minimalist home!
This glass and metal coffee table is beautiful and minimalist
It's straightforward to put together and offers great value for money
There's no storage space or shelves
---
Walker Edison Rectangle Coffee Table
Image credit: Walker Edition
This coffee table is about as minimalist as they come. Yet, it's elegant and stylish.
The white tabletop makes your room feel bright and spacious and will suit any color scheme. The bold leg design adds an interesting element while ensuring the table's stability.
This table is made from premium MDF with a stylish marble finish. It looks and feels high-quality and is durable enough to support 75 lbs. So, you can add accessories as finishing touches to decorate your room.
You can also buy matching side tables if you want the complete set. It's very easy to put together in less than 10 minutes – even if you're not into DIY. Maintenance and ongoing is quick and easy, allowing you to relax and enjoy your living room.
This elegant coffee table will look great in any room
The white faux marble and gold metal have a beautiful contrast
It's made from MDF rather than solid wood
---
Walker Edison Hollin Square Marble Top Coffee Table
Image credit: Walker Edition
Many coffee tables are rectangular or round. But a square table is another excellent choice. As it's less common, it feels modern and bold yet akes up less space than your standard rectangular design.
The Walker Edison Hollin is one of the best square coffee tables around. It's sleek, simple, and sophisticated.
This table has a white faux marble top that contrasts with the bottom shelf's rich wood tones. Striking gold legs complete the look, placed not on the corners but in the middle of each side.
If you're looking for a beautiful and practical design, you won't go wrong with this coffee table. It's available in three different sizes (20, 32, and 26 inches), so you can find the best fit for your space.
This coffee table combines different elements for a unique look
It provides lots of storage space and is easy to clean
You'll need to avoid bumping into those angular corners!
---
Monarch Specialties Coffee Table
Image credit: Monarch
Minimalist homes emphasize white space, clean lines, and neutral colors. The Monarch table uses tempered glass panels instead of legs to create this effect. You can see right through to the other side, making your room feel spacious and airy.
The unusual combination of a wooden tabletop and glass sides isn't often seen. It's beautiful and makes the table appear to be hovering in midair.
You don't need to worry about the sturdiness, either. The tempered glass is designed for this purpose and can easily hold 30 lbs.
This coffee table is a gorgeous addition to any room. It maximizes the space and is the epitome of minimalist design.
This strong yet simple table is modern and chic
It can support a reasonable amount of weight and is easy to assemble
The glass panels may not be the best option if you have young children
---
Care Royal Vintage Industrial Farmhouse Coffee Table
Image credit: Care Royal
For a cozy minimalist home, this Care Royal table is the perfect item. This low-profile modern coffee table sits directly on the ground. So it's very stable, and there's no space to collect dust.
It's rustic yet chic, with plenty of space for pretty accessories or tasty snacks. You can also use the bottom shelf to store anything you want to have nearby but tidy and neat.
The Care Royal coffee table is made from a combination of reclaimed wood and a metal frame. Each table has its own character, thanks to the unique wood grain, knots, and whorls.
This table is environmentally friendly, sturdy, and functional. It mixes the best industrial, rustic, and minimalist design for a casual yet charming look.
It's solid and sturdy, with a rust-resistant finish and low profile
You get plenty of storage space with a bottom shelf and a large top surface
Every table is slightly different due to the reclaimed wood used
---
Zinus Wood Metal coffee table
Image credit: Zinus
If you're looking for a sturdy yet sleek coffee table, check out this Zinus wood & metal coffee table. Its simple, clean lines and storage space make it perfect for the minimalist home.
The design is understated yet attractive. It features tapered metal legs and a slatted pine wood surface with a premium finish.
Every item in the minimalist home should have a dedicated place. You can use the large extra shelf to store magazines, books, and other small items. So, you can keep your living room neat and organized for a stress-free, welcoming space.
This coffee table is easy to put together and comes with everything you need. It's even covered by a 1-year warranty for your peace of mind.
This beautiful coffee table will suit any living room
It's high-quality, durable, and stylish, with extra storage space
It's quite large so not ideal for smaller rooms
---
Olee Sleep 46″ Cocktail Wood & Metal Legs Coffee Table
Image credit: Olee Sleep
This simple coffee table is stylish yet practical. It's made from solid pine wood, so it's durable and built to last.
The natural wood will look gorgeous in any minimalist home, no matter what room decor you have. You can see the wood grain in the tabletop, making each item slightly different and unique.
The X-shape metal legs provide a nice contrast to the metal and increase the stability of the table.
It's also a good size with a generous shelf underneath the table for extra storage. This table offers excellent value for money, as it's very affordable for a solid wood table.
It's simple, practical, and minimalist
This table is built from solid wood and will last for years
The table surface is a little uneven rather than flat and smooth
---
Final Thoughts
A coffee table is an essential item for any home, as it's both practical and decorative.
A minimalist coffee table will ensure that you make the most of your space. So take your pick from these stylish tables and let me know which one you like best!
Follow me on Pinterest for more reviews, guides, and tips for minimalist design and living.