With more people than ever working from home in 2021, ladder desks are trending! And for good reason too. These practical desks take up very little space, so you can create a work area in any room.
Ladder desks are the perfect examples of minimalist design. They're compact and stable yet sleek and elegant. Clean, simple lines. It's where style meets practicality.
A ladder shelf desk is perfect for anyone short on space. And there's something for every budget.
Whether you're a student, tiny-home owner, or work from home, check out the top ladder desks below!
Buying guide: How to Choose the Best Ladder Desk
If you keep these factors in mind as you compare ladder desks, you'll find the perfect option!
Size
The size is essential when it comes to picking a ladder desk. First of all, check how much floor space it takes up. You should also find out how much legroom you'll get.
Finally, don't forget the dimensions of the desk surface, too. Is it big enough for your needs?
If the ladder desk ticks these boxes, move onto the next factor!
Materials & Design
There are all sorts of ladder desks available. You'll find a range of styles, from modern to rustic, industrial or elegant.
Think about your room decor and choose a leaning shelves desk that will fit in with the look. A ladder desk should look attractive and can even become a stylish room accent.
Most ladder desks are made from metal, MDF, or solid wood. With all these options, you're spoilt for choice. You should look for a sturdy, durable desk that provides a lot of stability.
Assembly
Some ladder desks will come fully assembled. But most models will need some assembly.
How handy are you at following instructions and using tools? If you're an expert, you'll have no problem putting together any desk.
But if DIY isn't your strong point, then you'll want a simple design with clear, detailed instructions. Reading the reviews is a good way to find out how complicated the setup is.
Make sure to find out whether you'll need any extra tools or if everything is included in the box.
Extra Features
Does the ladder desk have any extra features, like shelves or storage?
Multifunctional furniture is popular for minimalist homes. Consider whether it's an essential factor for you. What exactly do you need from the ladder desk?
Some designs will double up as a ladder desk and bookcase with several shelves. You can even add a few decorative items to personalize it. Other ladder desks are very simple and streamlined.
It's up to you! If you think about these questions in advance, you'll have no problem choosing the right ladder desk.
The Best Ladder Computer Desk: My Reviews
C-Hopetree Ladder Desk with Shelf
Image / C-Hopetree
This sleek, simple C-Hopetree ladder shelf is perfect for minimalist homes. It provides a generous workspace of 27.9 x 18.5 inches while only taking up 29 x 19 inches of the floor.
There's plenty of legroom, no matter how tall you are. This desk is ideal for any room, from the entryway to the living room or bedroom. It's compact enough to fit in the smallest studio apartment.
The combination of wood and metal creates a modern design with industrial tones.
It looks stylish, and there's an extra shelf at the top for any small items. You can display photos or keep your supplies at close hand.
It's sleek, stylish, and easy to clean
It's compact but provides a generous desk space
There's limited storage space, and the shelf is too narrow for books
---
It's_Organized Ladder Computer Desk
Image / It's Organized
This sturdy black ladder desk by It's Organized will look great in any room. With a metal frame and carbon steel legs, it's stable and robust. It can support up to 80 lbs, making it one of the strongest ladder desks around.
Adjustable foot pads make it versatile and prevent any marks on your floor. The antique-style surface is waterproof and scratch-resistant for durability.
It's pretty large at 23.6 x 43.1 inches, so make sure you have enough space. But with a height of 52.6 inches, it's great for rooms with low ceilings or overhead cabinets.
You also get a large upper shelf to hold your books or other items. The surrounding frame stops things from falling off the back or sides.
This stylish black ladder shelf is practical, modern, and looks attractive
It has a large extra shelf and wide desk to work on
You'll need to assemble it yourself
---
HOOBRO Ladder Computer Desk
Image / HOOBRO
This ladder desk is as simple as they come, with a sleek, streamlined design. This desk is sure to become a feature piece for your room.
It's also perfect for working on your laptop or studying. The wooden design creates a rustic feel, while the shelves are large enough for books or other items.
This ladder shelf desk won't look out of place in a bedroom, living room, or even a corner of the kitchen. It's also very affordable, making it a great budget option that looks premium.
The minimalist design is attractive yet practical
It's super compact but has two large shelves and a good workspace
It may not be as sturdy as other models
---
Monarch Specialties Ladder Desk
Image / Monarch Specialties
If you need plenty of shelf space as well as a desk, the Monarch Specialties ladder desk is perfect for you.
This sturdy, multifunctional piece has a desk and three extra shelves. So, you can store books, supplies, and even a printer on it.
It's ideal if you need a full office setup but doesn't have the room for a larger desk.
The computer shelf measures 23.5 x 23.5 inches, giving you ample space to work on. The best part is that it folds up to make this desk even more compact.
The clean lines and white finish make this ladder desk look fresh and modern. It will fit seamlessly in most rooms, no matter what decor and furniture you have.
All these features combine to make it one of the best white ladder desks around.
It looks striking and fresh but is sturdy and stable
You get lots of storage and shelf space, and the desk folds in when not in use
The assembly is quite complicated
---
American Trails Freestanding Ladder Desk
Image / American Trails
This eye-catching, modern design American Trails Freestanding Ladder Desk deserves a place in every minimalist home. It's all sleek lines, while the white shelves and wooden frame create a Scandinavian vibe.
Despite the simplicity, it's also practical and super sturdy. This ladder desk is built to last, making it a wise investment at an affordable price.
The natural maple wood provides a solid frame, and the desk can support up to 40 lbs with ease. An extra bream long the bottom offers even more stability.
And that's while only taking up 33.75 x 15 inches of floor space.
As for storage, you get two top shelves, a cubby, and a slide-out drawer.
There's plenty of space to display books or photos. You can tuck your stationery and smaller things out of sight to reduce visual clutter.
The durability and unique design make this model one of the best ladder desks around!
It's durable and robust with a natural hardwood frame
There's lots of storage while taking up very little floor space
The instructions are a bit confusing
---
Nathan James Theo 2-Shelf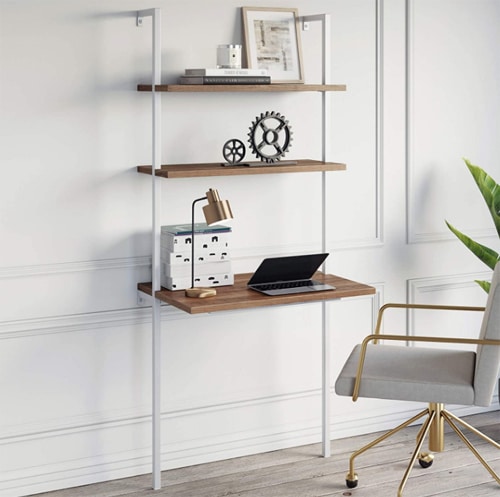 Image / Nathan James
This Nathan James Theo 2-Shelf ladder desk is exactly what the name suggests. The metal frame attaches to the wall for extra support. While the vertical build makes it extremely compact.
That makes it one of the best ladder desks for tight spaces. You will need to assemble and mount it, but then it's the perfect place to work, write, or craft.
You can take your pick from three different colors to fit your room:
Rustic oak with a white frame
Nutmeg wood with a black frame
Whitewood finish with a gold frame
Each design is stylish and eye-catching. The desk is narrow but wide at 30 x 20 inches, and there are loads of legroom beneath it.
This ladder desk is high-quality, durable, and practical. The manufacturer even provides a 100-day trial period to see whether you like this desk.
It's attractive, sturdy, and compact
It saves space while providing two shelves and a desktop surface
You'll need to assemble and mount it to the wall
---
Walker Edison Industrial Wood and Metal X-Back Ladder Desk
Image / Walker Edition
The Walker Edison desk is solid and stable due to the steel frame and reinforced design. While it may not strictly be a ladder desk, it's close enough for me!
This metal and wood desk will suit modern and industrial room decors. It even has a slightly rustic feel due to the dark wood.
With three cubbies and a shelf, it's handy to keep all your supplies and books nearby. Or, you can use it to display a vase of flowers or some photographs.
You'll need to assemble this desk, but it shouldn't take longer than an hour. It feels sturdy and doesn't wobble.
Overall, this desk is reasonably priced and a minimalist solution for small spaces. It doubles up as a desk and mini-bookcase.
It has a striking, minimalist design but provides extra storage
The metal frame is sturdy and stable
Assembly takes some time
---
SIMPLIHOME Aleck Solid Wood
Image / SIMPLIHOME
If you have a traditional or rustic-style home, you'll love this gorgeous SIMPLIHOME Aleck ladder desk. Made from solid wood, it's simple yet sturdy and built to last.
It's hand-finished with a dark walnut stain and lacquer coating to protect the wood. That means it's resistant to scratches, stains, and water damage.
But keep in mind that it's not a standalone desk. You'll need to attach it to the wall with the included mounting hardware. So, it might not be the best choice if you hate all things DIY.
The small top shelf can hold a few carefully chosen items (but it's not large enough for books). You can tuck away your notes and pens in the two drawers to keep things tidy and organized.
This desk will stand out and add a touch of class to any room. With its clean lines, it's perfect for any minimalist.
It's made from solid and sturdy pinewood
The drawers and shelf add some useful storage
You need to mount it to the wall
---
Haotian Modern Ladder Bookcase
Image / Haotian
This compact and practical ladder desk by Haotian Modern is popular, and for a good reason.
It's stylish, multipurpose, and has a small footprint. You can tuck it in the corner of any room, and it won't look out of place.
It has three shelves of ascending size, and the desk has a smart design. It folds down to double the surface area, but you can fold it up to save space when not in use.
This flatpack desk ladder and bookcase require self-assembly. It comes with instructions and all the pieces, but you'll need to be quite handy to put it together.
As it's made from MDF, it's not the most robust ladder desk out there. Each tier can only support 33 lbs, so make sure not to overload it.
This clever, minimalist design is compact and multifunctional
It has three shelves and a fold-up desk space
The MDF design isn't very robust
---
Grepatio Ladder Desk with Bookshelves
Image / Crepatio
Last but not least is the Grepatio ladder desk and bookcase. This sturdy design exudes durability and classic style.
While it's made from MDF, it looks and feels high-quality. The powder-coated steel provides support and stability. It has an impressive upper weight capacity of 220 lbs.
Despite the compact, minimalist design, it has plenty of storage options. There are two decent shelves and two streamlined drawers within the desk. So, you can keep things handy but out of sight.
You do need to assemble this desk from scratch. But detailed, step-by-step instructions make it quick and easy. It's low-maintenance and easy to clean while durable enough to last for years.
Grepatio even offers a 60-day replacement guarantee if you're not happy with the product.
It's compact yet sturdy and can hold up to 220 lbs
There are lots of storage options and a large desk to work on
You'll need to assemble it yourself
Final Thoughts
Investing in a ladder desk is a wise solution for tight spaces. It's much more comfortable than working from your sofa or bed and gives you a dedicated space for your work.
So, you'll boost your productivity and get more done. A small ladder desk is also elegant and stylish, doubling up as an eye-catching accent for your room.
Take your pick and let me know which is your favorite ladder computer desk in the comments.
Follow me on Pinterest for more minimalist design tips and ideas!