A table is an essential piece of furniture for your home, and there are so many different types of tables out there.
We eat at tables, get ready for the day, work, write, and relax all around tables. They provide a useful surface to keep items on and for many other purposes.
Choosing the right types of tables will make your home practical yet stylish.
There is a wide range of styles, looks, and designs available, ranging from basic to luxury tables. And there's a table for every room, from the living room to the kitchen or dining room and the bedroom.
It's easy to overthink which tables you need or even to get mixed up with the furniture names. So, here's a quick and simple guide to the most common types of tables you may need in your home.
10 Different Kinds of Tables to Consider for Your Home
1. Dining Table
Every home needs a dining table you can gather around to share meals. It's one of the focal points of the home, bringing people together and making them closer.
There are so many different types of dining tables that you're sure to find one that suits your home.
They can range from modern to rustic, traditional to industrial. You can pick a cozy little two-seater dining table or one large enough to host large dinner parties.
So, you're sure to find a dining table that complements your home's interior design style.
2. Coffee Table
A coffee table is another vital piece you need in your home. It's the perfect spot to keep items handy or pop your drinks while you watch TV or chat with a friend.
Coffee tables tend to sit low to the ground, with seating areas placed around them.
In your living room, the coffee table draws the eye, so you want it to fit in with your room as a whole.
You'll spend a lot of time sat around your coffee table, so choose wisely! It should be a piece of furniture that you love, looks great, and is just the right size for your space.
Check out my roundup of the best minimalist coffee tables for my recommendations!
3. End Table
End tables are practical little tables that will fit into almost any spot. They tend to be fairly small and sit neatly next to your sofa or armchair.
They make the perfect spot for keeping drinks, your phone, remote control, or your book handy.
An end table is one of the most useful additions you can make to your home. They're essential in the living room but can also double as a nightstand in your bedroom.
End tables can vary hugely in design and materials, from the basic to the decorative.
Most commonly, you'll find wood end tables of every style, color, and design. But end tables can also come in metal, rattan, or other natural materials.
4. Nested Tables
Nested tables are an excellent solution for any minimalist home. They take up very little space, yet they provide lots of extra storage.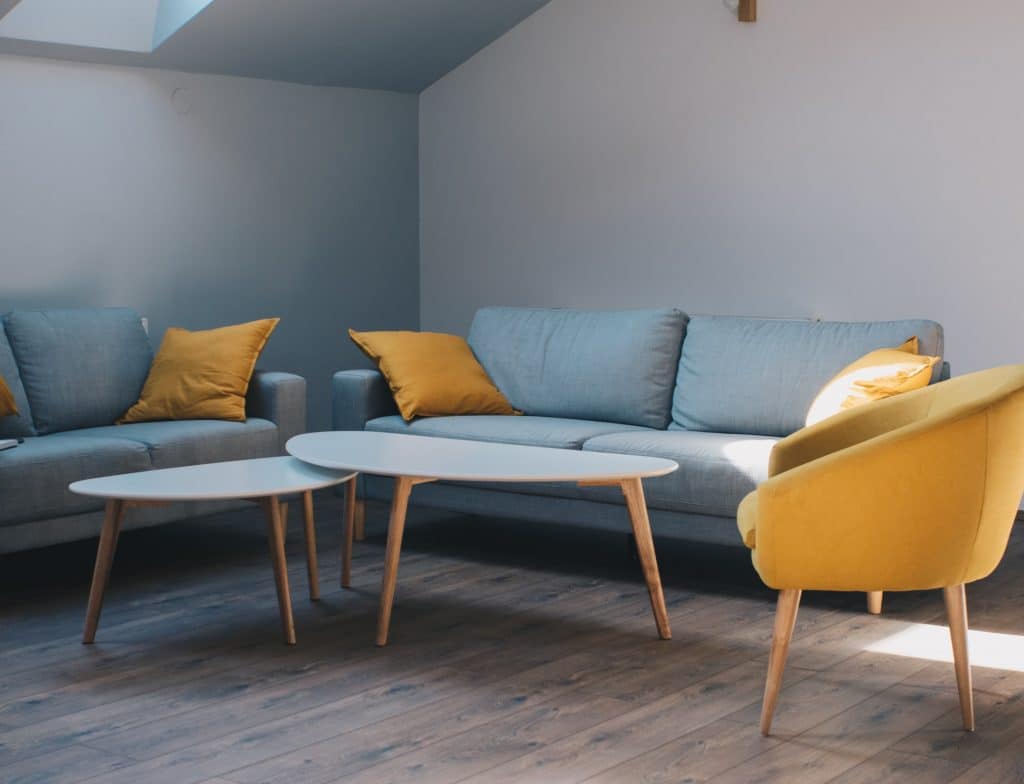 Nested tables are normally a set of tables that fit together and pack away neatly. But if you need extra surface space, you can spread them out or place them wherever you like.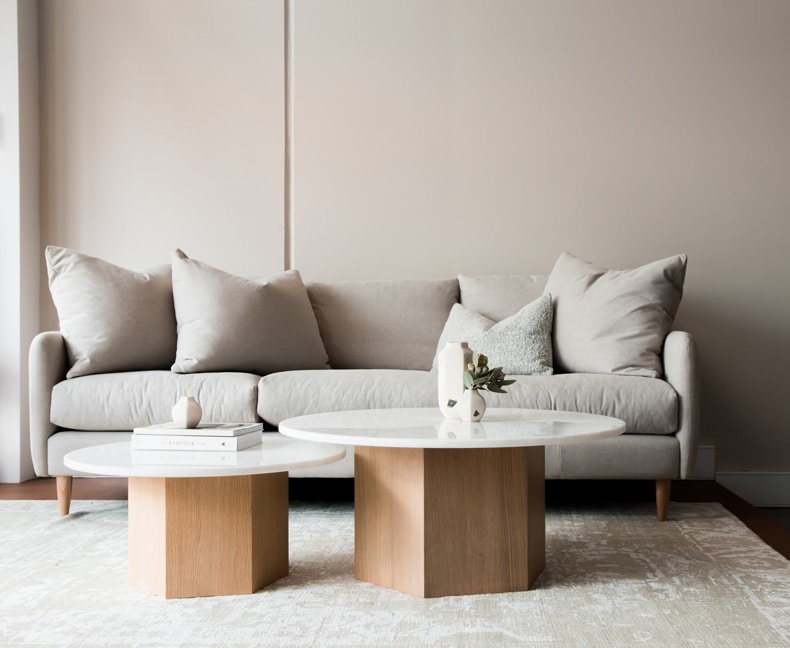 When you need somewhere to put a drink, you can pull out a nested table. But you can tuck it away when you're done, so you don't have a permanent fixture taking up space.
They are practical, versatile, and ideal for when you have guests round to your home.
5. Cocktail Table
A cocktail table will add some flair and glamor to any room and take the style up a notch.
You can find a place for a cocktail table in your living room. But they look just as good outside in a space you use for socializing.
Cocktail tables are tall and slim, just large enough for a few drinks. As a result, they aren't the most practical or sturdy tables.
But they also don't take up much space and create a focal point for people to gather around. So, if you like bringing people together in your home, a cocktail table could be just what you need!
6. Console Table
Although console tables aren't the most well-known of the types of tables, they do have a rich history.
Console tables date back to 17th century France, where they were narrow tables mounted to a wall.
Other common names for console tables are sideboards or buffets. Nowadays, you'll find that console tables often sit in your living room and provide a base for a TV.
Modern consoles tend to have two shelves, making them a great option for extra storage in your home. You can store books and magazines on them, or even toiletries in your bedroom or bathroom.
As they don't take up much space, a console table also works well in narrow hallways.
If you are short on space but need a surface to put things on, consider adding a console table. They look both stylish, sturdy, and practical.
7. Accent Table
An accent table is a piece that focuses more on the design than practicality. They tend to be more daring or unusual and can draw the eye.
A well-chosen accent table can add some pizzazz and spice up a room.
You can go for an accent table that either complements or contrasts with your room's interior style. With so many different types to choose from, you'll be spoilt for choice.
Knowing how to use accent furniture is key to creating an effortlessly stylish home.
An accent table can add a pop of color to a room or mix up the styles. It's also handy for balancing out the room and filling any awkward empty spaces.
8. Vanity Table
When it comes to tables, don't neglect your bedroom! Every stylish bedroom should have a vanity table. It's where you can keep your essentials and get ready for the day.
A vanity table is normally a slim table with four legs and a low chair or stool to sit on. It often has small drawers for storage, and the stool will tuck neatly away beneath the table when not in use. That saves space, so a vanity can fit in almost any bedroom.
If you want your bedroom to feel classy and feminine, a vanity table is an ideal addition. You'll feel fashionable sat in front of your mirror at your vanity table.
These tables often have a classic look, but you can also find modern vanity tables. So, there's something for every bedroom.
9. Bar Table
If you like to have visitors in your home, you need a space to prepare drinks and place snacks. A long, thin bar table could be the perfect solution.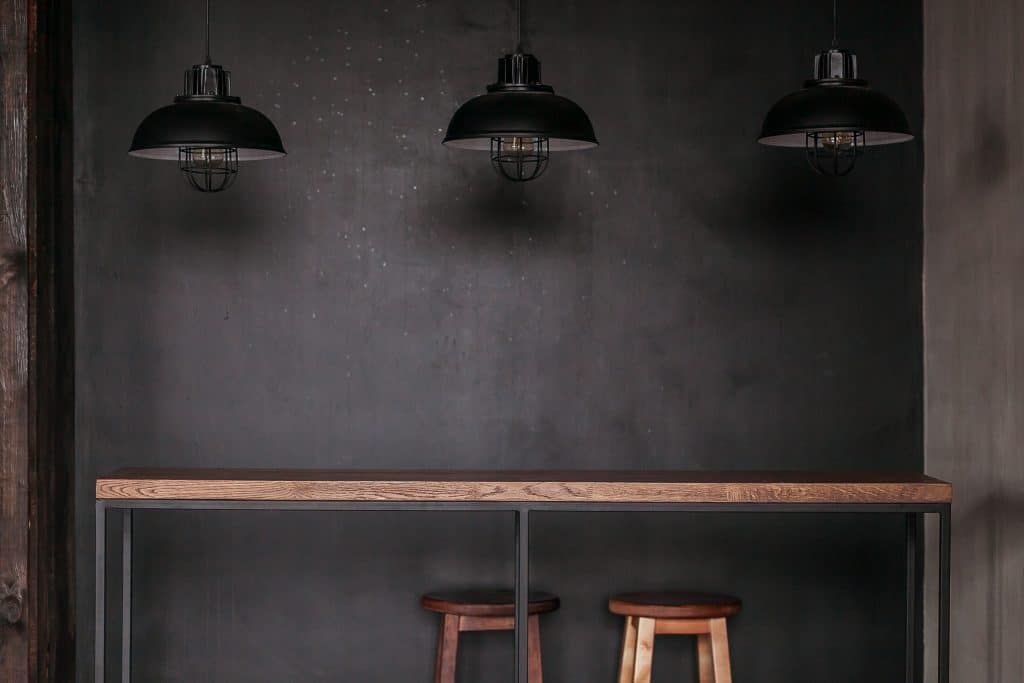 A bar table can also be useful for preparing meals or eating your breakfast. If you live in a small apartment or you're tight on space, it could even replace your dining table.
These tables are normally high and narrow and sometimes have stools so you can sit up at the bar. They look just as good in a kitchen as in a dining or living room and make a great space for chatting with guests.
As bar tables tend to be simple yet sturdy in design with clean lines, they fit nicely in a minimalist home.
10. Patio Table
Your outdoor space is just as important as your interior rooms. So, it deserves elegant furniture, too. That's why it's vital that you pick a great table for your patio, balcony, or garden.
Outdoor tables come in many shapes and sizes. You can find tables that sit low to the ground, as your regular coffee table. Or, there are full-sized tables where you can sit with friends for a meal.
But these tables tend to differ both in style and materials used. For an outdoor table, you need something that's built to withstand the elements and won't break or show its age. They need to be sturdy, water-resistant, and weatherproof.
Most outdoor tables are made from durable treated wood, synthetic materials, or metal. Rattan or wicker tables are other popular alternatives.
A patio table will often have a more relaxed look, as it's a space for relaxing and entertaining. The perfect spot for a leisurely picnic lunch or drinks as the sunsets.
Tip: save the image above to your Pinterest to re-read this article later!
Final Thoughts
You may not need every type of table on this list, but you will need at least a few of these tables!
As one of the most important pieces of furniture in a home, it's worth thinking carefully about the tables you need.
You want to choose a table that will complement your interior design. It should be functional, but also look great.
Let me know in the comments if I missed any types of tables! Then, follow me on Pinterest for more interior design tips and inspiration.