To make a dark bedroom cozy, you'll need to pick a suitable color palette that will set the tone of the design.
It is essential to use the correct lighting in darker spaces. It would be best to add a contrasting feature and plan your décor to add warmth.
If black is your favorite color, or you aren't a fan of light rooms because they hurt your eyes a little, making your bedroom dark and moody might be more your aesthetic. Although you want a dark room, that doesn't mean it has to be cold – it can be cozy too.
To guide you on making your bedroom both dark and cozy, we'll look at what colors and elements come into play to make the aesthetic successful and Pinterest-worthy.
How To Make A Dark Bedroom Cozy
Dark bedrooms have design influences from Baroque, Industrial, and Neoclassical design movements, which gives a feel of royalty and class. Making your bedroom dim and snug allows you to escape your daily hustle and bustle and drift off into a deep slumber.
The Dark Bedroom Aesthetic Color Palette
Your priority for a dark aesthetic should be to evaluate your color scheme to get the most out of the design. Choosing a color can be the difference between a cold corner of a bedroom and a cozy cocoon escape.
Black
Black is an all-consuming medium and a dark bedroom go-to. Black makes for a polished interior and will absorb light. If you want to paint the walls black, it would be best for one wall, and if you wish to make all of them dark, opt for a super dark heavy grey to prevent making the room feel smaller.
Grey
Grey is your most versatile color option as all grey items, from bedding to wall colors, add to each other – no matter the shade. You can't go wrong with grey, as it complements all other colors. Different tints of grey create a monochromatic effect that looks moody and stunning.
Warm Colors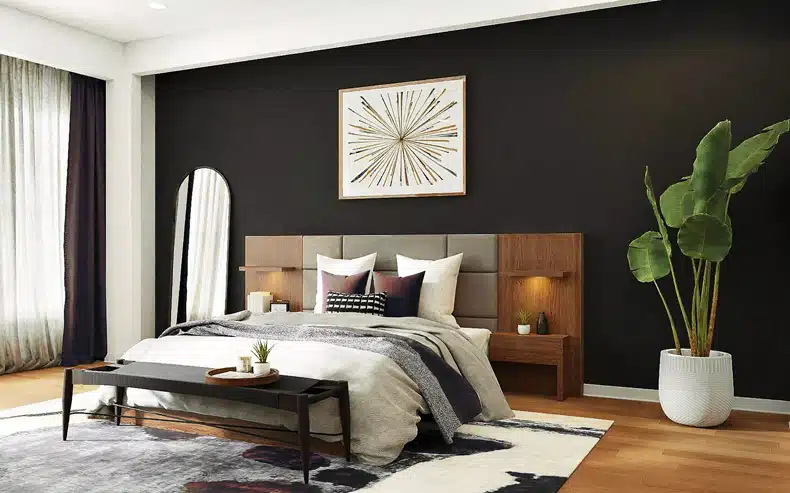 The darkest shades of warm colors like browns and reds are a surefire way to bring the desired warmth to your bedroom's atmosphere. If you're using black or grey as a base color, accenting them with dark warm colors allows for more depth.
Cool Colors
Cool colors like blue and green are very regal and create a sense of calmness in the bedroom. Thanks to its rich, appealing look, emerald green is a trending option and will fill the cozy role. Cool colors have the same harshness as black without being too dim.
Dark And Cozy Bedroom Elements
A shadowy, comfortable bedroom is more than just a paint color. To bring the overall design together, you'll need to think about aspects like getting enough light in, balancing the ambiance, and what to decorate with.
Lighting
You can have fun with colored LED lights in neutral color schemes and add a light dimmer to other lights to set the ambiance to match your mood. A dim color scheme will require ample lighting to make the design perfect. For coziness, opt for warm bulbs instead of cool ones.
Contrast
There needs to be at least one element of contrast to balance your bedroom and prevent it from looking like a cave. You can keep the roof white, add a white headboard or carpet, or use light flooring. It can also be a light color instead of white.
Décor
The decor is the part where your imagination can run wild. Matching the bedding to your color scheme, finding bold artwork, adding comfy pillows, and putting up textured wallpaper are just some of the many options.
Conclusion
Your ideal dark bedroom is just a few tweaks away! It only takes a color scheme and some design elements if you want the perfect dark, cozy bedroom aesthetic. Your dim bedroom will benefit from proper lighting, a contrasting element, and well-chosen décor.
Follow Quiet Minimal on Pinterest for more home inspiration and tips.