If you're wondering what the standard dining table height is, you're in the right place. In this article, we'll dispel any myths and find out the average height of a dining table.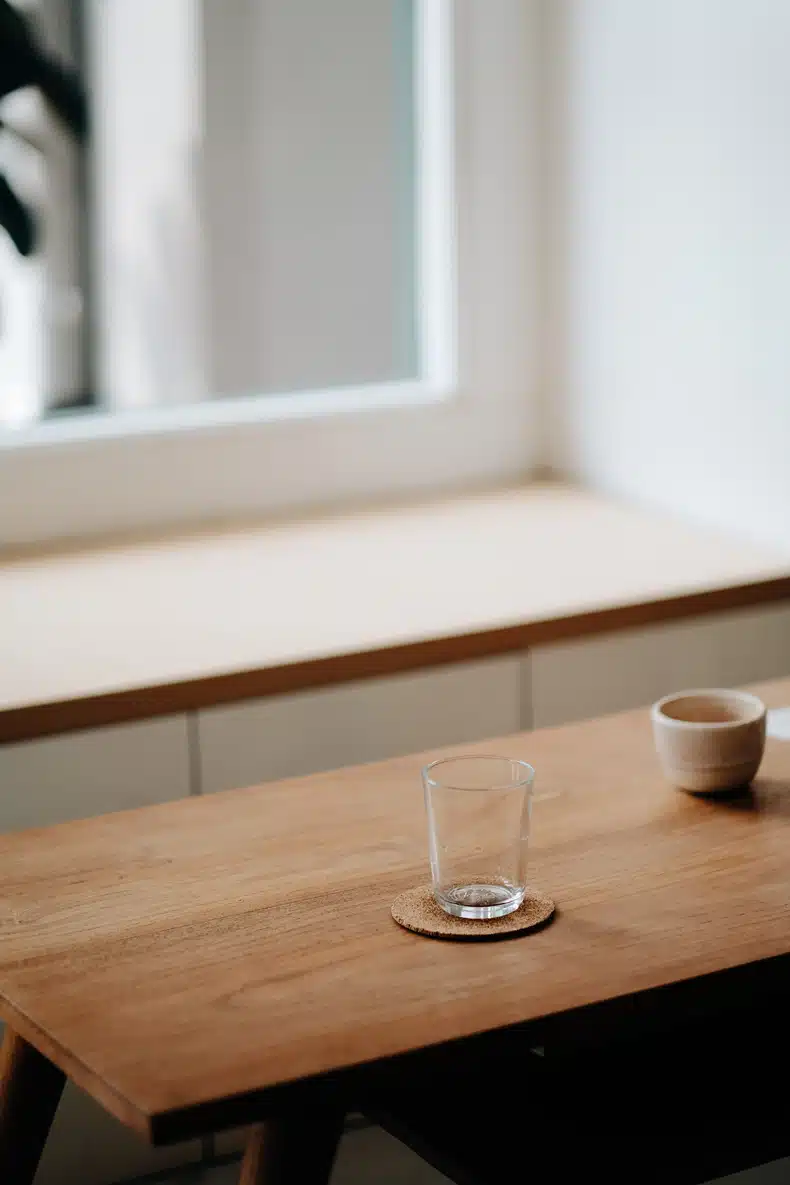 The dining room is a focal point in the home and arguably one of the most important rooms. It's where you gather every day to spend quality time with your family and share meals together.
Plus, you'll also host dinner parties, and celebrate holidays at your dining room table.
So, it goes without saying that the right dining room table is a must-have. But what is the standard dining table height?
The table height can vary depending on the brand and design. But they generally stick more or less to the average height of dining tables. So, knowing this information will help you to redesign your dining room or pick a new dining table.
What is the average height of a dining table?
The average height of a dining table is somewhere between 28 to 32 inches (71 to 81 cm). You'll find that this is the most common height for dining tables sold nowadays. This height should accommodate most people and is a good solution for formal eating.
This design will also allow most people to have a comfortable sitting position. They can sit with their feet resting firmly on the floor. It also works well for high chairs or wheelchairs, making it a good option for everyone.
The standard dining table height works well with chairs around 18 to 23 inches high. So, you'll have enough room to sit comfortably with the tabletop at the right height.
The general rule is to have at least 10 inches between the table height and the chair height. So, if your table is 28 inches, you should go for 18-inch chairs.
But if you have young children, you may find that the table comes up too high for them. In that case, I would recommend using a booster seat. This trick will make your average dining table height work for adults and children. So, it's a good option as a family dining table.
However, there are other options when it comes to dining table height. Here are the three main choices
Standard Dining Table Height
As mentioned above, the average height of dining tables is somewhere between 28 to 32 inches. This kind of dining table is quite formal and sophisticated.
Another advantage of a regular dining table is that it's often extendable. So, you can add an extra leaf to seat more people around the same table.
But this kind of formal dining table with a standard height isn't for everyone. So here are some other options for dining table heights and styles.
Counter Height Dining Table
If you don't want a regular table, you could consider going for a counter-height dining table. These dining tables stand at around 34 to 36 inches (86-91 cm).
One advantage of these taller dining tables is that they feel more informal and relaxed. It's like you're sitting at your favorite cafe – but in your own home. They often feel more modern, stylish, and contemporary.
But these tables aren't best suited to large groups of people eating together or posh sit-down meals. They work best for 2-3 people eating together.
These tables are often more compact, making them ideal for a small kitchen or apartment.
Bar Height Dining Table
Bar-height dining tables are the highest type of table around, often standing at 40 to 43 inches high. That translates to between 101 and 109 cm. So, they're significantly taller than your average dining table height.
You'll need to buy some bar stools if you go for a bar-height dining table. But they are great space-savers, as you can tuck the stools away below when not in use.
So, they make a great choice for a tiny apartment or studio. They also feel very fun and unique and work well if you often eat alone. They're a practical and smart use of space.
However, a bar-height table and chair often won't provide as much support or comfort. So, they're better suited to grabbing a quick bite to eat.
Which is the Best Table Height for Your Home?
So now, we come to the important question – what height should your dining table be?
There are a lot of factors to consider when choosing the right dining table height. For example, how often will you use the table and for what kind of circumstances?
Do you need a table for family meals every day? Then, your best bet is the average dining table height of 32 inches.
The same goes if you want to have people around for dinner parties or to celebrate holidays together. You'll need a large table able to accommodate people for formal meals.
But if you live in a couple, you might a counter-height dining table more practical. It takes up less space and feels less formal. It also works well in a contemporary design setting.
And the bar-height table is the most informal design available. It's ideal if you like to grab drinks or eat snacks together. Or maybe you live alone and don't need a regular dining table (or just don't have room for one).
Standard Table Height FAQ
What are the different heights of dining tables?
Most standard dining tables stand at 28-32 inches high. But counter-height dining tables are normally between 34-36 inches. And bar tables stand at 40-42 inches high on average. 
What height chairs for a 30-inch table?
A 30-inch table is around the average height of a dining table. You'll find that most dining chairs will work well with this type of table. But your best bet is to go with chairs between 18-20 inches high. 
Are 32 inches too high for a dining table?
32 inches is a standard dining table height, although at the higher end of the range. It will work well with chairs of around 22 inches high. This table height will look elegant and sophisticated in most homes. But make sure to check the chairs and table are compatible before you buy! 
The Wrap Up
As a recap, the dining table height standard is 28-32 inches. This height works well with most dining chairs between 18-22 inches high. And it will look great in most settings.
But there are also other options, including counter-height and bar-height tables. So, you can find the perfect dining table to suit your home.
Follow Quiet Minimal for more minimalist decorating and interior design tips.