A balcony is a game-changer if you have a small home or apartment
When you have a small balcony, you need to make the most of the space!
Hanging plants, bird feeders, and privacy screens will make the balcony your favorite place!
If you have a small balcony, you want to make the most of the space! Having an outside space is a real bonus, especially if you live in a tiny apartment. So, I've put together this guide to small balcony ideas with tons of suggestions for you!
Your balcony is the perfect place to relax, refresh, and even entertain guests. But if your balcony is limited in size, you want to maximize the space available. Here are some suggestions for how you can use your small balcony. There's something for everyone, so browse these ideas and see which ones appeal most!
12+ Small Balcony Ideas For Small Spaces
Add Some Sparkle With Twinkle Lights
You'll want to use your balcony night and day, especially on those gorgeous summer evenings. So, hang up some twinkle lights for cozy evenings on the balcony.
These lights take up no space, making them ideal for a small balcony. And they add a little magic to your balcony, making it feel romantic. And they're an affordable way to light it up at night – so it's a win-win solution.
Go Green with Hanging Plants
It's well-known that plants are beneficial to our mental and physical health. Plus, they look gorgeous and are an easy way to decorate your balcony. But if you're short on space, consider hanging plants from the ceiling above your balcony. Check out my guide on how to hang plants here.
Shop for Second-Hand Furniture
If you're on a budget, that doesn't mean you can't kit out your balcony in style. Instead of buying new, hit up your local second-hand stores. Or, you could keep your eye out for bargains on Facebook Marketplace and eBay. You can find some gorgeous outdoor furniture for a steal if you're willing to do the leg work!
Invite Nature in with Bird Feeders
There's nothing like listening to birdsong as you start your day. Adding some bird feeders, you can make your balcony a regular haunt for the local birds. This suggestion is simple and inexpensive – you can even make the bird feed yourself. 
Not only will you support biodiversity in your area, but it will brighten your day. Keep track of how many bird species you can spot without leaving your home!
Decorate the Walls
You might only have a few square feet of space on your balcony. So, why not get creative and make the most of your wall space?
You can add decorative details like wall art or hang a patterned throw for boho vibes. Create a feature wall by mounting woven baskets or add a mirror to make it look more spacious.
You can decorate your balcony walls in many ways, so don't be afraid to think outside the box. And when you use the wall space, it draws the eye upward and makes the balcony look larger. 
Add Trailing Plants to the Balcony Rail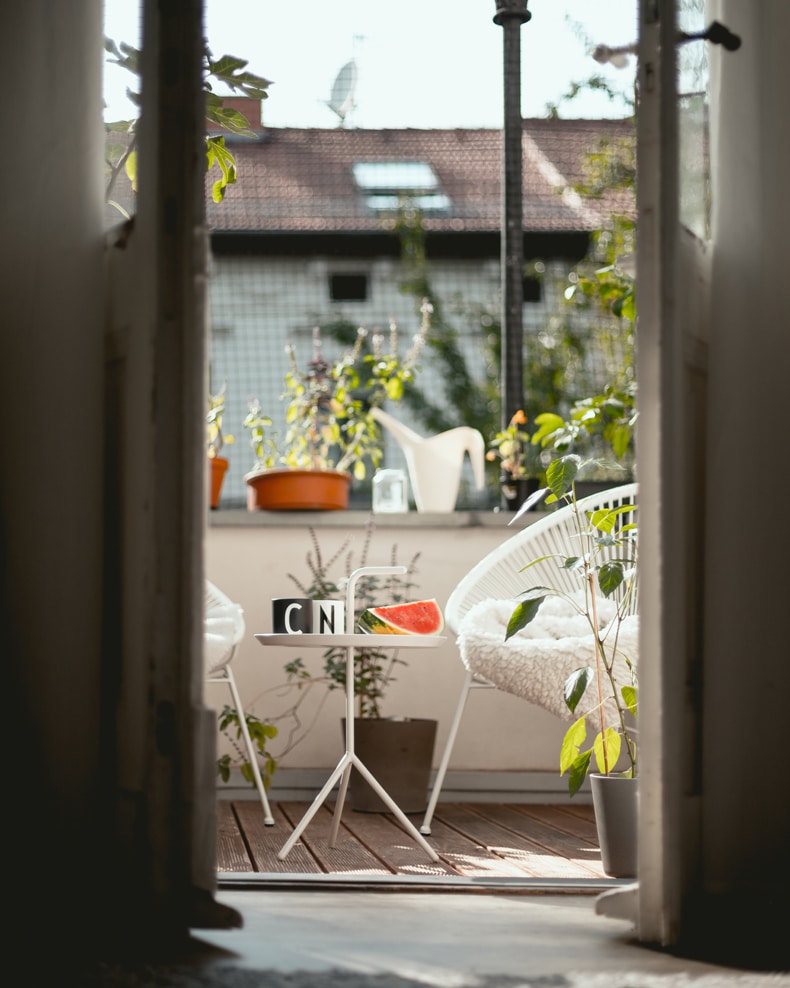 The balcony rail isn't always the prettiest of objects, but it's necessary for safety. But that doesn't mean you can't pretty it up – and one of the best ways is with trailing plants.
Using plants to decorate your balcony is a no-brainer. It brightens the space with natural greenery and can even improve your mood. Opt for trailing plants like vines, strings of pearls, and other common hanging plants. And soon, your ugly balcony rail will be hidden behind your gorgeous greenery.
Make Your Small Balcony Feel More Secluded
If you plan to spend a lot of time on your balcony, it's worth investing in a privacy screen. You can feel quite exposed sitting out on your balcony. So, you could erect a wooden lattice fence or bamboo screen to make it more cozy and protected. You could even hang curtains around it for the utmost privacy.
Go for a screen that will match your balcony design. For example, a rattan screen would look fabulous if you have a boho-style balcony.
DIY Your Balcony Furniture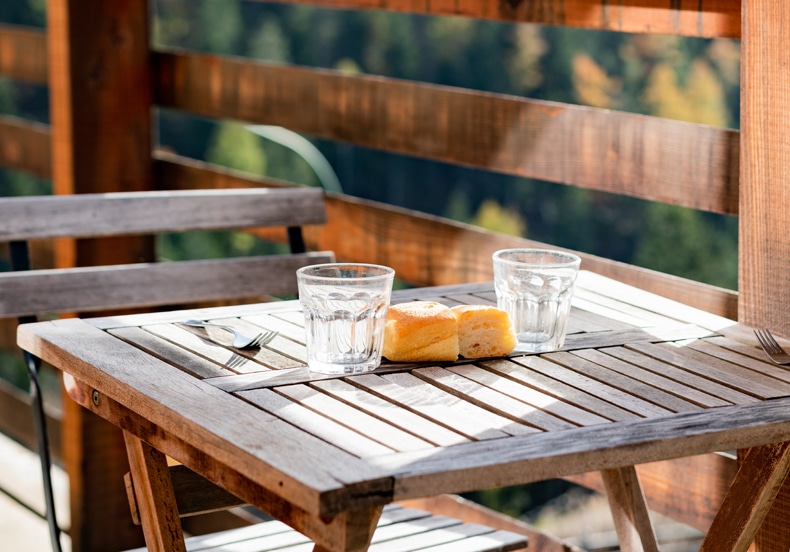 Another way to keep costs down for your small balcony is to build the furniture yourself. For example, you can create amazing DIY chairs from wooden pallets. And it will cost a fraction of the price of buying new outdoor furniture. Even better, you can build it to fit your small balcony perfectly.
If you sew, you can also choose fabric and create your own cushion covers. That gives you the freedom to design them in any way you like. So, you'll have a unique balcony with custom-made furniture and a real sense of achievement. And your bank balance will love you for it, too!
Keep it Natural
When decorating an outdoor spacer, I recommend using natural materials where possible. It bridges the gap between indoors and outdoors to create the perfect balcony space. Materials like wicker, rattan, bamboo, and wood all work wonders on a balcony.
Add an Outdoor Rug for Coziness
Now, you've considered the wall space, furniture, plants, and other decorative touches. But have you thought about how to jazz up your balcony floor? Many balconies have boring cement floors or, at best, basic tiles. But you can add more comfort and coziness to your balcony by adding an outdoor rug.
You can find rugs or runners designed specifically for outdoor use. They can withstand the elements without getting ruined, so they're perfect for a balcony. Pick a rug that suits your balcony to add style and comfort all in one go!
Opt for a Tiny Table in Your Seating Area
If you have a small balcony, you might struggle to imagine how you'll use the space. But if you opt for a tiny coffee table, you can create a cute little sitting area outside. It's the perfect spot for your morning coffee or an after-work drink as the sun sets.
Don't Forget the Small Details
When you're decorating a tight space, it's all about the little details. Even a small addition can make a big difference on a balcony.
For example, you could add a cushion to each chair in a pretty pattern. Pop a vase with a few wildflowers on your coffee table to draw the eye. Or go for plant pots in contrasting shades for a whimsical splash of color.
You don't need to make big gestures to create an eye-catching balcony. Instead, focus on the little details!
Create an Indoor/Outdoor Theme
If your small balcony feels very cramped, you might not enjoy spending time out there. But one way to counteract this situation is to make it feel like a continuation of your home.
Decorate your balcony to match your interior design style for a seamless transition. The aim is a cohesive look for your indoor and outdoor areas. Then, you can throw open the doors and windows to extend the space.
As a result, it will feel more spacious, airy, and fresh. It works even better if you have French doors you can open up. Of course, this solution is best suited to warmer climates or times of the year!
The Wrap Up
So there you have tons of ideas for your small balcony. If you're a minimalist or a maximalist, you can make the most of your balcony. If you follow these suggestions, even the tiniest balcony will look beautiful. And it will feel more spacious and inviting, so you get out on your balcony more often.
Do you have any other ideas for small balconies? Let me know in the comments, and follow Quiet Minimal for more home design tips.