An island adds a lot of versatility and style to a small open-plan kitchen living room.
You may be short on space, but adding an island will enhance the flow of your open-plan design.
It will add much-needed counter space for food prepping, eating, or entertaining.
It's commonly accepted that the kitchen and living rooms are the heart and soul of the home. Even if your kitchen and living room are relatively small, you can maximize that space with an open-plan concept and the use of an island to extend the possibilities for entertaining.
So why add an island to your open-plan kitchen living room?
The open-plan lifestyle is versatile and can offer a lot to a small space. How should a small open-plan kitchen living room with an island be arranged?
What are the best colors for this type of space? How does an island improve the open-plan kitchen living room?
How An Island Enhances A Small Open Plan Kitchen Living Room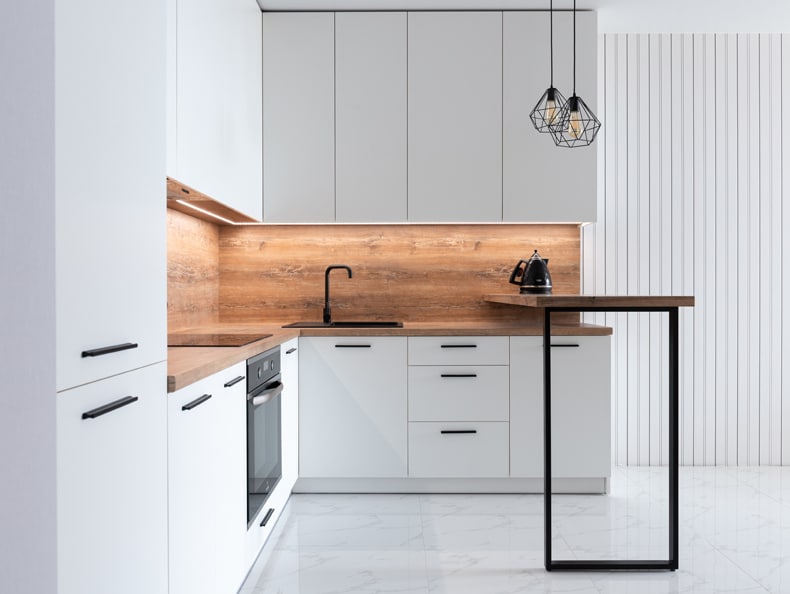 There are so many creative and useful ways to incorporate an island in your open-plan kitchen living room. An island brings endless possibilities to the space.
With all the many different applications and uses for this feature, it creates a functional and beautiful space.
By adding an island, you can create a place for socializing, entertaining, dining, preparation, and storage. It also adds character, design, and purpose to the room, especially when you use lighting effectively.
Arranging A Small Open Plan Kitchen Living Room With Island
When designing an open-plan kitchen living room, you need to focus on the flow of the space, most importantly. The placement of the oven and sink plays an essential role in the area's success, especially when introducing an island.
The clever help of lighting to highlight the different areas can play an important and sophisticated role in creating separate spaces in the small open-plan design.
When working with a small space, you should consider the purpose of each surface. Think of the island as an extension of both the living room and the kitchen.
Functional Small Open Plan Kitchen Living Room With Island
When working with a small space, there needs to be a good flow for you to work and live around the area quickly, maximize space by keeping it uncluttered, and allow for a sense of openness.
For example, you need a practical open-plan kitchen living room. With the addition of an island, you can maximize space and add versatility to the room.
Focus on keeping things as light and airy as possible. A good idea would be to avoid wall-mounted cupboards, which will close the area a bit.
Instead, use open shelving with tasteful decorations, easy-to-grab classes, or cookware on display.
Portable Or Fixed Island In Small Open Plan Kitchen Living Room
When the island is a fixed feature in the space, it can be designed lavishly and offers the possibility of the kitchen sink being fitted in or even the oven. The advantages of a portable island:
It can be moved around as needed
It can add contrast
It can complement the space
Colors For Small Open Plan Kitchen Living Room With Island
The use of color in a small space is an important consideration. Try to keep the room open and light, and if you want to use accents, make sure they create a spacious feeling.
For example, an industrial warehouse look may use darker colors. However, it keeps everything open and square-like maximizing space.
Avoiding dark colors is a good idea. But if you are going for darker colors, ensure plenty of natural light and good lighting to highlight the small space.
Even keeping everything one color will create a feeling of openness in the small area. But on the other hand, splashes of color can highlight specific spaces and develop a sense of excitement too.
Conclusion
When working with smaller open-plan spaces, focus on functionality and keep design elements simple to create an open, light living area where an island is a defining factor to tie the space together.
The island element brings so much versatility to a small kitchen and living room, making living, cooking, and entertaining in your small space better.
Follow Quiet Minimal on Pinterest for more home inspiration and ideas.