Are you looking to build a two-car garage but need to know what size you need? Don't worry – we've got you covered. This article will tell you the dimensions of a two-car garage. We'll help you get the space and functionality you need.
We'll talk about clearance, parking spaces, and other things to ensure your new garage fits your needs. So if you're ready to learn more, let's dive in!
If you want to build a two-car garage, it can be exciting! It can give you extra storage space and protect your cars from the weather. But before you start building, you must make sure it meets certain standards so it functions and is up to code.
A two-car garage needs specific measurements to fit vehicles and extra items like tools or lawn equipment.
We will cover the dimensions, clearance widths, door heights, and parking spots to consider. Let's get started and make sure everything gets noticed!
Definition Of 2 Car Garage
A two-car garage is perfect for most families. It provides enough space to protect vehicles from the elements and store tools and other essentials. Think of it as a small castle – a fortress of safety and convenience.
When you imagine a two-car garage, you might envision a long driveway leading up to it with an automatic door that opens to reveal two parked cars.
But the reality is that there's much more to consider than the length of your driveway or the type of door. Some garages need specific dimensions for them to be functional.
Measuring your space before you begin building or buying your garage is important to know what size will fit best.
Typical Sizes Of A 2 Car Garage
The typical dimensions of a two-car garage are generally between 20 and 24 feet wide and 18 to 22 feet deep. This translates to about 400 to 500 square feet of floor space.
The height of the walls and roof should also be considered when planning the size of your garage. The standard height for a two-car garage is 8 feet tall, but taller garages can be built to accommodate larger vehicles like SUVs or vans.
The most important factor is making sure that there is enough room for both cars. Generally speaking, each car should have at least 9 feet in width and 18 feet in length.
If you intend to use your garage as a workshop or storage area, then you will need more room than this. Yet, if you only plan to park two cars inside, it's best to stick with these dimensions.
It's important to consider the type of doors you'll use in your two-car garage. Manual swing-up doors are 6-7 feet wide, while roll-up doors can range from 8-10 feet wide, depending on your chosen type.
If you decide on roll-up doors, you may need to make your garage wider by 2-3 feet, so they fit well.
Measuring For A 2-Car Garage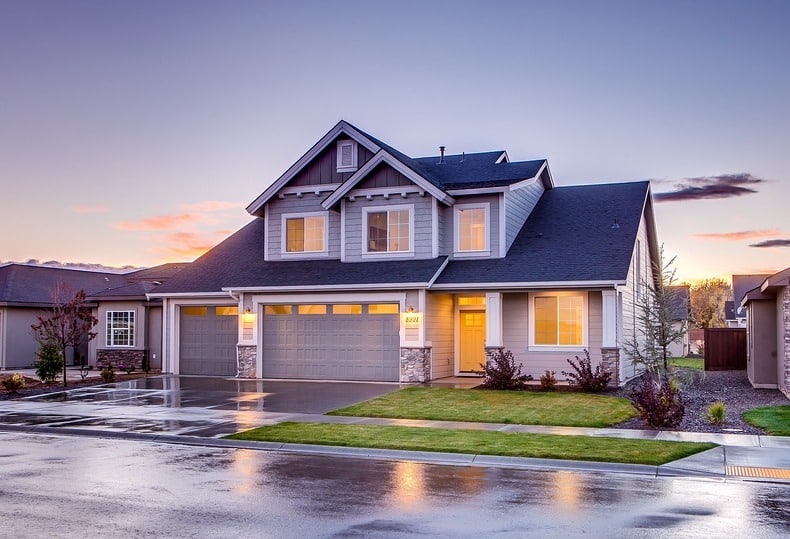 When measuring a two-car garage, the size of the space is paramount. When storing a vehicle, consider the type of vehicle. The amount of space needed for entry and exit and any extra features desired.
Start by measuring the dimensions of your proposed garage area, then consider whether you plan to store one or two cars in the space. If two vehicles are planned, measure out enough room to fit them side-by-side with room to spare.
This will ensure ample room for entry and exit points on either side. Many standard garages are 20 feet wide and 22 feet deep, but depending on your needs, this can vary.
Creating a custom two-car garage that meets your needs and is comfortable is easy. Once you have determined the dimensions of your garage space, you can begin planning what other features you may want to include in your design.
Consider items such as insulation, lighting fixtures, storage shelves, and skylights to make the garage perfect for you. Planning these factors will ensure you have the most convenient and comfortable garage.
Ideal Lengths, Widths, And Heights
Moving on from the measuring process, let's delve into the ideal dimensions of a two-car garage. Generally, a two-car garage should be at least 20 feet wide and 22 feet deep to fit two vehicles.
If you're looking for extra space for storage or a workshop area, consider expanding your garage to 25 by 25 feet.
Most garages have 8 to 9 feet high ceilings, providing enough headroom so people don't have to duck when entering and exiting their vehicles.
Adding a few more inches in ceiling height could be beneficial if you need extra room for taller vehicles like SUVs or trucks. This will ensure that larger vehicles can fit and that you'll have enough headroom inside the car.
If you want to include extra features such as attic storage, it is crucial to consider the total height of your garage.
In terms of requirements for building a two-car garage, it's recommended that you have at least 20 by 22 feet of space with an 8-foot ceiling. If you want maximum use and comfort, it is worth thinking about constructing something larger.
Door Dimensions
The dimensions of the door will depend on the size of the garage. A single-car garage should have a door 8 feet wide and 7 feet high, while a double-car garage should have one 16 feet wide and 7 feet high.
The height of both types of doors should equal the height of the ceiling inside the garage. For example, if you have an 8-foot ceiling in your garage, your door should also be 8 feet high.
When it comes to choosing a door material, there are several options available. Steel proves to be a great choice for many due to its strength and affordability.
It is also resistant to rusting and can be painted to match other elements in your home's exterior design.
Vinyl is a great choice for garages as it does not need as much upkeep as steel and insulates from external weather conditions.
No matter which material you choose, ensure it fits within the frame of your garage opening. Check for gaps between the door and frame or any measurement discrepancies before finalizing your purchase.
Window Dimensions
No doubt, the previous section on Door Dimensions was essential to understand before this one. But if you thought that was incredible, wait until you hear about Window Dimensions!
Not only do these windows make the garage look bigger, but they also provide more ventilation than ever before. The dimensions of a single window can range from a few inches wide to an entire wall width. This allows maximum natural light and ventilation in the car garage – invaluable in any building project.
Ceiling Height Requirement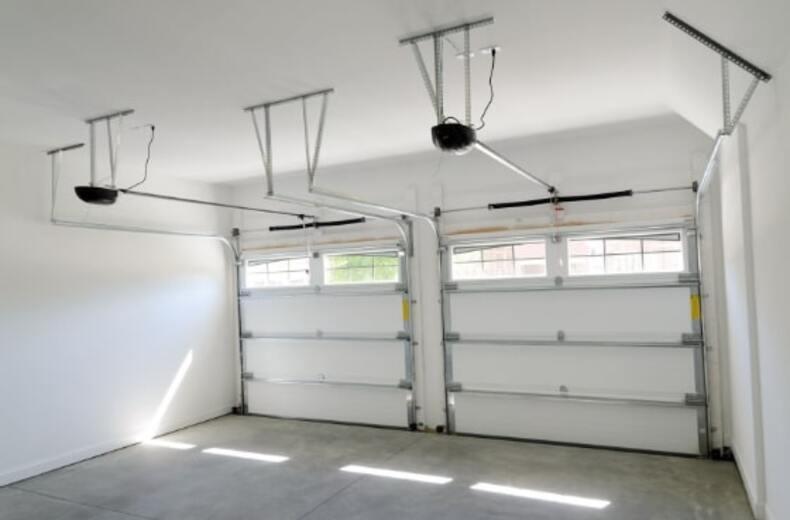 The minimum ceiling height requirement for a car garage is 10 feet. This ensures enough headroom is available for people and vehicles inside the garage. It also helps keep the heat in during the winter months and out during the summer months.
To meet the building code requirements, you'll need to measure the ceiling height from the floor to the top of the joists or trusses. Once you know this measurement, you can decide if any extra insulation is necessary to meet regulations.
In most cases, if your ceiling height exceeds 10 feet, you don't need to add insulation. But, ensuring the space is sealed and insulated against air leaks is still a good idea. Doing so will help save energy costs and improve comfort levels in your car garage.
Conclusion
In conclusion, designing and building a two-car garage can be daunting. It is essential to measure the garage's length, width, and height before starting to build it. The right dimensions will make all the difference in using your space.
Make sure to follow Quiet Minimal on Pinterest for more interior design and minimalist tips!