White and grey are gorgeous neutrals for interior design. They are minimalist and elegant, making any room feel bright and spacious. But as they are so versatile, you can add an accent color to create the perfect design and look for your home.
Depending on the colors you use, you could create a stylish, simple look or a bold, bright color scheme.
Here are some ideas for the best colors that go with white and grey. Browse through and see which color palette catches your eye.
10 Stylish Colors That Go With White and Grey
Are you wondering what color to pair with grey and white in your home? Read on for tons of suggestions for accent colors that match with white and grey. You'll find something for every room in your home and any design style!
White and Grey + Classic Black
Grey and white is a stylish color palette, but you can take you interior to the next level by adding black. And the result is a classic, modern, minimalist look but a little edgy too.
You can use black, grey, and white to create a bold look for a bedroom or living room. If you're feeling daring, you could go for a black feature wall as a real showstopper. Add some well-chosen black accessories against the neutral backdrop for a simpler look.
A black, grey, and white color scheme also looks excellent in a bathroom or kitchen. For example, black hardware against grey tiles is a gorgeous look.
White and Grey + Bold Red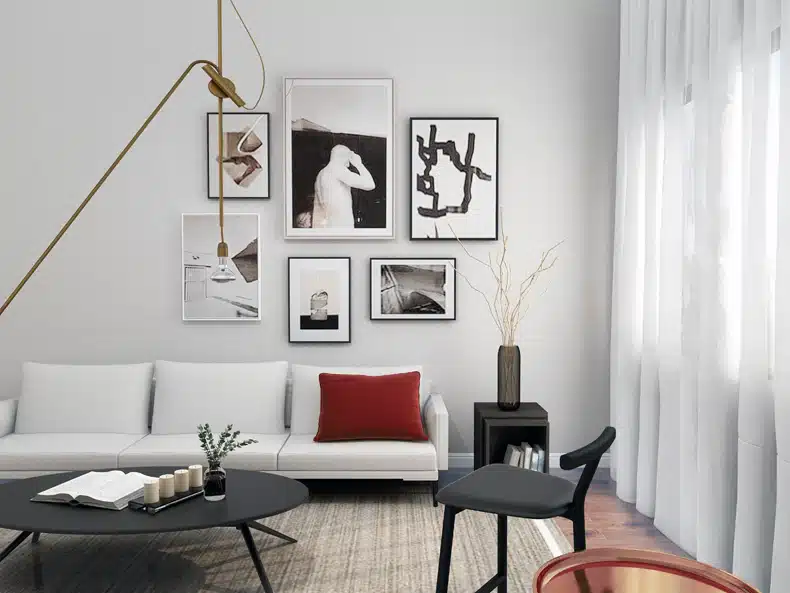 You can add a bold splash of red to your (otherwise) minimalist room to spice it up. Red is among the richest colors and looks fantastic against a neutral backdrop. Grey and red are fabulous together, and white helps to balance the space.
I recommend going for a bright pillar box shade of red. It's sure to draw the eye and bring energy to any space. But if you want a more muted look, you could opt for a deep, dark red like maroon instead.
Select a few accessories in red to use throughout the room. For example, a vase, clock, throw cushions, or a lamp all work well. Or you could go for a cushy red rug to anchor the space.
White and Grey + Sky Blue
Sky blue is a cool, calming color that works well in any room that doesn't get much natural light. And it pairs well with gray and white to create a relaxed feel with a beachy vibe. Sky blue and grey are pretty close to each other, so they won't clash. Instead, they create a beautiful, soothing harmony for any room.
White and Grey + Sunshine Yellow
If you love fun colors and whimsical interior design, why not go for yellow? It's a fantastic color to add to a white and grey room. Not only is it vibrant and energetic, but this joyful color is sure to make you smile.
There's a nice contrast between cool grey and warm yellow. And as it's a lighter color, it will make your room feel fresh and airy. If you prefer to avoid dark colors in your home, yellow is a strong choice to perk up your space.
White and Grey + Blush Pink
Grey and blush pink are sophisticated and elegant color combinations. You can create a feminine, stylish room by adding blush pink to your color scheme.
This soft, romantic color is neither too bold, bright, or garish. Instead, it's warm, inviting, and soothing. But it's dark enough to create a nice contrast with the grey. This color palette is ideal for a bedroom or living room, but you could even use it in the kitchen if you like! 
White and Grey + Mint Green
Fancy something light and refreshing? Then, mint green could be exactly what you need! It's perfect for a kitchen or bathroom, but this color combo can work in any room.
Mint green is a cool color that pairs well with white and grey. It brightens any space without being too dark or making the room feel busy. It's clean and modern, which makes it a nice choice for adding a splash of color to a minimalist home.
White and Grey + Forest Green
In contrast with mint, forest green is much darker. As a result, you create a very dramatic, high-contrast look. It's bold and rich with tropical vibes. Add some house plants, and you'll create a vibrant and natural feel for your home. This look works well in modern, traditional, and boho design styles.
Forest green and charcoal grey look amazing together. Although they're both darker colors, the white helps to balance them out. These colors don't clash, instead creating a sharp and stylish look.
White and Grey + Cool Teal
Teal is a gorgeous jewel tone to pair with grey and white. If you're feeling adventurous, consider painting your walls a rich shade of teal. Then, you can add white details like window and door frames to create contrast.
Finally, use tones of grey throughout the room for your furniture. You could go for a darker grey rug and a light gray sofa to keep things interesting!
This color scheme works best in a larger room with lots of natural light, so it doesn't look cramped. But if you have a smaller room, you could opt for teal accessories instead.
White and Grey + Bright Turquoise
Turquoise is another gorgeous color that works beautifully with white and grey. It's close to teal on the color wheel as it's a cool shade too – but it's brighter and more energetic. While teal can be a little moody or muted, turquoise will make any room feel lively!
You could go with white walls, grey curtains, and turquoise sofas for a light, beachy vibe. Then, add some natural elements and turquoise accessories to complete the look.
White and Grey + Neutral Beige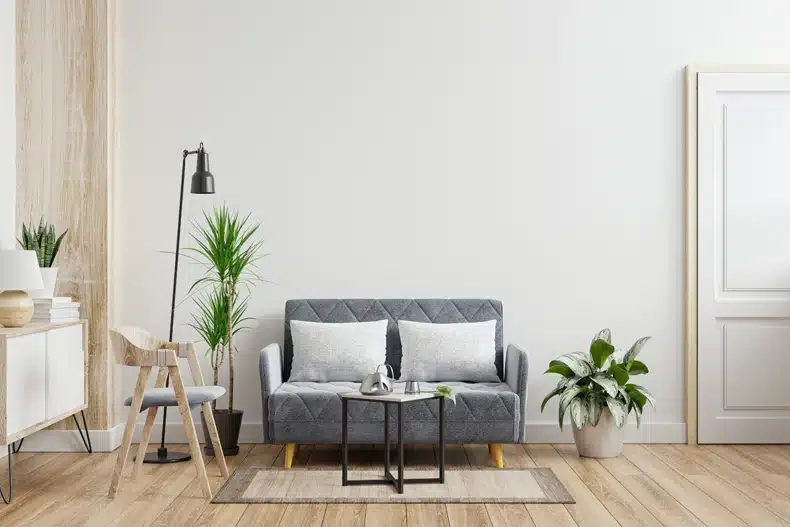 If you want a more subtle look, add another neutral shade to the mix. Beige is an excellent choice as its warm tones contrast with a cooler grey. So, it creates a cozy and inviting feel while keeping it simple and minimalist. Like this look? Check out more minimalist color palettes here for inspiration!
White and Grey + Soft Lilac
Pair white and gray with a soft lilac shade for a soft, whimsical look. This color palette is perfect for a relaxing bedroom to escape from the world. But it's also bright and airy, making even a tiny room feel more spacious and luxurious.
Lilac is a good choice as it has grey undertones, so the colors look amazing together. It's also one of the cooler shades of purple, so it matches with grey and white. You won't go wrong with a white, grey, and lilac color scheme!
White and Grey + Warm Orange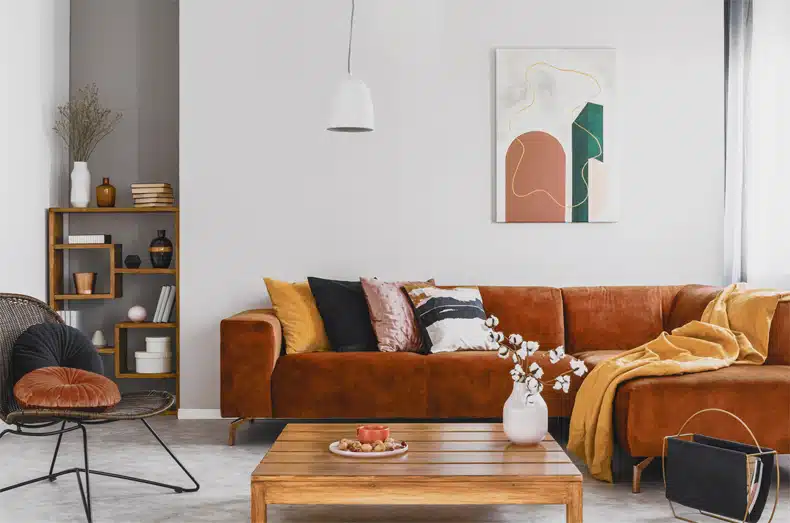 On the other hand, you might need to bring some warmth to a cooler color palette. And in that case, orange is the perfect color to go for! Orange is a warm, cozy, and fresh color that will create a strong contrast. It is sure to grab the eye and bring some energy to your room!
I recommend pairing orange with a darker charcoal gray. This way, you'll get a striking and modern look with plenty of contrast. Otherwise, the bright orange could wash out your neutral palette and make it look boring.
The Wrap Up
So, there you have tons of suggestions for colors that go with white and grey. You should have plenty of inspiration to help you design your dream home.
A white and grey color palette is versatile and ideal for making any room in your home more spacious. Then, you can choose the perfect accent color for any design style and mood.
Let me know what you go for in the comments below!
And follow Quiet Minimal for more minimalist living tips and interior design ideas!