Are you considering going for subway tile in your bathroom shower? Subway tiles are stylish, sleek, and minimalist, so they're a fantastic choice for the bathroom. Plus, they're low-maintenance and create a stunning modern look.
Here are some suggestions for how to use subway tiles in your bathroom. From simple and minimalist designs to bold, creative looks, keep reading!
What is a Subway Tile?
Subway tiles aren't anything new – they've been around since 1904. These tiles were first used for New York City's metro system and have been used ever since. But they're a hot trend in interior design right now, and they work especially well in the bathroom.
That's because tiles are waterproof, low-maintenance, and effortlessly stylish. So, you can refresh your bathroom using these regular 3 x 6-inch tiles.
They are rectangular in shape with a simple design and traditionally only came in white. But now, you'll find a much wider range of tiles available, with different colors and sizes.
12 Ideas for Subway Tiles in Your Bathroom Shower
There are many ways you can use subway tiles to refresh your bathroom. From simple and minimalist to bold and creative, here are some ideas to inspire you! Browse the suggestions and pick the one that jumps out at you.
Minimalist White Subway Tiles in Your Bathroom Shower
The simplest way to use subway tiles in your bathroom is to go for the traditional white subway tile. This look is sleek, minimalist, and attractive. It's ideal for a modern bathroom with clean lines and lends itself to small spaces.
If you prefer a minimalist style in the bathroom, you can't go wrong with white subway tiles. Tile the entire bathroom or just the shower cubicle – either way, it will look fabulous.
Back to Black Subway Tiles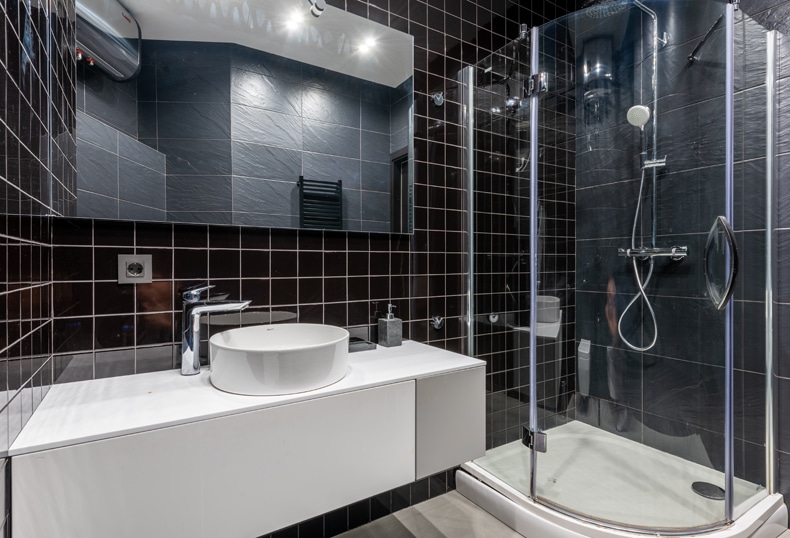 At the other end of the spectrum, you could choose black subway tiles for a dramatic look. Whether you're going for a modern, moody, or chic look, you won't go wrong with black subway tiles. But balance it with lighter elements to avoid it looking dark and claustrophobic.
Spice It Up With A Different Grout Color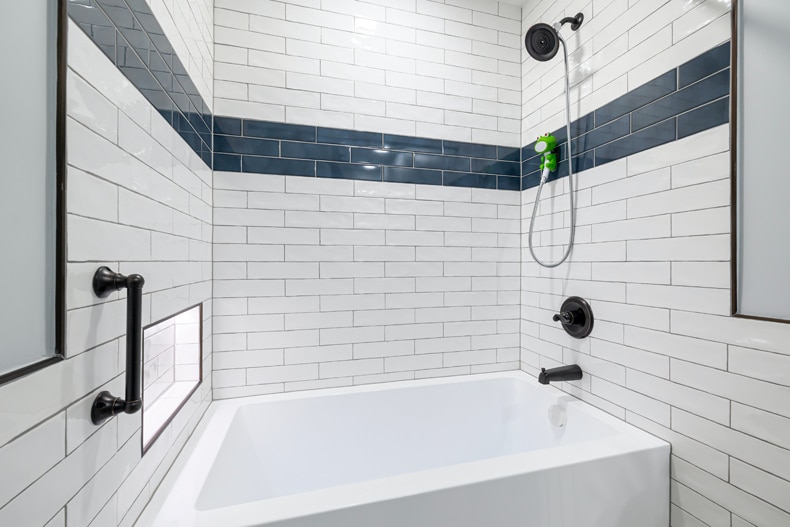 This easy hack can transform your bathroom. First, pick your choice of subway tile – you could go for white or any shade that appeals to you. Then, choose a contrasting color of grout that will stand out against your tiles. And it's as simple as that!
White tiles against black grout is a classic and sophisticated monochrome look. This high-contrast style will make the white tiles stand out even more.
But you can also play around with color if you're into a brighter interior design style. For example, why not pair yellow tiles with dark blue grout – or vice versa?
Make a Statement with a Bold Tile Color
You don't have to stick with boring white tiles if you prefer a more colorful approach. It's your home, so you can design it to suit your style! Subway tiles come in every color of the rainbow now, so you're spoilt for choice.
Blue, green, and teal are all popular colors for bathrooms. But you could go for bright yellow to add a splash of color. Or a soft pink could create a relaxed, feminine feel in your bathroom. Almost any color can look amazing in a bathroom if you go for a complementary color palette! 
Keep it Natural with a Neutral Color Palette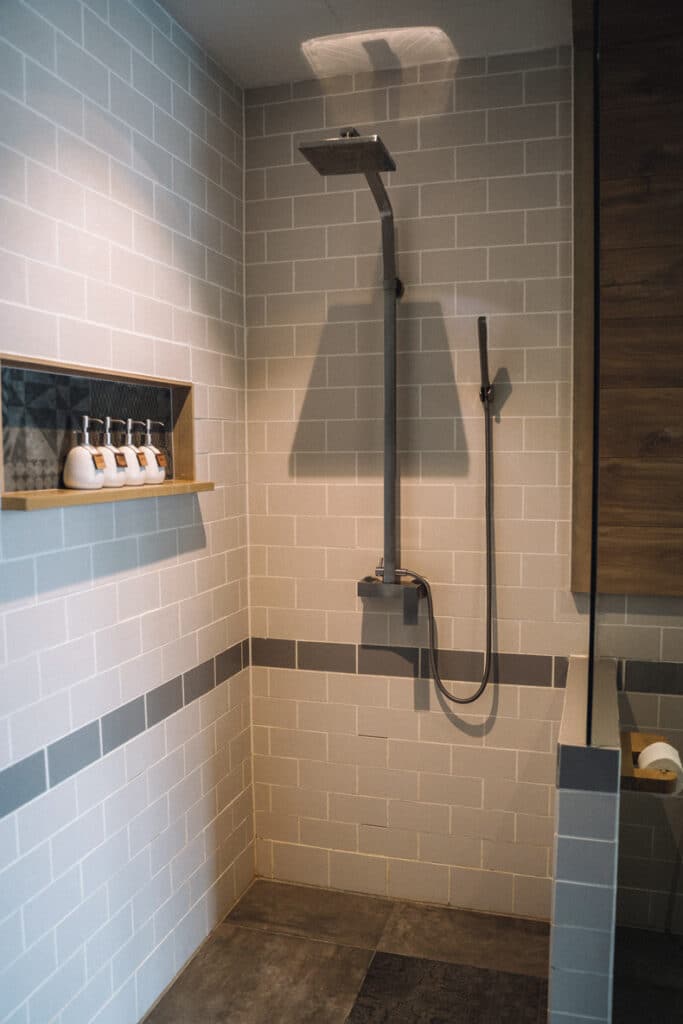 As subway tiles come in all sorts of colors, you can make any style work with these tiles. While many consider subway tiles best suited to a modern look, you're not tied down. For example, you could create a gorgeous boho bathroom with a neutral color palette.
Opt for natural-colored subway tiles in a beige, grey, or pale green shade. You can also choose a neutral grout shade to fit the color palette. Then, add natural elements like wicker baskets and plants to complete the look.
Contrast Subway Tiles with Wall Paint
One idea for using subway tiles is to only tile one or two walls in your bathroom. Then, you'll create a simple yet eye-catching contrast with the other painted walls.
You could go for white subway tiles against a bright jewel tone, like teal or purple. Or create even more contrast with white tiles against a dark charcoal wall.
But another idea is to go for colorful tiles against neutral wall paint. There are so many options, and the choice is yours. Have fun deciding what to go for!
Play Around With Tile Orientation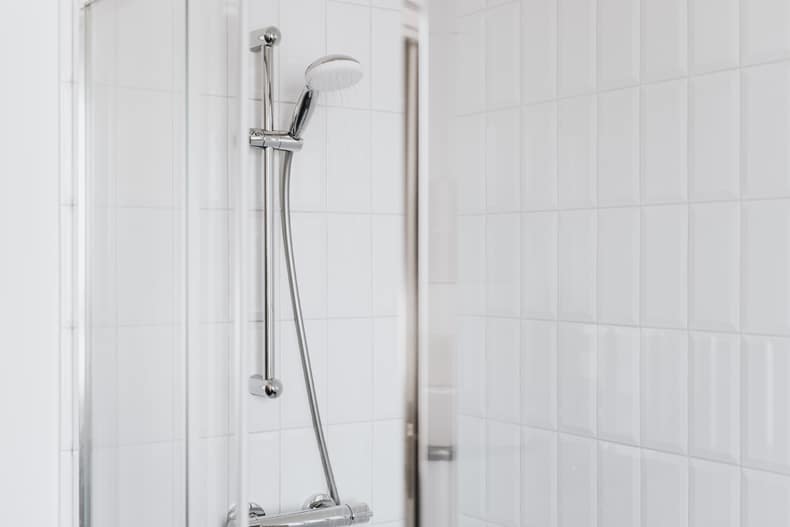 You might think there are limited ways to decorate your bathroom with subway tiles. But think again! Have you considered turning the tiles vertically? While it's an unusual way to tile your walls, it can look unique and interesting. So, why not give it a go?
Create a Herringbone Pattern with Your Subway Tiles
Another option is to create a herringbone pattern with your subway tiles. This change is smart yet subtle, drawing the eye and creating more visual interest. It's a fantastic way to spice up your bathroom without resorting to bright colors.
The result is a sleek, minimalist, yet attractive look. You can even DIY the tiles yourself – just make sure they all line up carefully!
Go All Out With Subway Tiles
You might have considered subway tiles for your bathroom stall – but what if you went all out? A bathroom covered from wall to wall in subway tiles is quite a statement.
Keep it simple with the other elements in the bathroom to let your tiles take center stage. They will become the key feature in your sleek and minimalist bathroom.
Contrasting Floor and Wall Tiles
An exciting way to decorate with tiles is to use one tile on the wall and another design on the floor. So, if you're tiling your shower with subway tiles, pick a contrasting tile for the floor.
For example, natural stone tiles will stand out against a more regular subway tile. Or you could go for a different pattern or color to contrast your wall tiles. Mosaic or Art Deco patterns will stand out against your subway wall tiles.
This look is simple and sophisticated if you go for similar tiles. For example, you could go for a tile in the same color scheme but a different shape or size. But if you're more daring, juxtapose contrasting colors or tile designs for a bold look.
Size Up Your Tiles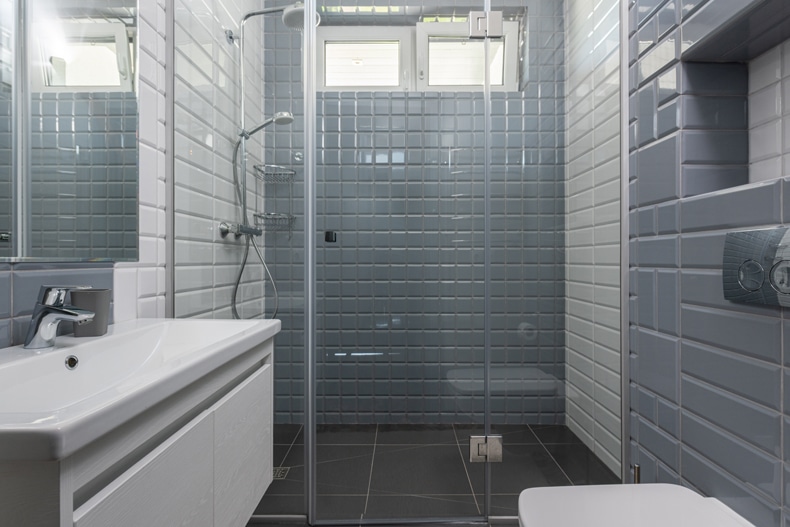 Traditionally, subway tiles measured 3 x 6 inches as standard. But nowadays, you can find them in all sizes, from tiny versions to extra-large tiles.
If you want to create an illusion of space, opt for extra-wide tiles. They will make the room feel larger and more spacious, which is ideal for a tiny bathroom. Plus, if you're laying the tiles yourself, the larger size will speed up the process!
Mix Up the Textures
Subway tiles now come in all sorts of designs. You can even buy subway tiles that look just like marble – but much cheaper. These tiles are fantastic if you like the marble look but can't stretch your budget.
They look super authentic and create a stylish, sophisticated style for your bathroom. Pair with metallic fixtures and blush pink accessories for a luxurious finish.
The Wrap Up
As you can see, there are many ways to decorate your bathroom shower with subway tiles. You could choose simple white tiles, a bright color, or contrasting grout. Whatever you decide, subway tiles are an effective way to modernize your bathroom.
Let me know which of these looks is your favorite in the comments below! And follow Quiet Minimal on Pinterest for more interior design tips and ideas.