If you have a smaller home, you might not have space for a full work desk and chair. Or maybe you want to avoid cluttering your minimalist home with bulky furniture.
Then, you need a folding wall desk!
Image: Sarah Dorweiler
Open space is essential to minimalist interior design. So, it makes sense to keep your house as simple and streamlined as possible.
But that doesn't mean you have to resign yourself to working at your sofa or kitchen table. Instead, investing in a folding wall desk could be your best option.

These smart desks take up a fraction of the space while providing a good surface for work or study. They are also surprisingly stylish and can look great in any room, from your living room to your bedroom.
If you want to make the most use of your small home, check out these fold-up wall desks!
How to Choose the Best Wall Mounted Desk: Buying Guide
You want to make sure you're buying the right floating desk for your needs. Here's what you should keep in mind as you compare the options:
Materials & Size
You'll find wall desks made from a range of materials. Most common are solid wood or engineered wood desks.
Solid wood desks have the advantage of being stronger and more durable. They also look classy. But solid wood is heavier, so it may need more reinforcement.
In contrast, engineered wood is lightweight yet robust. Depending on the finish, it may not look as premium as a solid wood desk. But it's another good option for a wall desk.
Some desks will have a combination of metal and wood. They tend to be sturdy and fit in with modern home decors.
Weight Capacity
When considering a wall mounted desk, it's essential to find out how much weight it can hold. Some desks aren't designed to carry much weight, so you need to inform yourself before buying.
If you overload a floating desk, it could come out of the wall. So, make sure it can handle your laptop and some other items.
Go for a wall mounted desk that has a sturdy frame and supports. You should also make sure it's compatible with your wall. This leads to our next factor – the assembly.
Assembly
You need to consider how you will mount the desk to the wall.
Some desks come with all the tools and pieces required. But for some models, you may need an electric drill or other tools to assemble and mount it.
Consider whether the desk is a permanent or temporary fixture. If it's only a short-term solution, you might not want to drill into your wall.
Price
Lastly, you should have a clear budget in mind when buying a folding desk. Then, you can narrow down the options available to you.
The Best Fold-Up Wall Desks
You'll find affordable and more expensive wall desks in my list below. There's something for every budget!
MM MELISEN Wall Mounted Folding Desk
This wall desk is beautiful in its simplicity. It's about as compact as they come, extending just 3.1 inches from the wall when folded away. So, it won't obstruct your path or get in the way.
But when in use, you get an ample space of 29.5 x 19.6 inches to work on. It's a practical and sturdy surface that could double up as a work desk or extra shelf.
You could replace your breakfast bar or kitchen table with this fold-down desk to save space.
You can even use it outside due to the waterproof varnish. But it may not last as long when exposed to the elements.
The Melisen wall-mounted desk is made from strong, solid pine wood. That's something of a rarity as most floating desks use particleboard for its lightness.
But solid wood provides a much more hardwearing and robust surface to lean on. It can easily handle your laptop or your breakfast and cup of coffee.
The triangular support frame and smart design make it even more durable. You can install it at any height to suit your needs.
The light wood color will also fit seamlessly in any room. It's perfect for a minimalist home where every item has a clear purpose.
Another advantage is that it's eco-friendly. That makes it ideal for any minimalist who wants to limit their impact on the environment.
Every little detail is well thought through, down to the curved table edges. They prevent any nasty bumps, especially if you have little ones around.
It's also fast to assemble in half an hour by following the detailed instructions. Plus, it's low maintenance and easy to clean with a quick wipe down.
Overall, this functional yet stylish folding desk is an excellent piece for a small room. It provides a sturdy, generous surface but folds away in seconds to create more space.
This compact wall desk is made from solid, sturdy pine wood
It's multifunctional, low maintenance, and will suit any room
The screws included aren't very strong, so you might want to use your own screws
---
Walker Edison Modern Wood and Metal Floating Desk
This Walker Edison Modern Wood and Metal floating desk has a fresh and edgy look. It provides a great working space and is a cool accent to any room when folded away.
This wall mounted folding desk is very small and will fit in the tightest of spaces. It's constructed from metal and engineered wood, which is both lightweight and sturdy.
It's an excellent solution for small rooms as it frees up the floor space. Plus, it packs away neatly when you're done for the day.
Although it's not solid wood, you wouldn't know by looking. This floating desk looks premium and high-quality, and the fluted wood is a nice accent.
The warm English Oak finish will look stylish in any room. It creates a sophisticated feel that mixes rustic, industrial, and modern elements.
The desk measures 24 x 20 inches, so you'll have enough space for your laptop or notes. The fold-down surface has a smooth laminate finish and can hold up to 30 lbs.
There's a slim shelf to keep any books, pens, or small items handy and prevent distractions.
This wall-mounted computer desk is ideal for any compact room or minimalist house! It's simple, functional, and chic.
This modern folding desk can hold 30 lbs but is super compact
It folds away to free up space but provides an excellent area to work on
The included anchors and screws aren't very sturdy
---
Haotian White Folding Wooden Desk
You're short on space, but you still want a full office desk setup. Sound familiar? Then, the Haotian folding desk is for you! 
This floating desk has many cubbies for all your books, accessories, and knick-knacks. You can display photos or a small plant to personalize your space.
But that's not all. This wall-mounted desk provides a huge space to work on, measuring 90 x 60 cm. Just because you're short on floor space, you don't have to skimp and make do.
It's made from smooth engineered wood in all white, so it's attractive and classy. Add a few little decorative items, and this desk will complete your room.
The great thing about this desk is that you can mount it at any height. That allows you to create a comfortable and ergonomic setup that's personalized to you.
It's also perfect as a study desk for a child due to its customizable height. You could even adjust it as your child grows.
It doesn't fold up like the other wall-mounted desks. Instead, the desk surface folds down so you can still access the shelves but free up all that space.
Plus, it even has handy cable holes to keep your wires tidy and reduce clutter. You'll focus and feel calm and productive at this minimalist desk.
With no legs, it doesn't take up any floor space yet can hold up to 20 kgs. So, it's sturdy enough for your laptop, books, and other items.
You could also use it as a study table or crafting area – it's multipurpose and endlessly useful.
This practical and elegant folding desk has lots of storage space and shelves
You get a lot of space to work on, but it folds down when you're done
It only comes with diagrams instead of instructions
---
SEI Furniture Willingham Wall Mount Folding Desk
This tiny little desk is ideal if you're looking for a wall-mounted adjustable standing desk.
It's super compact and takes up very little wall space. You could fit it into the tiniest of spaces with ease.
Despite its small size, it provides storage space and a desk surface to write on. You can mount it at any height like a regular desk, or it could fulfill your need for a standing desk.
When you're working from home all day, it's advised to change position occasionally. This little folding desk allows you to work standing to reduce back pain and bad posture.
This desk has four little cubbies for smaller items and stationery, and there's a larger shelf, too.
It also comes equipped with a drawer beneath the desk surface, so you can keep things tidy and out of sight.
The simple, white design won't look out of place in any room. When you're finished with work, you can fold up the desk. Instantly, your space will transform from office to living room or bedroom.
It looks sleek and stylish tucked away, and you wouldn't guess that it's a computer desk from its small size. It measures 20 x 26 inches in total and protrudes only 6 inches from the wall.
Despite this, it can hold up to 30 lbs. That's perfect for your laptop and any other office supplies you need.
The computer shelf is quite small, so it might not be the best choice if you work full-time from home. But if you need some flexibility or another space to work from occasionally, it's ideal.
This tiny computer desk is practical, and you can fold it away at the end of the day
It's sturdy and can support 30 lbs of weight
You might find the surface too small if you work long hours
---
KZHOME Wall Mounted Table
This sleek, sturdy wall desk is affordable and offers fantastic value for money. You can use this generous desk space for work or study.
It looks stylish and bright, with room to display some personal items on the shelves and cubbies. So, you can make this desk look attractive to motivate you as you work.
There's room for any little supplies or stationery you need at hand, too. But once you fold it away, it looks like a simple cabinet.
This slim floating desk with clean lines will fit in any small apartment. It saves space and creates a designated area for work, so you can focus.
If you're used to working on your sofa or bed, this desk will be a game-changer for you. Set it up at the right height for your body, and it's a comfortable, ergonomic place to work or write.
It's made from high-quality, environmentally friendly MDF wood. It should last a long time and can hold up to 44 lbs, so it's durable and robust.
This desk comes with clear, detailed instructions, and the assembly is straightforward. All these factors combine to make it one of the best fold up wall desks for tight spaces!
You get a large space to work on, measuring 22.2 x 14.6 inches
It also has useful storage shelves and folds away into one cabinet
It's a little heavy at 20 lbs, so you may need help mounting it
---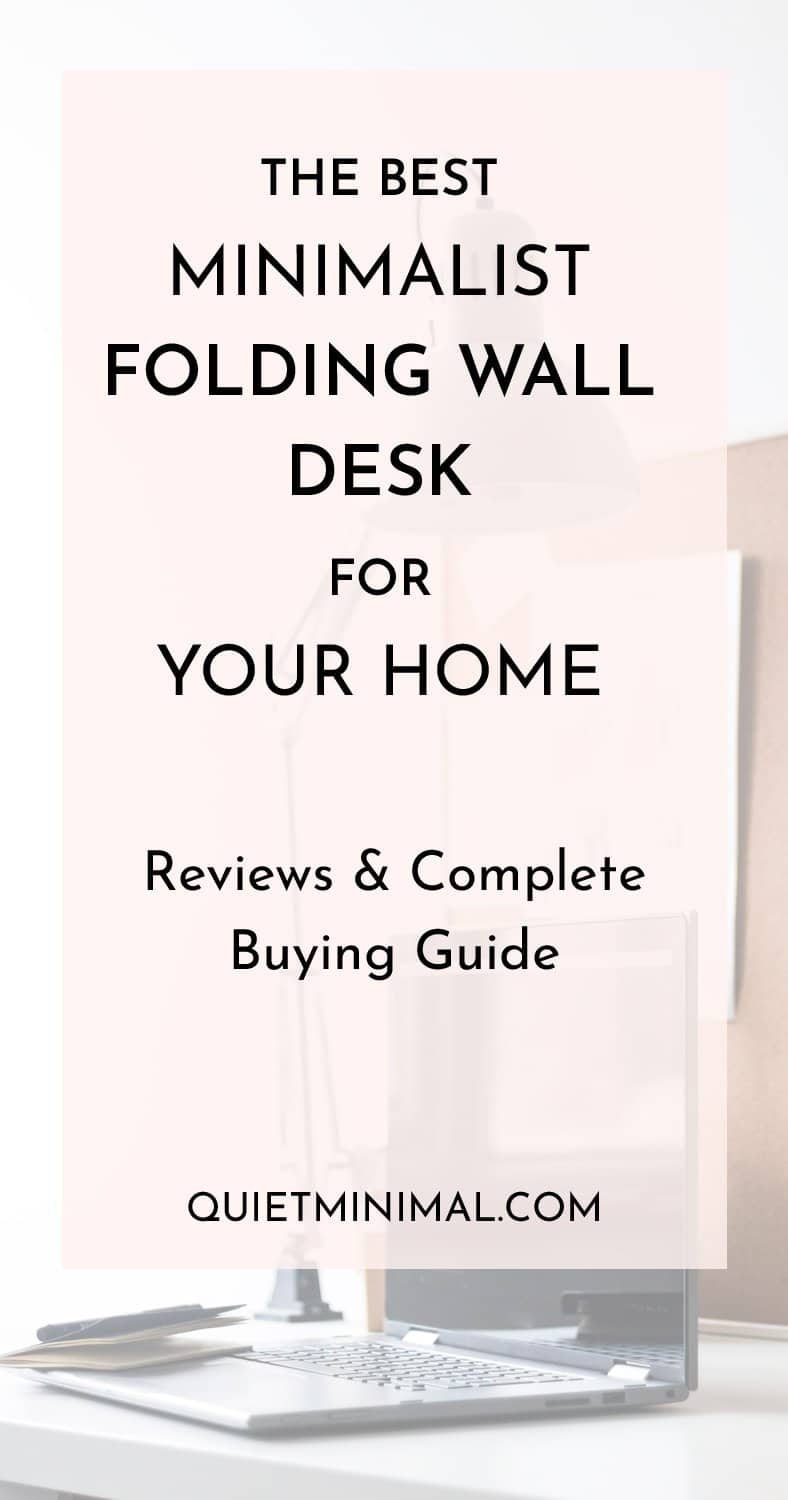 Final Thoughts
A folding desk is a smart and useful piece of furniture. Whether you live in a smaller apartment or just want to make the most of your space, it's a clever solution.
You get a decent-sized desk to work on, but you can pack it away when you're done. It's ideal if you live and work in the same space. Plus, it streamlines your home, frees up floor space, and reduces visual clutter!
Browse through my detailed reviews and select the best folding desk for your needs. Then, let me know which one you chose in the comments!