Black and white in the kitchen is a classic and timeless look. This sophisticated color palette will look fresh and modern in any kitchen. And one of the best ways to use this color palette is with black knobs on white cabinets.
White cabinets create a clean, bright atmosphere, which is ideal for the kitchen. By adding black hardware, it perfects this high-contrast look.
So, why do black knobs look so good on white kitchen cabinets? Here are some ideas for using black knobs on white cabinets in your kitchen.
Black Hardware on White Kitchen Cabinets: Ideas & Inspiration
Matte vs. Gloss Black Hardware on White Cabinets
One of the first choices you need to make is an important one. Do you want a matte or gloss effect for your black cabinet hardware? That may depend on your overall vision for your kitchen.
Consider how the black cabinet knobs will look with your appliances and accessories. You should go for the same look throughout to create a stylish and harmonious kitchen.
Small Kitchen With Black Knobs on White Cabinets
If you have a small kitchen, you need to think carefully about how you decorate it. Dark colors or bright shades could make it feel even smaller and more claustrophobic.
And that's why white cabinets are an excellent choice for a small kitchen. They help to brighten the room, maximizing the natural light and making it feel more spacious. Keep your surfaces clutter-free with smart storage for all your essential items. Finally, add black knobs on the cabinets as the finishing touch to bring some contrast into the room. 
Sleek Black Cabinet Handles
You're not limited to round door knobs if you don't like how they look. There are a lot of options when it comes to kitchen hardware. For example, you could go for these sleek, streamlined black cabinet handles. They look modern against your white cabinets and will complement your black appliances. Plus, they're practical and easy to open.
Black & White Farmhouse Kitchen Look
While the black-and-white look can feel edgy and modern, it doesn't have to be. This color palette is versatile and looks great with most interior design styles. So, it can work just as well in a cozy farmhouse kitchen.
Keep your farmhouse kitchen classic and simple with white cabinets and walls. Then, you can accessorize with black hardware and add an accent color if you like.
With a black-and-white backdrop, you can customize the kitchen according to your style. So, feel free to add florals, soft pastels, or warm tones in your kitchen. And the best thing is that you won't need to worry about colors clashing.
White Cabinets, Grey Tiles, & Black Cabinet Hardware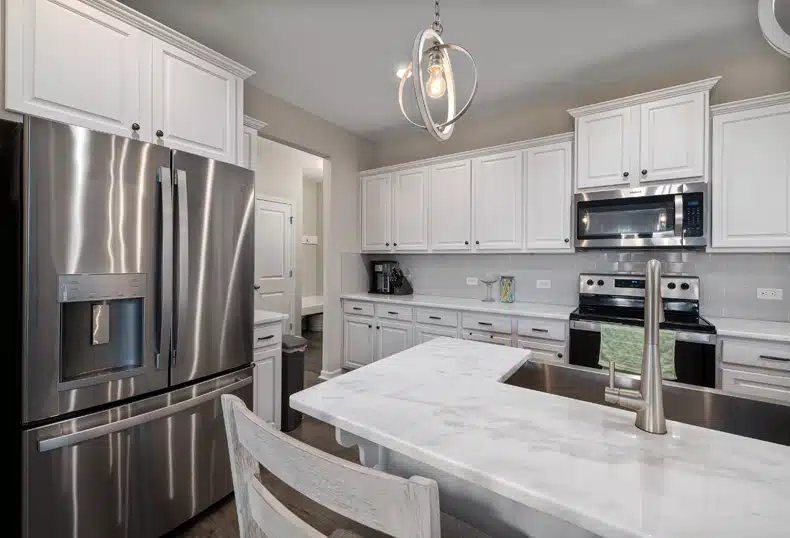 A monochrome look in the kitchen is classic and sophisticated. But you can add grey to the mix to take it to the next level. White, grey, and black look amazing together as they are similar tones. And by including grey, you add more visual interest.
One of the best ways to use these colors is by opting for grey walls. Alternatively, you could go for grey tiles as a backsplash. Then, complete the look with black knobs on white cabinets.
Wood, White Accents, & Black Hardware
The best thing about a white-and-black color scheme is that it goes with everything. Take this gorgeous kitchen with wood accents, for example. The white cabinets and black knobs go perfectly with this look.
The rich wood tone helps to bring warmth to this kitchen, balancing the cool white shade. You can also add some sage green accents or plants to this room. It will look fresh, inviting, and organic with its natural elements.
Stylish White Cabinets & Black Metallic Hardware
Another option is to go for black metallic hardware on your white cabinets. This creates a real sheen while also being practical and hard-wearing.
Invest in black metallic appliances to make it an intentional design decision. By repeating the black metal throughout your kitchen, it will become a focal feature of the room. So your kitchen will look stylish and consistent throughout.
White, Black & Pops of Color in Your Kitchen
White and black is a fantastic color scheme for the kitchen. But you don't have to limit yourself to this monochrome color palette if you prefer more color. You can add some fun pops of color to brighten your kitchen! Check out my list of the best colors to pair with black and white for inspiration.
For example, why not add bright red appliances or sunshine yellow accessories? These whimsical elements will make your kitchen a welcoming and relaxed space. So, don't be hesitate to let your personality shine and play with bright colors in your kitchen!
White Push-Operated Cabinets and Black Hardware
If you like the minimalist approach, consider going for push-operated cabinets. Then, you don't need black knobs on the cabinets at all. Instead, you create a streamlined kitchen silhouette with smooth surfaces and clean lines.
But you can create the same black-and-white aesthetic by opting for black hardware. For example, you can find gorgeous black light fixtures for a modern look. Or you could even opt for black appliances like a kettle or toaster. As a result, you'll create a cohesive and stylish look for your kitchen.
Oversized Black Cabinet Pulls on White Cabinets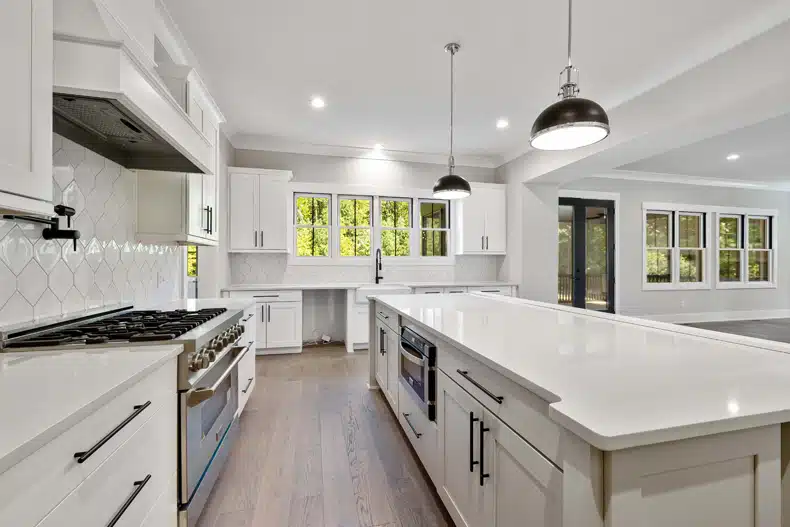 If you hit the local hardware store, you'll see that you're spoilt for choice. There are so many different types of cabinet knobs and pulls to choose between.
Oversized cabinet pulls are trendy right now, and for good reason. It's a simple switch to make, but it makes a big impact while also being practical. So, if you're on a budget, why not go for oversized black pulls for your white cabinets?
White Cabinets, Black Hardware, and Black & White Tiles
Take the monochrome look to the next level with this look! If you're into a black-and-white look, why not continue it throughout the room?
Go for black and white tiles on the floor in a checkerboard layout. Or you could alternate white and black subway tiles in a herringbone pattern.
If you have the budget, you could invest in black appliances, light fixtures, and even a fridge. But opt for white counters for balance. And you're sure to love your new, bold, black-and-white kitchen!
Ornate Black Knobs on White Cabinets
If you want to create a vintage vibe at home, head to your local antique stores. Once there, keep your eyes peeled for any ornate black knobs you can find. You can often pick up gorgeous, intricate cabinet knobs for hardly any cash. So, this is a great hack to refresh your kitchen on a budget.
Of course, it will depend on the luck of the draw of what's available. You might need to search a few stores to find the perfect black knobs for your kitchen. But you can have fun decorating your kitchen without buying brand-new hardware.
The Wrap Up
You can't go wrong with white cabinets and black hardware or knobs. White is an excellent color for the kitchen as it creates a clean, hygienic look. But it can be a bit boring on its own. Pair with black cabinet hardware for a high-contrast, stylish look.
And as you've seen, there are many ways to use the black-and-white color palette in your kitchen. You could go ultramodern and minimalist or classic and cozy in a farmhouse style. The choice is yours!
Let me know which of these ideas you like best. And feel free to drop your suggestions in the comments below.
Follow Quiet Minimal on Pinterest for all the latest home decor content & minimal living tips.