Black is a stylish color to use in your home
As black is such a strong color, you need to choose your color scheme carefully to ensure your room looks its best – and doesn't become too dark
You can create very different aesthetics using black depending on the color you pair with it – here's a whole range of gorgeous colors that go with black for you to choose from.
The color black is a versatile and timeless design choice for your home. And there are so many ways you can use black in interior design. It can look bold and dramatic or simple and minimalist – but a lot will depend on which colors you pair with it. So, let's take a look at the best colors that go with black in your home.
Choosing colors is one of the most important design choices you'll make. Your color palette helps to set the scene and create your desired mood in any room. So, it's not a decision you should take lightly!
Below, you'll find my suggestions for the colors that go well with black. There are color schemes for every style and something to suit every room in your home. So, browse these colors that go with black for inspiration!
12 Colors That Go Well With Black
Read on if you're looking for the perfect color scheme to match your black walls! If you're wondering which colors go with a black accent wall, you'll find suggestions here.
I've also got ideas for the best colors that go with black furniture. So, you can create your dream look in your home – from sophisticated to luxurious, minimalist to modern.
White
You can pair white and black for a simple yet stylish and minimalist room. It's the ultimate high-contrast look and a classic interior design choice.
One advantage of pairing white with black is that the lighter color will balance out the room. So it doesn't make the room feel overwhelmingly dark or cramped.
There are many ways you can use white and black together. For example, black and white tiles look fabulous in a kitchen or bathroom. Or you could go for white tiles and a black bathtub for a bold, eye-catching look.
And if you're thinking of a black feature wall, adding white accessories will make it stand out even more.
Red
This color combination is timeless and bold. The color red looks even brighter against a black backdrop. So, you can create a show-stopping look for a kitchen or living room. But this color palette can work just as well in the living room.
For example, you could go for black walls with red accessories and lighting. Or mix it up with red walls and black furniture. It's easy to find elements like artwork that use both colors to add the finishing touches.
With this color combination, I recommend sticking with one shade of red. That way, it will look intentional and powerful rather than diluting the effect. A bold postbox red shade works better than a muted red as it will stand out more and add some color.
But if you prefer a moody, darker room, consider pairing burgundy with black instead.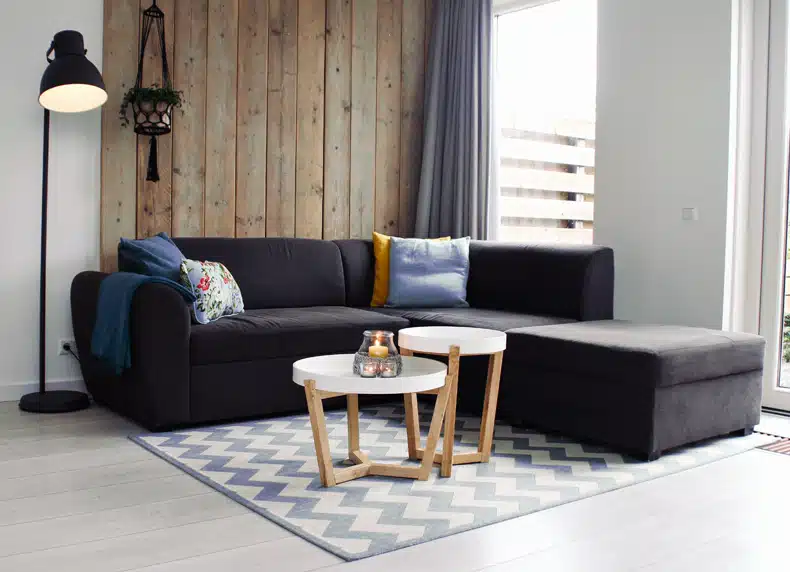 You might not have considered using black and navy together. These colors are both dark, so it might seem like it could be too overpowering.
But when you use navy and black in the right ratios, you create a chic, modern style. It feels a little edgy, a little moody – and infinitely cool.
Navy is a confident color that will add some visual interest to the room. You can add a warm metallic shade like bronze or gold as an accent color. That will play off the darker shades and make your room look elegant and sophisticated.
Powder Blue
If you prefer a fresher look, consider going for powder blue instead. This pastel color is gentle on the eyes and will contrast strongly with black furniture or walls.
So, it will open up the room and make it feel breezy, spacious, and airy. But you still get to use touches of black for a modern style.
Even better, this pastel shade won't compete or clash with your black elements. There's no competition between these two colors; the differences enhance each other. So, you'll appreciate each one more than if alone.
Powder blue walls are the perfect background for black furniture. Or you could go all out and paint the walls black. Then, add blue accents and furniture to balance it out and create a harmonious look.
Yellow
Yellow and black are a bright, fun, and eye-catching color combination. The yellow is bold yet warm, making your room feel more homely and less business-like.
For example, opt for a bright yellow armchair against a black accent wall. Or go for a sunny yellow on the walls and then tone it down with stylish black furniture.
A yellow rug will stand out against black flooring, while yellow cushions add a splash of color to a black sofa.
But a word of warning – don't add any other bold colors to the mix. Otherwise, you risk it becoming too garish, with too much going on at once.
The best shade of yellow to pair with black is a bright, saturated shade. Avoid anything too earthy – like mustard – or too pale and insipid, like pastel colors. 
Green
Green is an interesting color to pair with black and not one to overlook. It's a versatile color, and the exact effect will depend on the shade you use.
Choose rich deep tones like forest green for an exotic, boho look. You'll have less contrast, but you'll create a cozy feel – perfect for a sumptuous living room or bedroom.
Alternatively, pair black with a lighter, gentle sage green. This shade is calming and soothing, with earthy, natural vibes.
Gray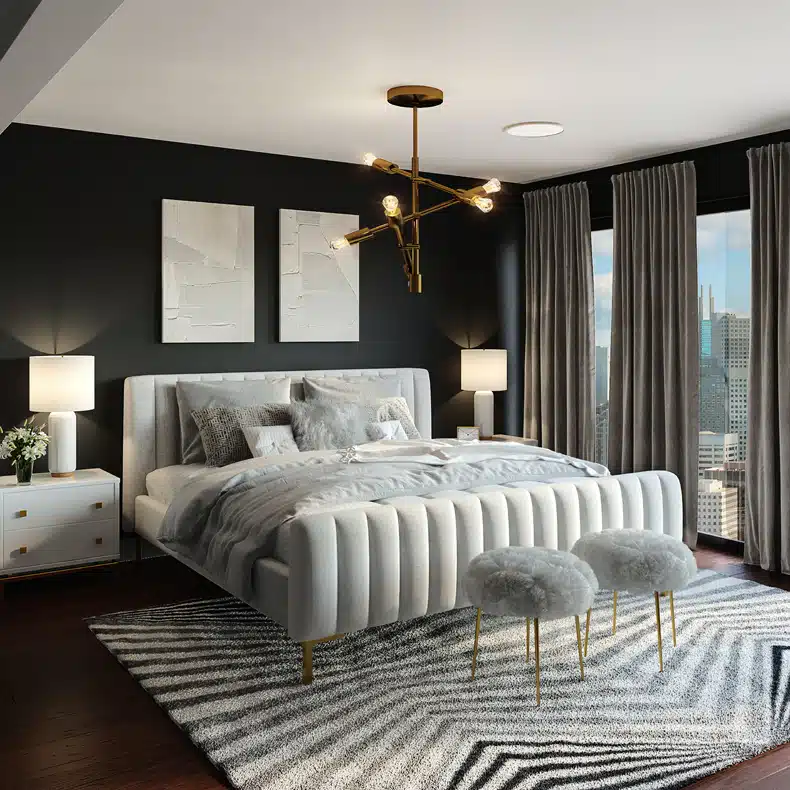 Minimalist, classy, timeless. You can't go wrong with a black and gray combination – it will never go out of fashion.
Gray is similar to black as they're both classed as tones – so you won't need to worry about these colors clashing. You can pair any shade of gray with black, and they will look amazing together.
But if you have a smaller space, going for a lighter gray will make the room feel larger. Plus, the higher contrast draws the eye.
If you want a more subdued room, opt for closer shades. That will feel less dramatic than an all-black look and tone it down a little. You can add accessories in other shades to keep it visually interesting.
Pink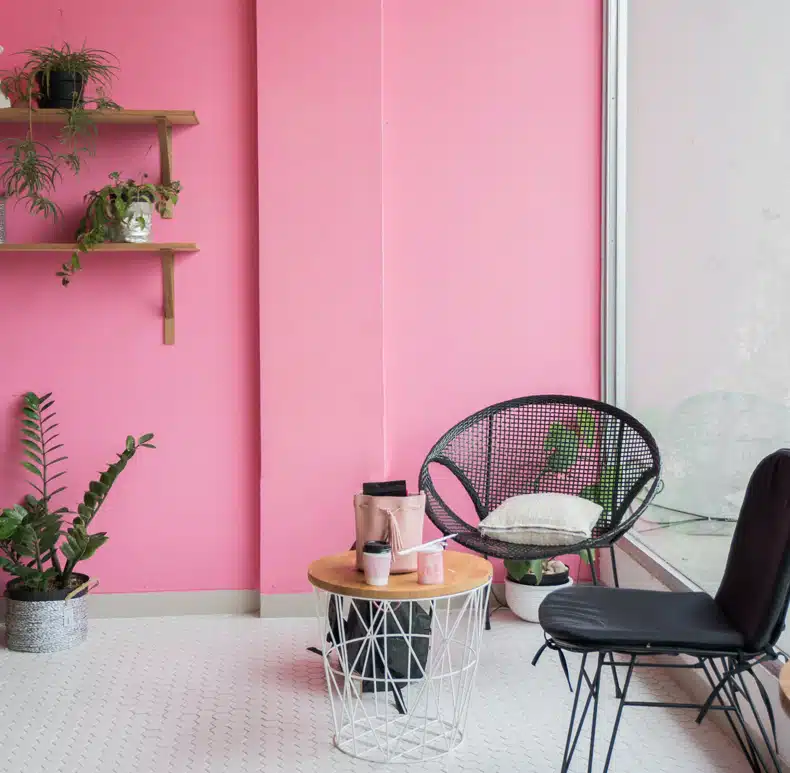 This color combination is modern and eye-catching, with hints of vintage chic. Together, pink and black look feminine and classy.
So, it's perfect for a gorgeous bedroom or a statement living room. You could go for pale pink if you want a softer look. Or go all out with hot pink and black for a bold style!
Alternatively, blush pink brings sophistication, ideal for a luxurious and elegant room.
Cream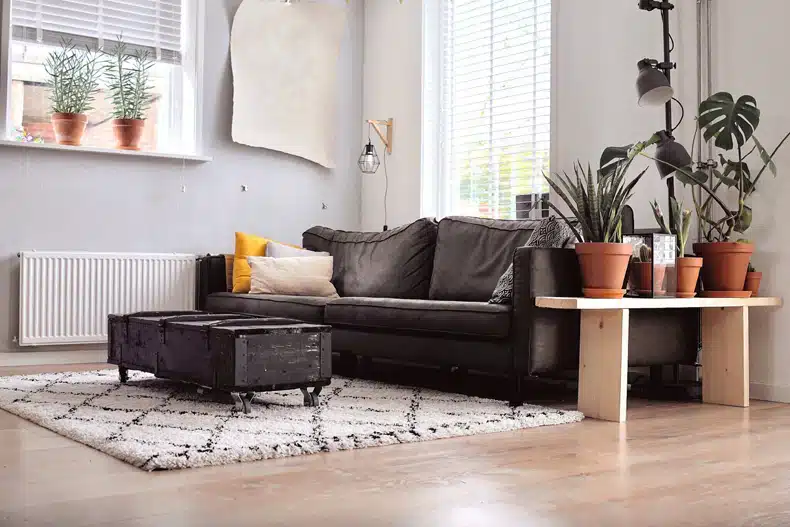 Cream is a softer and warmer shade than white – so this color scheme can feel more inviting. It's perfect for a simple and stylish bedroom.
Opt for cream bedding and walls, and then layer in some black accessories. For example, a rug, chaise longue, cushions, or lamps.
You could also add touches of bronze or copper for the finishing details in an elegant, classic room.
Brown
Earthy brown tones look great with a few smaller black accessories. They prevent the room from feeling too cold and clinical, as can happen if you use too much black.
For example, imagine a neutral room with beige and brown tones. You can take this look to the next level by adding some black accessories or artwork. That will make it feel modern and a little edgy, bringing it into the 21st century.
Copper
You can create a glamorous, sophisticated room using black and copper together.
Black brings out the sheen on metallic tones, making this a winning combination. And copper has rich, warm tones that really shine against a black backdrop.
Choose this color scheme for a kitchen or bathroom by opting for copper hardware. For example, you could use taps, cabinet handles, and accessories against black tiles.
Or you could add copper-toned textiles to a living room with black furniture or wall paint. That will balance the space and make it feel cozier and more welcoming yet stylish.
Purple
Purple has regal connotations of power and sophistication. As a result, this color scheme is elegant and beautiful.
You could pair a rich deep purple with black for a warm and inviting look. This shade is the perfect color against a black accent wall.
Or, if you prefer a gentler style, opt for lavender accessories. That will make your black walls or furniture stand out more and look richer and deeper. But it also softens the room and makes it feel more feminine.
The Wrap Up
Using black in your home is a bold and stylish design choice. And as you can see, you have so many options for incorporating it into your home.
Whether you go for bold and high-contrast or timeless and minimalist, the choice is yours. Let me know your favorite of these colors that go with black in the comments below!
And follow Quiet Minimal on Pinterest for more home and garden inspiration and tips.