Gold is a stylish color to use in your home, making it feel elegant and luxurious. But you might be wondering what color compliments gold, as it's quite an intense color.
So, you do have to be careful about how you use gold. If you use too much or match it with very bold colors, it can become overwhelming. And then, you risk it looking tacky instead of classy. 
You could go for gold walls, accessories, or feature pieces for your home. There are many ways to incorporate gold into your interior design style. But you need the right colors to pair with gold to complete the look.
If you're looking for the best color combination with gold, read on! I have tons of suggestions for colors that go well with gold.
So, you can browse through and pick the gold color palette that most appeals to you! There's something for everyone here.
What Colors Go With Gold?
Let's take a look at the best colors that go with gold! There are many different ways to use gold in your home, for example:
On your walls
The soft furnishings such as throws, cushions, rugs, etc
Furniture – e.g. a side table with a gold-colored metal design
The curtains
Decorative items such as vases, artwork, photo frames, etc
And there as many different colors you can pair with gold. Here are some of the best gold color combinations so you don't need to worry about what color matches with gold. Any of these color palettes will look amazing in your home!
Blue
The blue and gold color palette is a popular one, as these colors compliment each other so well. Gold goes especially well with a rich navy blue, as it provides a nice contrast.
You could paint your walls in a beautiful blue and add gold accent pieces. Many accessories also come in blue and gold.
As you can see, you have so many options when it comes to the blue-gold color combination. This stylish combo is impactful and elegant. So, you can't really go wrong with it!
Black
Black and gold are a statement color combination, suggesting class, style, and sophistication. You can use a black and gold color palette in any room in your home.
For example, you could have gold walls and black accessories. Or, you could go for black cupboards with gold handles. Another amazing idea is to have black tiles and gold highlights in your bathroom.
There are many ways to use black and gold together. But whichever you do it, a black and gold color combination will look fantastic!
White
If you prefer your home to have an airy, fresh, and modern feel, you could go for white and gold. This color combination offers subtle sophistication. It looks classy without being too in your face.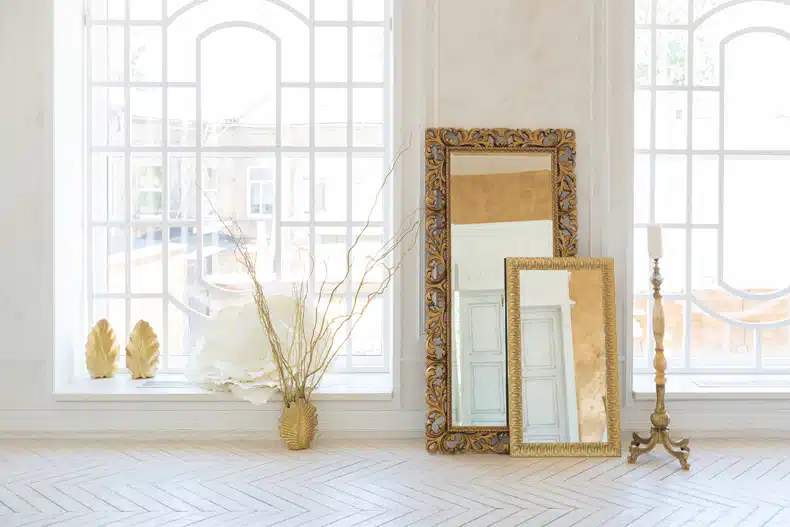 You can often see this color palette in fancy venues like hotels and restaurants. But you can very easily recreate the look at home. And if you like, you could add in one more color. (Make sure you go with a complementary shade!)
You have different options for how you could combine white and gold. You could go for white walls and gold accents like a gorgeous gold coffee table. But if you're feeling a little bolder, you could swap them over. Instead, you could have gold walls and white furnishings, rugs, etc.
White and gold backgrounds also look stunning. For example, check out this beautiful white and gold wallpaper. It will make your home the epitome of style!
Gray
Gray might not be the first color that comes to mind when you're thinking about colors that go with gold. But even so, it's well worth your consideration.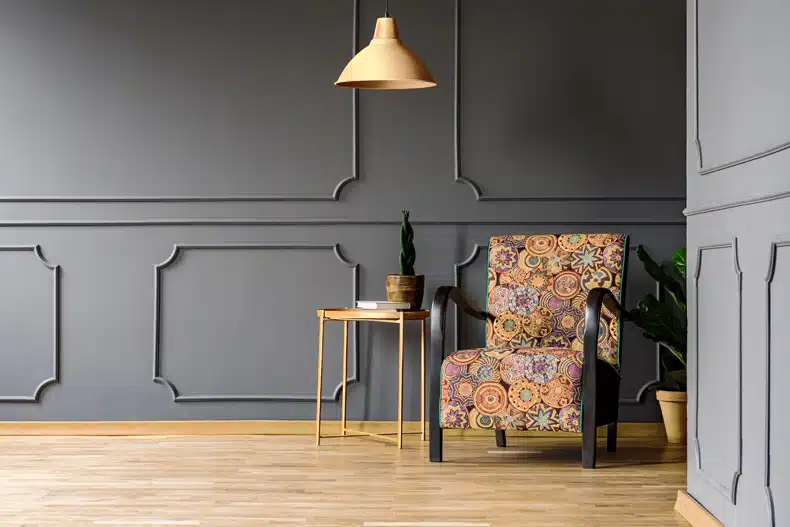 Gray is a nice, neutral shade, so it makes the perfect backdrop for gold accessories or decor. This color combination works well in minimalist, modern, and contemporary homes.
You can pair any kind of gray with gold, as both light and darker shades work well. Gold walls are a statement enough in and of themselves. So, you'll find that gray is one of the best colors to go with gold walls, as it complements rather than competes with them.
But you can also go for subtler gold and gray combinations. Check out this stunning gold and gray artwork, for example. A gray gold room is also suitable if you're looking for a more masculine vibe.
Emerald Green
Another stylish look is gold matched with emerald green. This rich, darker green is very popular and on-trend right now. And it contrasts perfectly with gold, creating an elegant look with natural vibes.
Gold and emerald green look just as good in the bedroom as in the living room or even the bathroom. You could add some artwork that features a green-gold color scheme. Or, you could go for emerald walls and accessorize with gold accent pieces. Stylish retro gold vases could do the trick.
Turquoise
Turquoise and gold are another exquisite color combination. It can work with any interior design style and in any room.
You can find many decorative items that combine gold and turquoise. A turquoise and gold throw cushion is just one example.
And if your heart is set on gold walls, turquoise furniture will look amazing. For example, a turquoise chair will work perfectly with golden walls.
Beige
Beige is pretty similar to gold, but it's a more muted shade. This neutral color can enhance the look and is ideal if you don't want to use contrasting colors.
As a result, you'll end up with a calmer, more laidback color palette. And so, it's ideal if you're into the minimalist design style.
The beige gold color combination also suits smaller rooms. The lighter colors make the room feel more spacious. But in contrast, dark colors can have the opposite effect.
Purple
Purple has long been the color of royalty. It's regal and sophisticated. So, when you add gold, it becomes even more lush and luxurious. High-quality fabrics like silk, satin, and velvet complete the look.
Purple is opposite gold on the color wheel, so they work well together. Either purple or gold will work well as the primary shade in your design scheme. And then, you can use the other color to complement it. For example, you could add a gold coffee table to a room with purple walls.
Most often, gold is paired with a deeper purple shade. But you could also go for lighter purple, such as lilac, and it will work just as well.
Brown
The color brown complements gold well. One way to do this is to go for dark wood furniture against gold walls. Or, you could opt for wooden furniture with gold accents, like a side table.
Gold and brown can look feminine or masculine, depending on the pieces you use. So, you can make this look suit your personal style. or other decorative pieces
What Color Curtains Go With Gold Walls
Going for gold walls is a bold decision, but it can definitely pay off. Gold walls are a stylish and eye-catching addition to your home.
However, you might be wondering how to choose colors that go with gold paint. Or what color curtains go with gold walls?
These are great questions, as they will help you be more intentional with your color scheme. You have a few different options depending on your personal style. So, let's look at the best colors that go with gold paint. And in particular, we'll focus on the best color of curtains.
Neutrals
Firstly, you could go for a simple neutral color. A neutral shade allows you to appreciate the beautiful gold color in all its glory.
Colors like beige, cream, and white work well. You could also go for a pale gray or blush pink.
Beige blackout curtains should do the trick, especially for a bedroom. Or, you might prefer these sheer cream curtains with a slight pattern.
If you go for neutral curtains, you can be sure that they won't clash with your gold walls.
Monochromatic
Your next option is to go with monochromatic curtains. This means curtains that are of a similar color to gold, such as yellows and oranges.
You'll need to be careful if you choose this option, as you don't want a color that is too similar. (It will make your room look samey and a little dull). But if you choose wisely, it can look amazing!
Complementary
Finally, you could go with a complementary color to pair with gold. For this, you'll need to take a look at the color wheel.
Then, you'll need to pick colors on the opposite side of the color wheel. While you won't find gold on the color wheel, yellow is the closest color.
So, you could go for navy curtains. Purple is also an excellent complement to gold walls. Choose purple velvet curtains! They're sure to make an impression when paired against gold paint.
What wall color goes with gold curtains?
You might decide that gold walls are a bit too much for your home. But you still want to use gold in your color palette.
In that case, gold curtains are the perfect addition to any room. They are stylish and elegant but not too overpowering. Gold curtains will draw the eye but still allow the rest of your room to shine. Any rich tone like gold, teal, or even red will work well.
White is also a perfect base color for a room with gold curtains. It's simple and sophisticated. And you can add other gold accents too if you like.
Final Thoughts
Now, you know all the best gold complementary colors for interior design. Let me know below which color you choose to pair with gold in your home! And make sure to follow Quiet Minimal on Pinterest for more interior design tips and reviews.