Teal is a truly stunning color that will make a real impact in your home. It's a beautifully rich color, and although it has some similarities with blue, it's such a unique shade. It channels an ocean vibe and has such depth to it.
The teal color oozes luxury and sophistication. But it can be tricky to know which colors to team with teal, as it's quite an intense shade. So, here are the best colors that go with teal to create a gorgeous color palette.
If you've been wondering what colors look good with teal, read on. You'll be pleased to hear that you have a lot of options for colors that go with teal blue.
What Colors Go With Teal? 15 Gorgeous Teal Color Schemes
If you love the color teal but don't know which colors to pair it with, don't despair. Teal is a beautiful, rich color for almost any room in your home.
And the good news is that there are many scheme colors that go with teal. So, you can take your pick and find a color that suits your interior design style.
Teal and Rust
If you're looking for a warm color scheme, you could pair teal and rust together. This creates a rich, autumnal feel in any home. It works especially well in a bedroom or living room, making it a warm and cozy space.
Teal is a cooler color, while rust is a much warmer color. So, these colors have a nice contrast that works very well together.
You can choose how you use these colors together. For example, do you want to use either of these colors on your walls? Or do you prefer to have a neutral wall color and opt for teal or rust-colored furniture?
Another option is to have a teal feature wall. It's the perfect background for your rust furniture without overwhelming the room. Remember that darker colors can make a room look smaller. So, consider how you'll balance out the colors and create harmony in the room.
Teal and Red
Teal and red are a brave and bold combination. But for some strange reason, it works.
Both red and teal are intense colors. So, you'll need to think carefully about how you pair them together. Inevitably, you'll need some neutral colors in your color scheme, too. Otherwise, it could become too bright and clashing.
But if you love vibrant colors, a teal and red color palette could be ideal for you. It creates a very eclectic, boho vibe. It also has a bit of a retro feel, as bold colors were often paired together in the past. But it can work just as well in a modern home, too.
You could opt for teal walls and add red furniture or accessories to achieve this look. But make sure that you pick your exact shades carefully, so they don't clash. Aim to go for warmer teal and red hues that complement each other.
Teal and Taupe
Taupe can be a little hard to define as a color. It's a dark gray-brown shade that goes very well with teal. As it's a neutral shade, you may feel confident using more teal in your room.
With this color palette, the teal color really shines. It takes center stage and is sure to draw people's attention. But at the same time, taupe balances it out and creates a calm, relaxing atmosphere. It's a soft shade that highlights the vibrancy of the color teal.
Teal and Cream
If you prefer a more minimalist look, consider pairing teal with cream. This combination creates a beautiful look that enhances the deep color of teal.
Cream is a soft, neutral color, so it is a fantastic backdrop for teal. It's one of the best colors that go with dark teal as it doesn't compete with it. Instead, it complements it and helps balance out the room. In this way, the rich teal color doesn't become too overwhelming.
Teal and White
White is another nice neutral color to team with the color teal. It creates an immaculate, polished look that can suit any home.
If you go for light teal and white, you can create a laidback, beachy vibe. It's perfect when combined with light-colored wood and rattan accessories. Add a few plants, and your room will have a relaxed and welcoming atmosphere.
But if you prefer dark teal, it can look very dramatic against a white backdrop. You could opt for white walls and a deep teal sofa and curtains. That will create a stylish and impressive living room or bedroom design. 
Teal and white are also a fantastic color palette for your kitchen. White walls will make your kitchen feel bigger and brighter. But you could add teal tiles or appliances to liven it up and make it more visually interesting. It also works well in a bathroom.
Teal and Mustard
Mustard is a rich color that complements teal. As mustard is a warmer shade while teal is a cooler color, they create a bold and fun contrast. These colors make for an exciting color palette for any room.
A lighter teal will pair well with mustard if you prefer a minimalist color scheme. Paler shades won't compete with the deep mustard color. But if you like to experiment with rich colors together, you could go for a dark teal and mustard combo.
Teal and Gold
If you want to create a luxury feel to your home, teal and gold are a strong color palette. It has some similarities with a teal and mustard room but is much more glamorous!
When you pair gold and teal, these colors will make your home feel sophisticated and stylish.
If you go for minimalist gold accessories, you'll have a very modern atmosphere.
But you could opt for more ornate accent pieces like mirror if that's more your style. Then, your room may lean towards a Bohemian design. You can enhance this look with rich fabrics, like teal velvet curtains.
Teal and Blue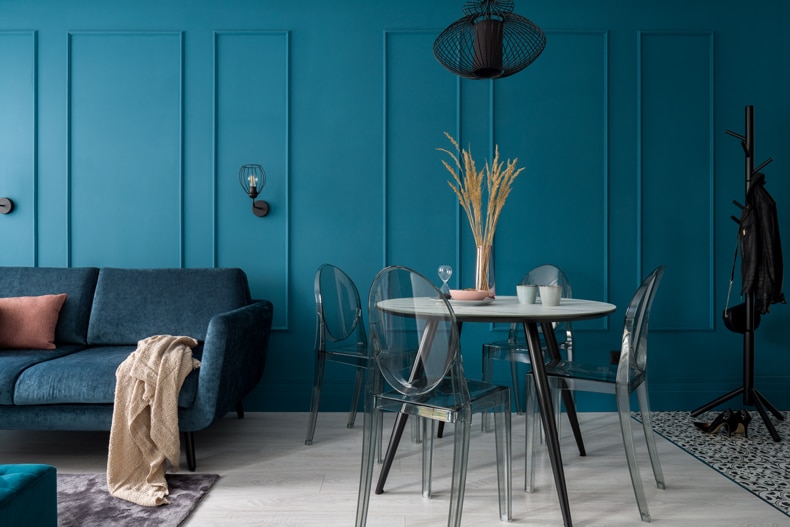 You might be hesitant to combine teal and blue as they're quite similar colors. But this color palette creates a light, fun, and calming atmosphere. Think beach house!
Pale blues work especially well with teal, as they provide enough contrast. But at the same time, there is balance within the room, as you don't have too many colors competing.
Equally, you could pair teal with a dark blue for a rich and impactful room. You'll need to be a lover of color for this combo to work in your home. But it will definitely look stylish and eye-catching!
Either way, you'll probably want to pick a teal with a hint of blue (rather than green undertones). That way, it will harmonize with the other blue colors in your room.
Teal and Orange
If you want a bright, fun color scheme, pair orange and teal together. These colors are opposite each other on the color wheel, so they look fabulous together. They provide a rich contrast that allows each color to shine.
There are lots of ways you can use teal and orange together. For example, you could go for a rich wallpaper featuring both colors.
Or, you could opt for a teal sofa and add orange scatter cushions for a pop of color. And if you paint your walls orange, a teal rug is the perfect thing to contrast with them.
Teal and Purple
Teal and purple might not be the first colors to pop into your head for your home color palette. But when done carefully, these colors can look beautiful together!
Purple and teal are both blue-based colors with heavy blue undertones. You can create a stylish living room or bedroom using these two shades.
The first step is to choose a neutral color as your backdrop. For example, cream, light grey, or white walls work well. Then, you can add notes of each color using accessories, textiles, and rugs.
Pale lilac complements a deeper teal color. In this way, you can create a softer, more feminine look. But you can also use rich teals and purples to create a dramatic, jewel-colored room.
Just remember, it's quality over quantity. Less is More – don't overwhelm the room by filling it with color. You need to provide white space to let richer colors breathe.
Teal and Gray
Gray is an excellent color to pair with teal. It looks good in any interior design style, but especially in contemporary and minimalist homes.
Teal and gray are both cooler colors and complement each other perfectly. It's hard to find a shade of teal that won't look good with gray. So, you can pick almost any teal from light to dark, and you'll have an amazing color scheme.
White and brown are other colors that go with teal and gray. You can add them as accent colors or go for white walls. Then, it's up to you whether you choose teal as your secondary or accent color. Either will work just as well!
For example, you could have white walls, teal furniture, and gray cushions. But it would also look just as stylish if you use these colors differently. As mentioned, brown wood furniture goes well with teal and gray furniture. Aim for light or mid-brown wood furniture like this gorgeous coffee table.
Teal and Pink
Are you into rich, bold color schemes? Then, consider going for teal and pink. If you're not afraid of color, this scheme can work well in a living room or bedroom.
The beauty of this color palette is that the colors balance each other out. Hot pink is tricky to use in the home, as it's so bright and rich. It can easily become overbearing.
But when combined with a cool teal color, it's much more palatable. You can create a brave and inspired home using teal and pink.
Teal and Yellow
Teal can lean towards being a more serious color, especially when using dark teal. So, adding some yellow to your color scheme is a great idea to brighten things up!
You can use pops of yellow color to contrast against the teal and bring more energy into the room. Or, you could go all out by choosing a bright yellow rug or curtains for your living room.
Yellow and teal are ideal together if you're into bright, funky colors and a retro 70's vibe!
Teal and Beige
Many of these teal color schemes are bright and bold, but they won't suit everyone. The good news is that you can still use teal in your neutral or minimalist home. You don't need to pair it with rich, colorful shades for it to look stylish.
Beige is the perfect combination with teal to create a neutral design scheme. Start with a beige backdrop – walls, floors, even sofas if you like. Then, you can work in smaller pops of teal. For example, you could add a teal throw or teal scatter cushions. Or, you could go for functional and decorative items, like this beautiful teal lamp.
Teal and Black
Last but not least, a teal and black color scheme is impactful and stylish. Either light or dark teal works well when contrasted with black. Dark teal fits the bill if you prefer a moody and serious atmosphere. Whereas a paler teal will brighten things up and make it feel more lively.
This color combination can work well in a living room or bedroom. But it's best suited to a kitchen or bathroom, where the color scheme looks fantastic. For example, black hardware and appliances against teal tiles.
You can also use teal to brighten up a monochrome room. While black and white are a classic color palette, you risk it looking boring if you don't use any color. Introducing pops of teal could be just what the room needs!
The Wrap Up
Teal is a rich color that evokes calmness and serenity. But as you can see, there are many ways to use teal in your home.
You can browse through and find the perfect teal color palette for your living room, bedroom, or even your kitchen. Let me know which one is your favorite in the comments below!
Follow Quiet Minimal on Pinterest for more minimalist and home design tips and reviews!
This post contains affiliate links. If you make a purchase, we may receive a small commission at no additional cost to you. However, this does not impact our reviews and comparisons. We try our best to keep things fair and balanced in order to help you make the best choice.