If you've decided on a gray carpet for your home, you have many wall options. There are lots of color palettes that work well with gray carpets. So, if you've been wondering what colors go with gray rug, read on!
You'll find a variety of colors here that complement the gray carpet so you can create your style. All these color schemes will look amazing, but you must pick the most appealing. Your home should suit your style and make you feel cozy and relaxed.
So, what color walls with grey carpet? Let's look at the options to pair with your gray carpet. From bright and funky to cool and minimalist, there's something for everyone here. You're sure to find the best paint color with gray carpet in this list.
10+ Grey Carpet Wall Color Ideas
Here are more than ten different gray carpet wall color ideas. There are enough ideas here to spark your imagination and find the right style for your home. But each color has been carefully chosen to complement your gray carpet.
White
White is one of the most popular colors to use on the walls in any room of the home. It's simple, classy, and minimalist. And even better, you can pair white with any color you'd like to create your ideal color scheme.
As white and gray are neutral colors, they work best when you pair white walls with a slightly darker gray. That way, you'll have enough contrast to prevent it from looking bland.
Plus, with this color scheme, you have the freedom to introduce other accent colors. You could go for brightly colored furniture, rugs, or curtains to add a pop of color.
Or, you can keep it as simple and minimalist as you like. The choice is yours, and it's hard to go wrong with white walls and gray carpet.
Purple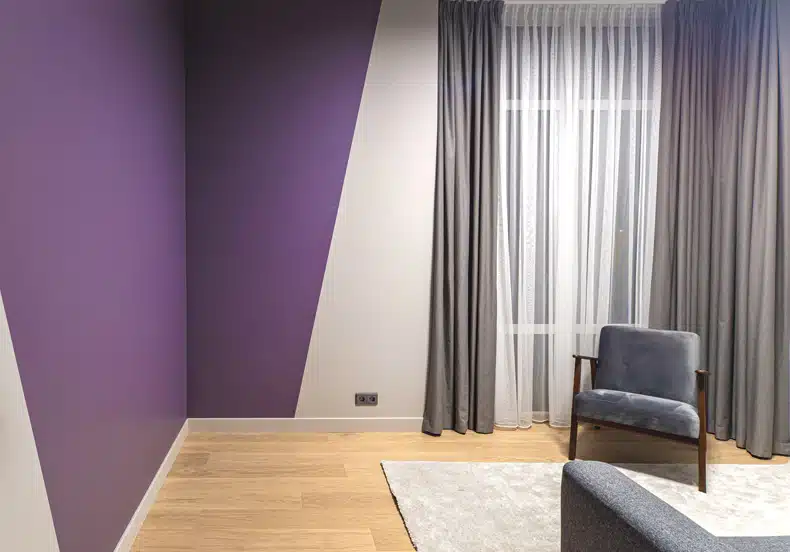 Purple and gray make an elegant, sophisticated color combination. You can pair rich purple walls with a modern gray carpet in the bedroom or living room.
The color purple is a creative and spiritual color that can inspire passion. But it can also feel a little moody or mysterious, depending on the shade you choose.
Choosing purple for your walls makes a statement. You could go for rich, deep violet or aubergine shades to complement the gray carpet.
But if you do, make sure you include enough lighter gray and white to break up the purple. You need to create a harmony of darker and lighter shades to balance the room. Otherwise, the room could look too busy and less spacious.
Metallics are an excellent addition to a purple-and-gray living room or bedroom. Sprinkle them around, or opt for patterns that combine purple and silver or gold.
If you prefer a lighter, breezy home decor style, pair lilac walls with dark gray carpets. You'll get a nice contrast, and the pale walls will make the room look larger. Add in some green accents, and you have a fresh springtime vibe.
Light Blue
Light blue walls and a gray carpet create a bright, relaxing atmosphere. You can use sky blue with any shade of gray, and you'll have a winning combo.
These colors work so well together as they're pretty close on the color wheel. But there's enough of a contrast between them that it doesn't look too samey. Instead, these colors complement each other.
Gray and light blue are perfect if you want a light, fresh style for your bedroom or living room.
Dark Blue
If you're feeling braver, you could pair a darker blue with your gray living room carpet. Navy works well, especially if you have a light gray shade on your floor.
Navy is a deep yet calming color, so it works well in most spaces. But if your room is on the small side, you might want to consider having one feature wall instead. You can paint this wall navy and choose a lighter shade of gray or blue for the other walls.
Beige
Beige is another neutral color that has some similarities with gray. But while gray is a cool color, beige is much warmer. And so, these colors combine to make a room feel sophisticated and welcoming.
As it's a lighter color, beige also makes a room feel large and airy. It maximizes any natural light, so it's ideal for any poky little room. If you live in a tiny apartment, beige could be the right choice for your walls.
But you can do a lot more with a gray carpet and beige walls. For example, vibrant colors like peach or red can brighten up the space. You could add some decorations or cushions to create a pop of color in your neutral rooms with gray carpet.
Green
While it's a less common color for home decor, green is still an excellent choice. Green walls pair perfectly with a gray carpet of any shade.
You could choose a deep forest green contrasted with a lighter pale gray carpet. But a dark gray carpet will look just as good with mint or sage green walls.
This color palette is fresh, earthy, and eye-catching without being overwhelming. Plus, it brings some of the great outdoors right into your bedroom or living room.
Yellow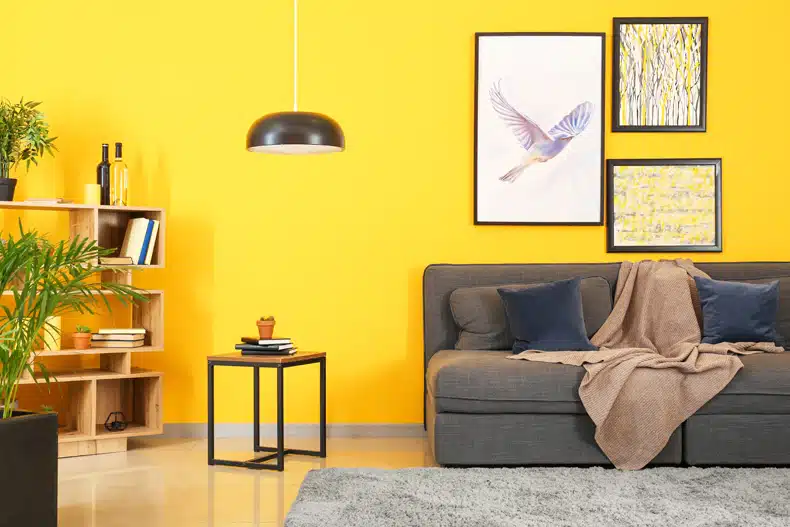 Do you want to create a fun, contemporary style in your home? Then, consider painting your walls yellow to go with your gray carpet. You'll end up with a very modern gray carpet living room look.
But as with any color, you have many yellow shades to choose between. You could go for a bright, sunshine yellow, cool citrus, or rich mustard. And the best part? Any of these yellows will work well with gray carpet.
Red
A bright primary color, red is a bold look for your bedroom or living room walls. But it's also a warm, cozy shade that can feel very inviting. It's ideal for creating a comfortable space that makes you feel right at home.
But too much red can feel overwhelming. And that's where the gray carpet is so important. It helps balance the bright shade and brings harmony to the room.
The cool gray and warm red are perfect complements to each other. Your red and gray room could be bold and stark or rich and eclectic, depending on how you furnish it. So, there's plenty of potentials to create a unique space that suits your home decor style.
Warm Brown
Contrast is just as important as harmony when designing your home. And that's why a warm brown works so well with a cooler gray shade.
If you have gray carpets, you might not have considered using brown on your walls. But here's why I think it's such a good idea.
Gray can sometimes feel a little cool and clinical. However, when you add a warmer tone like a rich brown, you balance out the room. So, why not try a deep brown or a warm tan on your walls?
You don't need too many other colors with a gray-brown color scheme. Stick to earthy shades and neutrals, and use a few different shades to keep it interesting.
Gray
You might think that gray on gray would be much too dull – or worse, overbearing. But if you pair a dark gray with a much lighter shade, you'll get a sophisticated, simple look.
You'll need to select your gray colors carefully. Make sure you have good contrast between the two shades, so it doesn't all blend in together.
You could go for the darker gray on the walls for a bold bedroom or living room. But it will work just as well if you have a lighter shade on the walls. Either way, the light gray will brighten the room and stop it from looking too moody or overwhelming.
Gray walls and a gray carpet are ideal if you prefer the minimalist style. Plus, it's lower maintenance than going for white walls that will show every mark.
Black
Like the sound of gray walls but want to go one step further? What about painting your walls black, then?
Black walls can look classy and modern when combined with a gray carpet. A pale gray carpet provides enough contrast to ensure the room doesn't feel too dark. It will bounce any natural light back into the room, making it feel lighter and airier.
There's no need to worry about black and gray clashing. These two shades are so similar and complement each other well. Gray is just a lighter shade of black, after all.
Gray Carpet FAQ
Should the carpet be lighter or darker than your walls?
Your carpet can be either lighter or darker than your walls, so long as the colors complement each other. You should also choose colors that aren't too similar in shade. A good rule is to go for colors at least two shades different, so they stand out against each other.
I have dark gray carpet – what color walls should I go for?
There are lots of colors that work well with dark gray carpet. You could go for a simple white or a light gray (with enough contrast) if you prefer a minimalist style. Or, you could choose yellow, light blue, red, or purple for more color. It depends on your personal style! 
The Wrap Up
Gray carpet in your living room or bedroom is the perfect backdrop for your room. As you can see, there are lots of colors that go well with a gray carpet. So, you can really make your room your own.
Whether you prefer bright colors or minimalist tones, a gray carpet is a good choice for your home. Combine it with red, yellow, white, or green – the choice is yours!
Let me know which gray carpet color scheme you prefer in the comments below!
And follow Quiet Minimal on Pinterest for more home decor and minimalist design tips.