Sage green is a soft, earthy, and soothing color
It's an ideal choice for interior design as it's calm and inviting but not too bold and bright
Choosing the right color to pair with sage green walls is crucial – you'll find lots of ideas for colors that go with sage walls below!
So, you've chosen to go for sage green walls in your home. And now you're wondering, what colors go with sage green wall paint?
The short answer is – many! You have tons of options for color palettes to go with your sage green walls.
Sage green is a soft, versatile color that works with many color combinations to create a distinctive look. You could go modern, minimalist, earthy, or sophisticated.
Browse these suggestions of colors that go with sage green walls. And choose the one(s) that appeal most to you.
Some of these color combinations will work in any room. But others are best suited to a specific room, like the kitchen, bathroom, or bedroom.
Feel free to play around with the ideas and make them work for your home and style!
What Colors Go With Sage Green Wall Paint?
Here are plenty of suggestions to answer the question, what colors go with sage green walls?
Sage Green Combined With White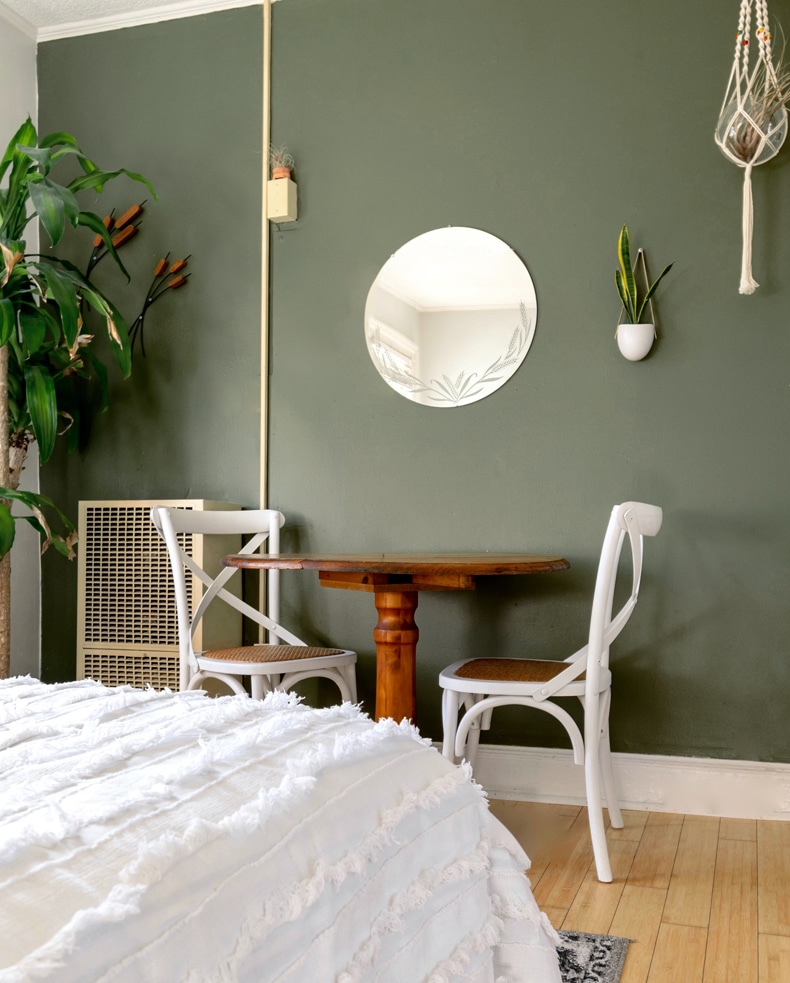 For a clean, minimalist look, you can pair sage walls with white furniture and accessories. Consider going for a cushy white rug or a stylish, dazzling white sofa.
Worried about stains? Then, add white accessories instead. White candles, vases, or lamps are a great place to start. You could also hang some minimalist artwork featuring the color white to create a contrast with the sage green paint.
Or you could reverse this look – it works either way! If you have white walls, you can add a splash of color with sage accessories.
A white-and-sage color scheme is fresh, bright, and minimal. It makes the room feel spacious and encourages calm and relaxation. So, it's the perfect choice for a tranquil bedroom or living room.
Sage Green Combined With Brown
Brown and sage green work wonderfully together, channeling an earthy, natural vibe. A warm velvet brown sofa looks great against sage green walls. The neutral tones of brown will bring out the gorgeous sheen of sage and makes you feel connected to nature.
Or you could pair wooden furniture with sage green for a rustic yet charming look. Go for natural grain wood in a medium to dark shade; the colors will complement each other.
Sage Green Combined With Charcoal Gray
Charcoal gray is an excellent color to complement sage walls. This color combination creates a sophisticated look that is not too bold or garish.
It's perfect for a stylish kitchen – pair sage walls with charcoal countertops and appliances. Then, you can add some white or black details for the finishing touches. And you'll have created an attractive and practical kitchen.
But of course, this color palette will also work well in a living room or bedroom.
Sage Green Combined With Beige
Beige is a neutral color that complements sage green. You might think it sounds boring, but beige and green combine to create a warm, inviting room. It's neither too bold nor bright, so you (and your guests) will feel relaxed and comfortable.
Sage Green Combined With Orange
Orange is an excellent choice for pairing with sage green. Together, orange and sage green really pops! These colors are almost opposite on the color wheel, making them complementary colors.
And both these colors are rich and earthy – perfect if you want a nature-inspired room. But while sage is a cooler shade, orange has warm tones. So, you get a nice contrast between the two.
If you have a living room with sage wall paint, consider going for an orange rug or curtains. Or in the kitchen, you could opt for orange tiles against sage-green walls. It will create an eclectic boho feel that catches the eye.
Sage Green Combined With Mustard Yellow
As with orange, yellow is another fantastic color that goes with sage green. Avoid a cool lemon yellow and opt for a mustard tone instead.
The warm shade will contrast and complement your sage green walls. Choose a few fun accessories in mustard to brighten your room and add a pop of color.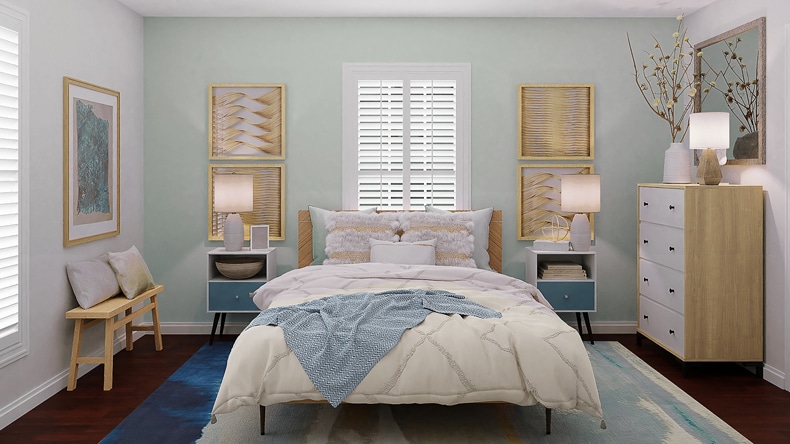 Navy is a stylish yet understated color, and you might not think to pair it with sage green walls. But this color combination looks low-key sophisticated.
The navy blue adds some gravity to the room, making it feel like a confident style choice. For example, navy shelves or cabinets stand out against a sage green backdrop.
Aim for a lighter sage to create more of a difference between your two colors. That will allow each one to shine and play off the other.
Sage Green Combined With Pink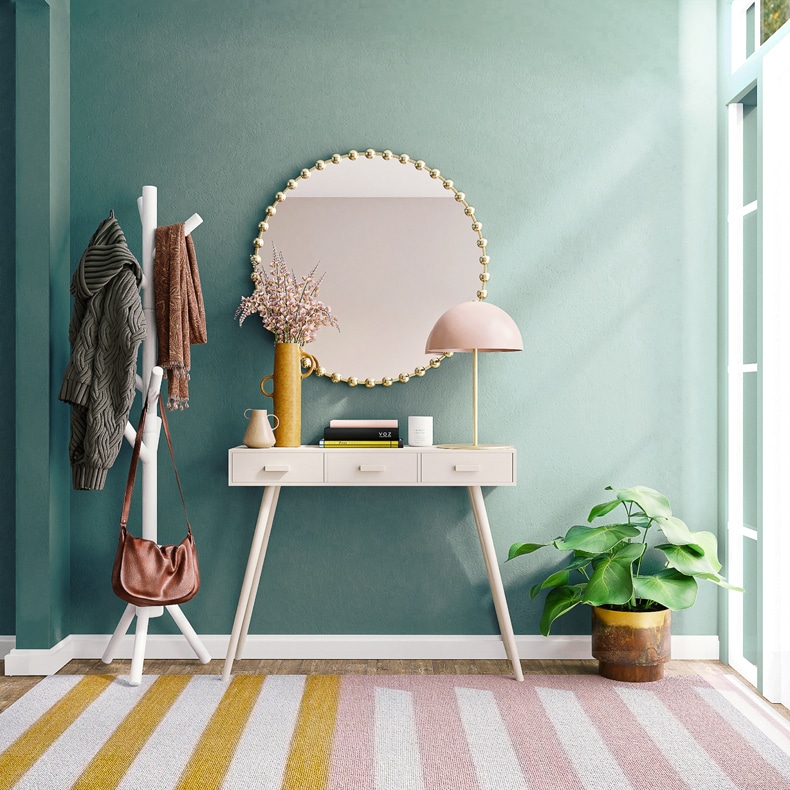 Pink is an excellent choice to pair with sage green walls. As pink is not far from being a complementary color to green, these colors stand out against each other. The result is surprising yet harmonious!
You could pair sage green with pale pink for a softer look, perfect for the bedroom. Or go for a bold deep pink if you're into bright colors and want to create a bold contrast.
Sage Green Combined With Black
Sage and black create a stylish, modern look. If you opt for sage walls, select a few black accessories for an edgy and timeless room. This style looks amazing in a living room but works just as well in a kitchen or bathroom.
Sage Green Combined With Red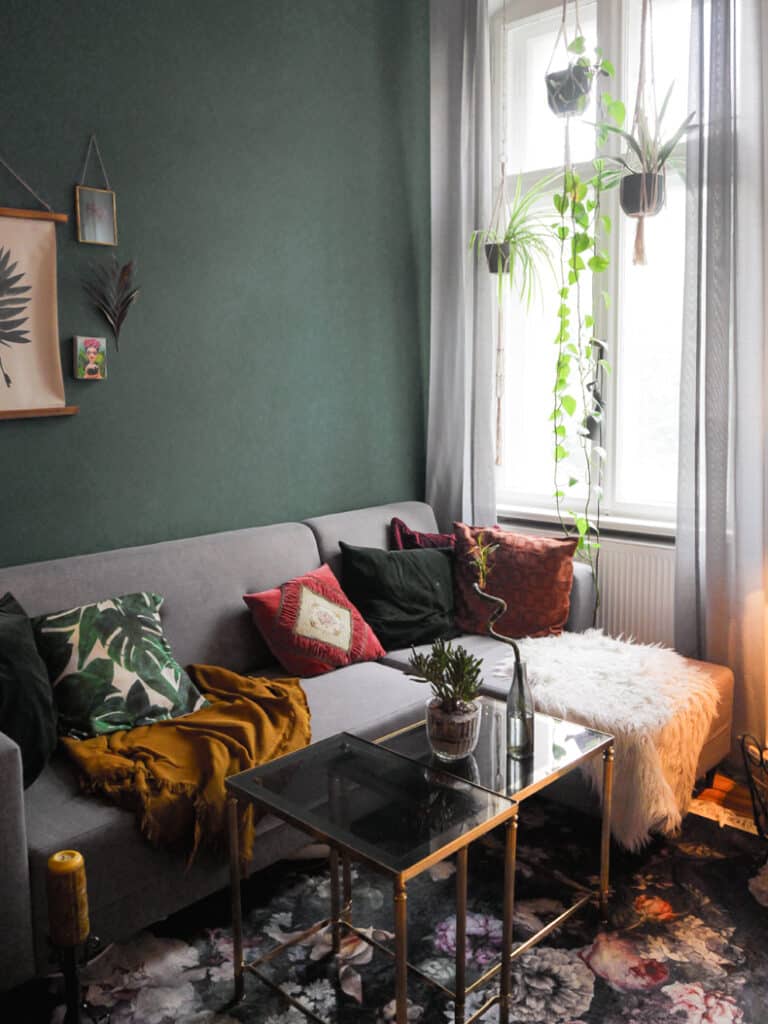 Have you considered using red against your sage green walls? Red comes in many shades, so there's something for everyone.
Red is opposite green on the color wheel, making them complementary colors. And you'll often see these shades together in nature – for example, red berries against green leaves.
You could go with a bright red sofa or rug if you're into bold statements. But if you prefer more of a muted look, pair sage green with a rusty red or terracotta shade.
These warm tones look great against the cooler green color. The result is a cozy, inviting room, whether a living room, kitchen or bedroom.
Sage Green Combined With Gold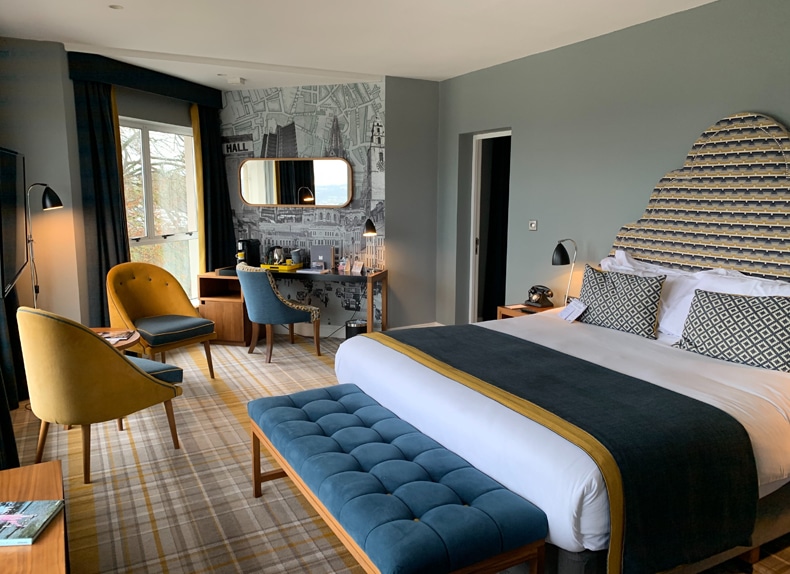 As mentioned above, yellow and sage work well together. But by plumping for gold, you up the ante and create a gorgeous, luxurious look.
Gold has warm tones and a gentle sheen that matches so well with sage. These colors have a lot in common but enough contrast to prevent them from blending in. '
Metallic gold accessories add a sense of style and sophistication to any room with sage green walls. It comes across as glamorous without falling into the trap of being garish.
Sage Green Combined With Sky Blue
If you prefer cool tones, sky blue could be the perfect complement for sage green. These colors are both on the cool side of the color wheel. And they evoke the colors of the sea and sky.
So, together these colors create a calm, serene atmosphere. Unlike navy blue, there is less of a contrast between the two. Instead, sky blue and sage green create a harmonious color palette of soft, cool tones. And it brings out the silvery undertone in both colors.
This color scheme is an excellent choice for a simple and relaxing living room or bedroom. But you'll find it looks just as great in a living room or bathroom. It's simple and understated without being dull or subdued. So, you can use it anywhere, including in a guest bedroom.
Sage Green Combined With Cream
Cream and sage is another smart pairing. The warm, soft cream tones balance the darker sage walls, ensuring your room feels fresh and airy. This look is ideal if you prefer a minimalist look with neutral and earthy tones. It will create a refreshing feel in a kitchen, bathroom, or bedroom.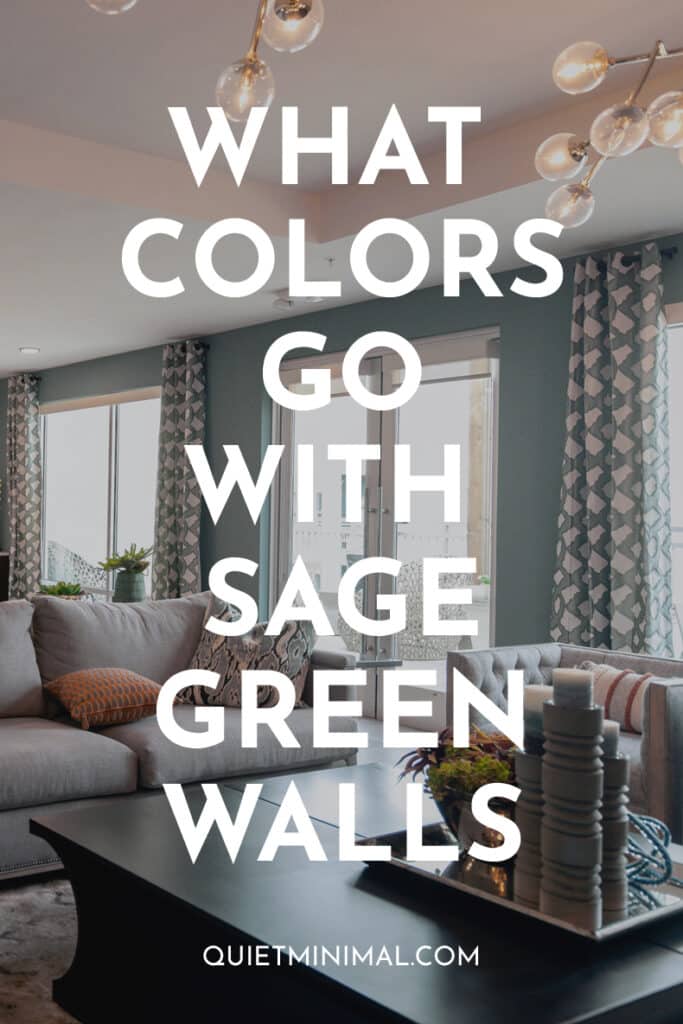 The Wrap Up
Sage green works beautifully with a range of different colors. You can create a sophisticated, earthy, or minimalist look, depending on what you pair it with. So, take your pick, and let me know which color palette you like best in the comments below!
Follow Quiet Minimal for more home decor and minimal design tips.
Follow Quiet Minimal on Pinterest for more interior design and minimal living tips.