A reason why homeowners choose to paint their house gray is that it is like a blank canvas. Gray is a cool, maybe even somber color, but combined with other colors and shades of grey, it can create an elegant, modern, or traditional look that will totally transform your house.
For the last decade, gray in various tones has been a popular exterior color for homes. From light gray to deep charcoal, it has given owners a viable alternative to classic white, adding character but still allowing for a range of colors to be used for the trims, particularly the front door.
Front door colors for a gray house can be divided into two groups. If the house has been painted in a cool gray, the best front door color will reflect that tone. A warm gray exterior color, in turn, will work well with warmer colors that have similar undertones. That's not a rule set in stone – a lot depends on the style and architecture of the house, so let's explore the options.
Front Door Colors For Gray Houses
Gray is considered the perfect neutral color, as crisp as white but not in any way sterile. Warm grays have elements of red or brown undertones, while cool grays will have hints of blue or green. The lighter grays reflect tranquility and calm, while the darker tones are more dramatic, more masculine than feminine.
Choosing Front Door Colors For A Cool Gray House
Cool gray can be anything from gray-white to charcoal. There are several options for front door colors, both traditional and trendy.
White
White and gray has always been a popular combination. Understated elegance and a fresh, welcoming entrance are achieved, with white or darker shades of gray used for trim such as gutters, window frames, and porch railings.
Black
Going to the other extreme, a black front door set in a grey entrance is a classic option. With white architrave and trim, it certainly makes your entrance a focal point.
Dark Charcoal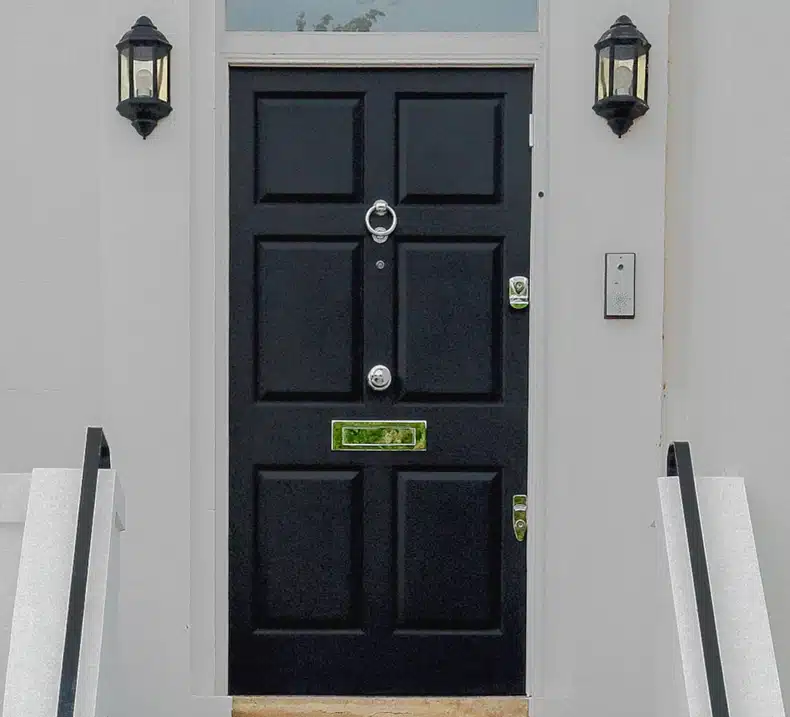 If you feel black is a bit too forbidding, go for softer dark charcoal. While black is most effective in a modern home, charcoal works better in an older, more traditional-style home.
Navy blue will pick up the blue undertones of the gray and is traditionally one of the most popular front door colors. Not as dramatic as black, navy blue is associated with classic architecture but can also be used with good effect in modern homes.
Light Blue
Light blue blends well with lighter tones of gray and provides a friendly, casual look to the entrance. Ideally suited for modern ranch-style beach houses or more rustic cottage-style homes.
Teal
Teal, in its truest form, is an equal blend of green and blue and is a perfect partner to gray with its cool but vibrant tone. You can customize teal by altering the proportions of blue and green to suit the particular gray of your walls.
Sage Green
Sage is a soft, welcoming color with gray undertones that makes it blend beautifully with the walls. It might be too similar to light gray walls to really make a statement but will look striking if the walls are a darker tone than the door.
Colors That Suit A Warm Gray House
Warm gray may sound like a contradiction, but it isn't – grays with a touch of brown or beige have resulted in a new color –"greige ." You also get warm grays with red, yellow, and orange hints. Your front door can then also be any color from warm to red-hot.
Red
And talking of red-hot, a red door is a firm favorite as it indicates energy and a welcome into the home. It contrasts well with neutral gray and can vary from a vibrant pillar-box red to a maroon with blue undertones.
Pumpkin Orange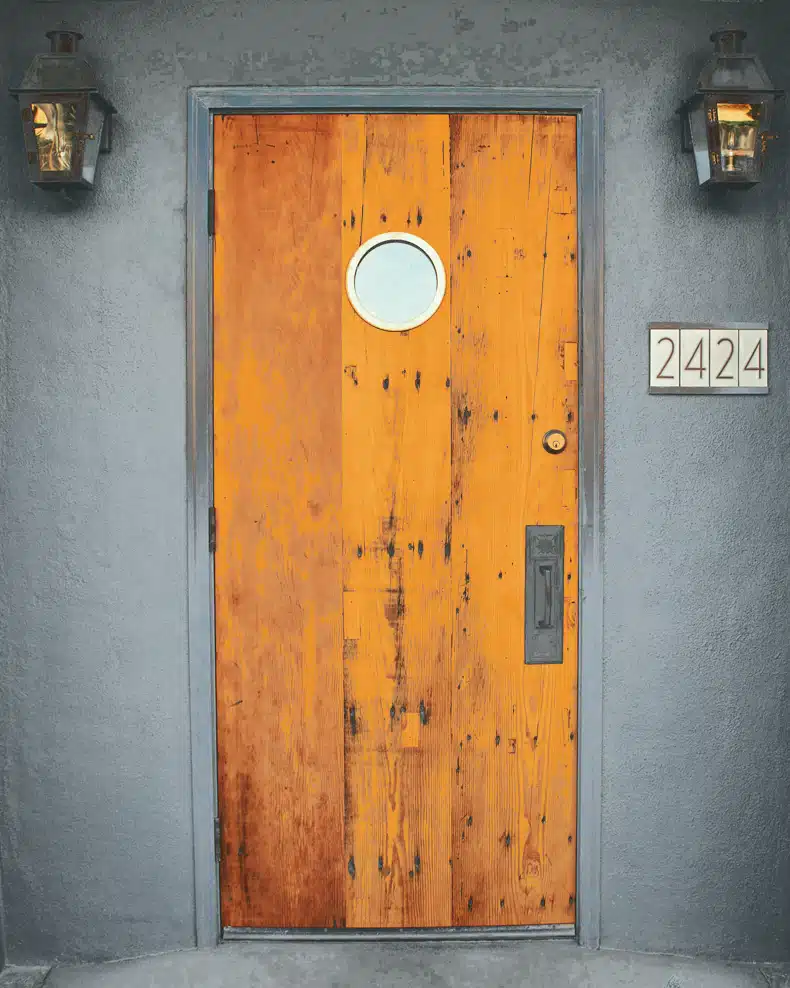 If the gray of your walls contains a yellow undertone, then pumpkin orange will provide a strong splash of color, especially if the gray is towards the dark end of the spectrum.
Yellow
Yellow is a more complex color choice to set off the gray walls. It varies from a cool acidic lemon yellow to a warm, inviting sunshine or canary yellow. To draw attention to the entrance, possibly together with white trim, yellow works really well in creating a friendly, welcoming look.
Brown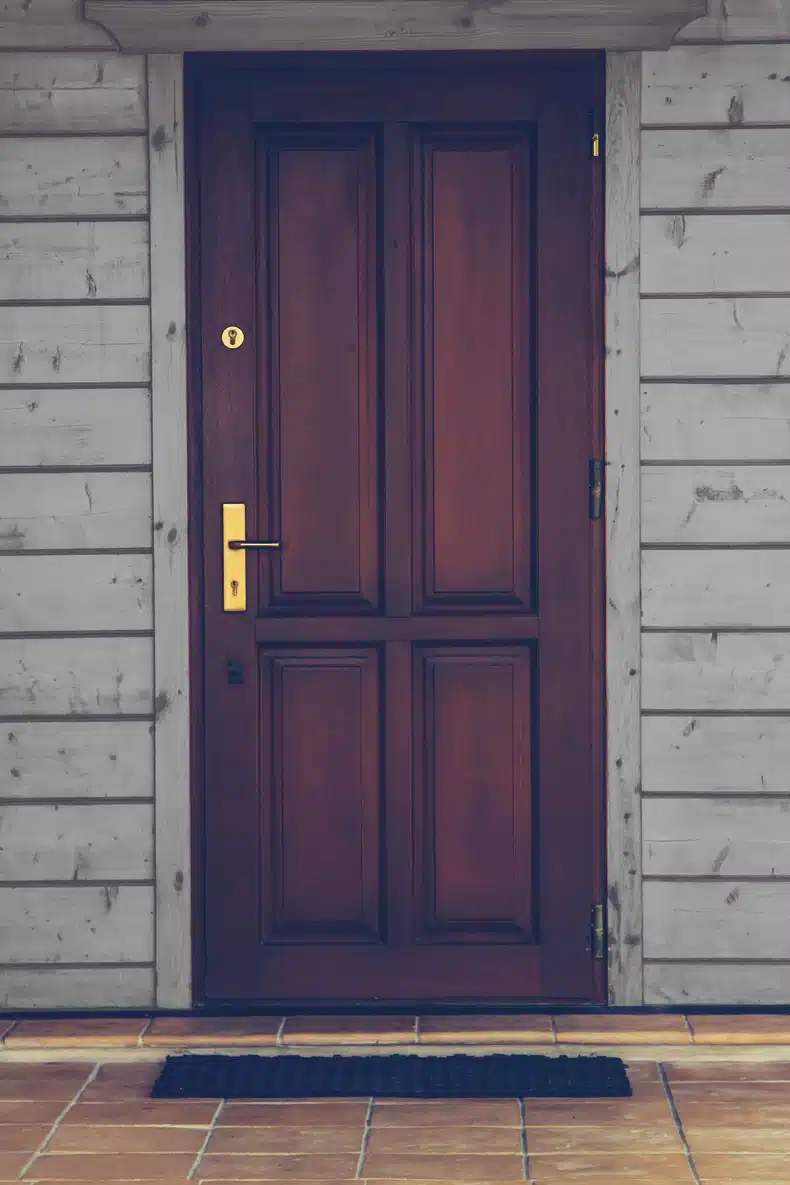 Brown may sound like an unlikely front door color in a gray house, but it works really well. A deep brown door looks rich and elegant set against a warm dark gray wall, while a red mahogany color or a mid-brown partner perfectly with a lighter tone of gray or greige. 
Natural Wood
Because we're looking at front door colors for gray houses, it's also possible to look beyond paint colors and check out the beautiful natural wood doors that can be used. Wood has a warmth and a sense of quality and is available in colors ranging from dark chocolate to red to light brown.
Pink
Pink is a bright, bold color choice that looks beautiful with blue-tinted greys, both light, and dark. It may be too feminine for some but coupled with pinks, and mint greens in the surrounding shrubs and plants, a home with this color combination is a real head turner.
I've highlighted about fourteen front door colors that will enhance the façade of any gray house. While it's not a completely exhaustive list, it does give an indication of what direction to take in selecting a color for your front door. Other factors will influence the choice you make.
Factors Affecting Front Door Colors
The color of the roof – up to 40% of the frontal area of the house is roofing, so while the walls might be gray, the color of the roof cannot be ignored when choosing a front door color.
The color of the driveway is also part of the overall picture of the front of your house and must be considered when choosing the color of the front door. A grey paved driveway might make a gray door boring – a rust-colored brick driveway might not blend with a pink front door.
Garages form a large part of the frontage, so their door color is important. Should front door and garage door colors match?
Shutters, window frames, gutters, and porch railings are all trim items, often but not always finished in white or a complementary color to blend with the walls. The front door must be in a color that considers these items.
The neighborhood should also be considered – it's OK to be different, but not so different that your house sticks out like a sore thumb. If you can coordinate your colors with the general aesthetic and still be unique, your home will get the thumbs up from your neighbors.
Conclusion
In the last ten years, gray has become such a popular color for the exterior of houses, whether classic or modern in style, that it is referred to as the new white. Because it's now commonplace, the color of the trim becomes the point of differentiation, and the front door is the focal point.
Warm gray or cool gray, charcoal or greige, the color of the house becomes the background of an otherwise blank canvas. It needs the detail of the front door to give it a unique character and a hint of what it offers those who pass through the entrance.
Follow Quiet Minimal on Pinterest for more home design and minimal living content.